Are you ready for a fun Easter treat? Nope, not candy this time. Maybe soon! But, today I want to share a really easy idea that's just adorable. We're making cute bunny ear headbands in just minutes with the help of "chenille stems" (also referred to as "pipe cleaners"). These bring back a lot of great project memories from school. Now, I get to play with them as an adult. I just love it! So, let's have a little fun!
You don't even need glue for this one, which is a bonus. While I love the power of a good glue, sometimes it's fun to avoid getting sticky. Somehow I always get some on my fingers. One time, I actually managed to get glitter glued to every single one of my fingers. Yup!
Here is all you need to make these cute bunny ears:
1 Headband. I purchased a multi-pack at Family Dollar a while ago.
1 Pink Chenille Stem
2 White Chenille Stems (One whole and a small 4" piece trimmed from a second one to hold the "ears" in place.)
First, form a bunny ear shape from the white stem with two equally sized "ears". Then, make the same shape with a pink stem while lining up with the white shape you've made. They will be slightly smaller to fit inside the white stems. You'll be using the excess pink stem that will hang down lower to help keep the "ears" in place.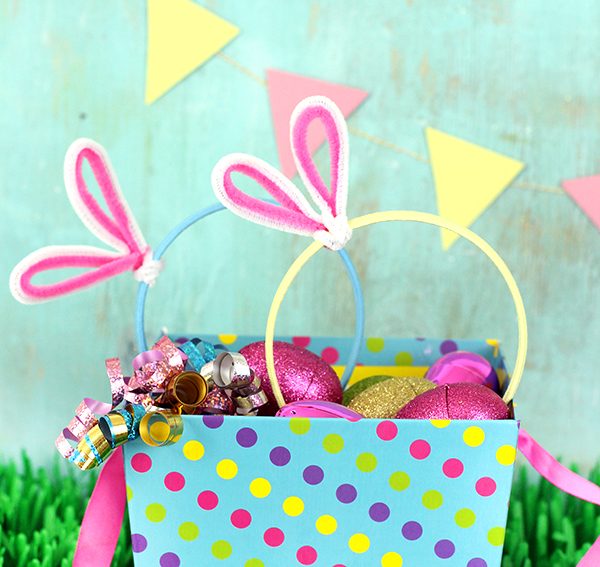 Pinch the "ears" together and criss-cross the pink stem bottoms and make an "x" and wrap around the extra around the opposite ear" until they stay in the shape on their own. Once this is done, if you can grab the ends of the white stems, pull them slightly forward. These can work to keep the ears in place while attached to the headband. Think of the ears like an L with the small extra stem resting under the headband.
Take your trimmed piece of white stem to hold the ears in place, place it in the middle of the two ears and wrap it around about 3 or 4 times. Press and tuck the edges in to make sure none of the wire is hanging out. See how simple that was?
These will be fun to wear for Easter or fill up an Easter Basket with! Whatever you do, have fun with it and get creative. There are so many ways you could do these!
Who would wear bunny ears in your family? I will totally be rocking these on Easter!