I have to admit, I am not a natural when it comes to making spooky recipes. I'm personally more attracted to the fun and cutesy stuff. So as far as spooky Halloween ghosts, this is about as creepy as it gets. What I love about these is that they are SO easy to make. I did my usual shortcut and used a baked frozen pancake to create this cup. Then frosted the top, you could have these done in a half an hour. Optionally you could also make real cupcakes and frost the same way. They would be just as festive. I am having fun with my easy pinata recipes using freezer pancakes. Then, I toss in some candy underneath. The kids really get a kick out of it. Pancakes topped with frosting really taste a lot like cupcakes too. Tasty stuff!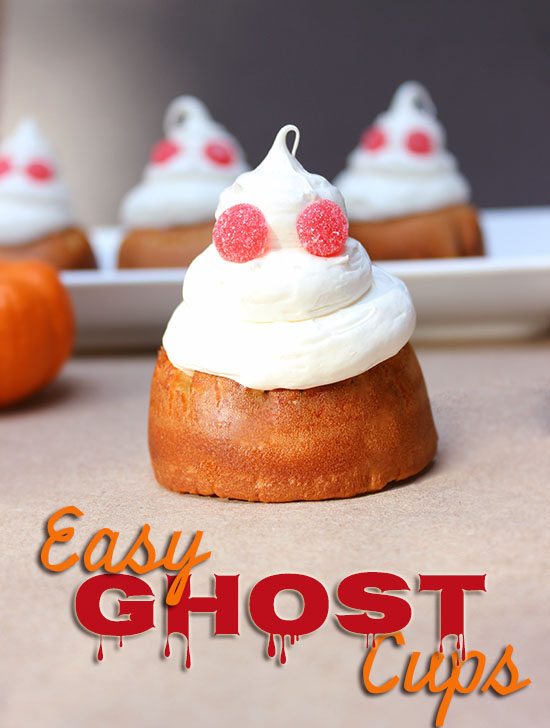 I am very much frosting challenged and I want to share that the Wilton Dessert Decorator Plus has really elevated my frustration. Best thing is that its only around $15. I purchased mine right at Michaels. Using the round tip (or any round tip) is the perfect way to create this ghost look easily. However you can certainly use a little plastic baggy filled with frosting by simply trimming a small corner to squeeze it out as well.
The spooky red eyes are so easily created with red gumdrops. I purchased a mixed bag at Walmart and used the green for another project and the rest to stuff under my pancake cups. Oh yeah and I also ate some 😉
Ingredients
6 Frozen Pancakes (I used store brand)
12 Red Gumdrop Candies
Non-stick cooking spray
1 Can of Vanilla Whipped Frosting
Instructions
Preheat your oven to 375. Defrost desired amount of frozen pancakes in the microwave. Spray your muffin tin with non-stick cooking spray. Press each pancake delicately into the center of your muffin tin. Press the sides of each pancake into the side of the muffin tin. Cook for 14-16 minutes until lightly crisped but not overly browned.
Remove "cups" from tins and set aside until completely cooled.
Once cooled, top with frosting using your choice of piping with a wide tip.
Top with two red gumdrops for the "eyes".
Hide remaining gumdrops (or choice of candy) underneath your cups.
Makes 6 Cups.
7.8.1.2
52
https://cutefetti.com/easy-ghost-cups-recipe/
Are you planning on making any "spooky" Halloween recipes this year?