Are you falling for fall yet? I was just discussing the love of pumpkin with my hubby last night. It's funny that as soon as September rolls in we are craving it… but ask us if we want pumpkin pie in July and we'd likely look at you funny. This conversation took place over the sharing of a coffee shop pumpkin doughnut which likely doesn't even really have any real pumpkin in it. There is just something about it, whether real or flavored foods for us anyway. In other words its not just that pumpkins are being harvested, we're simply just wanting pumpkin stuff because we've associated it with the fall season and or the cooler weather. Weird, but awesome.
Are you a pumpkin fiend too? How about some super easy to make pumpkin tarts for a festive Autumn treat?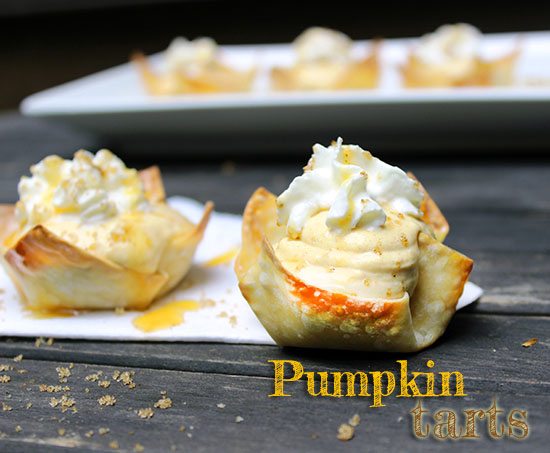 I'm a huge fan of using Wonton Wrappers to create little yummy appetizers and treats. They are so convenient to just pop in the oven and spoon in ingredients… so I figured it was time to try them with some pumpkin filling. Totally yummy and fail proof for those of us who aren't all that awesome at making pies. Plus, these can be whipped together in about 15 minutes! That is what I love best!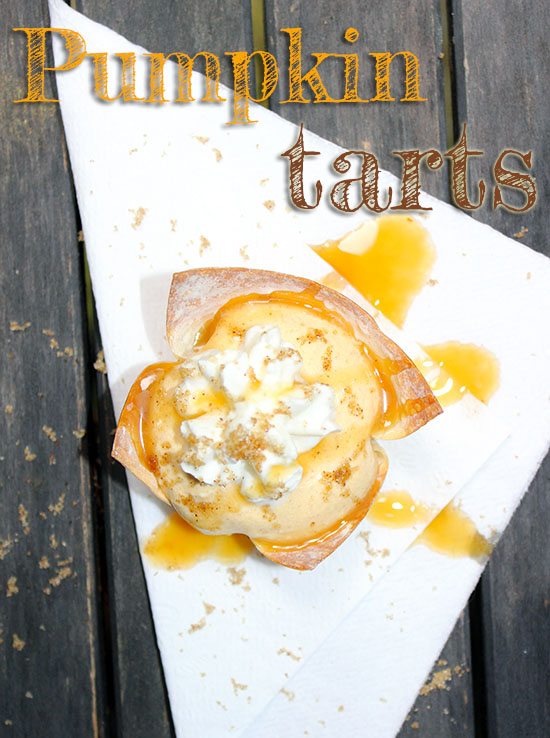 Ingredients
20 Wonton Wrappers
1 Package of Cream Cheese
1 Cup Whipped Topping (such as Cool Whip)
1 Cup Pre-Seasoned Canned Pumpkin Pie Mix (I used Libby's)
1/2 Teaspoon of Pumpkin Spice
Non-Stick Spray
Optional ideas for serving: Whipped Topping, Caramel, Brown Sugar with Cinnamon and or Pumpkin Spice
Instructions
Preheat the oven to 350º. Spray muffin tin with non-stick spray. Press each Wonton Wrappers evenly into the center of each cup in a small muffin tin. Bake for 8-12 minutes. When the corners become lightly golden they are ready.
While baking wrappers, blend all of the ingredients in a mixer (cream cheese, whipped topping, pumpkin pie mix and pumpkin spice). Refrigerate until ready to serve.
Once Wonton Wrapper cups have cooled, spoon in pumpkin mixture when ready to serve. Top with your choice of Whipped Topping, Caramel, Brown Sugar with Cinnamon and or Pumpkin Spice.
Serve these immediately, only make what you will eat. If you want to use the cups later, store them in a dry container. Keep unused pumpkin mixture refrigerated. For best results, don't store with any wet fillings or they will get soggy.
Enjoy!
7.8.1.2
51
https://cutefetti.com/easy-pumpkin-tart-recipe/
Want more Autumn Inspiration? How about some Caramel Pumpkin Mini Pies or Pumpkin Pie Spice Sugar which I pretty much put on everything for the last month. Oh yum! Want to decorate for a buck or two? Check out this easy DIY autumn decor using a box of pasta!
Are you a pumpkin fiend too?