I love seeing pictures of spotless refrigerators on the internet, it must be a beautiful feeling to be that put together. Am I the only one who can't keep a fridge clean? Here is the deal, last week I actually did clean out the whole thing until it was quite spotless. This doesn't happen very often, but I have my days. Finally also put in a new battery for our fridge air purifier, yay me!  Now, only a week later, there are various crumbs and unidentifiable objects messing up my fridge shelves. Grr. Sorry, but I don't have time to clean it every single week! Well, as I was sleepily perusing the internet the other day, I stumbled on a simple but seriously awesome fridge cleaning cheat! If you haven't heard of it yet, I think you are gonna love it!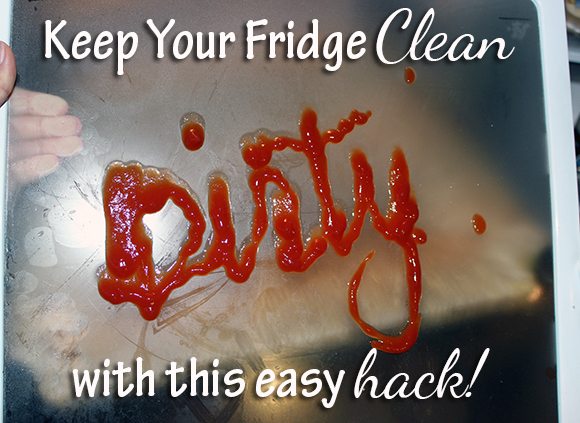 ➥ And by the way, I had FUN writing in ketchup… you should try it sometime! It's totally liberating!
Refrigerator Cleaning Shortcut
So, yada yada. Let's fast forward to this super easy fridge cleaning shortcut! Here is the deal, you can line your refrigerator shelving with Glad Press'n Seal "Plastic Wrap" (not to be confused with the "Bags") which is sorta like the superhero in the world of plastic wrap. What seems to make it better for this is that it is more thick and also more sticky (which seems to work something like a very mild adhesive) Using regular wrap would definitely not work very well. The Glad site even makes a mention that it sticks to other things like wood and plastic. Cost? I paid under $3 for a roll of it at Walmart. And holy smokes, after trying this project you will totally need to check out the Glad 1000uses.com site for tons of other uses for your leftover wrap!
➥ TIP! To use the product, make sure to pull upward to tear against the cutter on the box. Pulling downward will make a mess of the wrap. 
So, its really extraordinarily simple.  The main goal is to cover your shelves with the wrap. There is no tutorial per say because your shelves will be all different sizes and shapes, but you can measure them if you like. From what I can tell the product comes in your choice of 70 or 140 sq ft. So make sure to pick the correct amount you will need so that you don't purchase too little or too much product.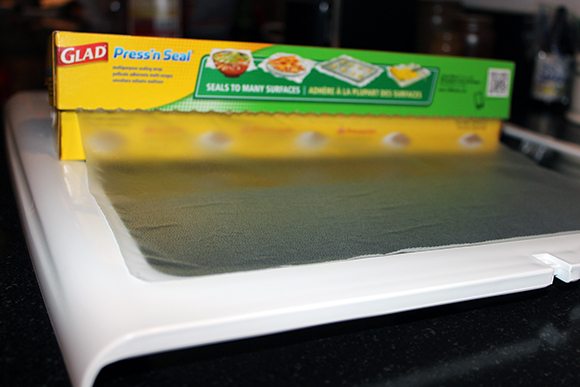 ➥ TIP! Before adding the wrap to your shelves, make sure they are clean and dry (and room temperature if you can manage it)! Otherwise the product won't adhere very well.
I cut out a little extra so that the wrap would have extra clinging power when I overlapped the edges. Plus, I want to prevent crumbs and such from getting stuck in the corners.  You could also choose to pull the wrap over the entire sides of your shelves and adhere to the bottom. But, for the sake of using the wrap sparingly, I decided not to here.
Once you have covered your shelves, you are good to go!  Whenever the wrap gets gross and dirty, all you need to do is peel it off! Yes, how cool?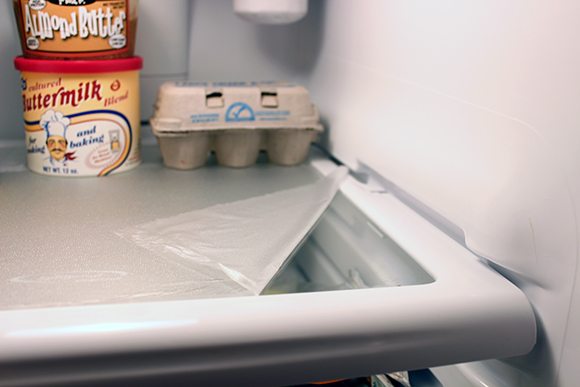 My plan is to basically just wait until we have company… run to the kitchen and yank off all the wrap right before they arrive. Tee hee… but seriously. How awesome?
:: Who likes cleaning their refrigerator? (not sure if this is a serious question or not… but let's roll with it)::