This post was written by me through an activation with HireInfluence on behalf of BIOLIFE4D. Although I received compensation for participating in the campaign, all thoughts and opinions are my own.
February is pretty much the month that we talk about hearts the most but it's usually about chocolate and gifts. This year, I wanted to use this month as a time to do something totally outside of the box. Something that is truly meaningful in so many ways that goes way beyond Valentine's Day gift exchanges and romantic gestures. I'm so thrilled to have been inspired to join the Random Acts of Heart challenge to raise awareness about how we truly can help gift the real gift of a heart to people in need with BIOLIFE4D. So, today I'm sharing how to make a heart paper garland card to inspire you to make a difference in someone's life. Let me share…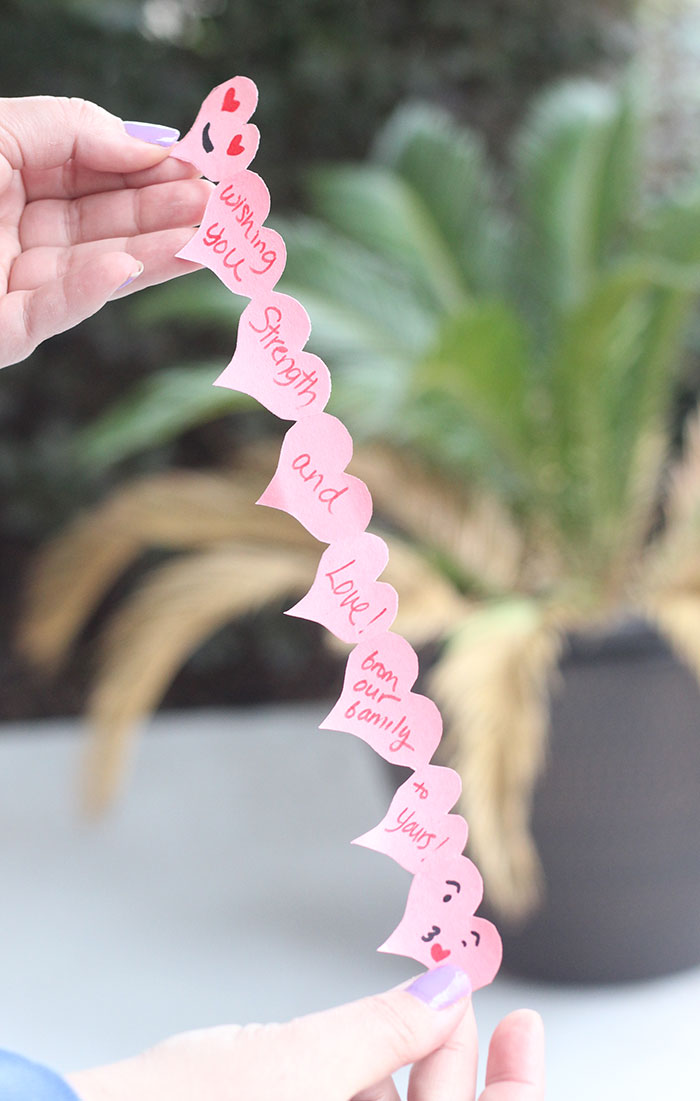 As a a part of this campaign, I learned about a boy named Jack who was born with a rare heart condition. After enduring many heart reconstruction processes and surgeries he thrived, but at age 11 he learned that his heart was ultimately failing and that he would need a heart transplant. Well, Jack ended up making history in a good way. He was the first child to have a HVAD which is a mechanical pump that gets implanted in the heart to help the blood flow. Thanks to medical technology, he was able to thrive until he was able to receive a donor heart. There are currently only 5,000 heart transplants each year while 600,000 people are left just waiting and hoping for a lucky break.  Jack is a living success and the reason that BIOLIFE4D is passionate about what they are trying to do.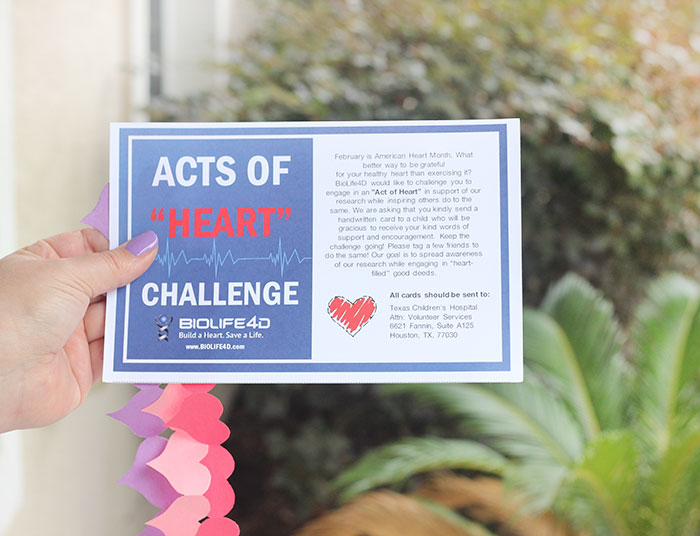 Did you know? Heart disease is the #1 cause of death in the United States? We all know someone who has been touched by this awful disease, but I was actually quite shocked to take that in. As a woman, learning that 1 out of 3 of us faces serious risk drives this home and makes me want to do something about it right now.
Join The Random Acts of Heart Challenge
I am officially inviting you to join me in The Random Acts of Heart Challenge to do something meaningful today. Get the family involved to help a stranger in need and to raise awareness about BioLife's heart research and hopeful solutions that can become a reality now… and not forever in the future. I never imagined that in my lifetime that I'd see something like Bioprinted organs becoming a reality. BioLife's goal is to 3D print a viable human heart that can be used for transplant so that waiting for a donor match will be a thing of the past. Watch this Build a Heart Save a Life video to see BioLife's amazing technology in action:

Support BIOLIFE4D
BIOLIFE4D needs help to make this all happen. We can take part in this challenge and spread the word to help them find investors. Plus! Save the date!  They are having an equity crowdfunding campaign in February, where the general public can purchase shares in the company and join their mission to save millions of lives.
The Challenge
Learn more about BioLife's heart research to get you motivated with a strong cause, rally the family around and have a little fun extending and act of Kindness and Heart to a stranger in need together. Make a card, buy a card… just use your creativity and thoughtfulness to create something meaningful to send. 
Make it:
I'm sharing my idea today of mini heart paper garland cards that I'm sending in hopes that this will inspire you, too.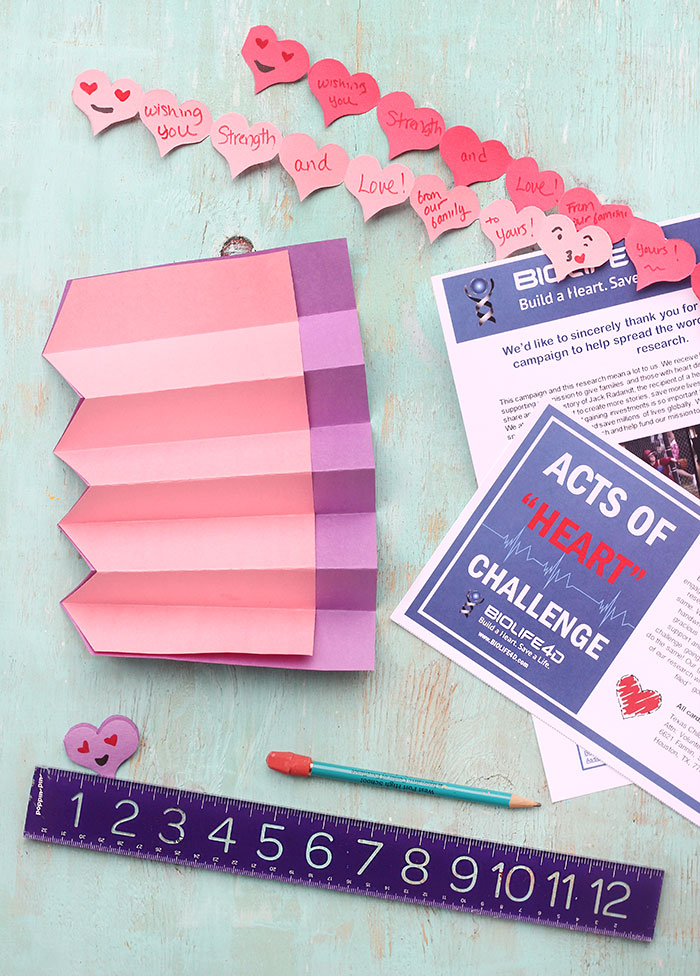 Mini Heart Paper Garland Card
Here's what you need to make this Heart Paper Garland Card:
Construction Paper (Pink, Red &/or any Colors)
Pencil
Scissors
Ruler
Markers, Crayons or Colored Pencils to Decorate
First, fold each sheet of construction paper into about 8 equal parts. You can use a ruler to trace these on if you want them super straight like I did.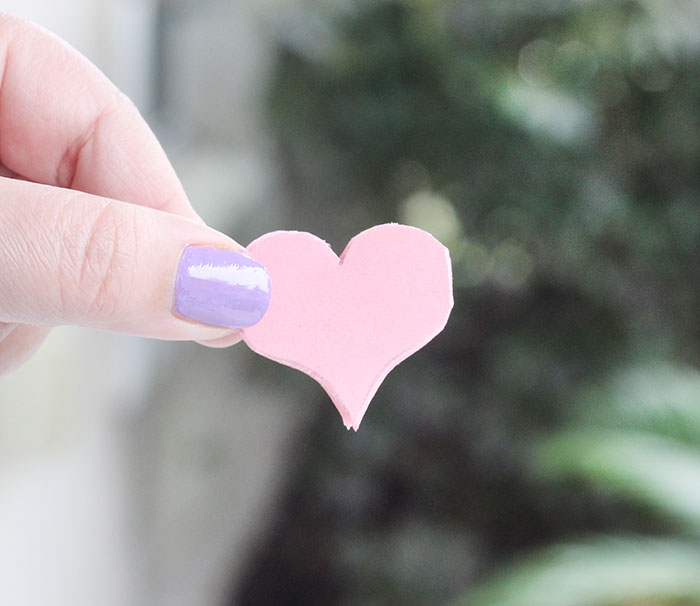 On the top portion of the folded sheets, use a pencil to draw your hearts. You can do about 4-6. The key here is to make sure that you draw your shape to cover the entire width of the little square. They literally have to touch both sides in order for the garland effect to work once you're done.
Then, carefully trim your designs out while never cutting the sides where your shapes are touching, we need that part to stay put.
Once you have trimmed out your little hearts, take a look. You have garland. You can even take them together to make longer strings of garland for decorating.
Write It
Add a special message to your cute mini garland card.
Wishing you strength and love, from our family to yours.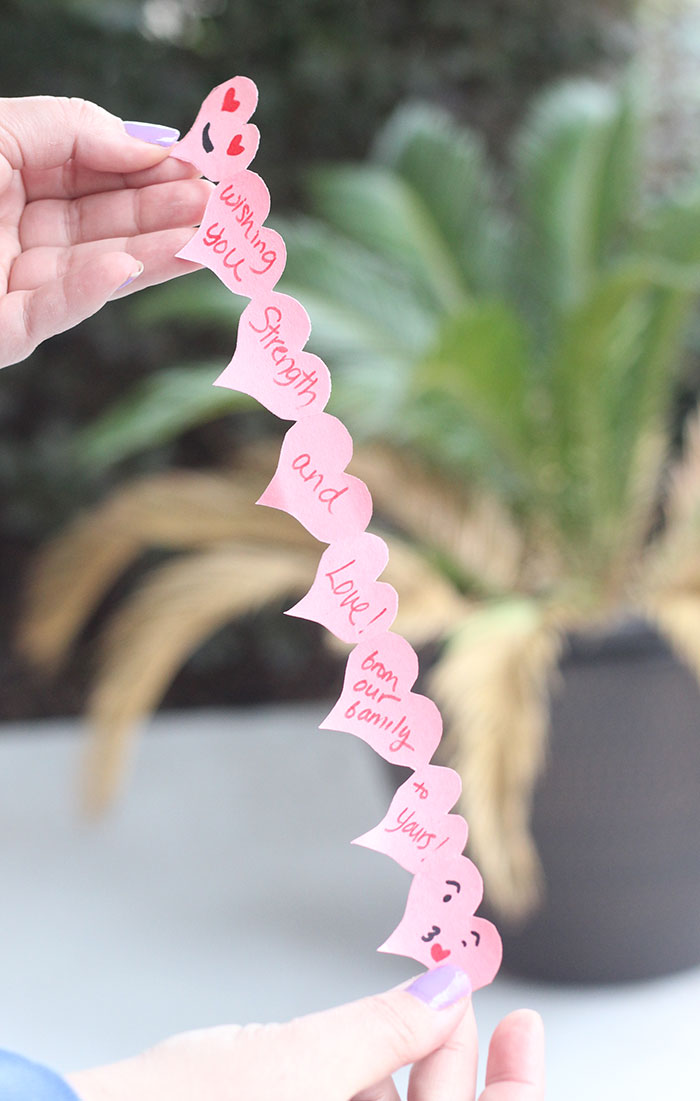 Use some markers or colored pencils to make your cute little faces pop!
Mail It:
Mail your cards to:
Texas Children's Hospital
ATTN: Volunteer Services
6621 Fannin Street, Suite A1125
Houston, TX 77030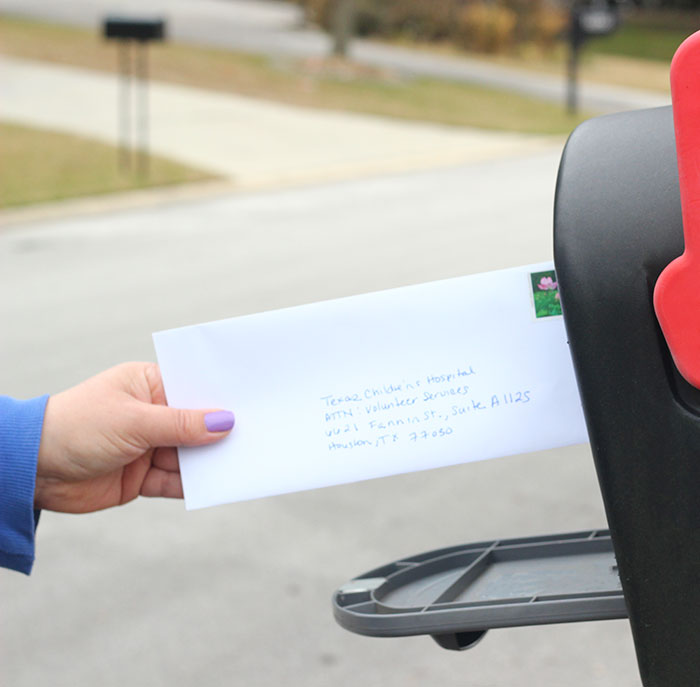 Warning…. doing good deeds is contagious and it feels amazing. That's why I'm tagging A Magical Mess & Kelly's Thoughts on Things to join me in sending some heart! Let's keep an eye on them to see what they do 😉
Want to make a true difference? Visit to BIOLIFE4d's website to see how you can support this cause today. Share with people that you know that are passionate about medical research.
Do you think your family would benefit from getting together and doing this challenge? Can I count you in?