Looking for no fuss holiday desserts? I do believe you've come to the right place. How about some festive no bake cookie bars featuring holiday favorites with cranberry and walnuts. Yummers. Yes, I realize that is not a real word 😉
These bars are kind of fudgy but with the addition of Ritz crackers the sweetness level is balanced. Which, in my book means you can eat even more. LOL. I make myself laugh sometimes. I do believe it's because I am overtired. So you'll have to excuse me here. Christmas is less than a week away and I have two weeks worth of things to get done before that. That's why simple no bake recipes really float my boat!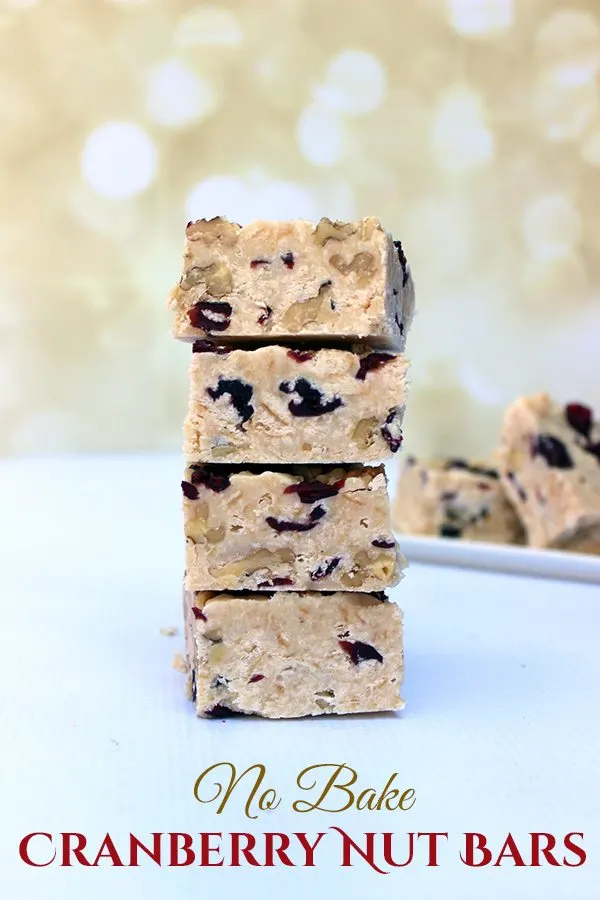 Okay, I have totally blabbed too much already. I am sure you just wanted to check out the recipe. So, here goes kids!
No Bake Cranberry Nut Cookie Bars
Ingredients
12 oz White Chocolate Chips
2 Sleeves of crushed Butter Crackers such as Ritz brand
1 Can of Sweetened Condensed Milk (14 oz)
1 Cup of Chopped Walnuts
1 Cup of Dried Cranberries
Instructions
Reserve ¼ cup of each cranberries and walnuts for topping if desired. Spray an 8 x 8 pan with non-stick spray. Melt the white chocolate chips with the sweetened condensed milk on stove top or in microwave. Remove from heat. Add finely crushed crackers and make sure they are fully covered in chocolate mixture. Mix in chopped walnuts and cranberries. Spoon mixture into pan. Press the batter down evenly with a spoon or spatula. If you reserved some walnuts and dried cranberries, press those evenly into the top of your flattened "batter". Let cool for 1 hour or more. Faster if refrigerated. Enjoy!

Want more holiday hacks & shortcuts?
Can you believe how fast this year has flown? What do you wish you had done more of?