Have you ever wondered if your pet was overweight? I sure have. Speaking of pets, let me just cut to "the chase". I was shocked to learn that more than half of pets are classified as overweight. Yikes! Our pets are like family to us, and apparently they're even more like us when it comes to keeping up with good health. I've tapped in to some great info to share today to help us all get to the bottom of it all. This is a sponsored post, all opinions are my own.
Smokie is in denial about needing to learn about cat weight loss, but I think it's time we figure this thing out. Smokie promises that his fur makes him look bigger than he really is.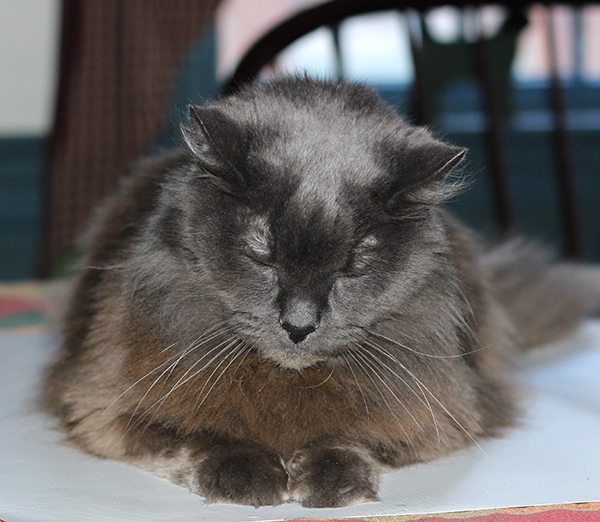 Here is the issue. Dogs and cats are also prone to a variety of health issues just like their owners (that's you and me). They also become at risk for arthritis, heart disease or diabetes. So, it's important to find the answer to the question: is your pet overweight?
How To Find Out if Your Pet is Overweight?
Dr. Ashley Gallagher is a vet at the Friendship Hospital for Animals in Washington D.C., in the video below, she explains how we can start figuring out if our pet is overweight. I really enjoyed the simple ideas and tools to gauge easily. It's a great place to start! Let's watch!
Here are some suggestions from the video:
–> Find out the signs of an overweight cat or dog with these great tools. You'll be able to find out the signs for cats and dogs after answering a few simple questions like these:
Is it difficult to feel his/her ribs or spine?
Is it difficult to see your pet's waist?
Is his/her abdomen sagging?
Does his/her face look more round with larger cheeks?
–> Use this tool to help calculate your pet's ideal weight.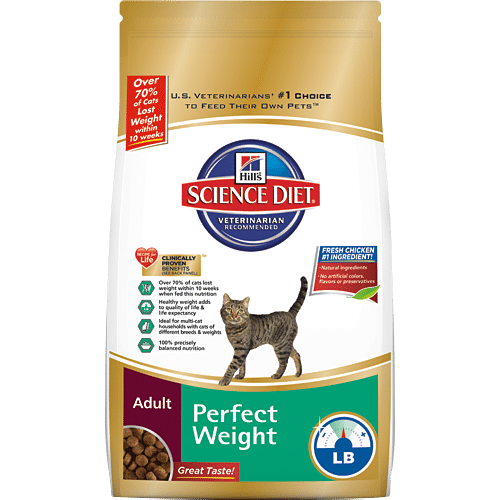 –> Bring pet to a veterinarian. They are the best qualified to determine your pet's body condition.  They can also help guide you if your pet may need to get more physical activity or change their diet.  That's where Hill's® Science Diet® Perfect Weight formula could be an asset.  The food offers a breakthrough blend of natural ingredients that helps pets burn calories no matter how active they are.
Over 70% of cats and dogs lost weight while eating Hill's® Science Diet® Perfect Weight formula!
Join The 10 Week Turnaround!
Share your own pet's journey, read success stories AND you'll even have access to a lot of tips and tools to make your efforts a success!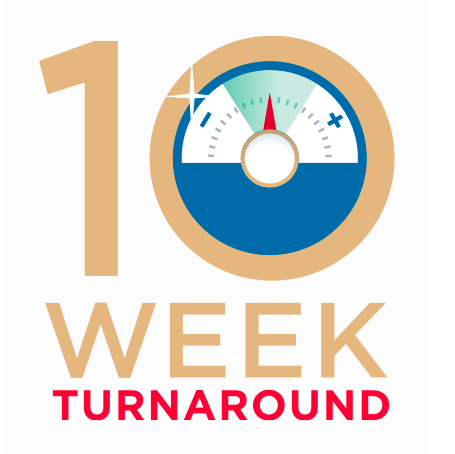 Kick off summer right and beat that heat!  Get a  jump start by signing up for the Science Diet 10 Week Turnaround!
Hill's is giving away bi-weekly prizes and a grand prize of free Perfect Weight food for a year to one lucky dog and one lucky cat!
Pet Weight Loss Success
Proof is in the pudding or in this case, the pet food. Here are some before and after photos of pets that have taken part in the 10 week turnaround!
Ethel, the cat lost 1.4 lbs in 10 weeks! Go Ethel!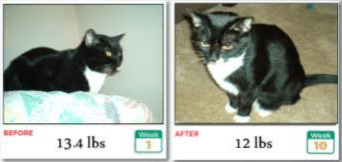 Joey, the dog lost 8.2% of his body weight! I'm totally jealous! Way to go!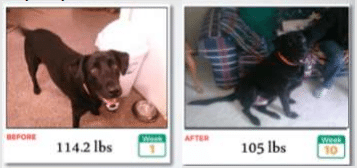 This post is sponsored by Hill's and the Pet Blogger Network. I am being compensated for helping spread the word about Hill's Science Diet Perfect Weight Food, but Homemaking Hacks only shares information we feel is relevant to our readers. Hill's Pet Nutrition, Inc. is not responsible for the content of this article.
Don't miss out! Sign up for the 10 Week Turnaround know and make sure to let us know how you make out!
Have you ever wondered if your pet was overweight?