This post is sponsored by Lunchbox.
With the busiest time of year upon us and money flying out of our wallets, I'm so excited to share the Kraft Spin To Win Sweepstakes, a delicious holiday recipe AND a Walmart Gift Card Giveaway. Kraft wants you to save on a season of celebrating with coupons and ideas galore! Discover delicious recipes to serve up for family fun this holiday season. You can get the scoop right here at Homemaking Hacks!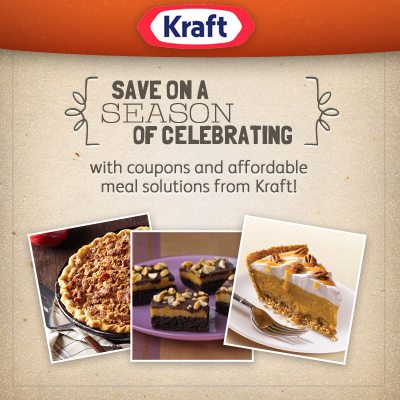 Spin To Win Coupons For The Whole Family!
With the holidays approaching, I need to save all the money AND time that I can. If you play the Kraft Spin To Win you'll get some awesome coupons! Simply pull the lever three times, score a winning mealtime combination, and get coupons for delicious Kraft Foods products your family will love.
7 Money Saving Coupon!
Here are the unique coupons available for playing:
$1.50 off the purchase of 5.25oz PLANTERS Tailgate Mix or 15.75oz Almond Chocolate Crunch Winter Mix
$0.50 off the purchase of one TANG Drink Mix Canister
$1.00 off the purchase of one CRYSTAL LIGHT On the Go Drink Mix
$1.00 off the purchase of one CRYSTAL LIGHT Liquid Drink Mix
$0.50 off the purchase of one KOOL-AID Liquid Drink Mix
$1.00 off the purchase of one CAPRI SUN 100% Juice
$1.50 off the purchase of one Maxwell House single serve coffee cups
Kraft and Walmart want you to Bake Up Some Holiday Spirit!
Check out the heart-warming Kraft-inspired featured recipes and tips. The whole family will love Cheesy Ranch Broccoli, Pretzel Chicken Dippers, Whipped Sweet Potato Bake, Triple-layer peanut butter brownies, Turtle Pumpkin Pie, Bourbon Bacon Apple Pie, and more! Today, I am sharing the Kraft Mini Cheese Balls recipe from the Walmart Site. They are SO yummy, I am definitely planning on making these to bring to parties this year. So easy too! Keep reading to snag that recipe.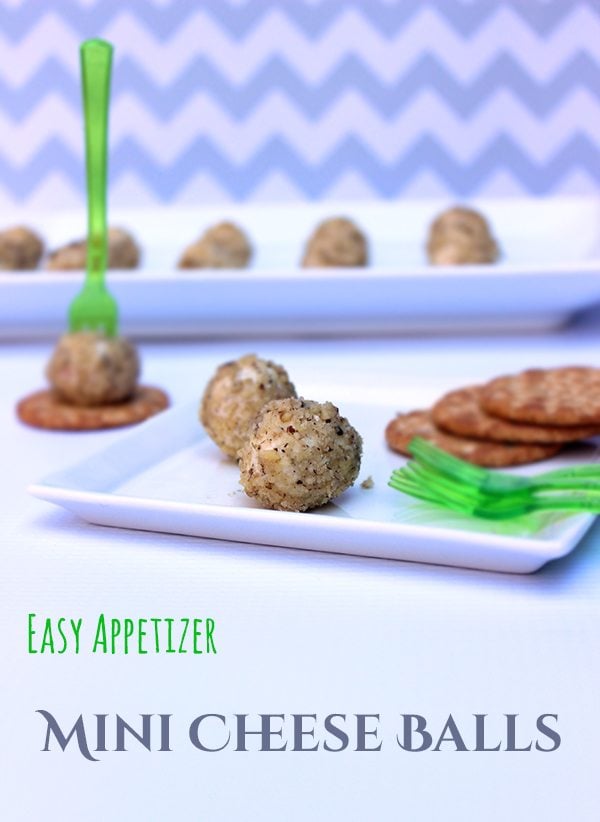 Mini Cheese Balls Recipe Compliments of Kraft Foods
Ingredients
1 tub (8 oz.) PHILADELPHIA Chive & Onion Cream Cheese Spread
1 pkg. (8 oz.) KRAFT Shredded Mozzarella Cheese
4 slices cooked OSCAR MAYER Bacon, finely chopped
½ tsp. Italian seasoning
½ tsp. garlic powder
½ cup toasted PLANTERS Walnuts, ground
Instructions
MIX cream cheese spread and mozzarella in medium bowl until blended. Stir in bacon and seasonings.
SHAPE into 54 balls, using 1 tsp. cheese mixture for each. Roll in nuts.
REFRIGERATE 2 hours. Original recipe printed here http://bit.ly/krafthubholidays
Free One-Year Magazine Subscription
Did you think that was all? You can also get rewarded for your holiday entertaining with a free one-year subscription to either Family Circle, Parents, or the Ladies Home Journal magazine. Simply purchase $20 worth of the Kraft Foods products you love to be eligible!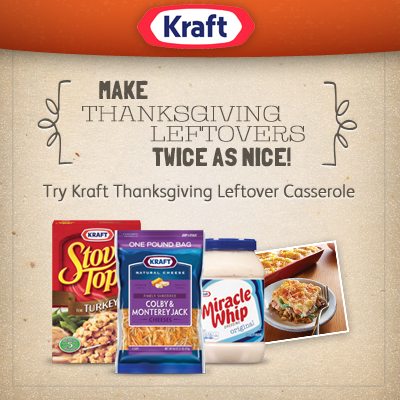 There are so many Kraft products to choose from to create your holiday meals. What will you choose? Kraft® Miracle Whip Original Dressing, JELL-O® Chocolate Pudding & Pie Filling, Philadelphia® Cream Cheese, JELL-O® Vanilla Pudding & Pie Fillin, Kraft® Cool Whip Original Whipped Topping, J.L. Kraft® Velveeta®Cheesy Jalapeño Ranch Dressing & Dip, J.L. Kraft® Velveeta®Cheesy Ranch Dressing & Dip, Baker's Semi-Sweet Baking Chocolate Bar, Kraft® Mayo Real Mayonnaise, Kraft® For Turkey Stove Top Stuffing Mix, Oscar Mayer Mini Smokies and more!
Win It!
PRIZES: Two lucky winners will each receive a $25 Walmart Gift Card
RULES:
-Giveaway is open to US Residents, 18+
-Giveaway ends on 11/23/2013 at midnight EST
-Entries are only valid through the Giveaway Tools Form
-Comments do not count as entries
Make sure to visit Walmart.com for more fabulous recipe ideas!