Have you heard of Parent's Choice® baby and toddler products? Maybe you've spotted them at Walmart? We'll be chatting about options when it comes to feeding baby, and you're cordially invited to join us at the #PARENTSCHOICE Twitter Party on 12/22 at 8pm ET. This is a sponsored post about Parent's Choice by Mirum Shopper, all opinions are my own.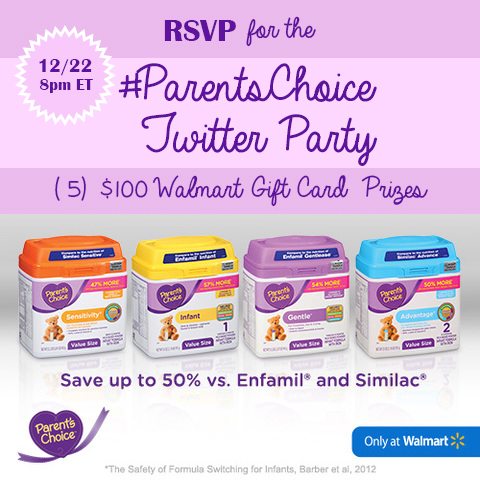 When it comes to feeding babies, there seems to be advice coming at you left and right. At the end of the day, it's up to you! It's great to have choices and especially those that you can feel good about.
Parent's Choice products are nutritionally comparable to their more expensive counterparts like Enfamil®, Similac®, and Gerber®. Shockingly, you can save up to $600 a year by choosing Parent's Choice®! That's a huge savings and something to consider.
RSVP #PARENTSCHOICE TWITTER PARTY
DATE: Thursday, December 22nd, 2016
TIME: 8-8:30 pm EST
HASHTAG: #PARENTSCHOICE
PRIZES: (5) $100 Walmart Gift Cards.
HOST:  @DawnChats
CO-HOSTS:  @MagicalSiblings, @SavvySavingCoup, @Adventuresof8 & PinkNinjaBlogg
OFFICIAL RULES: Read Official Rules Here. Open to U.S. Residents Only.
1. SHARE THIS TWEET:
RSVP for the #ParentsChoice #TwitterParty! #ad https://t.co/TNgcBUnkJN

TONIGHT 8-8:30pm ET! HUGE PRIZES! ? pic.twitter.com/yp5PTwLEg8

— Dawn Lopez (@dawnchats) December 22, 2016
2. FILL OUT THIS FORM: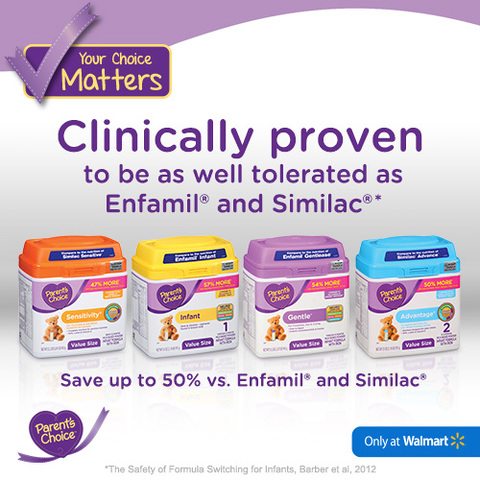 Parent's Choice® formula has been exclusive to Walmart since 1998 and has been the leading choice for feeding babies in the United States. Let's check out some of the products available.
Parent's Choice® Premium Powder Infant Formula
Value Size 35oz- Makes 65, 4 oz. bottles

Clinically proven to support growth and development  
Parent's Choice® Advantage Tub Powder Stage 2 Formula
Value Size 35oz

Suitable for babies 6-12 months
Parent's Choice® Sensitivity Canned Powder Infant Formula
Available in Value Size 33.2oz – Makes 59, 4oz bottles

 For fussiness & gas
Parent's Choice® Gentle Infant Formula with Iron
Available in Value Size 33.2oz – Makes 60, 4 oz. bottles

 

For fussiness, gas and crying
Parent's Choice  also extends beyond infant formula to include:
Baby and Toddler Foods, Toddler Formula for Older Infants, Ready-to-Drink Pediatric Nutritional Beverages and Pediatric Electrolyte Rehydration Solution and Powder Sticks!
Make sure to check them out next time you're at Walmart to see if these products are right for you!
Visit Parent's Choice Formula to learn if these products are perfect for your family. 
Will we be tweeting you there?