I almost let the opportunity to share something pink for St. Patrick's Day! I'm so glad I remembered to add a fun and unusual twist to a traditionally green, gold and rainbow-esque holiday. If you like to live just a teeny bit on the wild side, these Pink Shamrock Cookies are just what you need!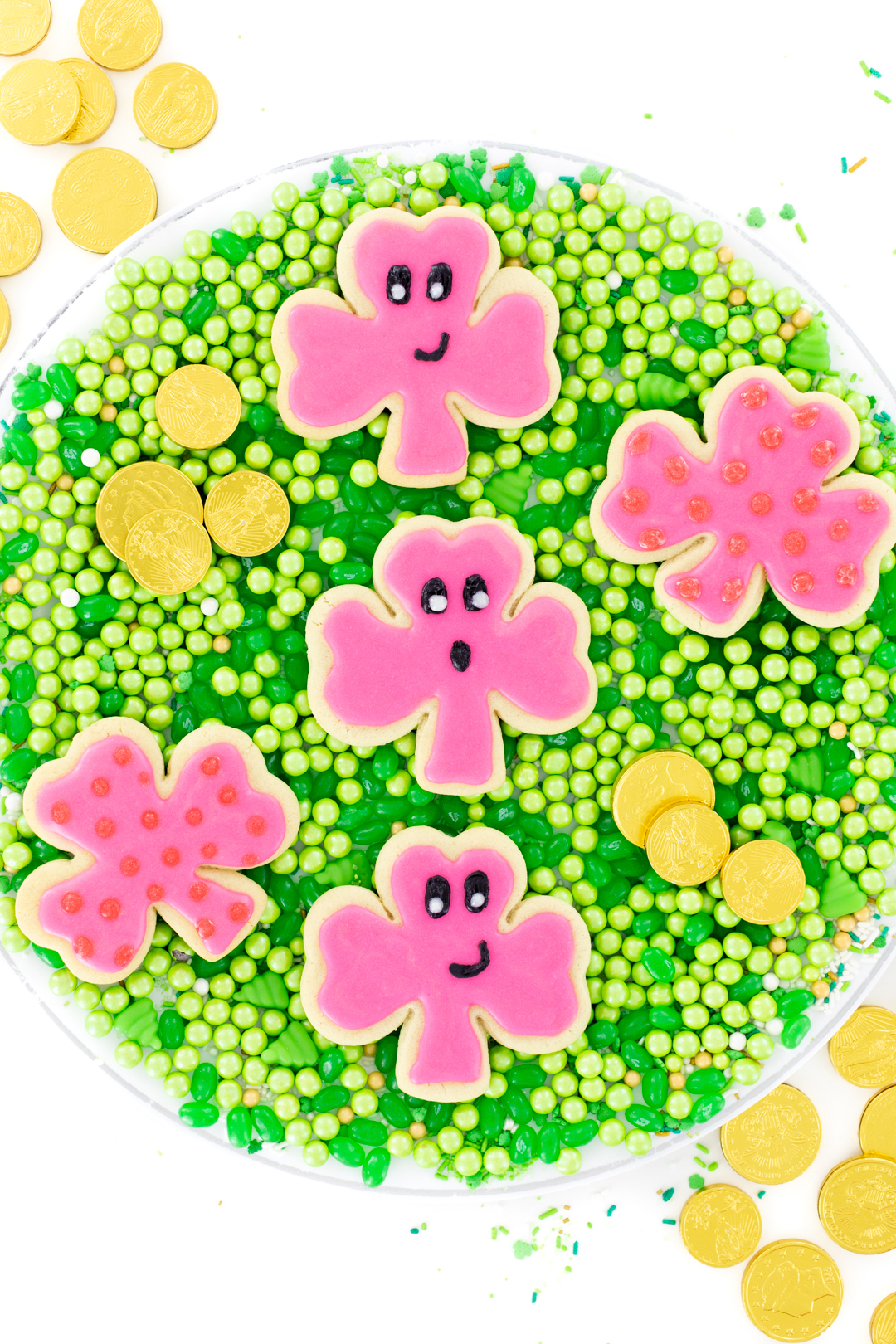 You probably know that I adore cute treats and easy but whimsical party ideas. These cute Shamrock Cookies with big eyes and smiley faces that I shared last week might have given you a clue. For these pink cookies, I wanted to make just a little different but equally as cute. I did this by adding more of what's called Kawaii style eyes vs. the big candy eyes that I did with the green cookies. It's easy to do by using black icing to make a pupil and then use white icing or an upside down candy eye as the iris. Sounds weird in writing, but it's pretty adorable if you ask me. Keep reading for more in-depth tips on how to do this easily.
EASY PINK ST. PATRICK'S DAY COOKIES
These cookies could not be any easier relying on a little store-bought refrigerated sugar cookie hack, your favorite pink icing and a black icing writer. Add a couple of candy eyes and that's really all there is to it! I'm a woman that likes recipes with very little fuss, but you can use almost any basic sugar cookie recipe or icing recipe if you prefer a from-scratch version. It's really the pink icing and cute face that makes these St.Patrick's Day cookies a hit. So let me show you the goods.
Here's what you need. Get the full printable list below.
Refrigerated Sugar Cookie Dough + All Purpose Flour
Shamrock Cookie Cutter
Pink Icing
Black Icing Writer
Big Candy Eyes

USE STORE-BOUGHT SUGAR COOKIE DOUGH
There are a couple of go-to tricks to using refrigerated sugar cookie dough that's store-bought. #1 you must add all purpose flour to it if you plan on rolling out and reshaping. In addition, you want to use a well-floured surface to do this.
After rolling out the dough and cutting out shamrocks, you will want to add the baking sheet to your freezer for 10 minutes. If you absolutely can't do the freezer, extend the time in the refrigerator. We need the cookies to be chilled to avoid the cookies puffing out and losing their shape. This will absolutely help to reduce spreading and preserve the shape as much as possible. They will expand a little, but we can definitely take steps to keep it minimal. It makes all the difference.
I recommending using a non-stick baking sheet or parchment paper and baking at a lower temp such as 325°F as well.
Once your cookies are baked and cooled, it's time to have some fun with the icing and fun faces. Here are some tips for success.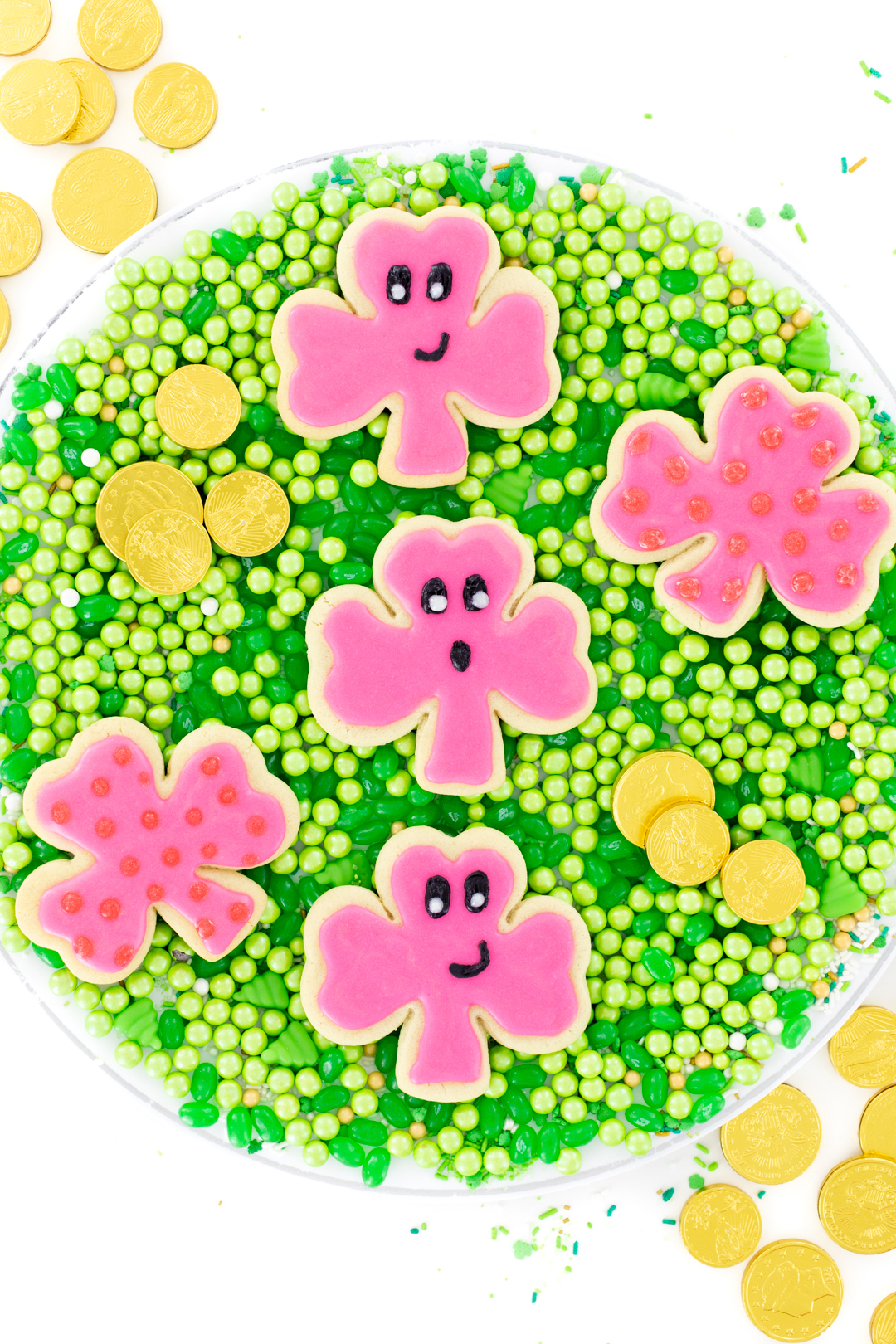 HOW TO MAKE KAWAII FACES ON TREATS
Think simple and a little backwards. Traditionally cute treats have a candy eye or icing drawn out to resemble them. For a Kawaii face twist, this basic concept is reversed. Instead of using a candy eye, use black icing to make a pupil and then using an upside down candy eye as the Iris. Or for smaller designs like these cookies, simply just use a tiny dab of white icing for the iris. Sounds weird, but it's pretty adorable if you ask me. Keep the face very simple and basic and ultimately the outcome will be adorable. Think tiny smiles, glowing eyes as pink cheeks like on this ghost cake or my star cookies. Kawaii means cute in Japanese which is where this super adorbs style comes in.
MORE UNUSUAL PINK TREATS
There are endless ways to make pink desserts for any kind of party. Here is a sampling of some fun ideas.
How about pink gingerbread cookies? They have never been so cute.
These offbeat Thanksgiving cupcakes are anything but boring. Just add pink and other fun colors for a unique twist.
How about a pretty in pink spider cake for Halloween?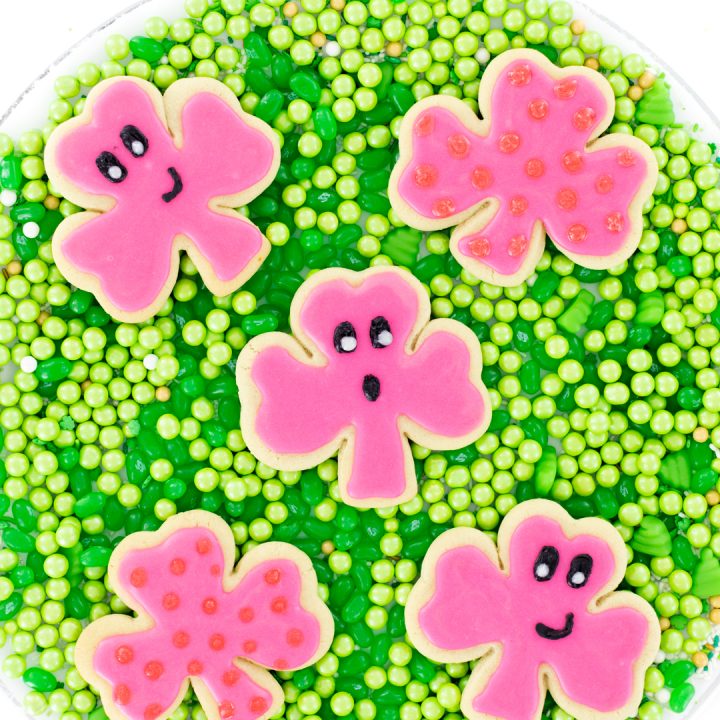 Pink Shamrock Cookies
Additional Time:
10 minutes
Cute pink shamrock sugar cookies for St. Patrick's Day with adorable smiley faces.
Ingredients
Pillsbury Refrigerated Sugar Cookie Dough (16.5 oz)
½ Cup All Purpose Flour
Pink Cookie Icing
Black Icing Writer
White Icing Writer OR Small Candy Eyes
Tools: Shamrock Cookie Cutter
Instructions
Preheat oven to 325°F
Knead cookie dough with all the purpose flour on a floured surface.
Roll the dough out until the dough is about ¼" thick
Use Shamrock Cookie Cutter to make about 10 cookies
Place cookies on a non-stick baking sheet
Add baking sheet to the freezer for 10 minutes or refrigerator for 15 minutes to help preserve shape and reduce spreading.
Bake for about 12 minutes.
Cool completely before decorating.
Once the cookies are cooled, carefully ice the cookies with pink cookie icing. Let set for about 5 minutes.
With black icing writer, make two oval shapes to represent the eyes.
At lower end of black ovals, place one upside down candy eye on each to represent the iris OR make a small dab with a white icing writer.
Make tiny mouth using black writing icing. Either a crooked smile or an oval similar to the eyes for a "wow" expression.
Let icing fully set before serving or packaging.
Recommended Products
As an Amazon Associate and member of other affiliate programs, I earn from qualifying purchases.