Did you ever notice how challenging it can be to get a real fruit smoothie? So many places use a mix, artificial flavoring or added sweeteners. Fresh fruit is so flavorful, why is that? I can't seem to find a go-to place locally to grab a "real" smoothie and it's irking me. On a recent trip to Boston, I stumbled on a place called Monkey Bar. It had been a while since we had such a yummy fresh beverage made to order. I tried one that had raspberry and mango and ever since then, I've been trying to make something at home that tasted similar. I did not figure that out yet and since they don't have a website, I don't really know what exactly was in it. All I know is that it totally rocked my world!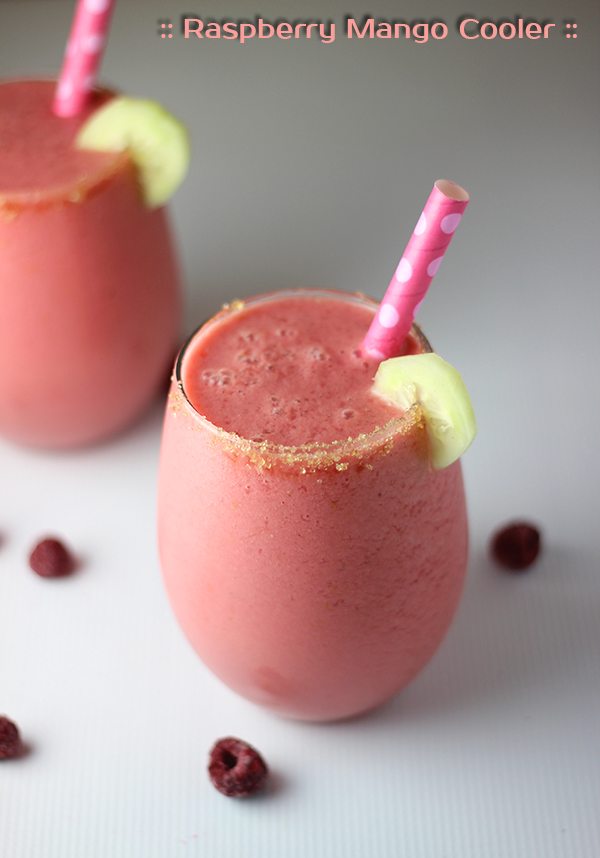 I've also been trying to knock off a few pounds, so one of the things I've trimmed out of my diet is added sugar. Mixing up healthy varieties of beverages are on my list of must-dos. During one of our smoothie discussions, my hubby mentioned that his brother only loves to have Smoothies while he is visiting Florida. He is a unique character, I tell ya. It made me laugh at first. He said that he will literally stop anywhere he can get one and drink his way right through Florida. But, after thinking about it, it really makes sense. Produce is of such abundance down there, here in New England it is a bit more challenging to find healthier sips at least out where I live in the "boonies". Even on my trips to Florida, I've noticed the availability of freshly squeezed OJ. It's really delicious too if you've never tried!
Raspberry Mango Cooler Recipe
Ingredients
2 Bananas
1 Large Ripe Mango
1.5 Cups of Frozen Rasberries
Juice squeezed from one Lime
1 Med cucumber, peeled and chopped
3 Cups of coconut milk
Instructions
Add all of the ingredients to a high powered blender. Add ice cubes as desired. ( I use about 1.5 cups / less if using any frozen fruit) Blend until completely smooth. Serves about 4.
Well back around to this raspberry and mango smoothie quest. While playing around, I realized that just adding mango and raspberry together just wasn't that sweet or appetizing. One of the key things to seek out is ripened mango. If it's not ripe, it really won't be as flavorful as with most fruit. So make sure to hunt them down while the going is good, it will make for a tasty beverage! I also added some lime for a little twist and cucumber to get a little veggie in. I've been adding cucumber to my smoothies for years simply because it's a way to add veggies that doesn't take away from the sweetness of the drink. You can barely taste it, but if you add just the right amount if will give the flavor a "cooling" effect. Hope you will enjoy this Raspberry Mango Cooler Recipe I came up with. All fruits and veggies and no sugary stuff to dilute it. Yay!
Do you like fruit smoothies? What is your favorite? Do you find it challenging to find them locally made without all the added "other" stuff?