Can't believe June is almost half way over already. Is it me or does time really fly? Most kids are already out of school, which means a lot more fun, but probably a lot less me time. My son and I have gotten into some fun projects now that he is home for the summer. We're doing a little bedroom makeover for him. While I love having him home, it also poses more of a challenge to sneak in some me time. On this month's quest to #TakeBack10 aka "sneak in 10 minutes of me time", I have another scrumptious recipe to share. It's all about easy to make Raspberry Vanilla Frozen Iced Coffee. Ooh la la. With the help of delicious International Delight Vanilla Iced Coffee, this is a breeze to make. This conversation is sponsored by International Delight. The opinions and text are all mine.

In case you missed it last time around, I shared Cinnamon Vanilla Upside Down Iced Coffee. It's delicious vanilla iced coffee floating on a pillowy cloud of cinnamon whipped topping. Truly worthy of your hot summer ten minute break. I'm also in the process of finishing up a little outdoor mini haven for myself where I can read and sip ice cold beverages, just for me! You could say it will me a mini lady cave, so to speak. You know, without the cave part.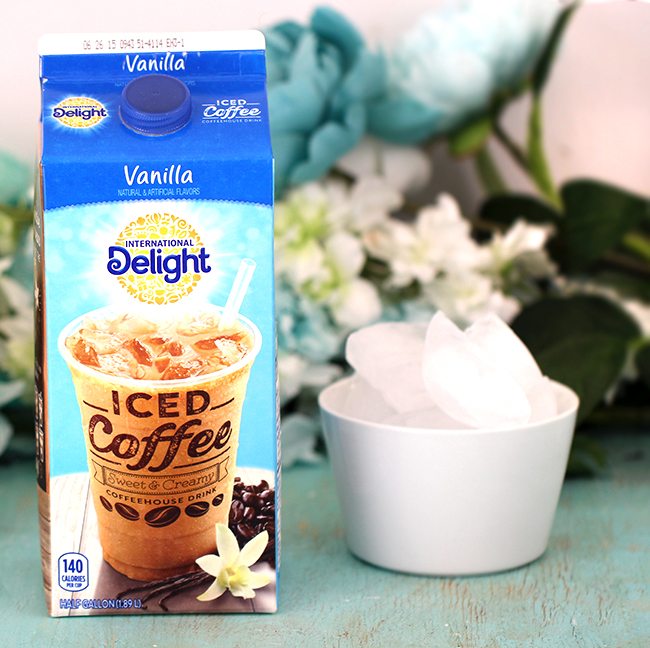 I'm really excited about it, promise to share when it's done! Hopefully it will inspire you to carve out a place just for you too. We're all hard working and heck, we deserve to treat ourselves to a little something special every now and then. Don't you agree? For now, I'll take 10 minutes to myself filled with a delicious icy beverage like this one! Mmm.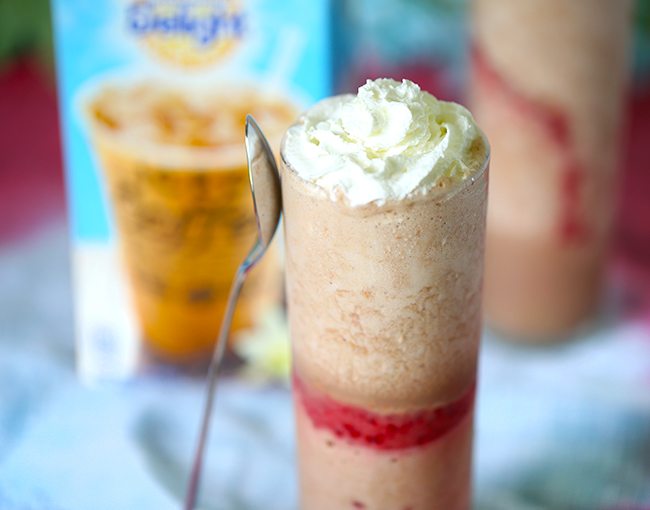 To make this quick indulgent treat, I used International Delight Vanilla Iced Coffee as the base and frozen raspberries, honey and vanilla extract. Oh it's good stuff. If you're really wanting to live it up and amp up break time, adding some chocolate syrup is a must try. Shall we dig in?
Raspberry Vanilla Frozen Iced Coffee
Ingredients
1 Cup & 4 Tbsp International Delight Vanilla Iced Coffee
1 Cup of Frozen Raspberries
1 Tbsp Honey
1 Teaspoon Vanilla Extract
Handful of Ice as needed
Instructions
There are two ways to make this. The easy was is to add all of the ingredients to a high powered blender including ice. Mix until blended. My favorite way to make this is by blending raspberries to make a seperate layer within the coffee. To do this follow these instructions: Mix the frozen raspberries, honey, vanilla and 4 tbsp of International Delight Iced Coffee until broken down. Reserve half. Mix the cup of International Delight, half of the raspberry mixture and handful of ice. Then, pour half in a cup/glass. Pour the reserved raspberry mixture in and then pour the remaining mixed iced coffee on top. Top with whipped topping if desired. Makes one large or two small servings. Enjoy!
7.8.1.2
166
https://cutefetti.com/raspberry-vanilla-frozen-iced-coffee/
I have to admit, this was an instant favorite that I can't wait to make again. Hard to resist! I have to admit (although you probably already know) we definitely have a very ridiculous addition to running out for coffee shop beverages. Not only does it deplete our play time funds, but it's also a huge time sucker which does not help with productivity.  We really need to give our wallet a break by trying to create delicious treats that we can enjoy right at home. This Raspberry Vanilla Frozen Iced Coffee totally qualifies!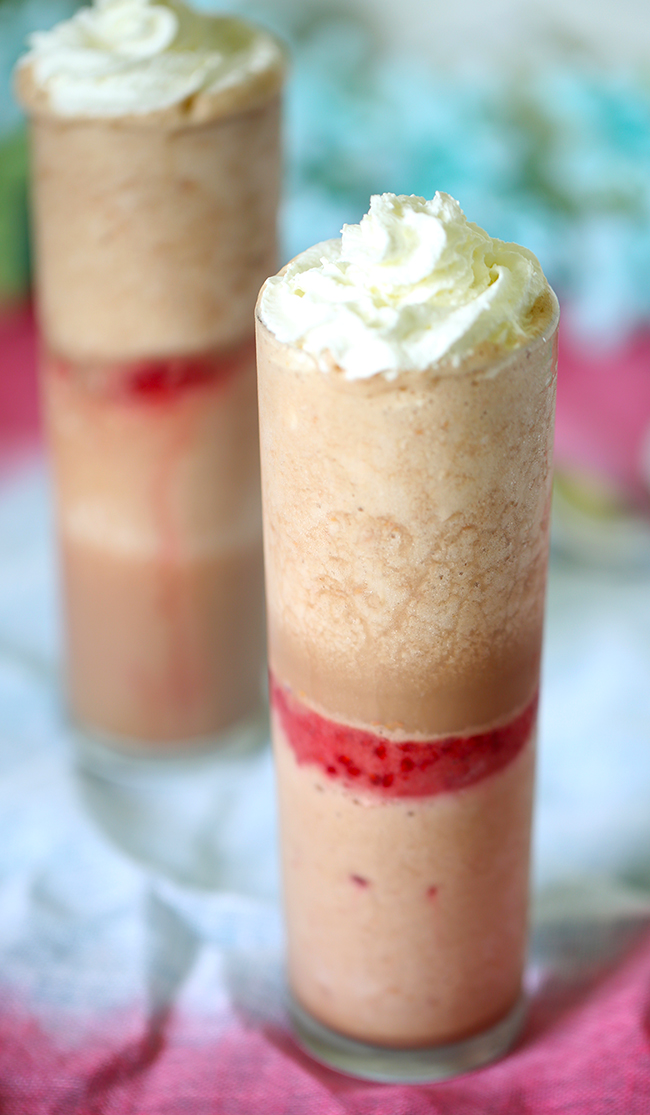 Never miss a thing by becoming a Fan of International Delight on Facebook, Twitter, Instagram & Pinterest.
Want more awesome International Delight fun this summer?
Sign up for their newsletter right now! You'll not only get awesome things in your inbox like an instant coupon for signing up, but you'll also be entered to win PRIZES like a tablet for example.
How are you squeezing in a little me time this summer? Share your plans! 
This conversation is sponsored by International Delight. The opinions and text are all mine.