I have a bit of a confession to make. It might be an obsession or even an addiction. Gasp. Here it is. I can't control myself at checkout when I'm shopping. I don't go for those tabloids or gossip magazines, oh no. But, I seem to not be able to control myself when it comes to recipe magazines. They totally get me every time. At the grocery store or at the hobby shop, I can't escape them.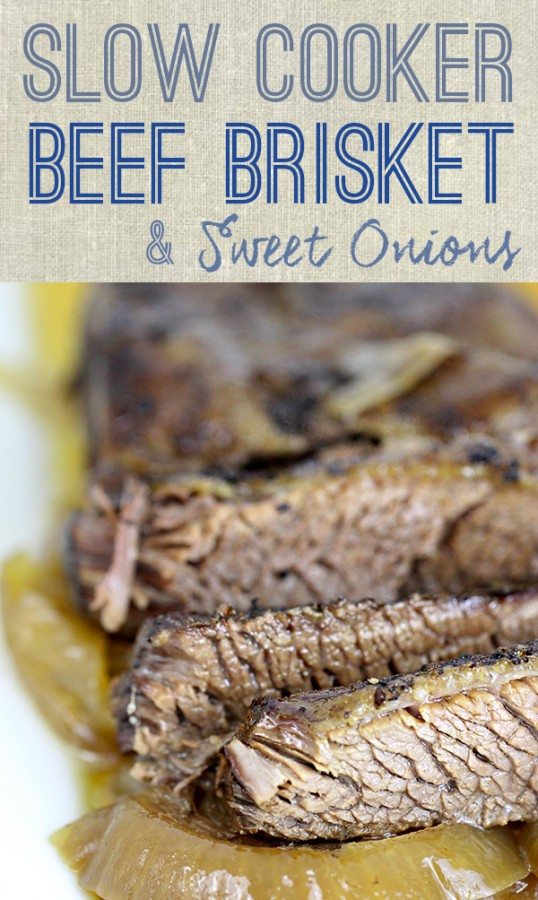 Well, today this little habit of mine paid off because this Brisket with Sweet Onions recipe came out perfectly. I found the original recipe in a little mini magazine from Crock-Pot called "Skinny Slow Cooker Recipes". Not only is the recipe easy, but it also has less than 500 calories per serving. Pretty shweet. (No that wasn't a typo). With only a handful of ingredients, the brisket really comes together nicely. The smell of it cooking was totally nostalgic, it really reminded me of something my mom made growing up. Um.. probably brisket! *wink*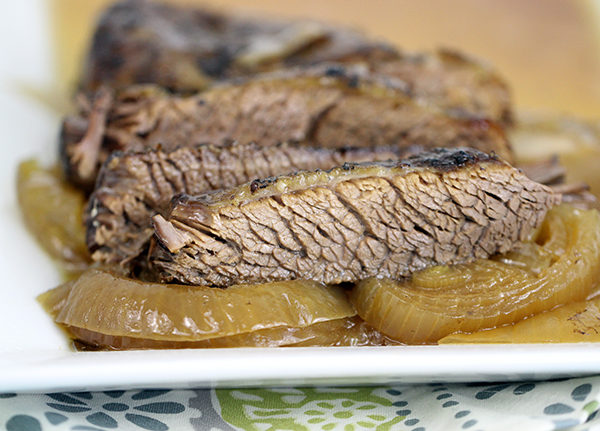 The recipe calls for a three and a half pound flat-cut boneless beef brisket, so I decided to use my 8 quart slow cooker for this and it fit and cooked perfectly. Although the recipe doesn't suggest which size to use, I wouldn't go much smaller as you'll have a difficult time cramming your meat in there. Plus I was able to perfectly layer the meat over the onion slices so it can soak up the flavors.
AD: Hamilton Beach 8-Quart Slow Cooker
Ready for comfort food at it's best?
Slow Cooked Brisket with Sweet Onions
Ingredients
2 Large Sweet Onions Cut into 10 1/2 Inch Slices (Maui, Vidalia or Walla Walla Onions Recommended) I used "Sweet White Onions".
1 Flat-Cut Boneless Beef Brisket (Approx 3.5 Lbs.)
28 Ounces of Reduced Sodium Beef Broth
1 Teaspoon of Cracked Black Pepper
Non-Stick Spray for Coating
Instructions
Coat inside of your slow cooker with non-stick cooking spray. Layer the bottom with the onion slices. Season your brisket with salt and pepper if desired, then heat a large skillet over medium to high heat. Add your meat and cook for 10 to 12 minutes or until browned on all sides. If your meat is particularly large, you can cut it into two pieced in order to fit it into a pan to brown, that is what I did. Once brown, place over the onions in the slow cooker. Then, pour broth into slow cooker and add peppercorns on top. Cover and cook on high for 5 to 7 hours. Mine cooked in about 6. To serve, remove brisket and place on a cutting board. Cover loosely with foil and let it stand for 10 to 15 minutes. Then slice and serve with onions and broth.
7.8.1.2
134
https://cutefetti.com/slow-cooker-brisket-with-sweet-onions/
Have you ever made brisket in a slow cooker? What ingredients did you use?
Does anybody else have an addiction to buying recipe magazines at check out?