It's been a while since I made breakfast in my slow cooker. Totally long overdue. Besides it being easy, I love that a batch of breakfast casserole will last us a few days. Totally worth the effort to have a homemade start to our morning beyond just a day. Ooh plus breakfast casserole loaded with egg, cheese and other goodness pairs well with my morning gallon of coffee. I'm just kidding, no actually I'm not. Don't judge.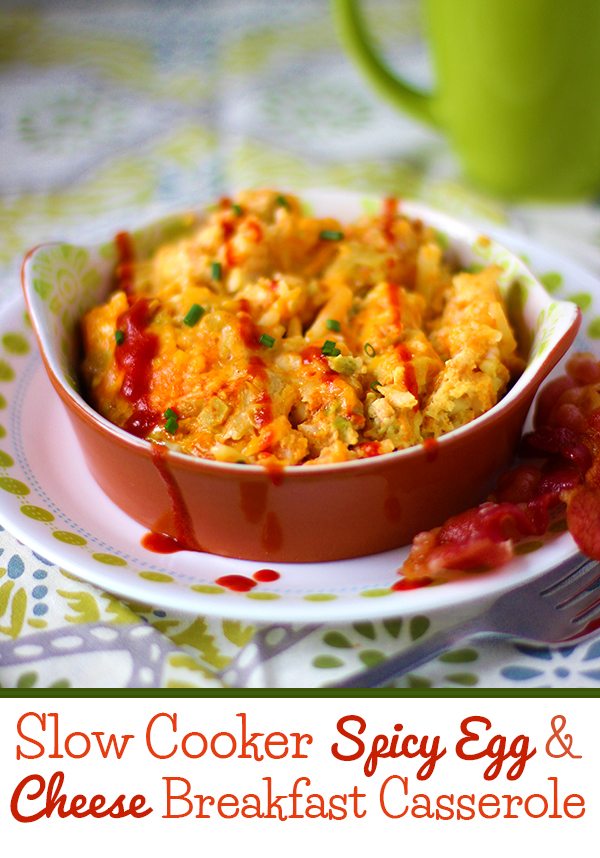 Lately I've been sabotaging myself. You see, my husband I have this addiction to watching Netflix. Actually, truth be told… I'm multi-tasking and watching it right now. Yes, really. Okay, let me get to the point. After working pretty much all day, making sure everything goes well at home, I feel like I deserve some down time. The problem is that the down time is cutting into my beauty sleep. My eyes are burning and my body is begging me to cut the crap. I just can't do it right now. So… big ole slow cooker breakfasts made in advance is helping me get through this self indulgent/self sabotaging period. Oh that and the gallon of coffee that I mentioned earlier of course. Mmm. Coffee.
I had the itch to make something with Sriracha Sauce, since I had a bottle on hand for another recipe that I'll be sharing soon. I had made something like this slow cooker breakfast casserole a while ago with regular hot sauce. I really liked the addition of flavor with a little kick. This recipe is mildly spicy in my opinion, but level of spice is always different according to your palate. If you like extreme sweat your pants of spicy, you might want to experiment with adding more. Or you could just add an extra drizzle on top like I did for my hubby who has a seriously high tolerance for an extra kick.
Slow Cooker Spicy Egg & Cheese Breakfast Casserole
Ingredients
Hash brown Shredded Potatoes 32 Ounces
Butter 1/2 Stick
Shredded Cheddar Cheese – 2 Cups
Eggs (18)
Siracha 1/2 Cup
Chopped Green Chiles Canned 7 oz
Green Pepper ½ Large Chopped Fresh or Frozen
Onion ½ Large Chopped Fresh or Frozen
Salt & Pepper
Also Needed: Crock Pot – 5 Quart or larger
Instructions
In a mixing bowl, beat the eggs, Siracha Sauce, green chiles, few dashes of salt and pepper. Layer half of the hash brown potatoes into the crock pot and half of the chopped peppers and onions evenly. Spread thinly sliced portions of ¼ stick of butter. Sprinkle 1 cup of shredded cheese evenly. Pour ½ of the egg mixture evenly over this layer. Repeat making an additional layer. Set the crock pot on low for 6-8 hours. Make sure the casserole is cooked in the middle before turning off as slow cookers can vary greatly in temperature.
7.8.1.2
119
https://cutefetti.com/slow-cooker-spicy-egg-cheese-breakfast-casserole/
So… am I the only one that stays up way later than they should because of a Netflix addiction? If you're like me, tell me what your favorite shows are to watch?