Are you a big Halloween fanatic? Such a fun holiday and  it's not only fun for the kids. We can have some fun too! Today, I'm sharing a slew of fun ideas that you can both bake up together. Baking with kids is fun and a way to spend some quality time. Get your matching aprons on and check out all these fun products that can help you get some spooky fun going on in your kitchen this month. I'm a proud World Market Trendsetter, promotional items have been provided for this post. Today, I'm featuring pieces from their Halloween Baking Collection.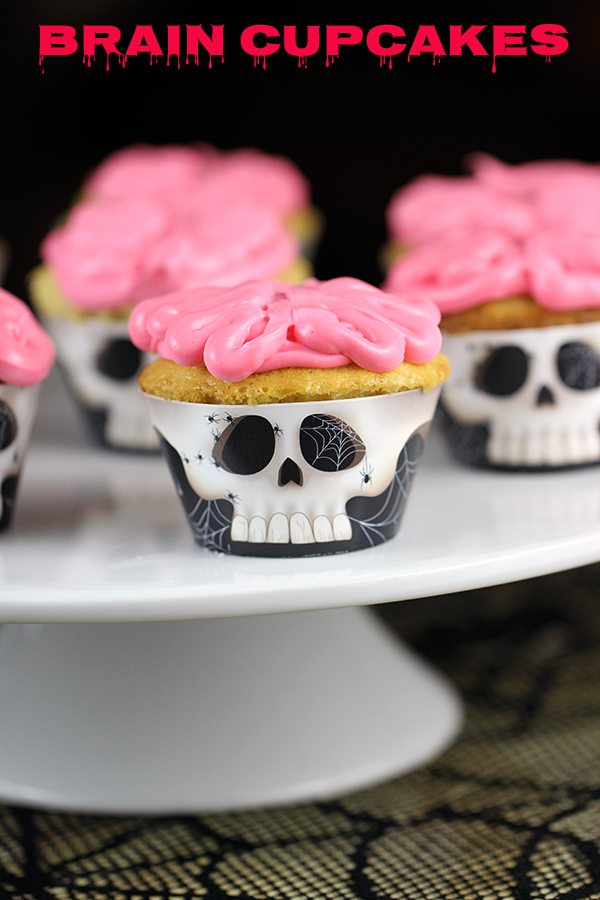 I just love World Market for pretty much everything, but they have amazing seasonal goodies from decor, serving and cooking.  Kind of makes me giddy, I could spend ours checking out all of their splendid goodies!
Easy Spooky Halloween Treats
Jo Cupcake Brains Kit – This might just be my favorite. The kit comes with mix for the cupcakes and frosting as well as skull cupcake wrappers. It shows you the easy way to frost your creepy brains, which is really easy to follow.  These are the perfect spooky treat for any Halloween activity.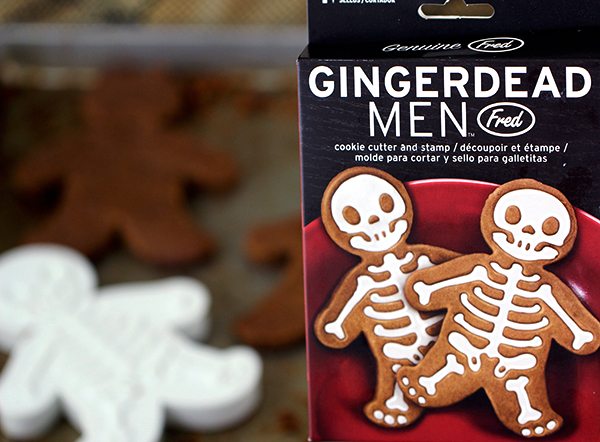 Gingerdead Man Cookie Cutter – Now this is one fun twist on traditional gingerbread men. These make me laugh. The cookie cutter is double sided, one will cut the shape out and the other side is a press. Then you'll need icing to decorate the skeleton.  Eek!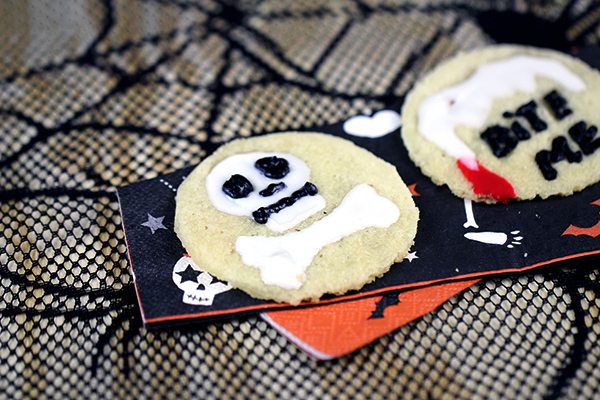 Halloween Cookie Stamps –  This creepy duo makes haunted cookie making simple. The set comes with two different stamps. One is a skull and the other is vampire teeth. I loved adding a little red icing to make it extra bloody.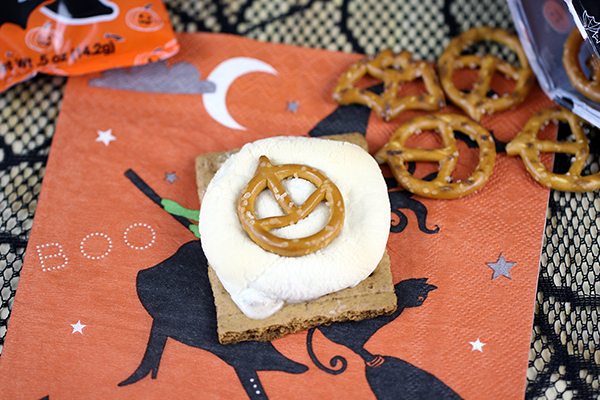 Utz Halloween Pretzel Treats (Bats and Pumpkins.) –  These special shaped pretzels are perfect for serving as is, handing out as treats since they come in mini pre-portioned bags or adding to your baking fun. I made a simple s'mores treat by melting chocolate and marshmallow on top of a graham cracker, then I pressed a shaped pretzel on top. Totally gooey cuteness.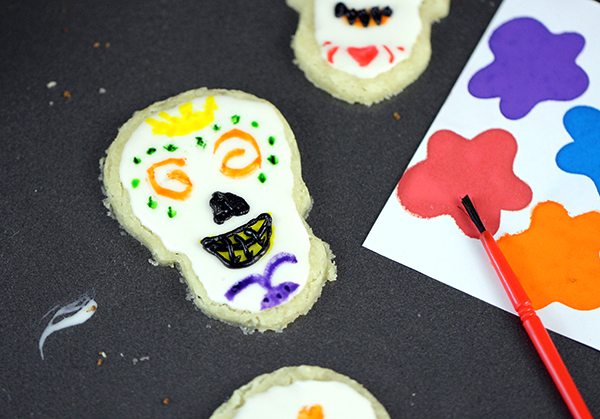 Dia de los Muertos Cookie Kit – This might just be one of the most fun for kids to create. The kit comes with cookie and icing mix, then once the icing dries, kids can paint their own using the cook "paint on" color. These will be perfect for a Dia de los Muertos party! World Market has a slew of other great additions for this theme, be sure to check them out for party supplies.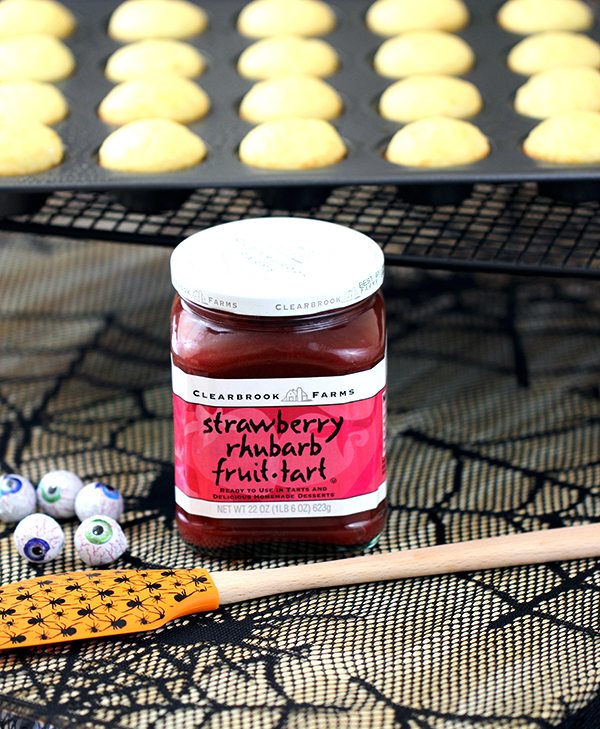 "Bloody Filling" Strawberry Rhubarb Tart Filling – Here's one that is as tasty as it is the perfect color of blood. When I spotted this, I immediately thought it would be a great way to fill cupcake with a "bloody filling".  That leads me to my next project: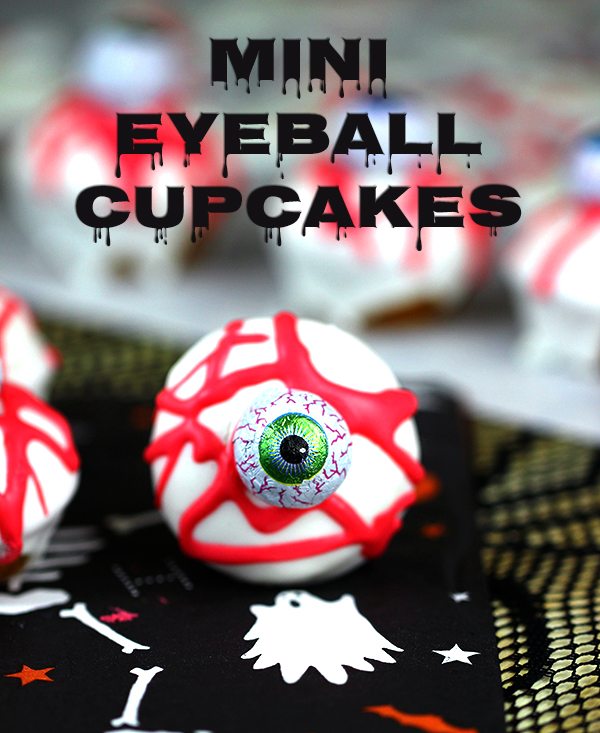 Mini Eyeball Cupcakes –  To create these easy creepy eyeball mini muffins, I used this nonstick muffin tin here.  I made white cake muffins, cooled and then filled with the "bloody filling" from above. I warmed white frosting so that it was pour-able (just a few seconds in a microwave) to frost the cupcakes in just minutes.  Then I drizzled more warmed frosting mixed with red food coloring to add some "blood shot"  action to my eyes. Lastly, top with Milk Chocolate Eyeballs. This is a super simple, yet seriously creepy treat!
Other notables for your holiday baking? Check these out:
Spatulart Spatulas (pictured above)
Skull Ceramic Measuring Spoons
I also loved their Halloween Decor. Two of my favorite picks were the Meri Meri Eek napkins and the Spider Web Tablecloth for perfectly spooky serving! World Market is a must – shop place for all of your Halloween fun!
Book of Life Sweepstakes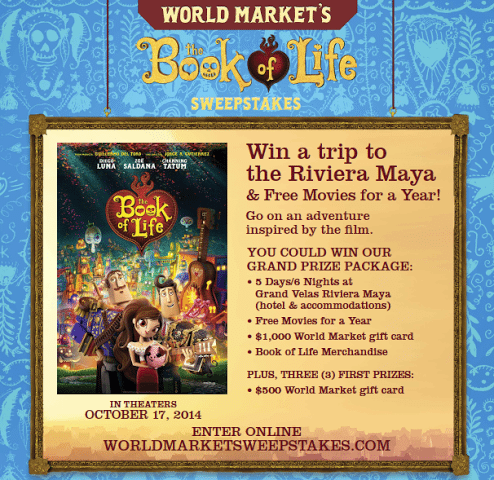 Want more fun from World Market? Be sure to enter the Book of Life Sweepstakes where you can win this grand prize:
* A Trip to the Maya Riveira
* Free movies for a year
* $1000 World Market GC
* Book of Life Merchandise
Three additional winners will receive a $500 World Market GC!
Have you shopped at World Market yet?  What creepy Halloween goodies do you want to bake up first?