Are you a into sports or have a sport lover in your family? You must have at least one! We're totally into football this time of the year, but you already know that. That's why I'm excited to invite you so share your pregame pride by creating a pregame reel and sharing your fond sport memories! Plus, I have a clever idea on how to create a memorable gift for all of the sport fans in your life. This is a sponsored post about NCAA Pregame Pride with Dove Men + Care, AXE, and Degree at Sam's Club, all opinions are my own.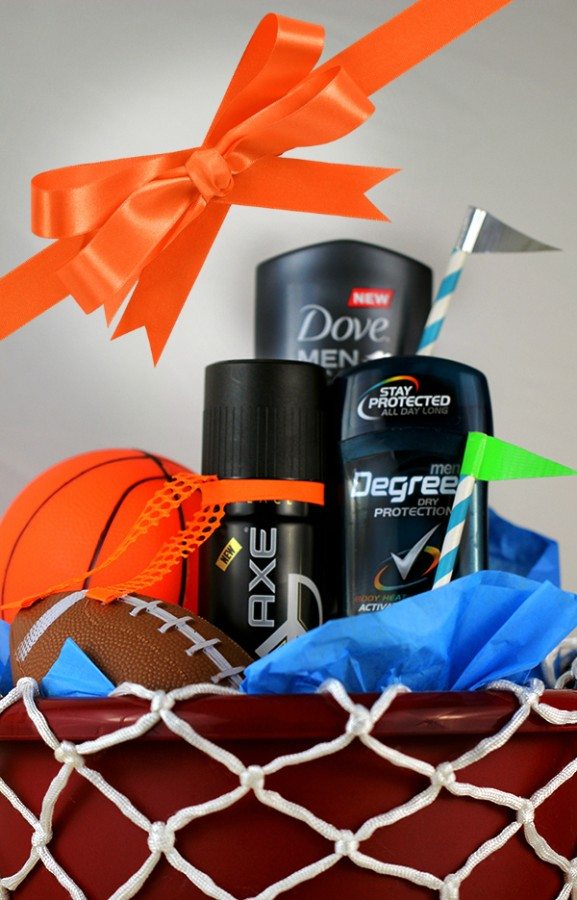 First up, let's chat about gifts for the sport fan in your life. A while ago, I came up with the idea of using basketball nets and mesh safety vests to create sporty party decorations. These can be seriously inexpensive and a great way to build in a sport theme.  My son is a complete sport nut, if he's not playing outdoors or watching a game, he's inside playing a sport video game.  You could say I have experience with planning parties around his love for the game. As a matter of fact, he is literally talking to me right now and asking me to help him brainstorm a name for a gaming channel he's creating. True story. Ahem now back to what I was trying to say…
Gift Idea for Sport's Fans
I love doing themed gifts, creating a gift basket is not only fun put together but even more fun to receive. To make a "basket", I used a small round plastic basket. Then I draped a basketball net around it. You could attach the net by tucking or taping around whatever container you want to put your gift in. For cute accents, I took colored Duck Tape and wrapped a piece evenly around a paper straw and then cut a pendent shape to resemble a team banner. It would be really cute to do these in matching colors to your gift recipients favorite team. For another final touch, I cut a small strip out of the mesh safety vests and made a simple ribbon to add to the AXE spray.
Then, the rest is even easier.  You can get multipacks of your sport's fans favorite pregame products at Sam's Club.  Fill your basket up with products from Dove Men + Care, AXE, and Degree! You can really stretch your buck and make multiple gifts when you stock up!  When you sport, you sweat. They totally go hand in hand. With the holidays coming, this could be a great way to save on gifting too!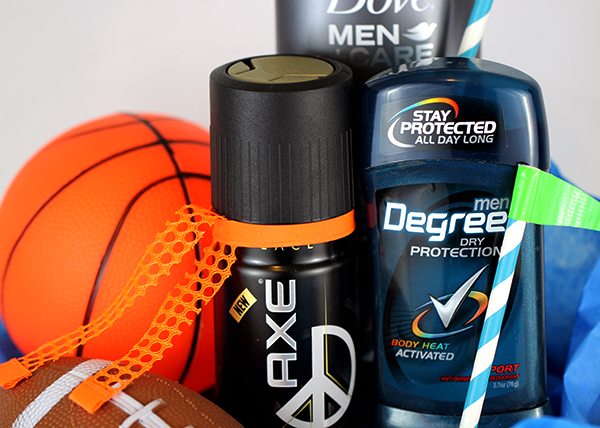 Show your pregame pride by creating an NCAA highlight reel sponsored by Dove Men + Care, AXE, and Degree. Whether it's a throwback to your glory days, your child's winning goal or tailgating with friends, capture the memories then share them online.
Create your NCAA highlight Reel!
Here's how to make yours:
1) Select a theme
2) Upload photos
3) Finish your Highlight Reel
Final step  – Share, share, share!
This is such a great way to preserve those sporty moments in your life. Have fun!
Now on to a fun giveaway, ready?
WIN IT!
PRIZES: (4) winners will each receive a prize pack with the following:
• One Degree Adrenaline Series Cool Rush Anti-Perspirant & Deodorant
• One AXE Peace Body Spray
• One $20 Sam's Club Gift Card
Good luck!
Who are the sporty people in your life?