Always on the quest for easy to make meals and shortcuts, as you know. I love the web for that, so many incredible ideas and of course recipes that will knock your socks off. I was just perusing the new Kraft free cookbook for scrumptious ways to tickle my taste buds and it's really impressive. I've been sitting here, not knowing which recipe to try first. They really nailed these. I mean easy desserts with fresh fruit or delicious burgers the the most amazing cheese cascading down the sides just begging to continue on down to my fingers so I have an excuse to lick them. I just might be drooling on my keyboard (you will never know for sure, but it's very possible). This is a sponsored post about the FREE Kraft Kick Off Your Summer Cookbook that can be downloaded, all opinions and excess drool are my own.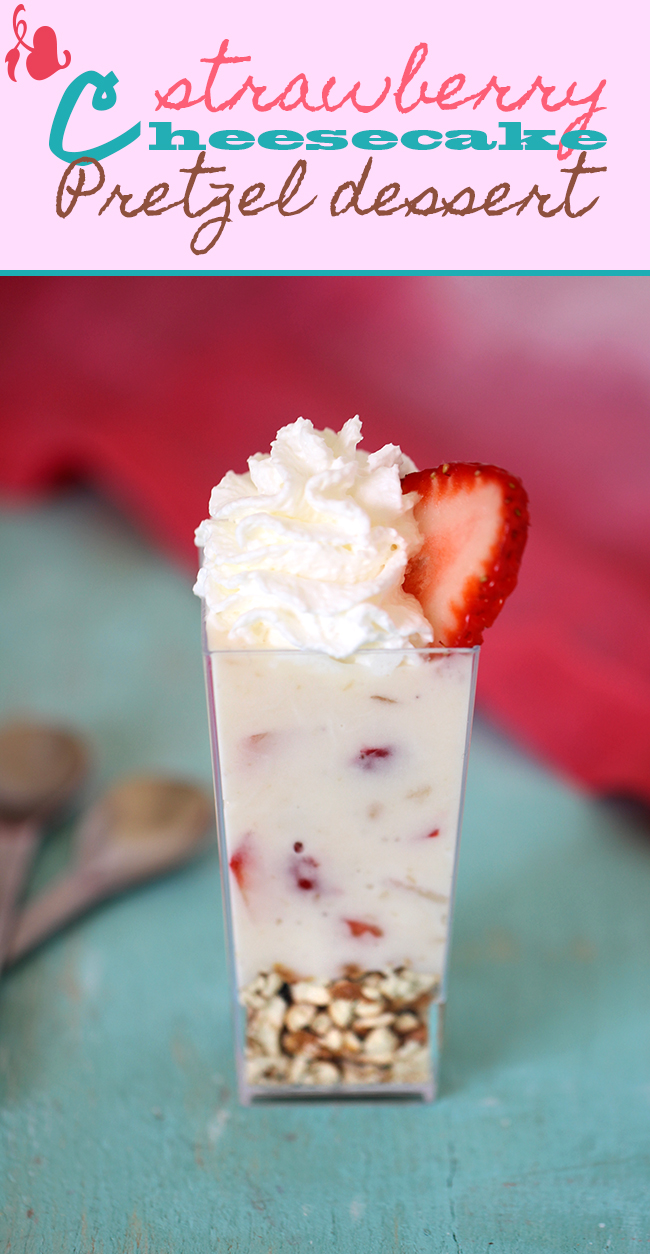 One of the most gorgeous recipes that you'll find in this cookbook is Mini Strawberry Pretzel Jars. You know when food is just breathtaking? Yeah, that!  I'll definitely be giving that a try, I've been seeing recipes using strawberries and pretzels and am always amazed at the combo. Today, I'm going to share my own little twist to this in a 3 ingredient recipe. Just a little "mini" taste of all of the ideas you can get in your own free cookbook download. Mmm. Mmm. I love an excuse to make dessert, as if I really need one. Ha!
GET YOUR FREE COOKBOOK BY CLICKING ON THE IMAGE BELOW:
For my own recipe, I've simply used the crushed pretzel mixture from the free cookbook, fresh strawberries and Jell-O Cheesecake Instant Pudding & Pie Filling. This was my first time trying it and thought it would be a sweet shortcut to get yum really quickly. To make this a lighter treat, using my very favorite little mini parfait cups was my best option. Plus, I just find them irresistibly cute. Hope you enjoy!
Easy Strawberry Pretzel Dessert
Ingredients
1 3.4 oz Box Jell-O Strawberry Cheesecake Instant Pudding & Pie Filling Mix (prepared according to directions)
1 Cup COOL WHIP Whipped Topping
1 Cup of Strawberries (sliced, then chopped)
1 Cup of Crushed Pretzels
2 Tbsp Sugar
1/4 Cup butter or margarine, melted
Instructions
Mix all strawberries with prepared cheesecake pudding & COOL WHIP, set in fridge. Mix pretzel crumbs, 2 Tbsp. sugar and butter; press onto bottoms of 10 (3-oz.) serving cups. Add pudding mixture on top of pretzel mixture, divide evenly. Top with COOL WHIP if desired. Makes 10 - 3 ounce cups.
7.8.1.2
167
https://cutefetti.com/strawberry-cheesecake-pretzel-dessert/
If you like this recipe, make sure to download this FREE Kraft Kick Off Your Summer Cookbook for amazing recipes that are sure to excite your family this summer! Plus, get more interactive goodies like a recipe video. Nom nom!
What recipe from this Kraft Kick off Your Summer Cookbook would you like to try first?