As we're getting ready to wrap up the first week of November already, it's time to shift over to Thanksgiving. From candy and now turkey time, this time of the year is just so much fun. I'm still not sure how we'll celebrate exactly, I'm still hashing over my options. But after checking out all the awesome Thanksgiving themed goodies at World Market, entertaining seems like a must. I think you'll agree!  I'm a proud World Market Trendsetter, promotional items have been provided for this post. Today, I'm featuring pieces from their Holiday Entertaining Collection .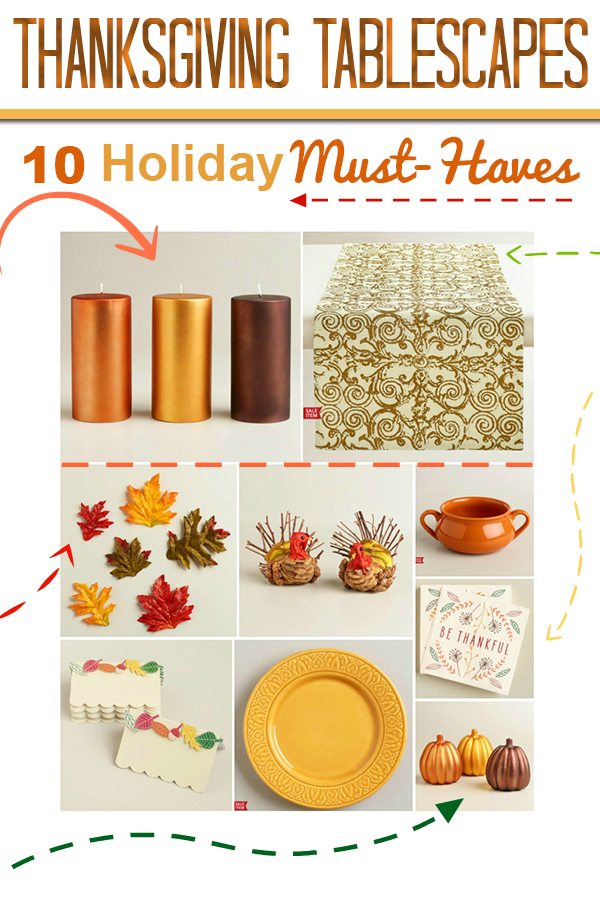 You see, I have a bit of an obsession with their stuff. I have about 20 different patterns of their wonderful napkins. Seriously, am I the only person who collects these things? I do have a valid excuse for myself here, I like to add them to my food photos for my blog. Take a look around, I bet you'll start to notice. They always have the coolest stuff for home and beyond. They always have fun seasonal goods from coffee and food to decorating. I've even purchased lots of unique gifts for my friends and family. They have some really cool gift baskets!
10 Must Haves for your Thanksgiving Table
White and Gold Gate Print Jute Table Runner –  To create a Thanksgiving Tablescape, choosing a color theme is important. Starting out with tablecloth, runner or napkins will be a great place to start. I'm smitten with this white and gold patterned runner. The colors are pretty and can be used long beyond just one day, definitely a great autumn pick.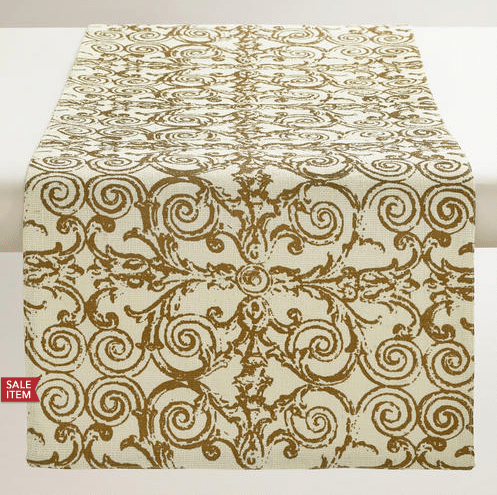 Amber Dinner Plates – They have a huge selection of plates at World Market, but these amber plates speak Thanksgiving to me. These are simple, but with the addition of the design and autumn color, these are a win for T-day and beyond. These are also available of other fall hues as well.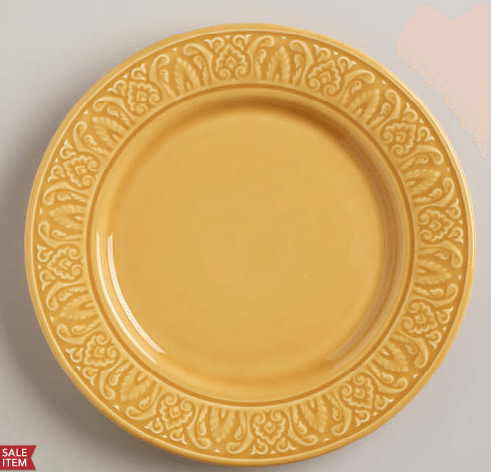 Gold Flame Double-Handled Soup Crocks – Serving up soups or sides? I am loving these cute crocks, I think they are a must for a balanced look that includes autumn tones. They're also available in green and sunflower.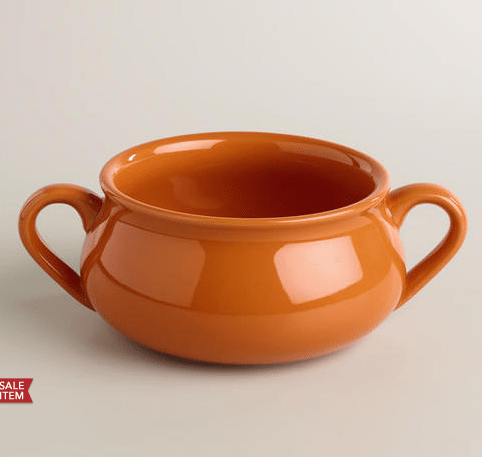 Glitter Autumn Leaf Scatters – I love these pretty leaves, the glitter makes them extra fancy. They can be used by loosely scattering them around your table or by adding them to a centerpiece as well. Lots of options and they are a very inexpensive way to add a special autumn pop.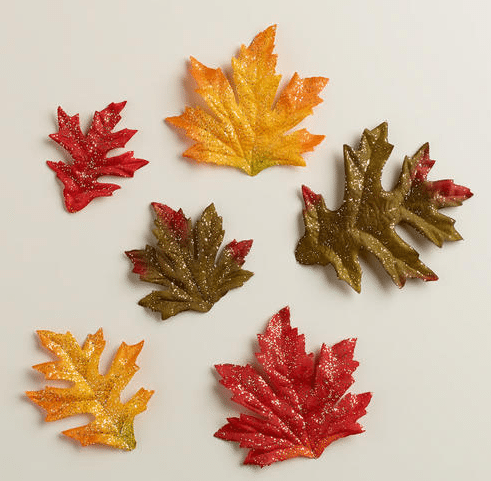 Large Matte Metallic Pillar Candles –  I'm crushing on these matte metallic colors and candles are a always a great way to add a pretty look or add to ambiance.   They also come in small if you prefer or want to mix and match to add height to the center of your table.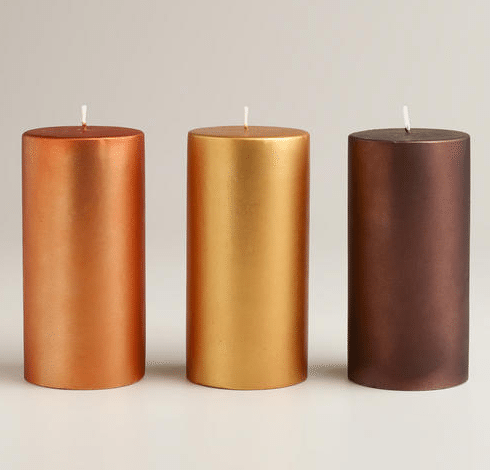 Matte Metallic Pumpkin Candles – Just because pumpkin carving season is over, doesn't make pumpkin any less awesome for the whole season. Not only tastes delicious, but adding cute decor like this is as easy as it is a perfect simple touch.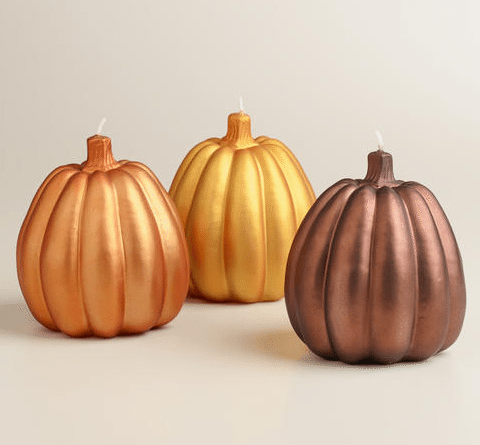 Be Thankful Beverage Napkins – World Market has many Be Thankful themed items, one eye catcher for me are these napkins.  I love the color, design and the message. These come in a variety of sizes too.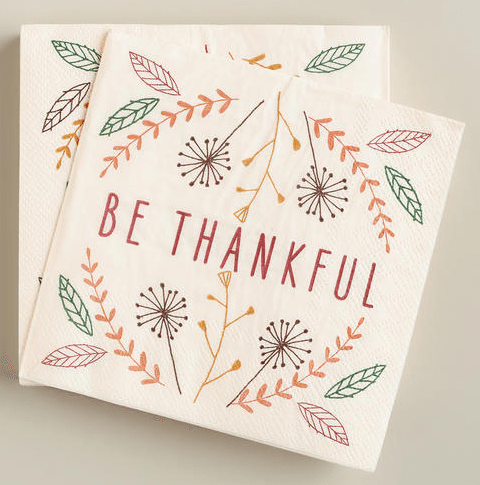 Be Thankful Place Cards – Along with the "Be Thankful" theme, I love these cute place cards. This is a great way to personalize the experience for your guests. This would be particularly nice if you have a lot of guests coming over to celebrate.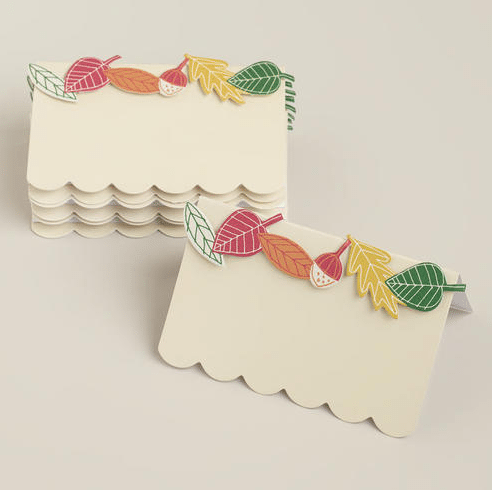 Turkey Serving Platter – Last but not least, we just have to work some turkey into our tablescape. We're sort of obligated. Gobble, gobble. This platter is one of many from their Turkey Serveware Collection. I liked the idea of this particular shape because I think it would look fabulous filled with cooked turkey and fit nicely on the table top.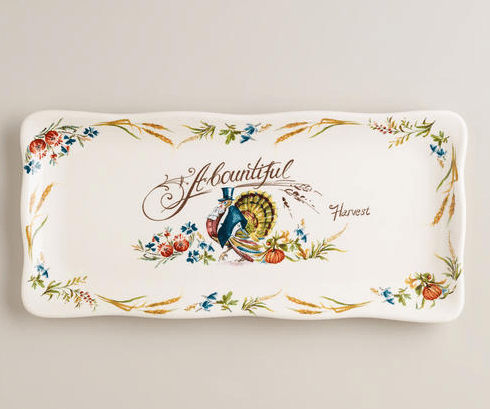 Mini Natural Fiber Turkeys – Last, but not least, we have these cute lil turkeys are made with natural fiber and real pinecone. These would be a cute addition to complete your Thanksgiving Tablescape or any other festive decor projects you're planning this year.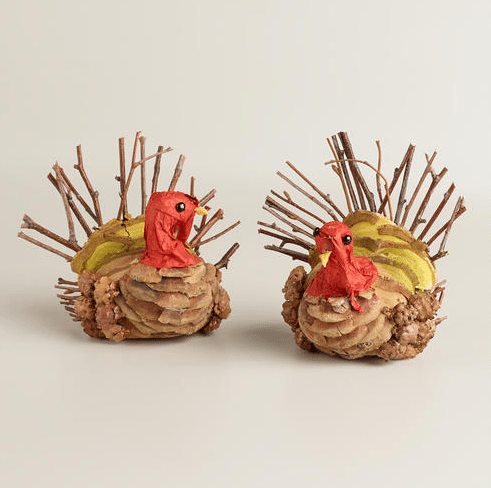 Hopefully you like some of my top picks for Thanksgiving, but there are so many other options at World Market, give them a visit if you're local or visit WorldMarket.com. I think you'll be truly impressed!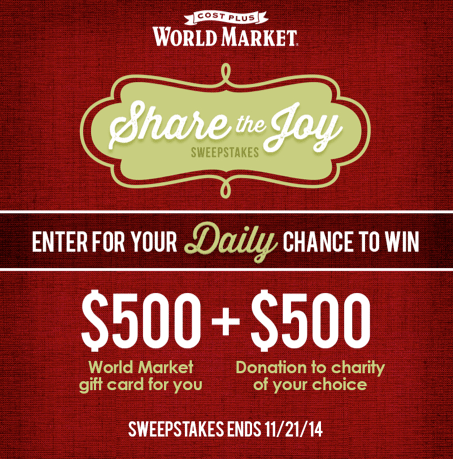 Before you run off, I want to tell you about the Share the Joy Sweepstakes!
This is crazy!
They're giving away a $500 World Market Gift Card to a winner and $500 to their charity of choice. EVERY DAY through November 21st!
Make sure to get your daily entry in! Good luck!
What are your plans for Thanksgiving? Are you entertaining?