Have you considered a romantic staycation? Its a wonderful and budget friendly way to spend some quality time with your honey. If you have kids, you won't need to hire a babysitter either. I surprised my hubby with a romantic staycation on a tropical themed date for our anniversary(which was New Year's day). It was the best date we'd had in a long time, we both agreed. We turned off our computers and the TV and just spent a couple of uninterrupted hours together, I highly recommend it.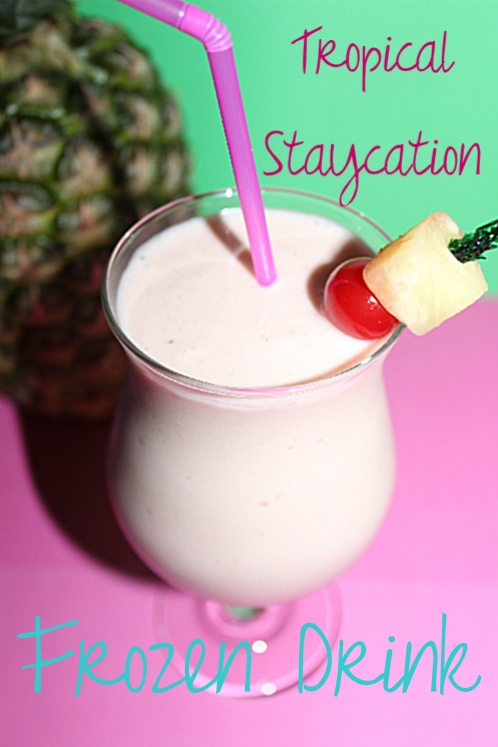 I am going to tell you all about it soon and give you some ideas. First, I want to share this accidental Frozen Drink recipe that I came up with. My staycation was based on a tropical vacation so this tropical frozen drink was the perfect way to kick off our lovely evening.
The base of this frozen drink recipe is coconut milk, I am a new fan of it. The first time I used it was in a creamy Thai peanut sauce which turned out delicious. The coconut milk adds amazing creaminess that can be likened to a heavy cream.  I've actually even seen people make a whipped cream from it. Its my little wonder in a can.  Its a great addition to smoothies and frozen drinks and makes them  taste rich and creamy.. and just almost like a non-alchoholic frozen drink you might get on luxurious vacation in the tropics.
Here is the recipe that I whipped up, I hope you like it! Feel free to swap out ingredients and play around to get the taste your looking for. Enjoy!
Tropical Staycation Frozen Drink Recipe
Ingredients
1/2 Cup of Canned Coconut Milk
1 Container of Del Monte Fruit Naturals Pineapple Chunks (7oz)
1 Large Banana
6 Maraschino Cherries
3 Tablespoons of Maraschino Cherry "juice"
6-8 Ice Cubes
(Note: You can opt for 9 ozs of fresh pineapple or 7 oz of canned pineapple with juice in place of the Del Monte chunks)
Instructions
Reserve two of the cherries and 2 pineapple chunks for decorating your cup if desired. Blend all of the ingredients in your blender until all of ice is finely crushed. Give it a taste test. Depending on the ripeness of your bananas you may want to add a little more of the Maraschino cherries or juice.
Serves about 2
7.8.1.2
15
https://cutefetti.com/tropical-frozen-drink-recipe/