This is a sponsored post on behalf of Cheerios & Health.com, all opinions are my own.

With school starting, I'll be needing as much energy as I can find. In the midst of back to school shopping, working, cooking dinner, I've been trying to keep active and eat healthy too. Sounds almost like a tongue twister. It's a great time to brainstorm ways to keep the energy flowing so that I can keep up with all the crazy things on my daily to-do list. Today, I'm happily sharing about the energy benefits of oats found right in a long time family favorite: Cheerios.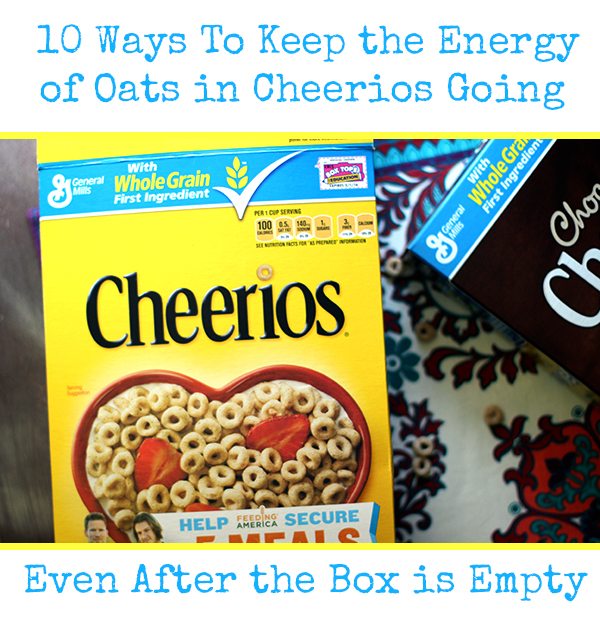 10 Ways to Keep Up The Energy with Cheerios
I thought it would be fun to share the ways I've included Cheerios into our family's routine over the years all the way until now. This goes way beyond just a bowl of cereal. I have some ideas for long after the box is empty too!
1.  Eat a bowl of Cheerios with milk. Slice up strawberries or bananas to put on top too!
2. Sprinkle Cheerios onto yogurt or cottage cheese.
3. Grab a handful or put some in a baggie for a snack on the go.
4. Make a trail mix with it for a delicious and customized crunch.
5. Create your own oat bars mixing Cheerios, dried fruits and nuts.
6.  Customize your own Cheerios flavor.  I was checking out the back of a Chocolate Cheerios box and loved the suggestions that was there. Trying mixing and matching flavors to come up with your own tasty concoction to keep it yummy. For example, mix Chocolate with Frosted for a chocolate cake flavor or Chocolate with Cinnamon Burst for a hot chocolate taste. Mmm, the possibilities are endless.
7.  Use them as a delicious crunchy coating for baked chicken.
8.  Make a satisfying dessert by layering yogurt, fresh cut strawberries and Cheerios.
9. Create a craft with Cheerios.  I've been wanting to create a rainbow by painting them. How cute would that be? Makes for a great project with the kiddos.
10.  Recycle or up-cycle your Cheerios boxes when you're done. Buying Cheerios is a sustainable choice, their boxes are 100% recycled paperboard. Keep good going buy finding more uses to use the box when it's empty.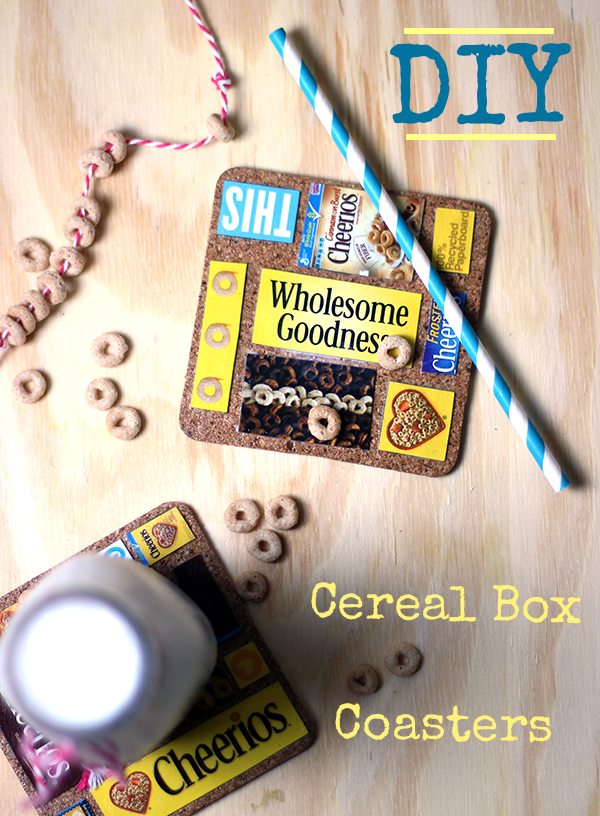 Does up-cycling your Cheerios boxes sound like a great idea? I created drink coasters using some empty cereal boxes, it's simple and fun and of course a great way to keep the fun going.
Upcycled Cereal Box Drink Coasters
What you need:
* Cork Disks or Coasters
* Empty Cereal Boxes
* Glue
* Foam Brush
* Modge Podge Gloss Sealer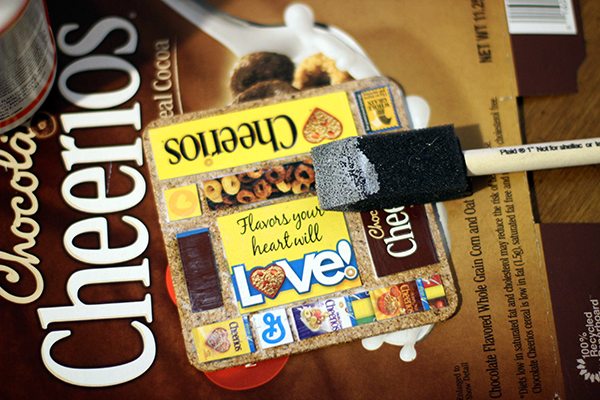 Directions:
Step One: Cut cereal boxes into small square and rectangular shapes.
Step Two:  Glue cereal box pieces strategically onto a coaster and let dry.
Step Three:  Use a foam brush to apply a thin coat of Modge Podge Gloss. Repeat 3-4 times. Waiting 15 minutes in between each to dry.
Voila! See, I told you that was simple!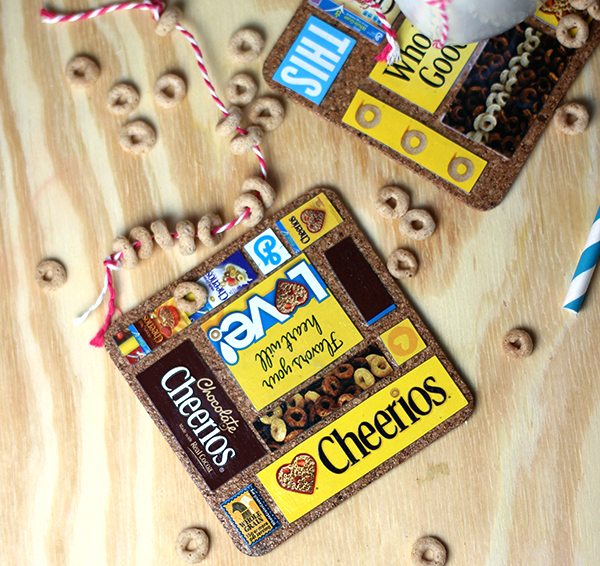 Want even more goodies and ideas?
Explore all the benefits of oats in Cheerios and get more delicious and healthy whole grain recipes over on Health.com!
Tell me…
What are your favorite Cheerios to snack on?
Have you ever up-cycled a cereal box? What did you create?