I have to admit that I don't often think about bees, unless of course, one is headed straight at me or buzzing around my head. But, after learning that they're literally disappearing right now and finding out what that means for us when it comes to our food, I've given these tiny creatures a big second thought. I hope you'll read on and learn how we can all help to save the bees and the reason that you'll want to! This is a sponsored post about the Bee Friendly movement to raise awareness about this issue and to provide ideas on what people can do to help through the Cascadian Farm program. Regardless, all opinions are my own.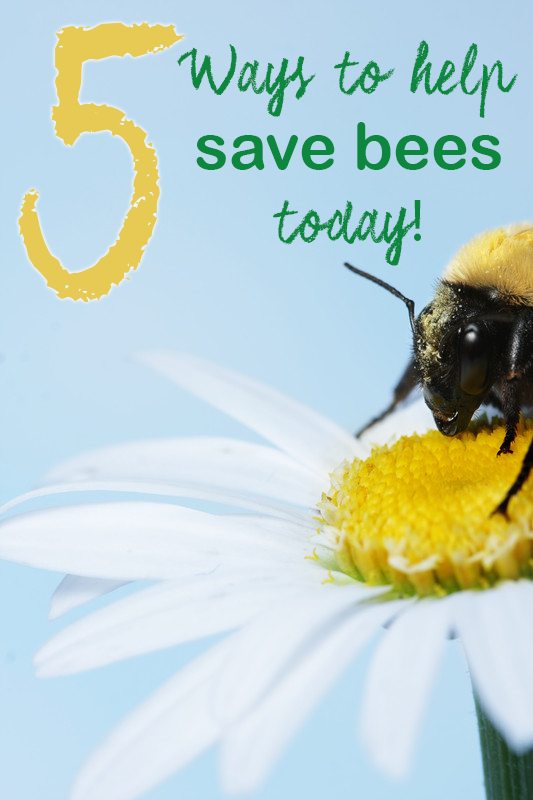 Here are some interesting little tidbits that we should all know about bees and the importance of making sure they flourish:
*Bees pollinate more than 75 types of crops in the U.S.
*More than 85% of Earth's plant species require pollinators to exist. Many of these plants provide nutritious food for us.
*1 out of every 3 bites of food is made possible by bees and other pollinators. That's a lot of food!
*If we didn't have bees and pollinators, we would lose crops like almonds, berries, apples and pumpkins!
Are you as convinced as I am that we need to do something? Keep reading for some very simple ideas that you can do today!
Ways To Help Save Bees Today
1. Plant Wildflowers. Bees need access to nectar and pollen to help them grow and survive, and wildflowers are an excellent source of both.  Find out what type of wildflowers are native to your region. Fall is a great time to plant!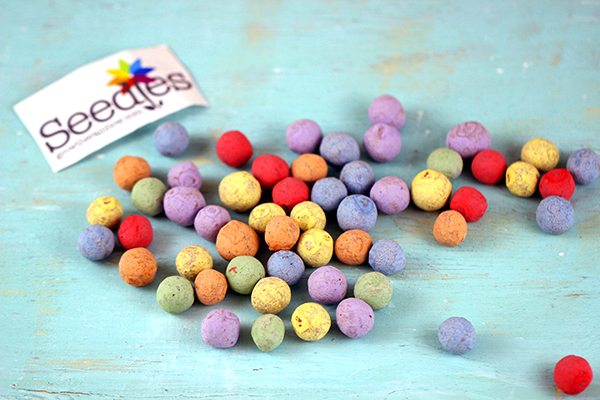 With the help of Cascadian Farms, I was able to plant some Seedles in our backyard. What are these? I didn't know either until now. They are seeds set in balls of clay that will protect them from hungry birds and increase your flowers' success. Such a clever and natural idea. The best part is that you can literally just throw these on the ground wherever you'd like to plant. I found an empty spot in our yard and gave it a go. I can't wait until spring to check on them!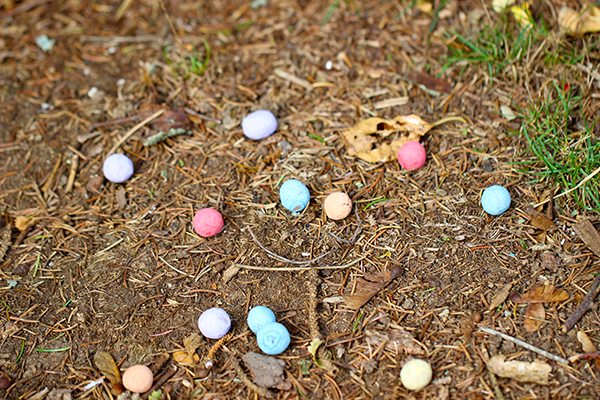 2.  Protect Bees.  We can all do our part to protect bees. Here are some easy ideas that I learned that we can all do to help at home. Protect bee nests when you can and also be sure to avoid using pesticides, especially insecticides.
3. Choose Organic. Organic farms, such as Cascadian Farm, grow crops without using synthetic fertilizers, pesticides, fungicides or herbicides. This helps improve the quality and fertility of the soil and avoids the potential harm to bees,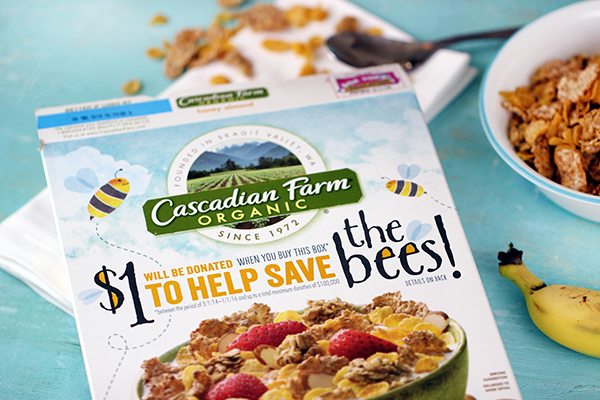 4. Donate.  While nobody has all of the answers quite yet, there are organizations that are working away at it. For example, Xerces Society works on behalf of bees, butterflies, and other pollinators to raise awareness, support research and restore native wildflower habitats.
There are also products that will donate money to great causes like these when you make a purchase. For example, Cascadian Farm will donate a $1 when you buy select Buzz Crunch Honey Almond Cereal!  Plus if you visit their "Bee Booth" and make a Bee Selfie and share it, you'll get a free .50 donation code.
When you enter your free code, you can choose where you'd like the money to go.  You can choose to plant flowers, support research or train and educate. This is such an awesome and easy way to help! Do it!
5. Raise Awareness.  You can help the cause by getting your friends and family involved by spreading the word. Share the bee booth so they can claim their free donation code.  Tell all of your friends to visit the Cascadian Farm Bee-Friendlier website for more ideas on how they can get involved. If you're crunched for time, you can send a tweet using the #BeeFriendlier hashtag:
[Tweet "Bees help all of us. Now it's time we help them. See #BeeFriendlier by Cascadian Farm to help!"]
Cascadian Farms recently planted 1 million wildflowers! Watch the video to see how they pulled it off!

Would you like to enter to win a #BeeFriendlier Prize Pack valued at $100? The prize includes a selection of Cascadian Farm products, bee goodies including a tea towel, bee print and other trinkets. The prize pack also includes 100 Seedles to easily plant wildflowers in your own backyard!
Rules: Must be 18 years or older and a resident of the U.S. One person who retweets the message below publicly will win. Giveaway will be closed on 10/30/2014 at midnight EST.
RETWEET TO WIN:
RT: Retweet this to enter to win a #BeeFriendlier Prize Pack (ARV $100) via @cascadianfarm Help save bees! #ad Rules: http://t.co/CgQYPoPyw0

— Dawn Lopez (@dawnchats) October 28, 2014
Congrats to @TwoDartMom for winner! See the Tweet announcement here.
Will you join us in saving the bees?  Make sure to claim your free donation code at the bee booth!