This is a sponsored conversation written by me on behalf of Align. The opinions and text are all mine.
Summer is upon us, and that means schedules are changing and the invites for fun are rolling in. With our normal routines out the window, keeping a balance can be such a struggle. I thought it would be a great time to share 5 ways to keep this summer in check and 5 free printable resources to help you plan and stay on track. That's right, it's all about staying on point, keeping your sanity and working to be able to squeeze all of the fun out while the sun's out.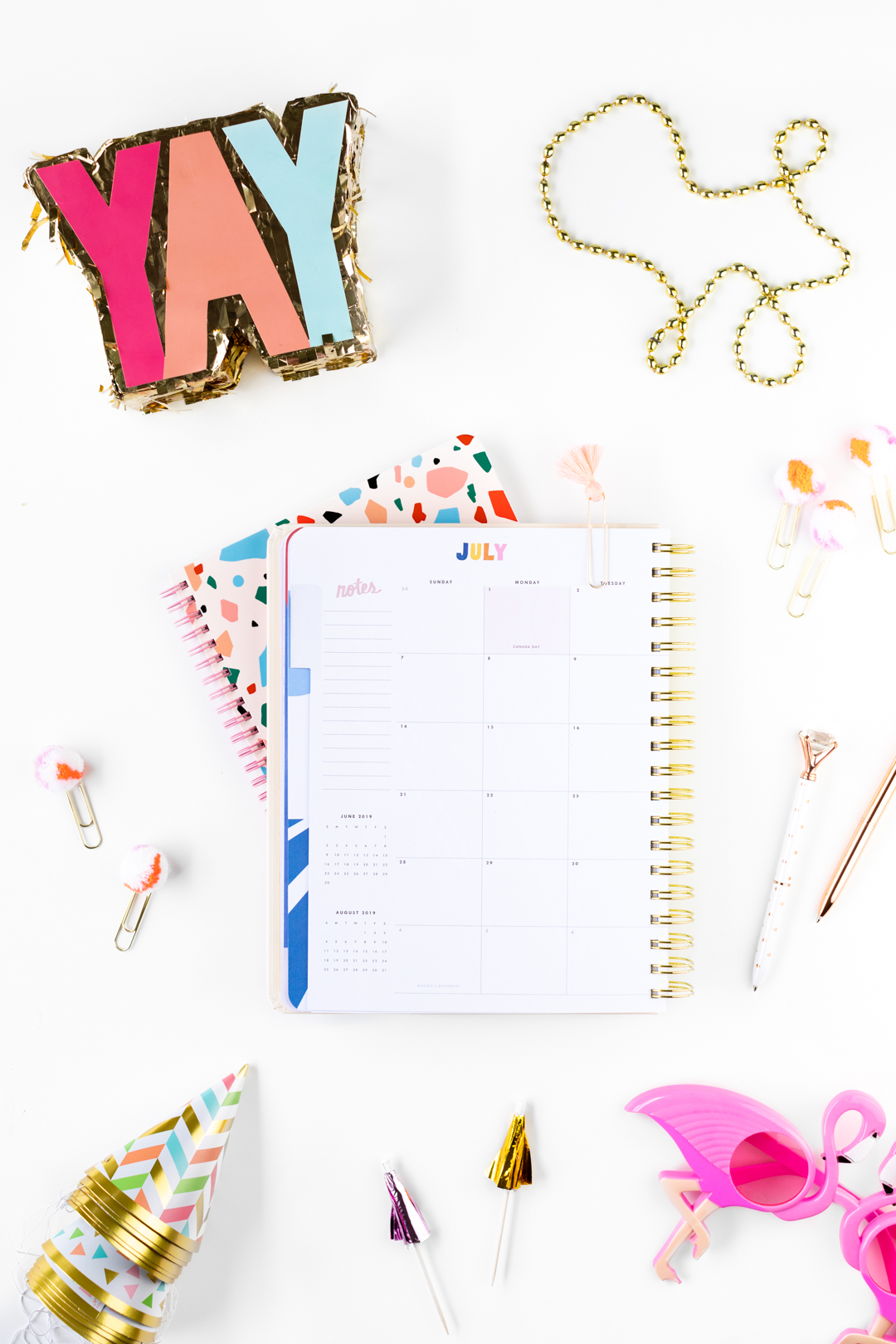 When it comes to summer bbqs and gatherings, I often think about the potential tummy aches that might come along with all the good bites. When you're eating a variety of new foods, you just never know what might be problematic if you catch my drift. From Aunt Cynthia's chilli to your neighbor's "famous" jello salad, it can be quite the "adventure". For the first time, I'm trying Align to see if it might be just what I've been needing to feel more balanced. Since it's the #1 recommended probiotic and #1 probiotic for adults, it sounded like a smart idea to kick off summer with!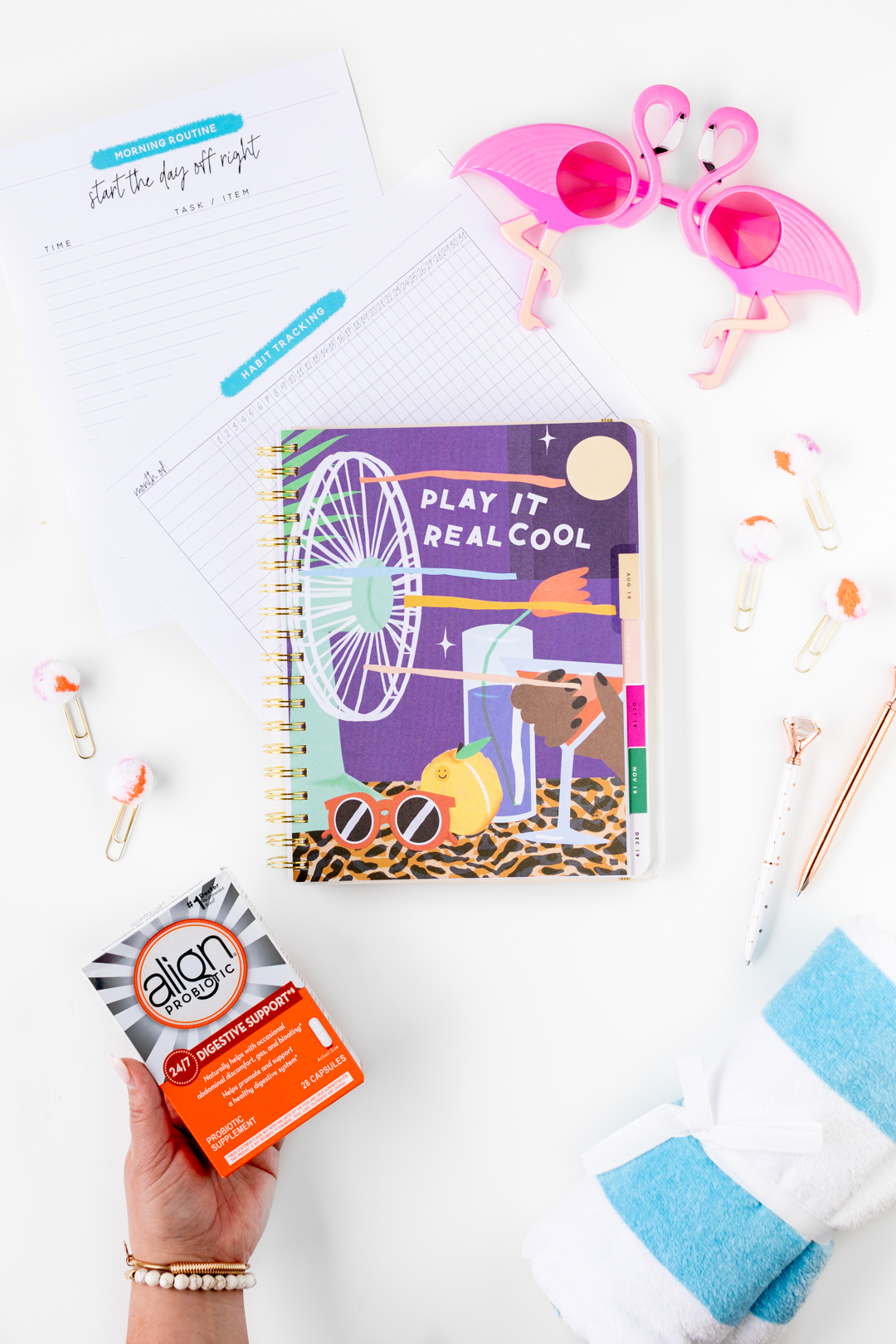 Align is meant to keep your digestive system in sync so you can continue doing the things you love to do… like *all the things* this summer. The way it works is that it helps to fortify your digestive system with healthy bacteria 24/7§ with continued daily use.*
§Fortifies your digestive system with healthy bacteria 24/7 with continued daily use.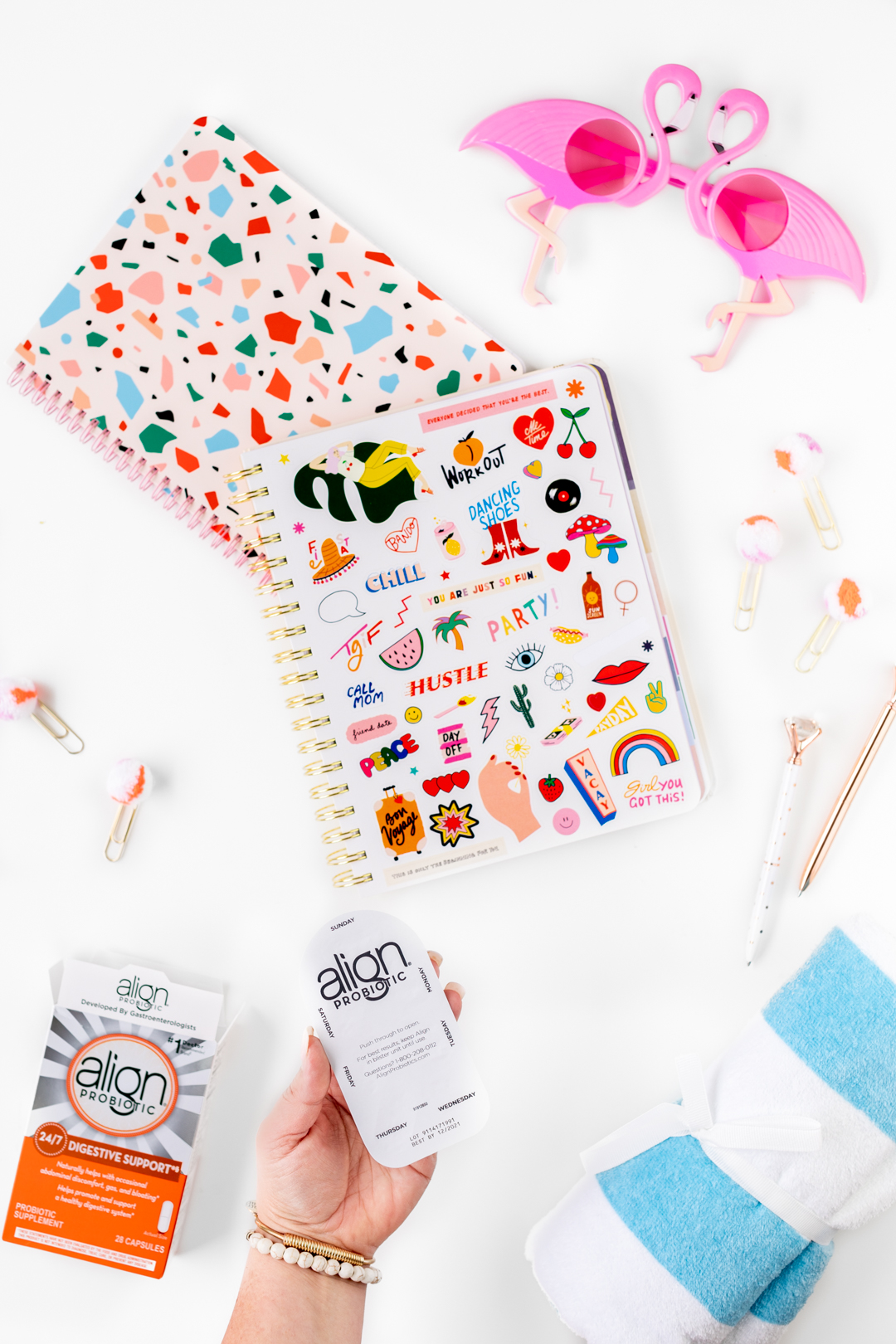 Giving a probiotic supplement a try for gut health sounded like a great way to kick off summer. I really like their weekly packages that make it SO easy to make sure you remember to take it each day. That's a win!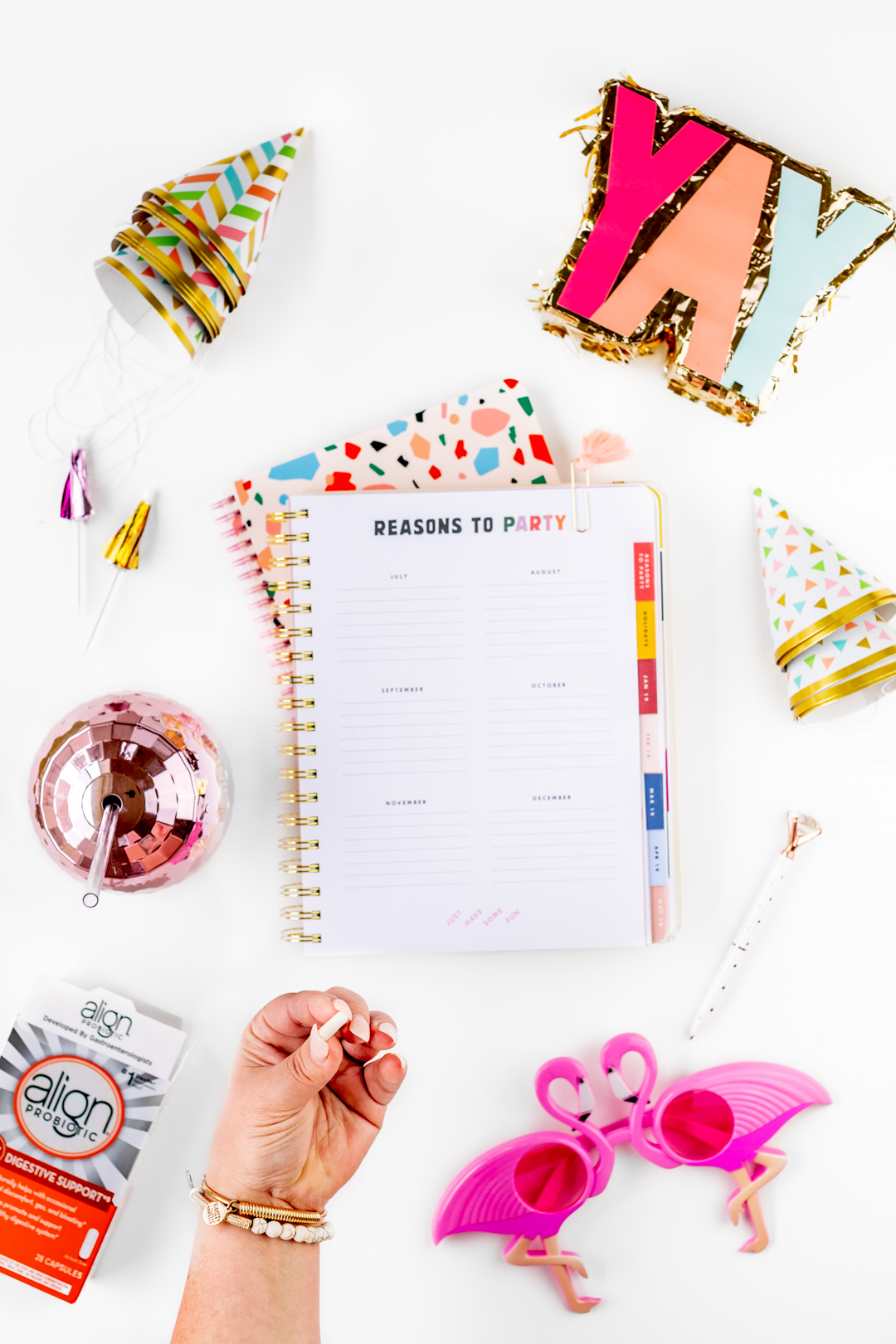 I'm excited to share even more ways to make summer better, here we go!
5 WAYS TO MAKE SUMMER BETTER
I've put together 5 ways to make summer better complete with free printables to help with things like planning a morning routine to a habit tracker. These ideas are meant to help all of us get started on living our best lives by making changes that are easily accomplished and make a big impact. They're easy to do and drastically improve our daily grind. What could be better?
GET ORGANIZED
Nothing kills that summer vibe like being a hot mess, so get organized. Some easy ways to do that are:
Using a calendar to keep track of events and obligations
Using bins to keep small objects from cluttering up the home
Using filing racks to keep track of business and other important papers
Using spreadsheets to help keep track of finances
Using a good planner or my free printable planning sheets
HACKS, BABY!
I'm a huge hacker. No, not the digital kind. I'm talking about hacks that save me time and energy. Using hacks, you can help make the season better by making it easier.
Stock up on easy and healthy snacks to keep yourself healthy and energized even on the go.
Lay out clothing the night before you have to go to work or drop the kids off at camp.
Make kids' lunches the night before like you do for school, even if they are home for the day.
Invest in a few capsule wardrobe pieces to make your style easier and more efficient.
Have your kids help with chores to ease your workload.
NOURISH AND TREAT YOURSELF
A better feeling body means a better summer overall. When you feel good, everything else feels so much easier. So be sure to nourish yourself inside and out.
Exercise to improve stamina, strength, and energy levels
Get plenty of sleep
Drink lots and lots of water
Protect your skin from the sun
Eat plenty of healthy foods and snacks like veggies and fruits.
Tackle stomach upset by considering your probiotic options such as Align.
BE OPTIMISTIC
The right attitude is everything. In fact, studies have shown that people with a positive mindset are happier, more successful, and even live longer. So what in the heck are we waiting for? Turn that frown upside down and count those blessings.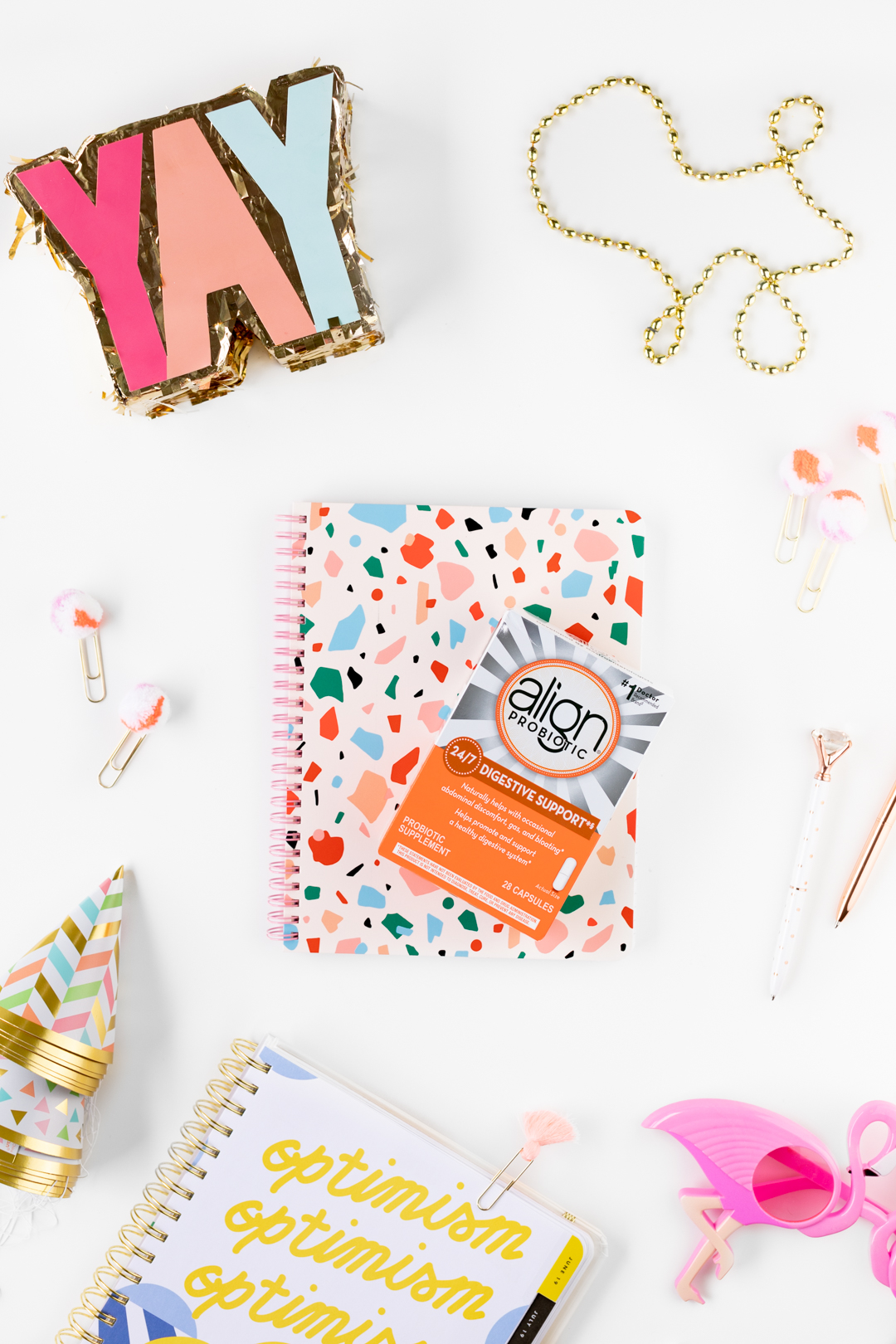 HAVE FUN
It doesn't take much to change the vibe. Make it top priority to HAVE FUN this summer. All the organization and planning in the world isn't worth anything if you don't enjoy your life. This summer, focus on the good. Make time for family. Remember what matters. Have fun! It brightens up every part of your life.
BETTER SUMMER PLANNING
If you want to make summer better, ditch the resolutions and make forward progress your goal. With these ideas, you'll be well on your way to making this summer your best yet. Join me in making better the priority this season!
PRINTABLES TO HELP YOU GET ON TRACK
Right click each link below to download the pdf file.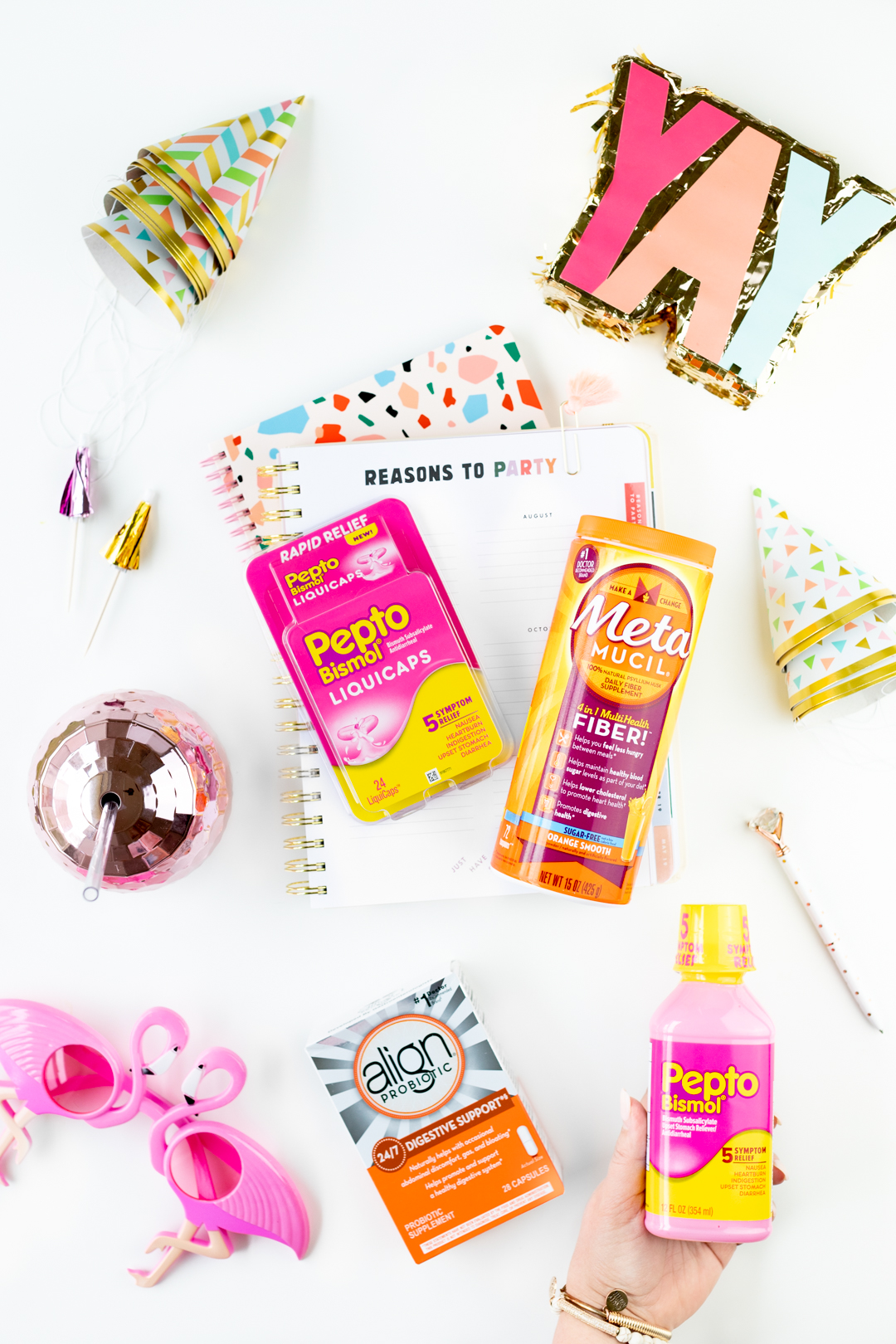 Do you have occasional digestive upset, abdominal discomfort, gas, and bloating? Don't let it beat you this summer. Why not try Align for at least one month to see how it can help offer probiotic benefits? Align has a patented probiotic strain Bifidobacterium 35264™ that can't be found in other probiotics, including store brands. That sounds like a big win to me!
Be sure to come back and let me know how it goes!
How else do you plan on staying on track this summer?
Comments submitted may be displayed on other websites owned by the sponsoring brand.