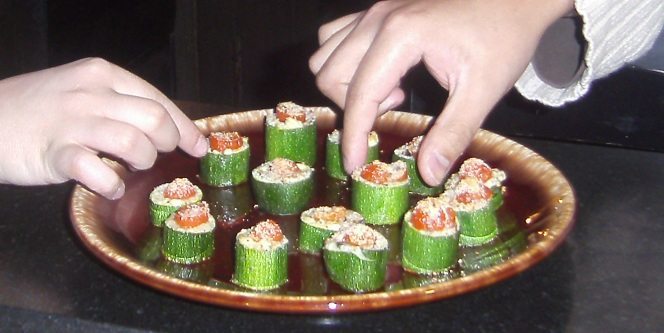 I was totally impressed with the lightness and ease of these! Makes for a great appetizer for so many reasons! Easy to make, low in calories and totally yummy! You can easily adjust the recipe to use a different cheese that you may have on hand or simply just use grated parm. You can also omit the tomato if you don't happen to have any on hand. Make it work for you!
According to the original recipe, these only have 19 calories and 1 gram of fat per serving
INGREDIENTS:
5 medium zucchini (about 6 inches long)
4 ounces blue cheese, crumbled
3 tablespoons grated Parmesan cheese
1 teaspoon dried basil
1/8 teaspoon pepper
1 pint cherry tomatoes, thinly sliced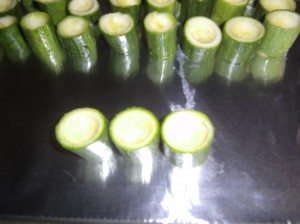 Cut zucchini into 3/4-inch slices. Using a melon baller or small spoon, scoop out the insides and discard, leaving the bottom intact. Place zucchini on an ungreased baking sheet; spoon 1/2teaspoon crumbled blue cheese into each.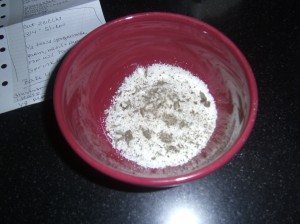 Combine the Parmesan cheese, basil, and pepper; sprinkle half over blue cheese. Top each with a tomato slice; sprinkle with the remaining Parmesan mixture. Bake at 400°F until cheese is melted, 5-7 minutes. Serve warm. Makes 35 appetizers.
Enjoy!
Recipe from Reader's Digest