The countdown is officially on! What an intense football season. Now the biggest game day of the year is approaching and it's time to decide which delicious eats we'll be serving up. This is a sponsored post.
When I think of the perfect game day spread, I always think of hearty appetizer ideas!
After all, rooting for your favorite team is hard work. That's where the idea for this layered meatball dip was born.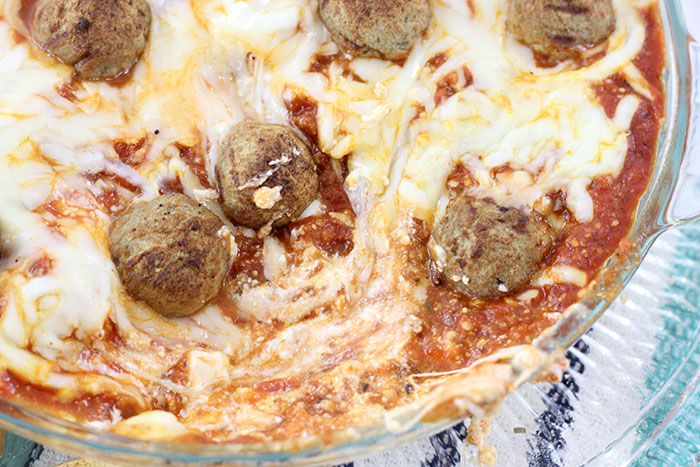 This is the perfect party dip with hearty meatballs and loads of oozy cheeses and sauce. It's an appetizer that eats like a meal.
To make this recipe the perfect mouthful of goodness, I used Cooked PerfectHomestyle Meatballs that are ½ oz "Bite-Sized".
You can add your own favorite meatball flavors in your football party recipes like their Sweet Italian Style Meatballs and even varieties like Angus Beef and Chicken meatballs.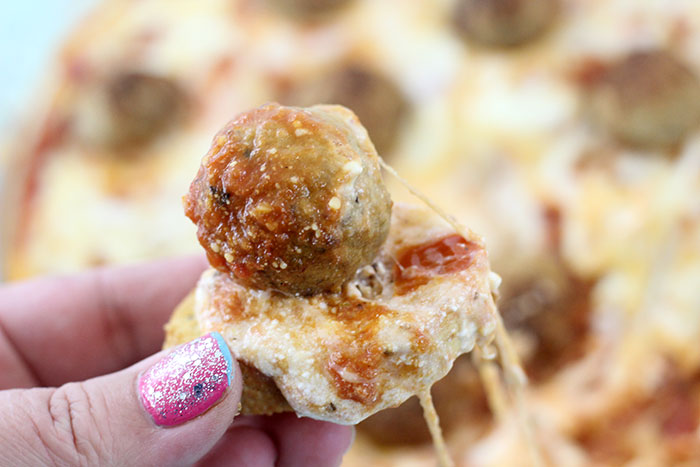 For more tasty ideas, last week I shared Buffalo Meatball Cups using their Italian Style "Dinner-Sized" meatballs. Big hit!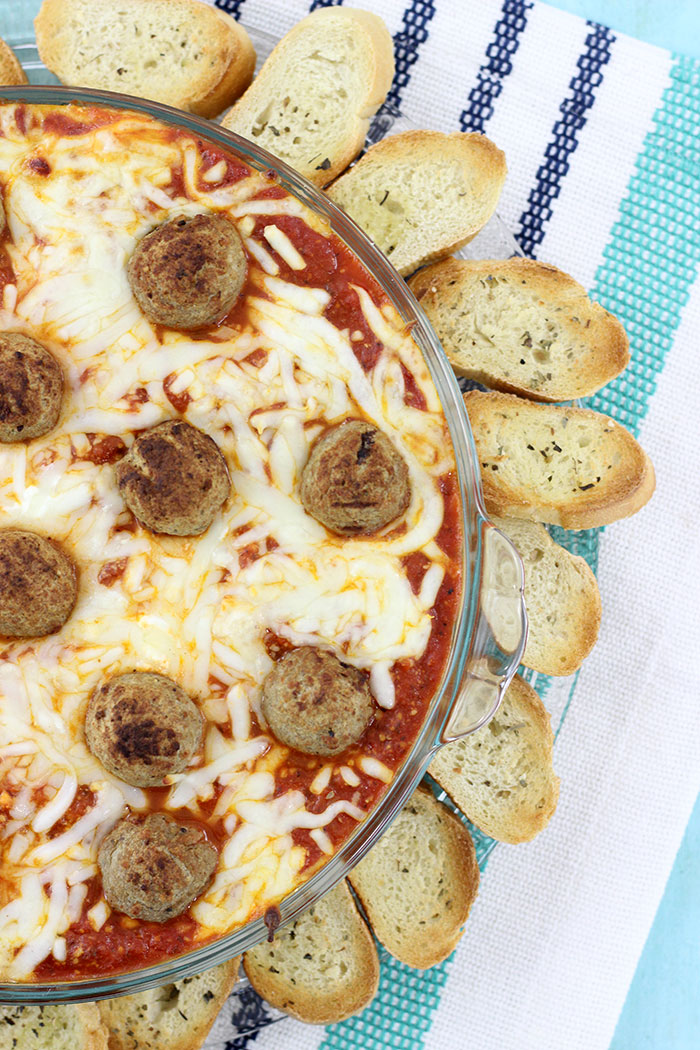 Cheesy Layered Meatball Dip Recipe
To make this meatball dip memorable, I wanted to add a variety of delicious ingredients in mouthwatering layers; from cheesy to meaty and saucy layers.
Is this making you hungry yet? Let's skip the suspense and get to making it.
This delicious dip is so easy to make and it all starts out with a layer of cream cheese.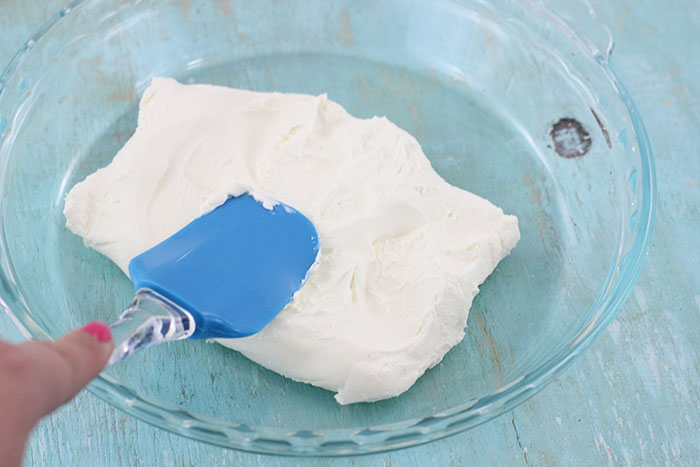 Two layers of meatballs make this recipe a delicious mouth full.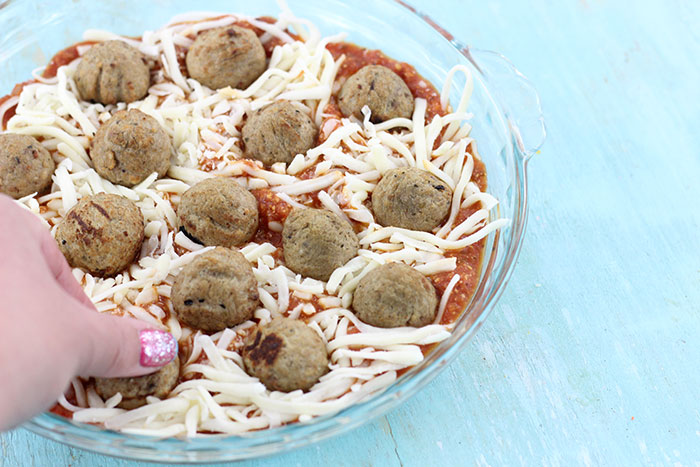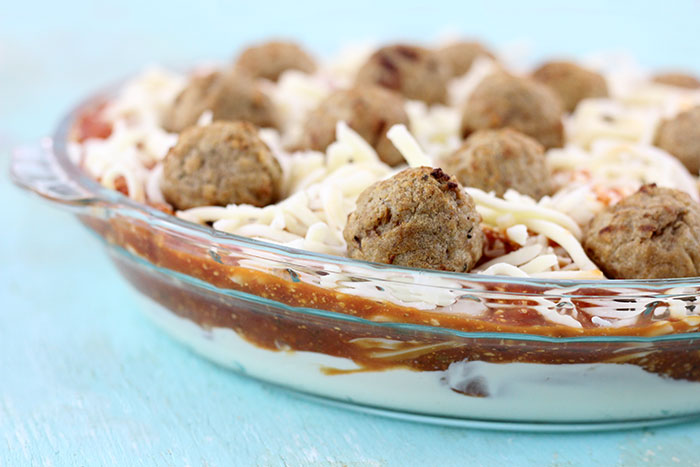 This recipe bakes up for a little over 20 minutes and it's ready to serve.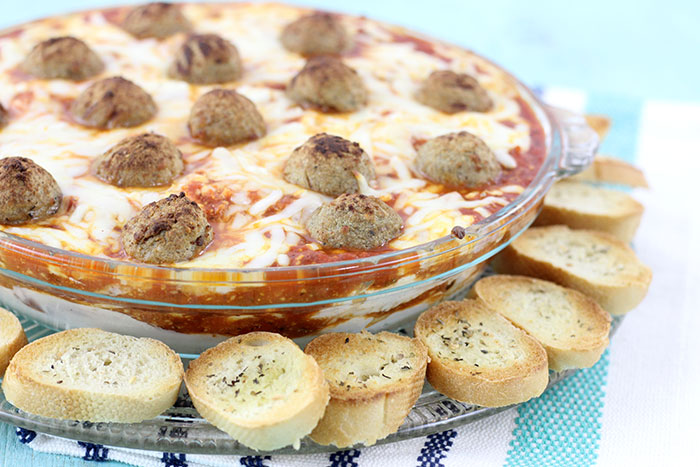 Get ready to impress your football party guests with this warm appetizer.
I don't think there will be any leftovers to clean up as an added bonus!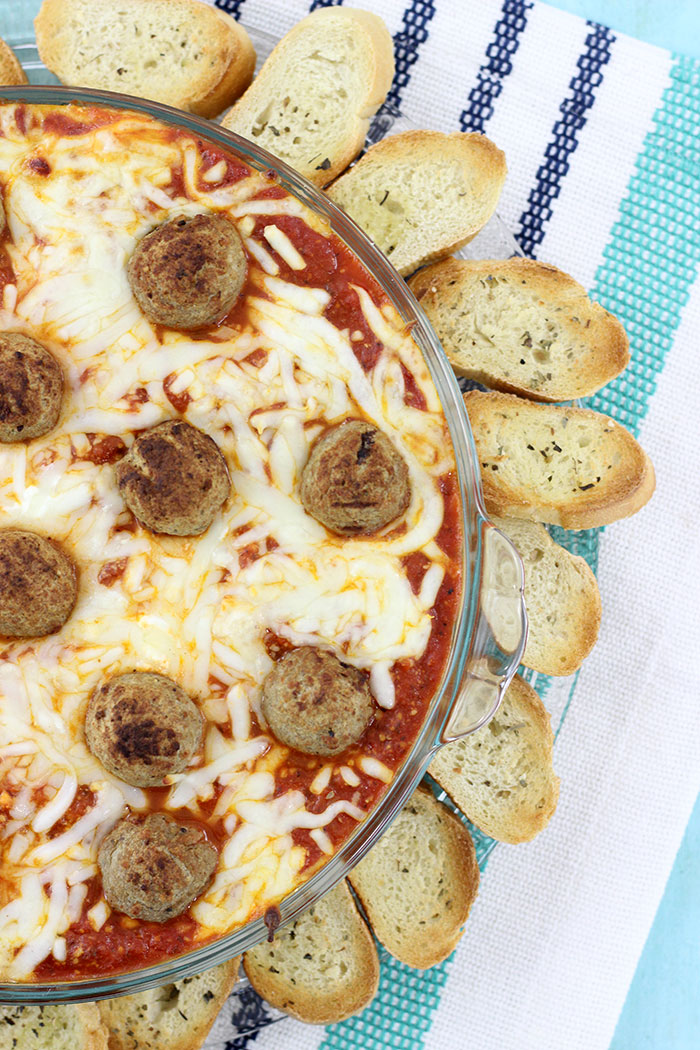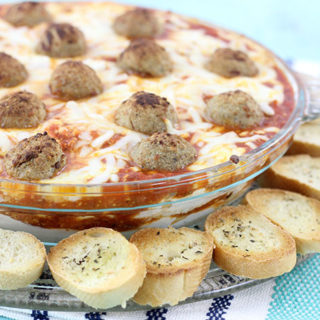 Perfectly Cheesy Layered Meatball Dip
Ingredients
30 Bite Sized Cooked Perfect Meatballs - any variety, prepared
1 Brick Cream Cheese, softened
¾ Cup Ricotta Cheese
1 Jar Tomato Marinara Sauce, 24 oz.
⅓ Cup Grated Parmesan Cheese
2 Cups of Shredded Mozzarella Cheese, reserved
Dash of Salt & Pepper
Instructions
Preheat your oven to 350°F. Use a deep pie dish to make this dip. First, mix the jar of tomato sauce with the grated parmesan cheese and set aside. Then, spread the entire brick of softened cream cheese as the first layer. Next, layer half of the sauce mixture followed by 1 cup of the shredded mozzarella cheese, half of the prepared meatballs (15). Then, add the layer of ricotta cheese and sprinkle with a dash of salt and pepper. Then repeat the layers of tomato sauce, shredded cheese and finally the remaining meatballs. Bake for 22-24 minutes. Let cool a little before serving. Enjoy!

.
Have you ever made a hearty dip with meatballs? Share your tasty ideas!