Fall time is apple time! If you have been following along on social media, you might have noticed that I've been talking about Envy Apples quite a bit over the last month or so. It's officially time for me to share this tasty savory apple appetizer recipe here! I had the chance to hand samples of it out at an actual Publix store and the response was amazing. The truth is, these apples really make this recipe pop. If you've never tried them, you are in for a treat. This is a sponsored post with EnvyTM Apples, all opinions are my own.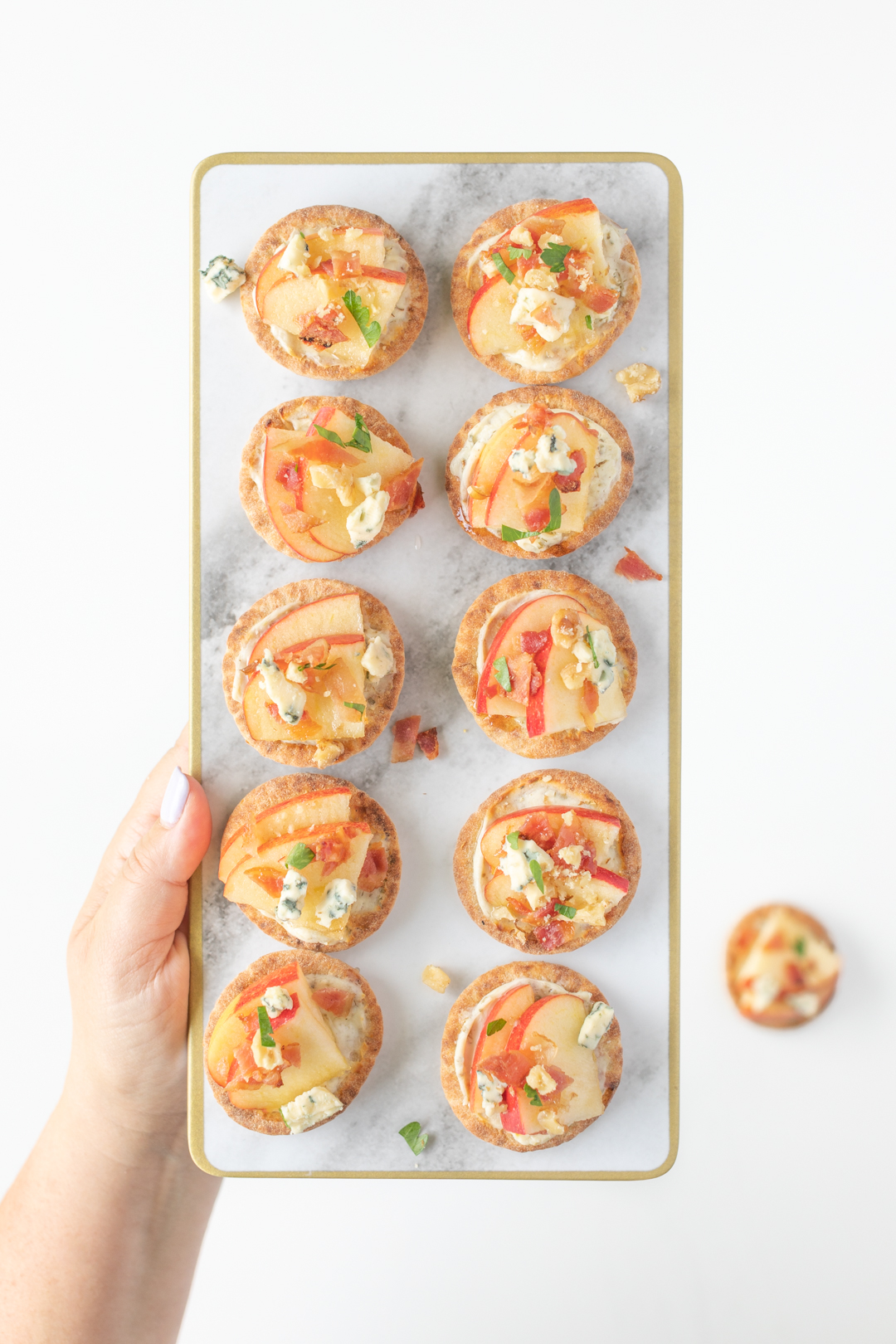 These easy appetizers will be perfect for holiday celebrations or a way to elevate any night. They have a fancy vibe but are ridiculously easy to whip together in minutes.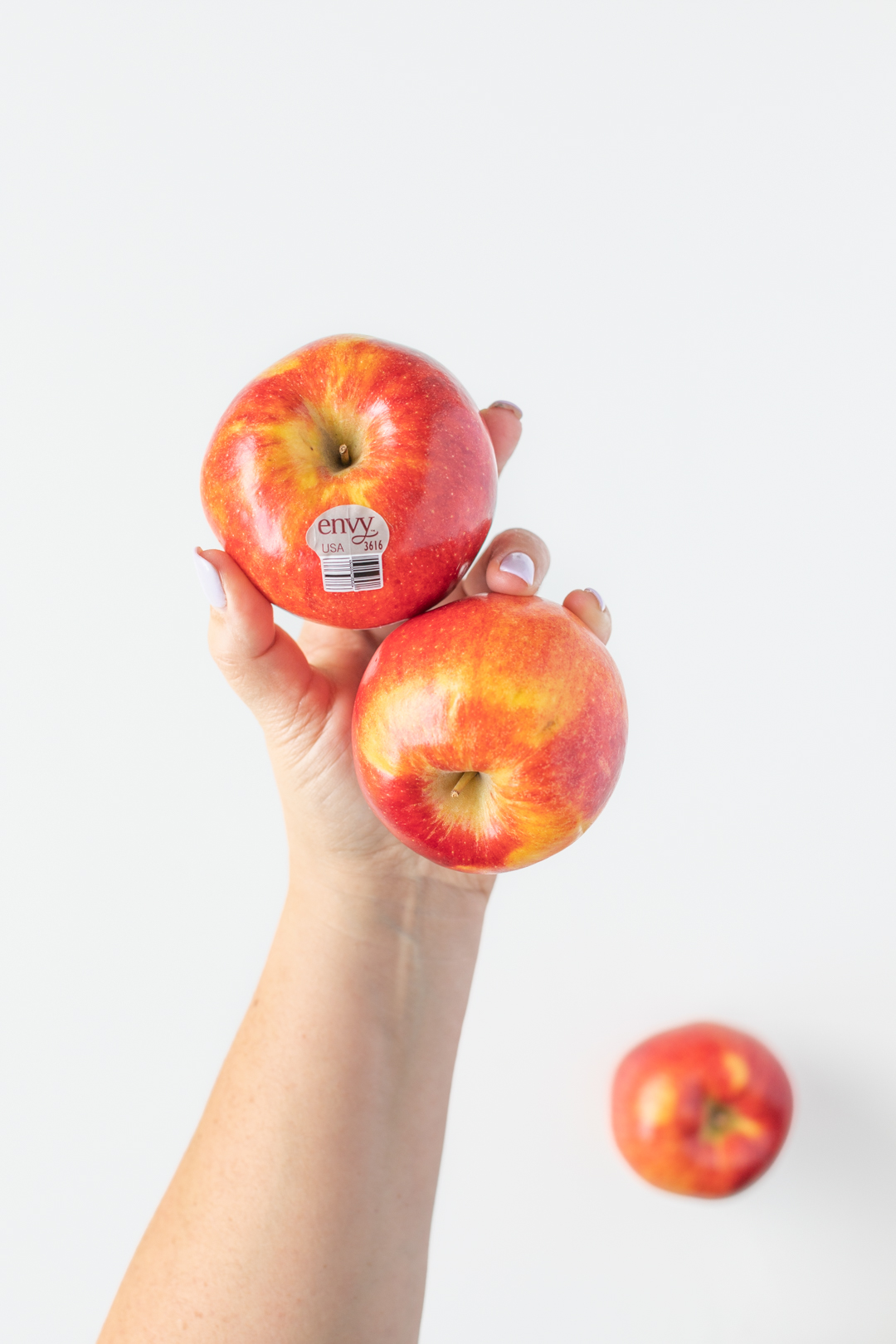 SWEET AND SAVORY APPLE APPETIZER RECIPE
These pretty bites start out on toasted mini pitas with herb cream cheese and get loaded with all the best toppings. Let me show you how to make these scrumptious raw apple appetizers.
Here's what you need to make these yummy bites:
Mini Pita Pockets
Herb Cream Cheese
Blue Cheese or Gorgonzola Crumbles
Pecan or Walnuts
Bacon
Honey
Optional Flat Leaf Parsley to garnish.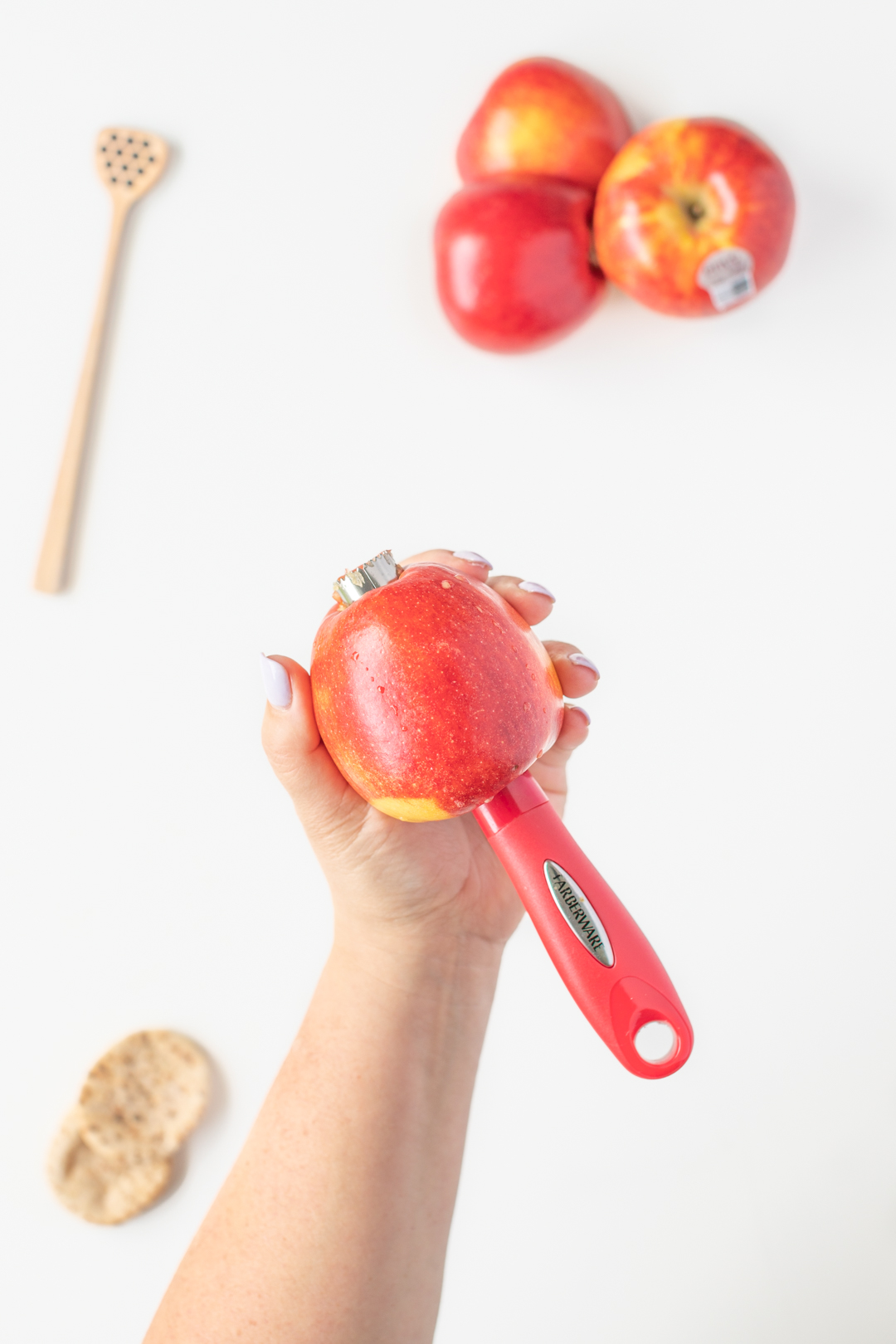 To get started, core your apple and then thinly slice it. Side note: aren't these apples gorgeous? They are just the right amount of tart and crispness.
Then, half the thin slices so you get cute little bites that will be perfectly pretty on top of the mini pitas.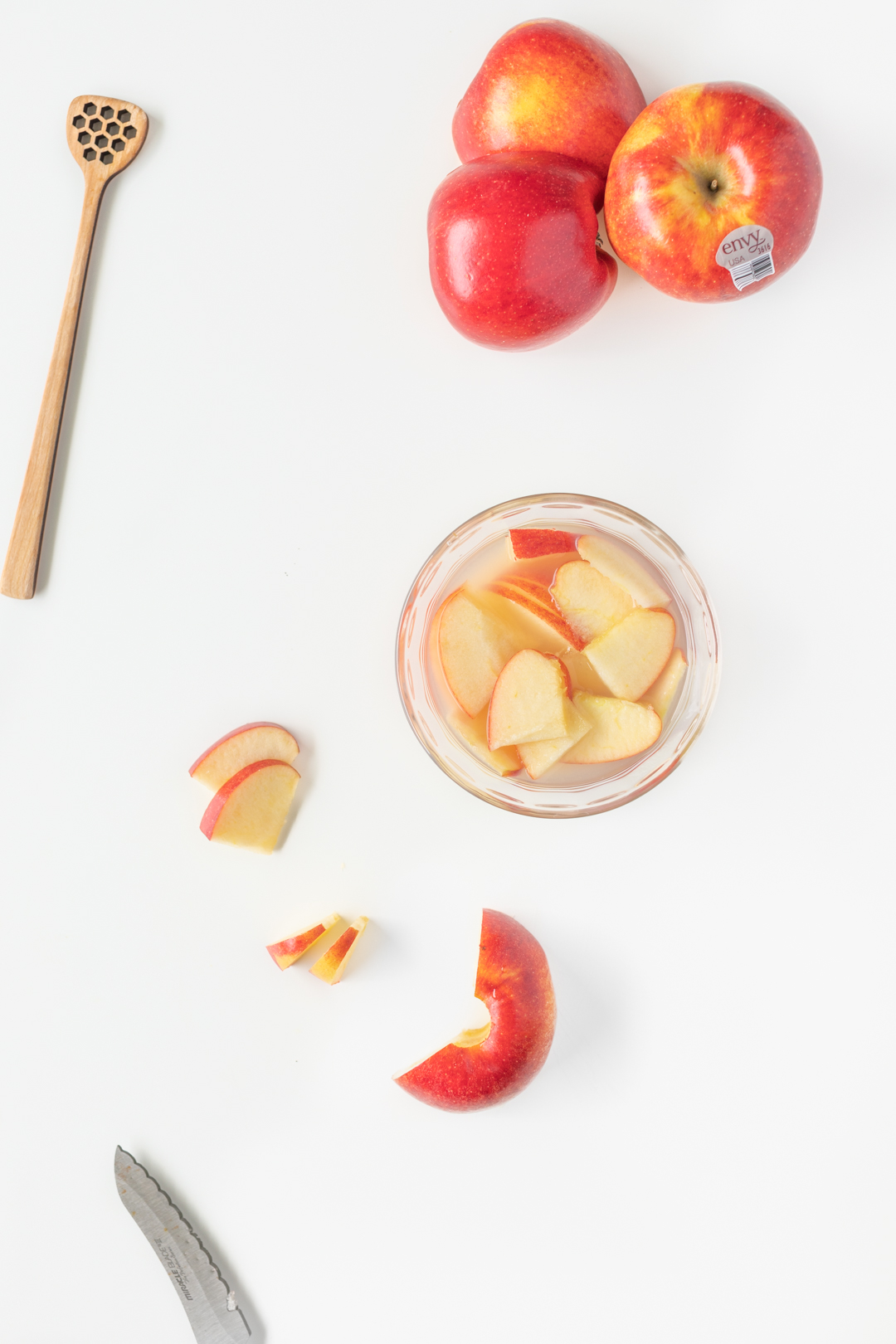 For added measure, I like to do a little lemon soak to preserve the apples as I'm working. Basically just adding a squeeze of lemon to some water usually does the trick.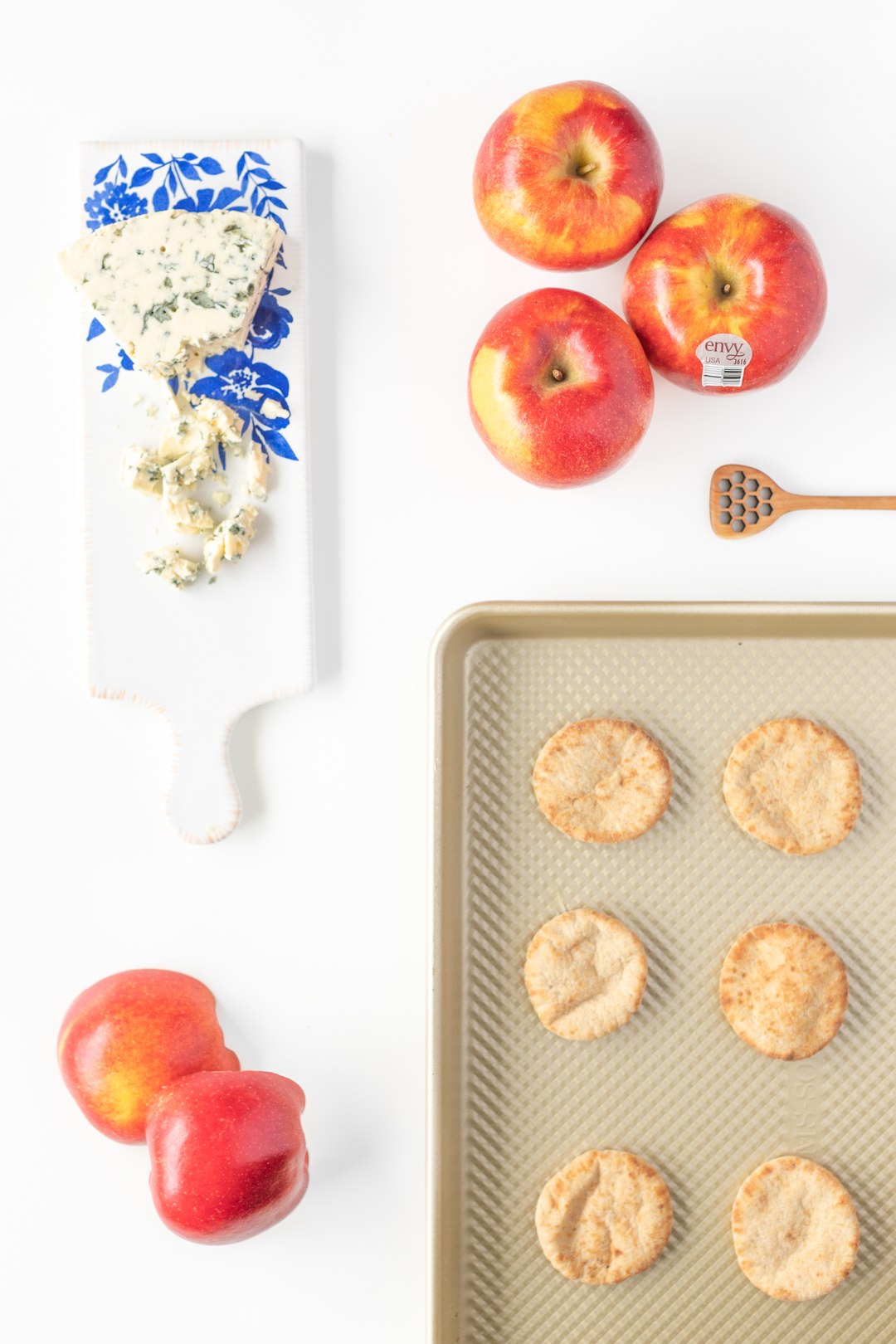 Next up, turn your broiler on low and lay out your mini pitas on a non-stick baking tray.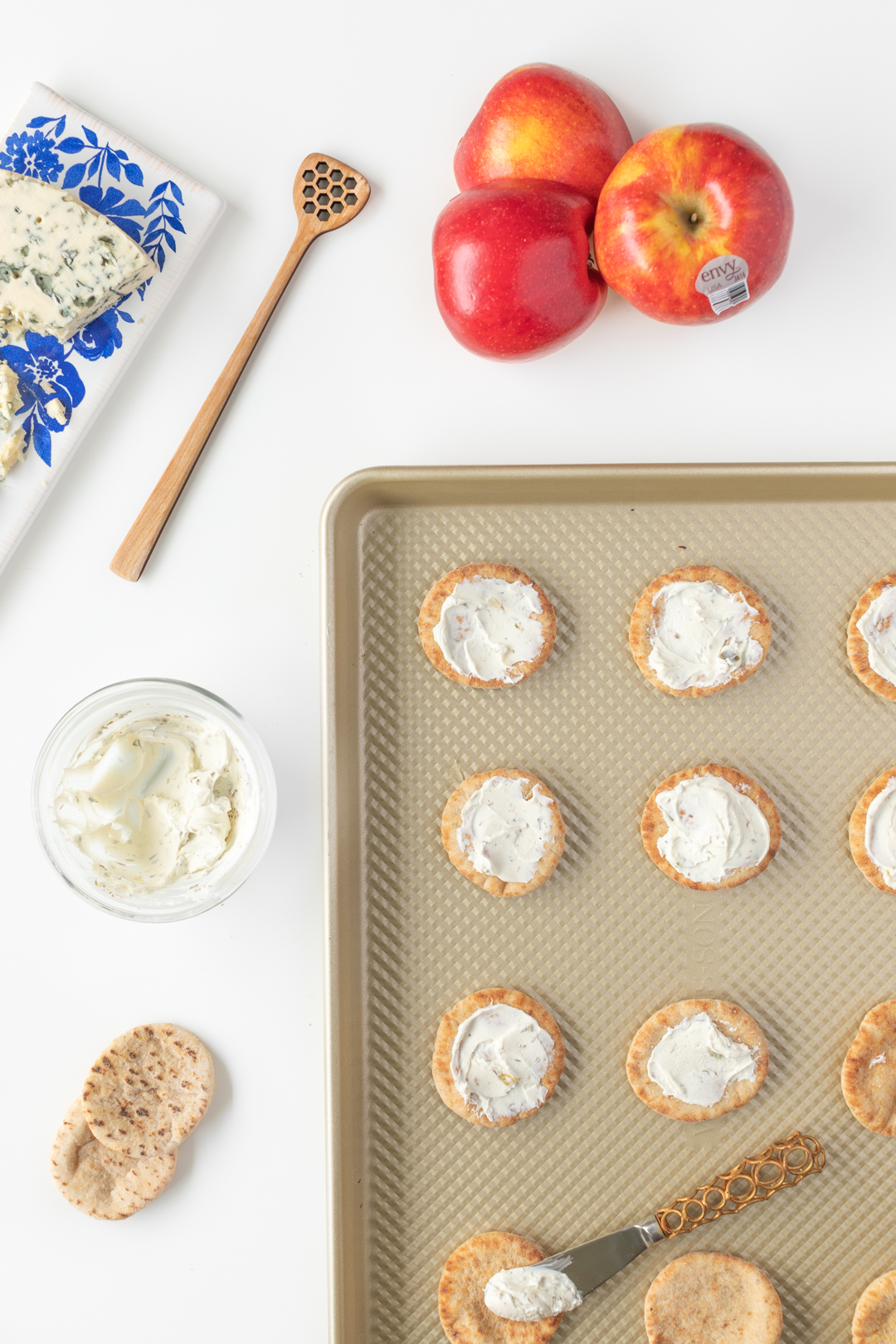 Then, spread a thin layer of cream cheese on top of the mini pitas. Then, broil until lightly toasted.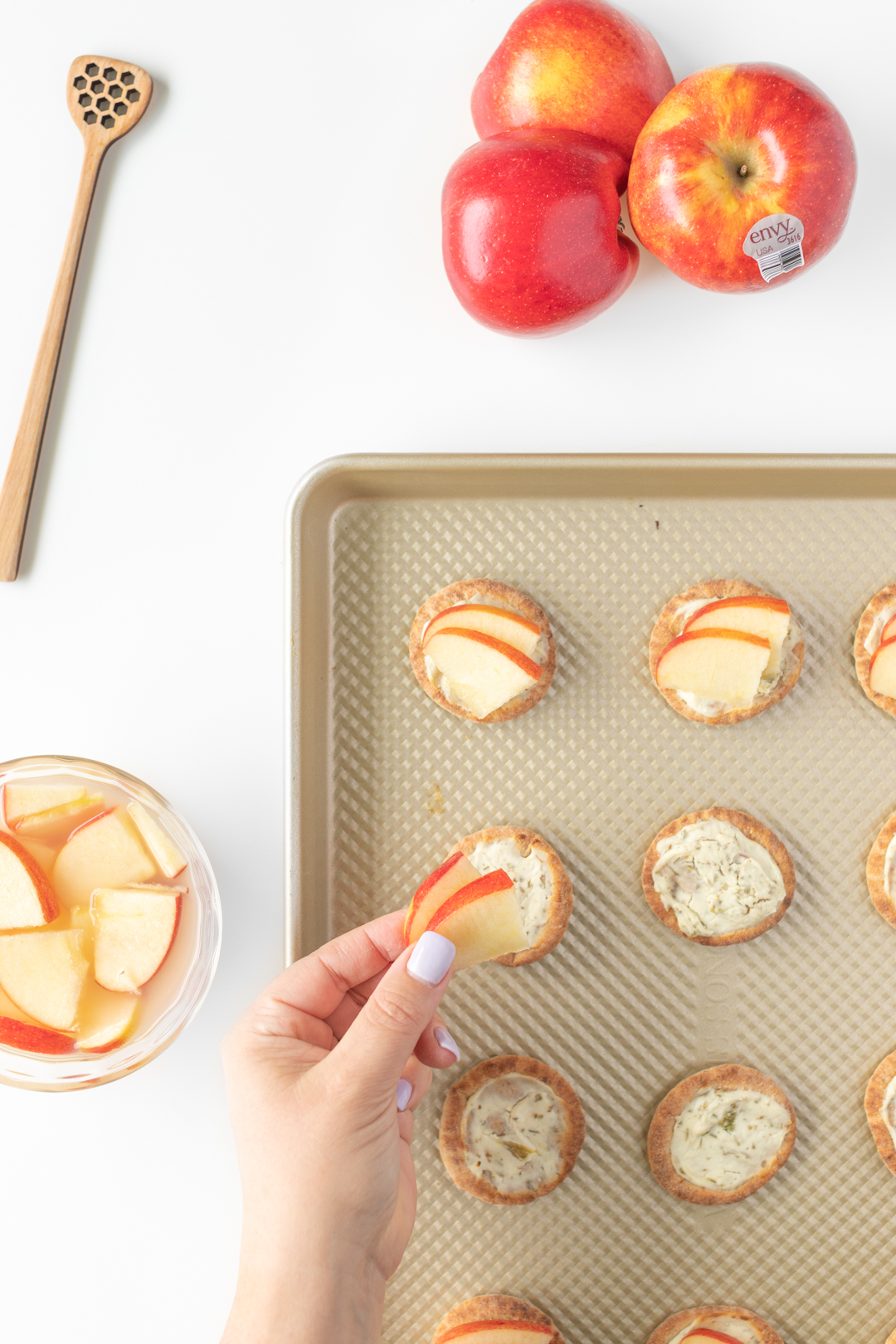 Place a couple of the apple slices on top of each mini pita and drizzle some honey over the top of the apple appetizers.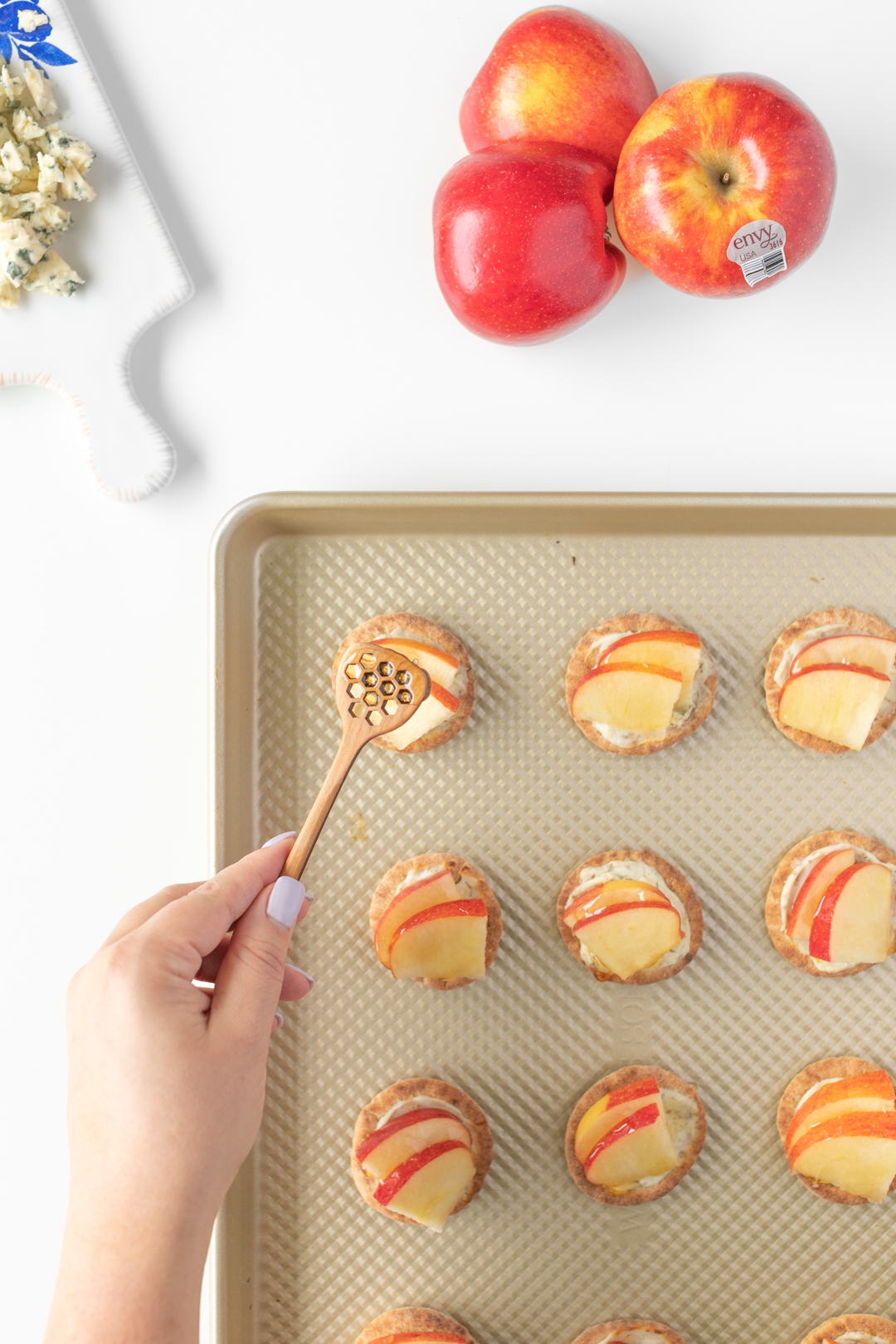 Finally, sprinkle all of the remaining ingredients on top and add a simple garnish if you like.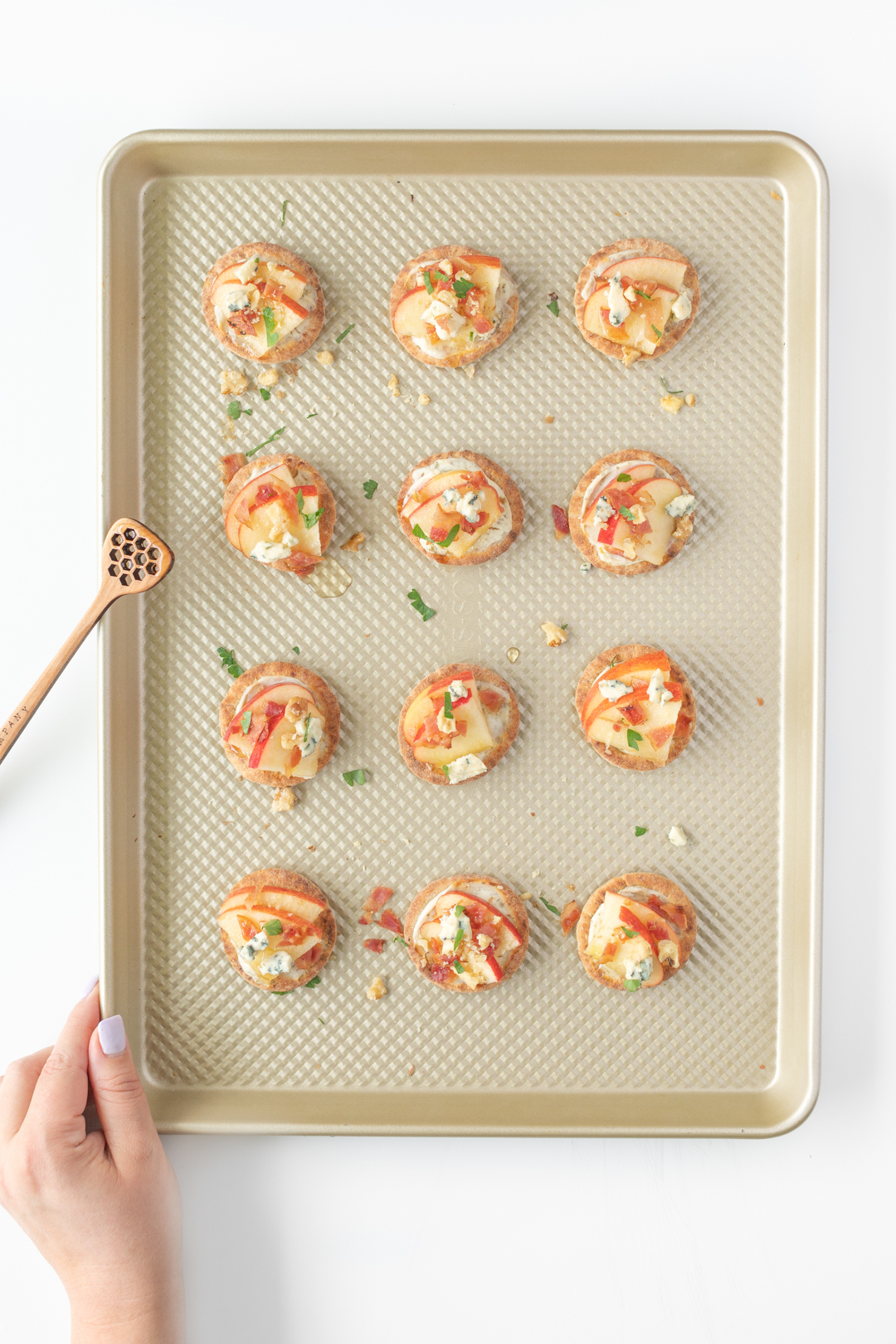 This sweet and savory apple recipe is ready to serve immediately!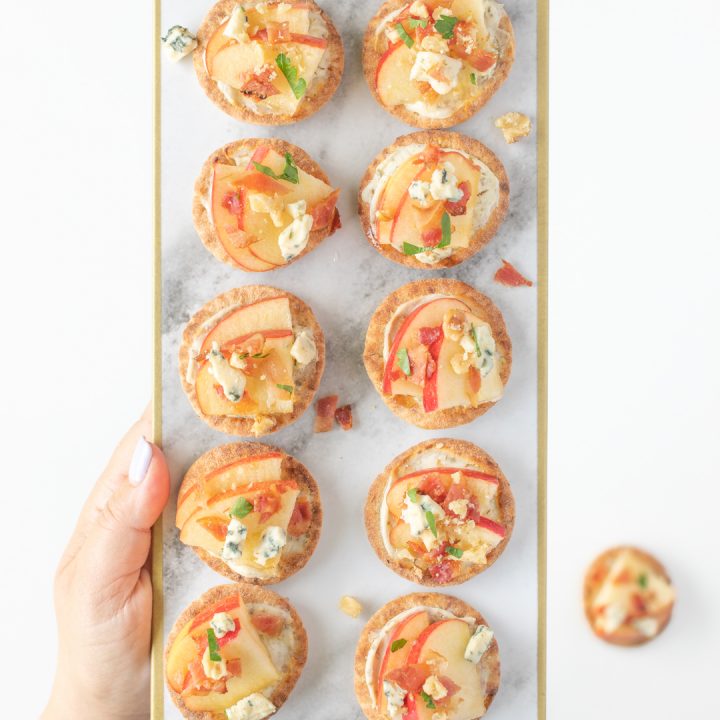 Apple Appetizer Pitas
Yield: 6

Prep Time: 20 minutes

Cook Time: 5 minutes

Total Time: 25 minutes
Ingredients
12 mini pitas
1 Envy apple, thinly sliced and halved
2 ounces herb cream cheese
2 Tbsp Blue Cheese or Gorgonzola crumbles
1 Tbsp Pecan or Walnuts, crushed
2 slices bacon, cooked, crumbled
Honey to drizzle
Optional: pinch of fresh flat leaf parsley, chopped
Instructions
Turn oven on low broil. On a non stick baking sheet, place mini pitas. Lightly spread cream cheese on top of pitas. Broil for 3-5 minutes until pitas are lightly toasted.

Place a small apple slices on top of each pita. Drizzle each pita with honey. Sprinkle the remaining ingredients on top. Garnish if desired. Serve immediately.
Recommended Products
As an Amazon Associate and member of other affiliate programs, I earn from qualifying purchases.
Nutrition Information:
Yield: 12 Serving Size: 2 Mini Pitas
Amount Per Serving:Calories: 222Total Fat: 4gSaturated Fat: 2gTrans Fat: 0gUnsaturated Fat: 2gCholesterol: 7mgSodium: 411mgCarbohydrates: 39gFiber: 2gSugar: 4gProtein: 8g

Nutrition information is provided for reference only. I am not a nutritionist and rely only on general information provided to me when attempting collecting nutritional stats.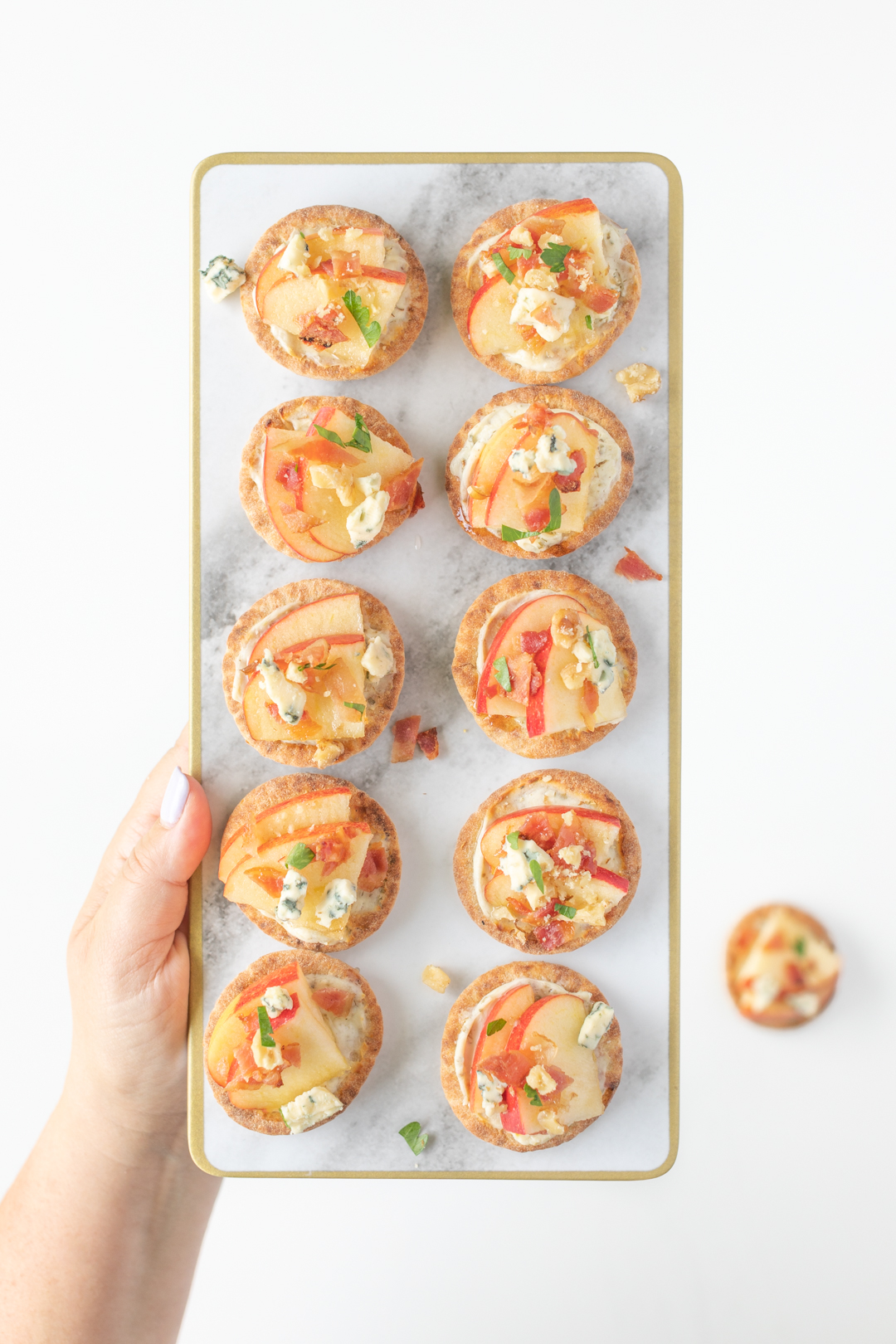 These easy mini pita apps are an easy crowd-pleaser and you can easily customize them with your own favorite toppings and garnishes. The recipe can very easily be doubled or tripled for a crowd. If you dont have access to mini pitas, you can also serve them on pita triangles.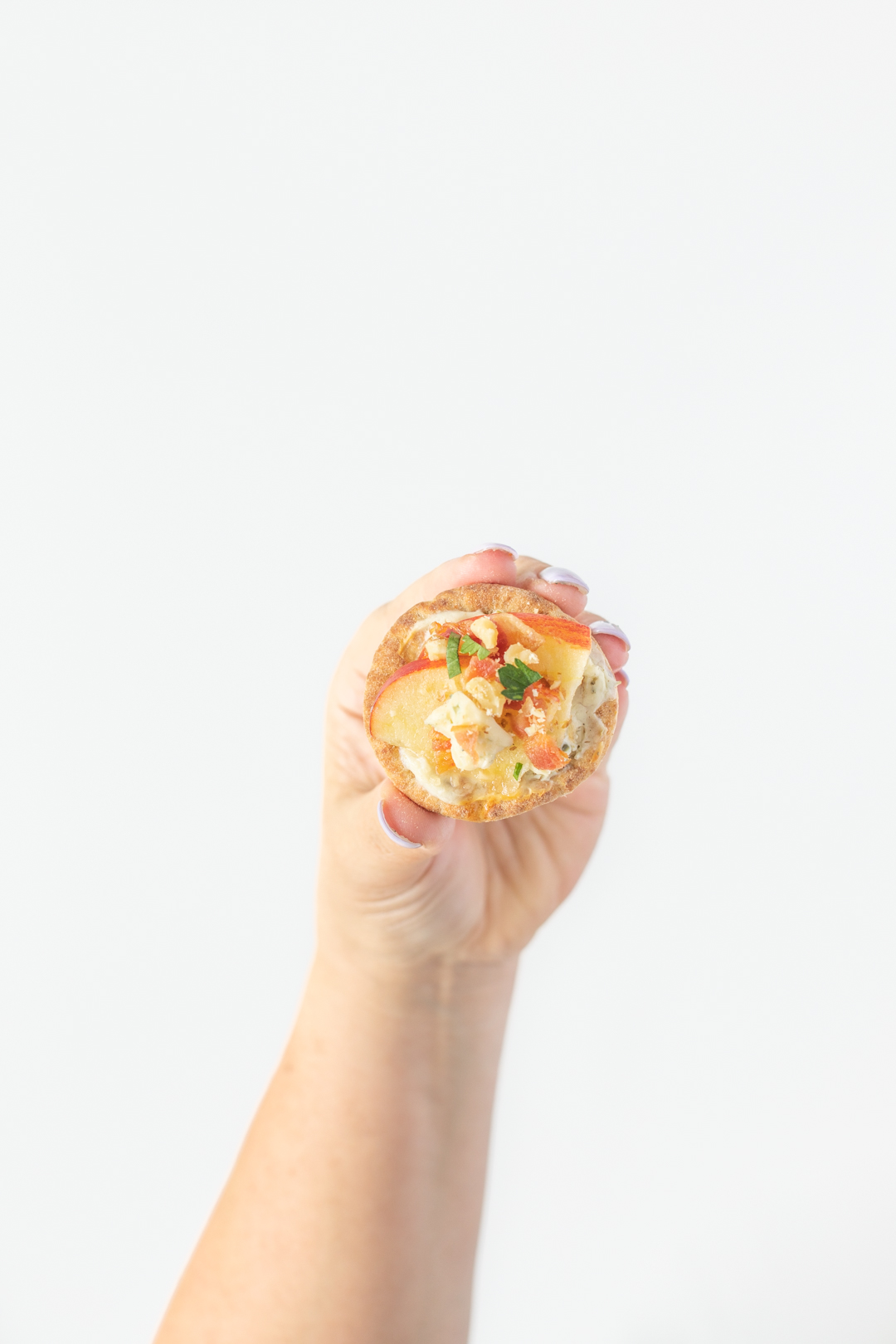 Feeling hungry?
See where you can find Envy Apples at a store near you and get more yummy apple recipes here.
Have you tried them yet?