Get Ben & Holly Party Ideas!
Looking for a unique party idea for your little one? Look no further! With a touch of magic and whimsy, you can create your own dreamy party that will be remembered. I'm excited to share some simple ideas that even the smallest of elves and fairies will love. Get ready to plan your child's next birthday with these Ben & Holly's Little Kingdom party ideas! This is a sponsored post about Ben & Holly's Little Kingdom, all opinions are my own.

It wasn't too long ago that I found out about Ben & Holly's Little Kingdom. When my friends came to visit last month, their children were SO excited to see the themed toys that I had (available exclusively at Target). When they told me about the show, their faces truly lit up. It wasn't long after that I started watching it myself to see what the magic was all about. Confession time.... I was instantly smitten with the show. The characters are simply adorable and the storyline is fun and refreshing. How could I not fall in love with Gaston the Ladybird?
Ben & Holly's Little Kingdom Birthday Ideas
Capturing the essence of the Little Kingdom was so much fun to do and I'm excited to share these simple, yet whimsical ideas with you. See more easy party ideas here.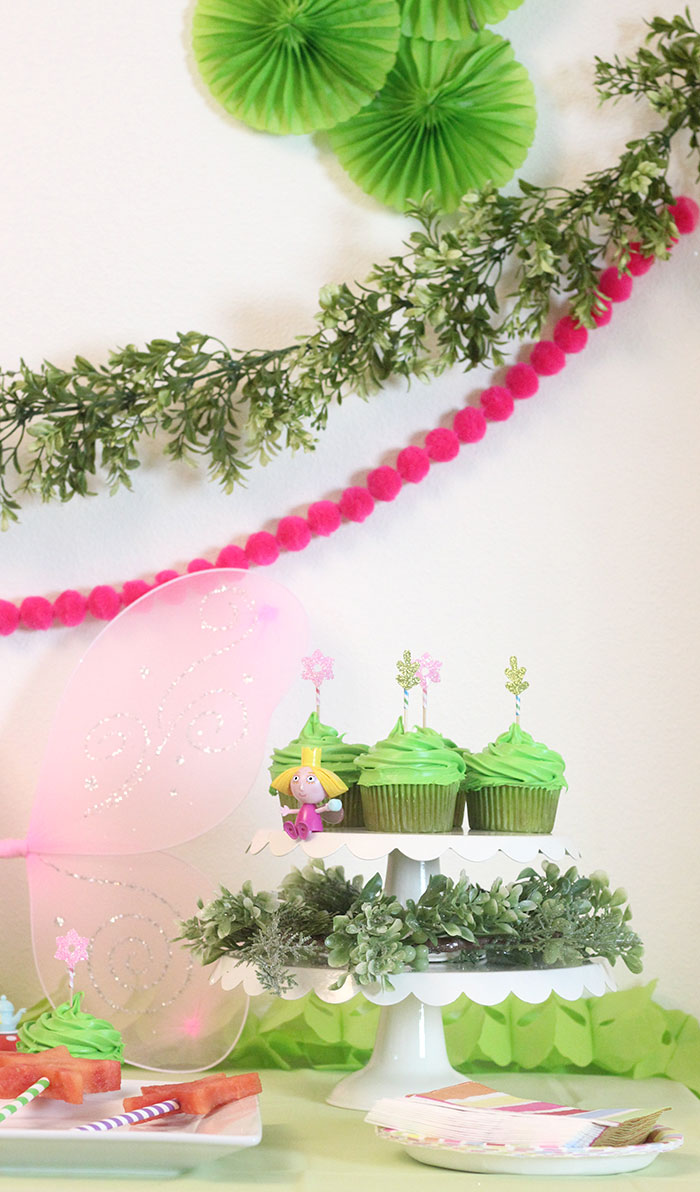 Ben & Holly's Little Kingdom Party Decorations
As all fans know, everyone is very, very "small" over in the Little Kingdom. The world around them is quite large and I really loved the idea of bringing that whole idea to life for this party. The holiday season is a great time to pick up some party supplies because Christmas tree decorations and holiday garlands are just perfect for setting up your party scene. Check your local dollar stores and craft stores for the perfect diy decorations.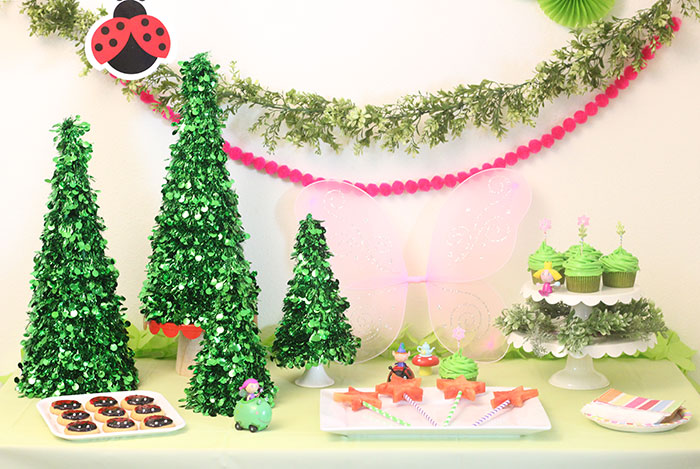 I loved focusing on various shades of green for this party with a hint of pink in honor of Princess Holly of course. The more colorful the better if you ask me. For my party backdrop, I used green garland and bright pink pom-pom garland. I also used a hanging lady bug decoration as well to give the party table an extra pop.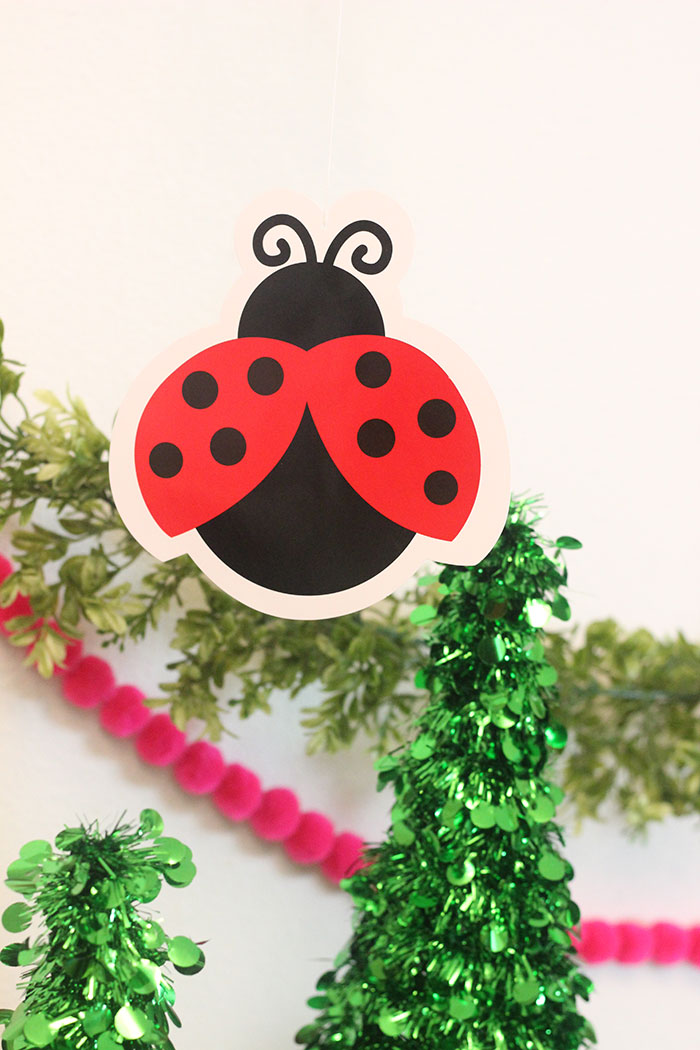 Various green party decorations helped fill more of the space and add to the look of it.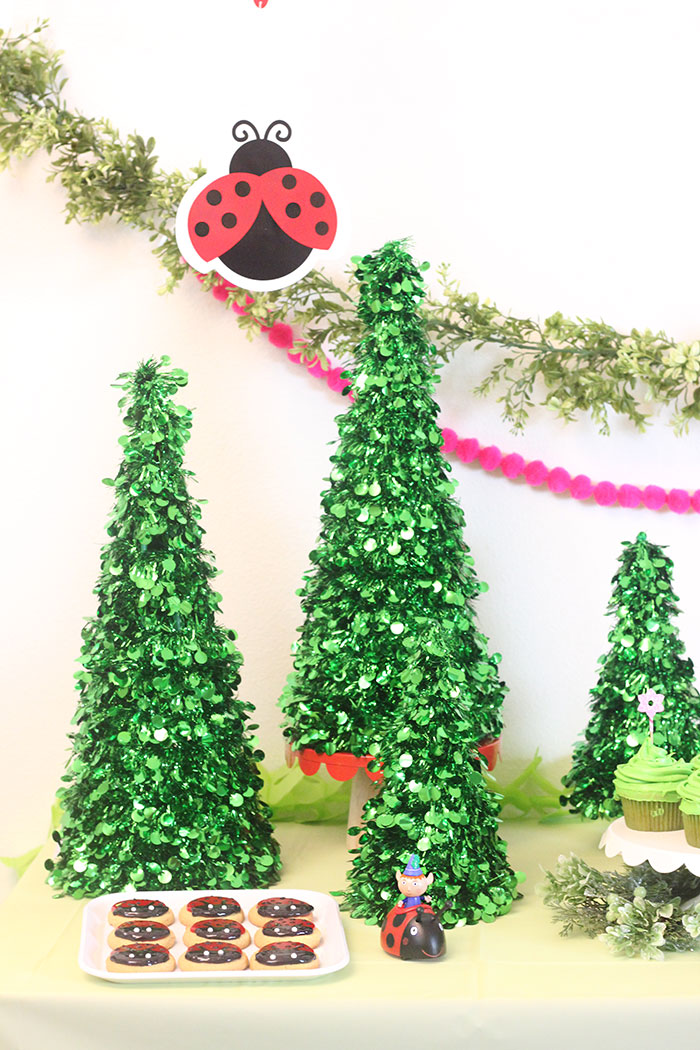 As a final touch, a set of fairy wings from my dollar store made the perfect addition!
Ben and Holly's Little Kingdom Party Food Ideas
Magic wand party food is a total must! Here are some simple ideas that kids will surely love.
Magic Wands Treats
For a brilliant easy idea, make edible wands with fresh cut watermelon.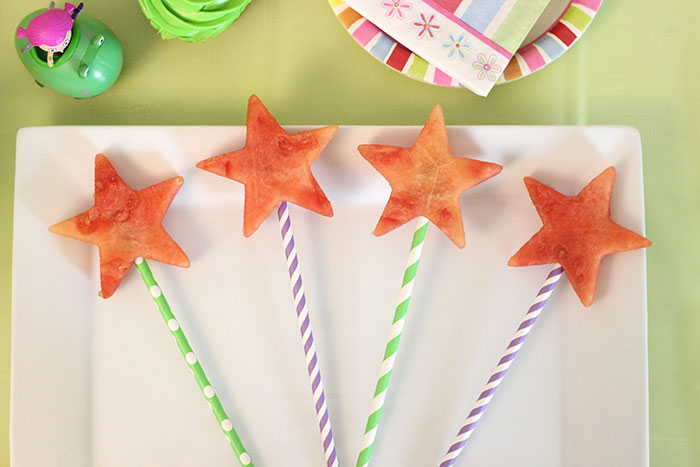 Use a star shaped cookie cutter to make your star tip and add to colorful paper straws for the perfect treat. Voila!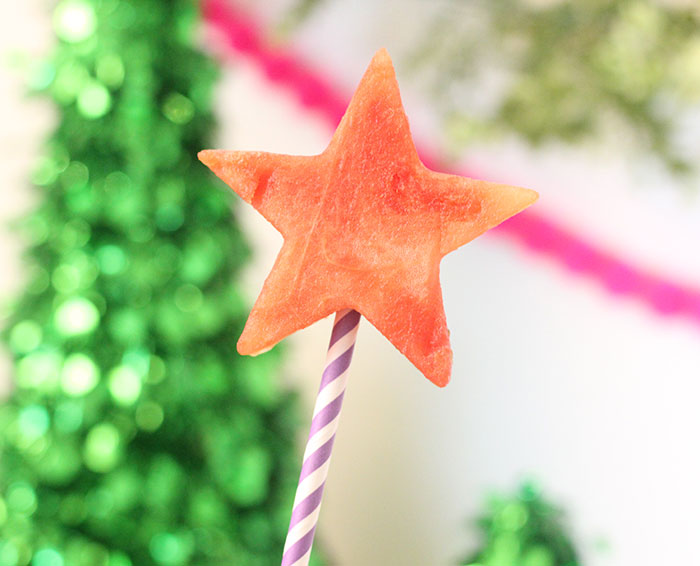 Ladybug (aka Ladybird) Cookies
It's simply a must to include Gaston, the Ladybird into the party fun! The Ladybug cookies are so easy to make and if I must say, absolutely adorable!
Here's what you need to make these:
Store bought round cookies such as butter or shortbread.
Red Cookie Icing (I used Betty Crocker Cookie Icing)
Wilton Sparkle Gel, Black
White round shaped sprinkles for eyes

Ice your cookies and let them set completely. Once the icing is set, add the black gel touches. Add the gel to ⅓rd of each cookie and carefully make the antennae. Then, add a variety of spots. Finally, add your white sprinkles for the eyes. Let the cookies set and dry completely before serving. Gaston would be proud!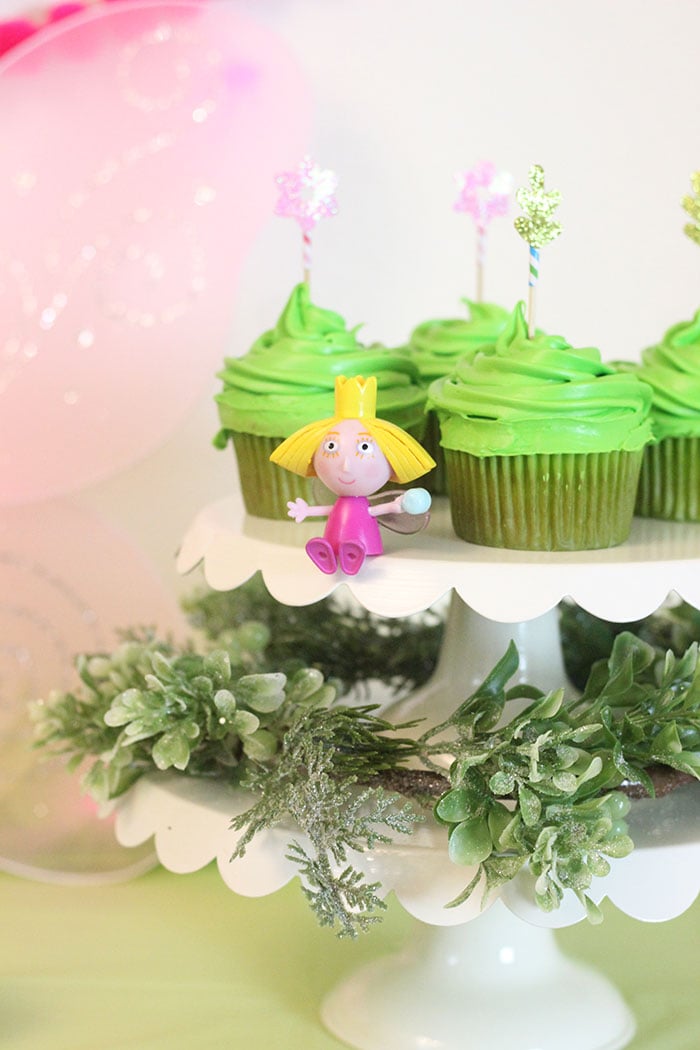 Finally for a simple matching bit of cake for your party, I recommend serving green grassy colored treats. I just love cupcakes for an easy hand-held treat. Don't be afraid to keep it simple.
Ben & Holly's Little Kingdom DIY Party Favors
Our party would not be complete without something special for your party guests to take home.
Magic Wand Bubbles
For a budget friendly favor, I love this idea so much! I purchased a multi pack of small bubble favors over at my local craft store. Then, I cut stars out of pink glittery thick scrapbook paper and used Glue Dots to adhere them to each bubble wand. The result is so adorable!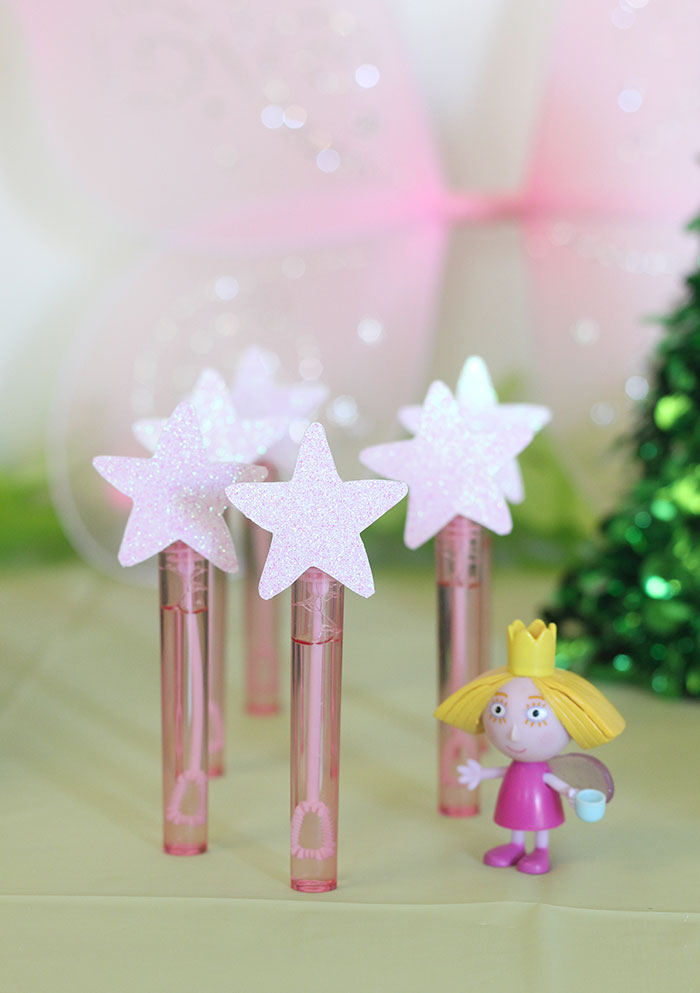 This party would not be complete without Ben, the elf. His hat is so cute, you can easily make matching party hats using construction paper or if you prefer you can purchase blue party hats and just make the leaf decoration. Easy, peasy.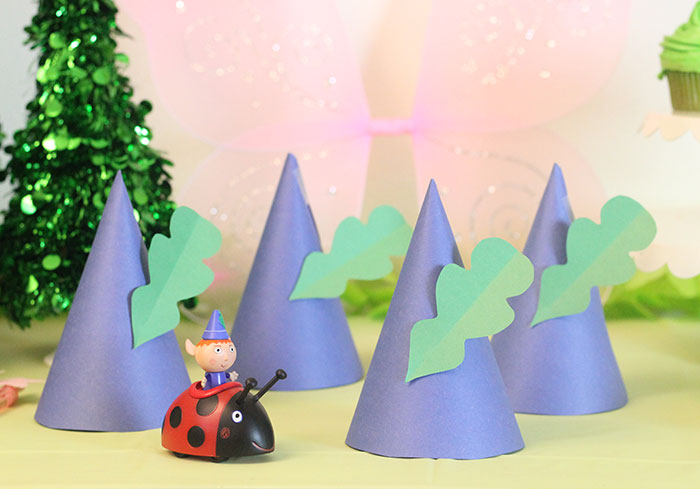 To find exclusive Ben & Holly Little Kingdom toys, make sure to head to Target. They make for the perfect special touch or gifts for your party.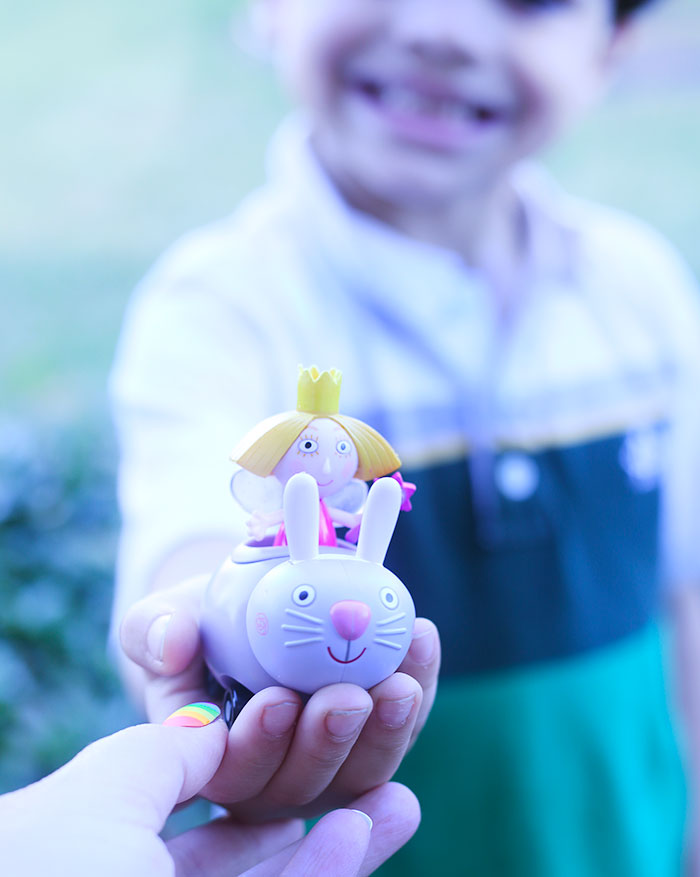 EASY KID PARTY THEMES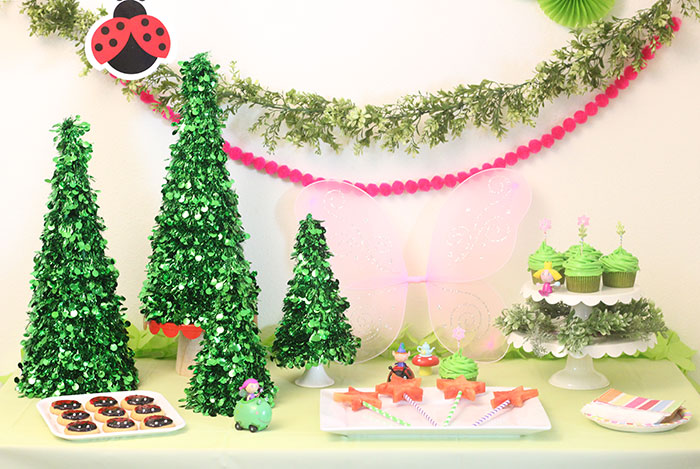 For even more party and activity ideas, check out the Ben & Holly Little Kingdom section for Grown-Ups!
Do you know someone that would love a Ben & Holly themed party?