I am not quite sure when birthday cake "things" became an actual trend. Ever since I started blogging, I came to realize that foods could even be trendy. Actually had no idea. I mean... bacon?! It's always been a well loved food item, but it's definitely become a "thing" and so hasn't cake stuff. Am I right?
Before I share this tasty little creation, I want to point out that I love celebrating birthdays. I just simply don't really enjoy getting older. Just wanted to throw that out there. But, fun b-day celebration ideas are always welcome. Anything to take the pain away from getting older. Ya know?!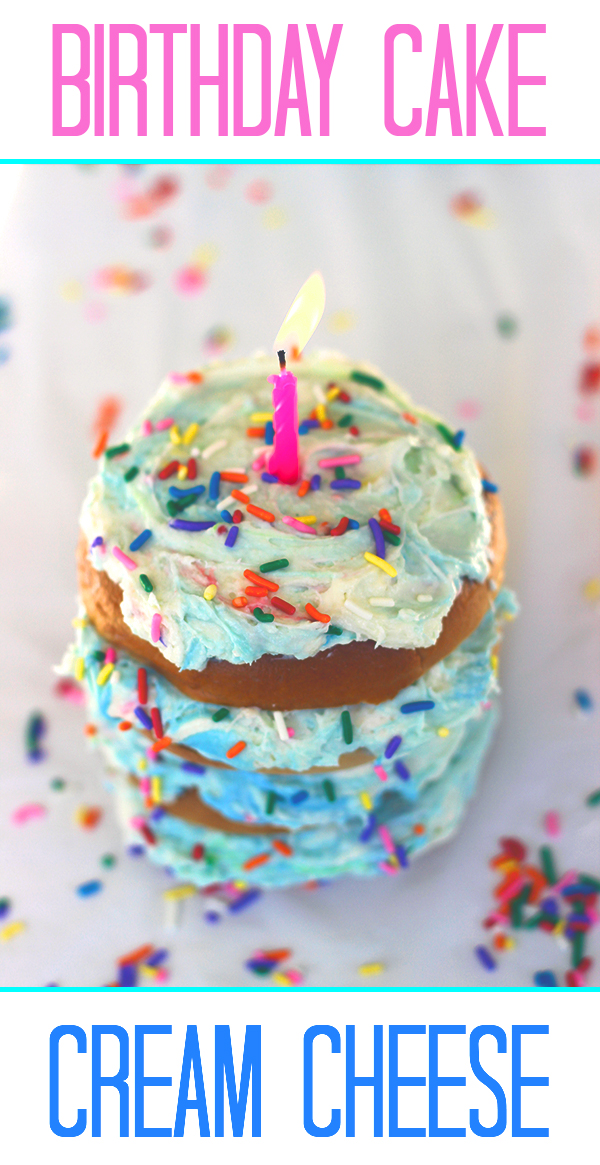 My son adores bagels with cream cheese and we both adore cake flavored ice creams. It's always the first thing we look for when we try out a new ice cream shop. Though, we haven't had the pleasure to enjoy any yet this summer, I figured this fun birthday cake cream cheese would be a nice little treat to brighten his day. This will be fun for any day, but definitely an extra fun surprise for the birthday boy or girl. Imagine their surprise upon waking?
Make someone's day with this tasty treat! What do you say?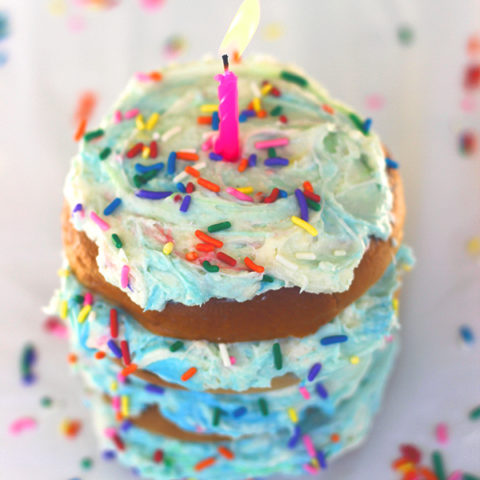 Birthday Cake Cream Cheese
Ingredients
¾ Cup Whipped Cream Cheese
¼ Cup Creamy Vanilla Frosting
2 Tbsp. Confetti Cake Mix Dry
2 Tbsp. Reserved Frosting / 2 drops of blue food coloring
Optional: 1 Tbsp. of colored sprinkles.
Instructions
Combine cream cheese, ¼ cup of vanilla frosting and 2 Tbsp of cake mix until fully blended and smooth. Optionally, add 1 tablespoon of colored sprinkles to this and gently fold in. In a seperate bowl mix the reserved frosting and blue food coloring until blended. Then take the blue frosting and very gently swirl it into the cream cheese mixture. Refrigerate until ready to serve. Best served on the day of making as the cake mix can make the mixture thick after a while. Enjoy!
Nutrition Information
Serving Size

1
Amount Per Serving
Calories

700
Total Fat

56g
Saturated Fat

30g
Cholesterol

121mg
Sodium

427mg
Carbohydrates

44g
Sugar

37g
Protein

7g
Are you fan of birthday cake flavored things? What have you tried?