This is a sponsored post as a part of my Cool Food Panel participation with the National Frozen and Refrigerated Foods Association (NFRA), all opinions are my own.
I'm not sure about you, but sacrificing a delish, fancy cup of coffee is definitely not on my list of resolutions this year. Are you with me? That's why I'm excited to share some really delish and easy coffee shop beverages that you can make right at home. These won't break the bank and they surely won't disappoint. Get ready for plenty of yum in the new year.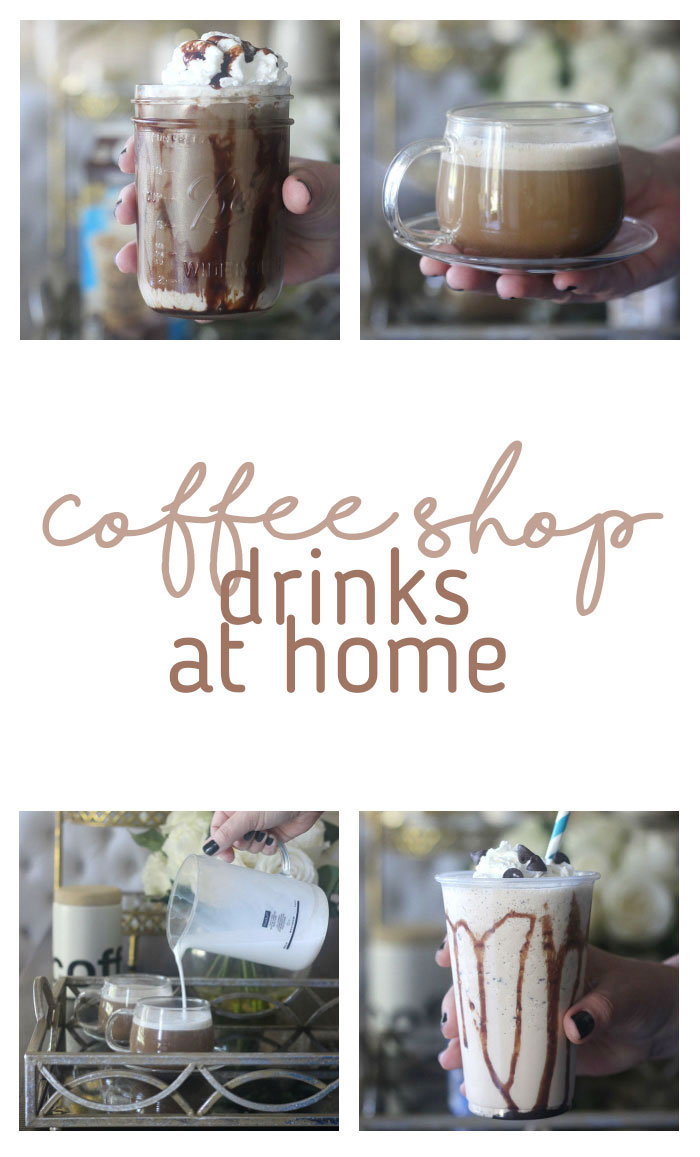 Now that the holiday season is over, I'm feeling spent! I don't just mean that I'm exhausted after all of the fun festivities either. Doling out cash for your favorite coffee shop beverages might not be on the menu as you try to revive your budget. Trust me, I'm right there with you.
You're probably used to taking your morning coffee to the next level with flavored creamer, but we're going to tap into tasty resources with International Delight products to make some amazing coffee creations today.
Coffee Shop Beverages at Home
To make all of these tasty coffee shop drinks, we're going to use a variety of their products. Some of them may even be new to you!
Don't blink! These recipes are so easy, you might miss them.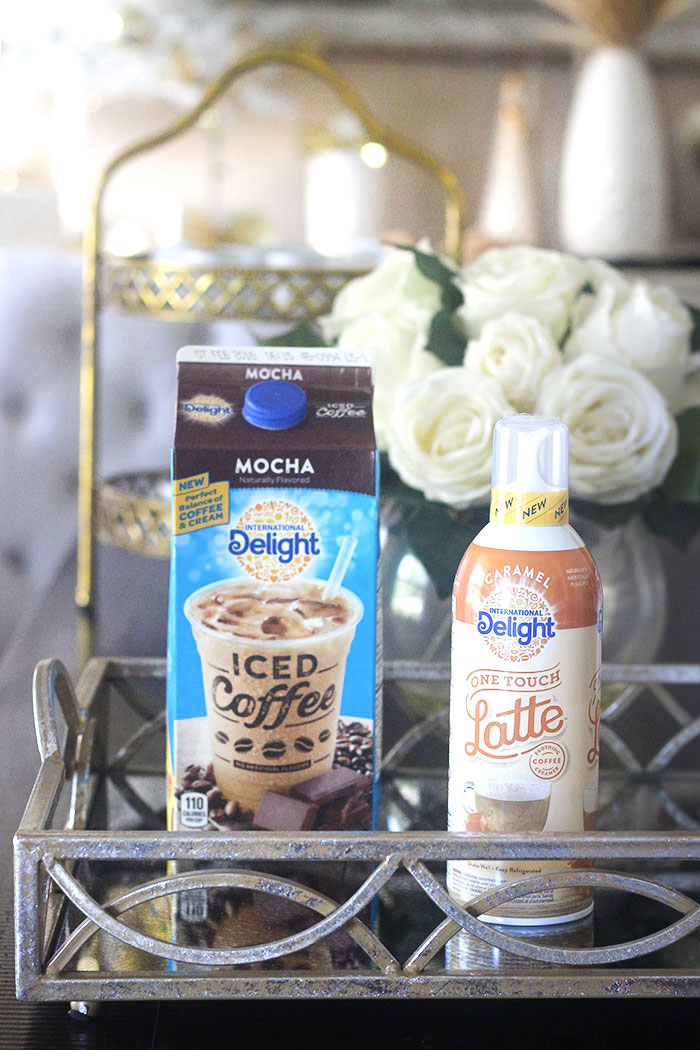 Mudslide Iced Coffee
This was a new idea for me and I can't believe that it took me so long to think of this. It's SO good. Here is all you need to make this drink:
1 Cup International Delight Mocha Iced Coffee
1 TBSP International Delight Irish Crème Creamer
Optional: Drizzle of Chocolate Syrup & Whipped Cream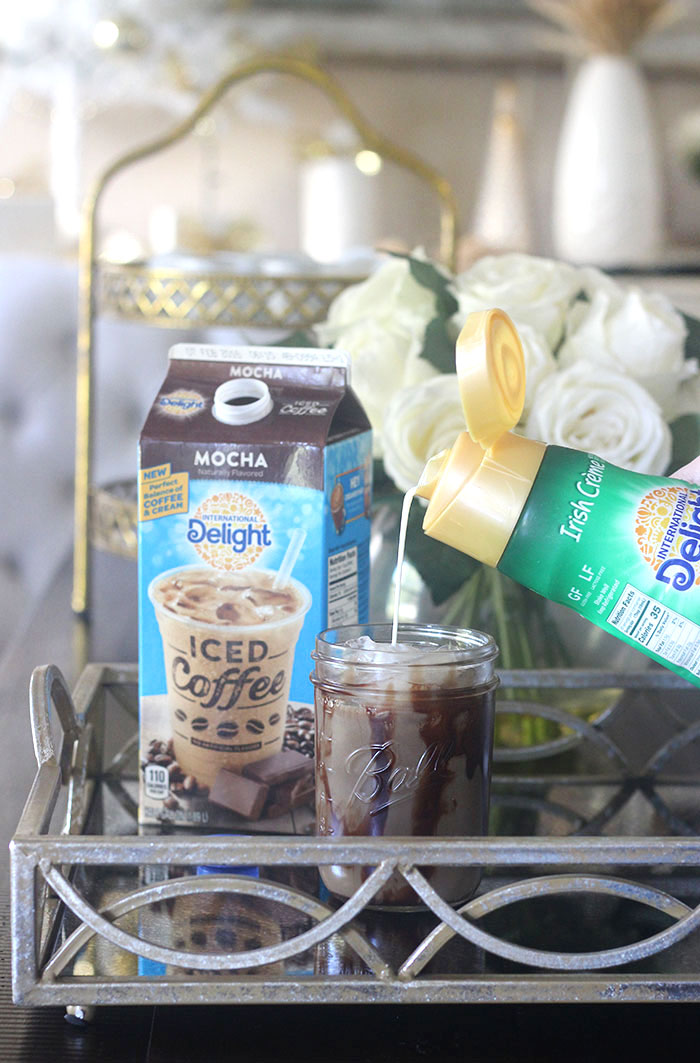 Simply mix together the iced coffee and creamer and you have yourself the perfect flavored mudslide iced coffee. To make it all extra fancy, I recommend drizzling a little chocolate syrup in your cup before pouring the ingredients in and top with whipped cream for all the coffee shop feels.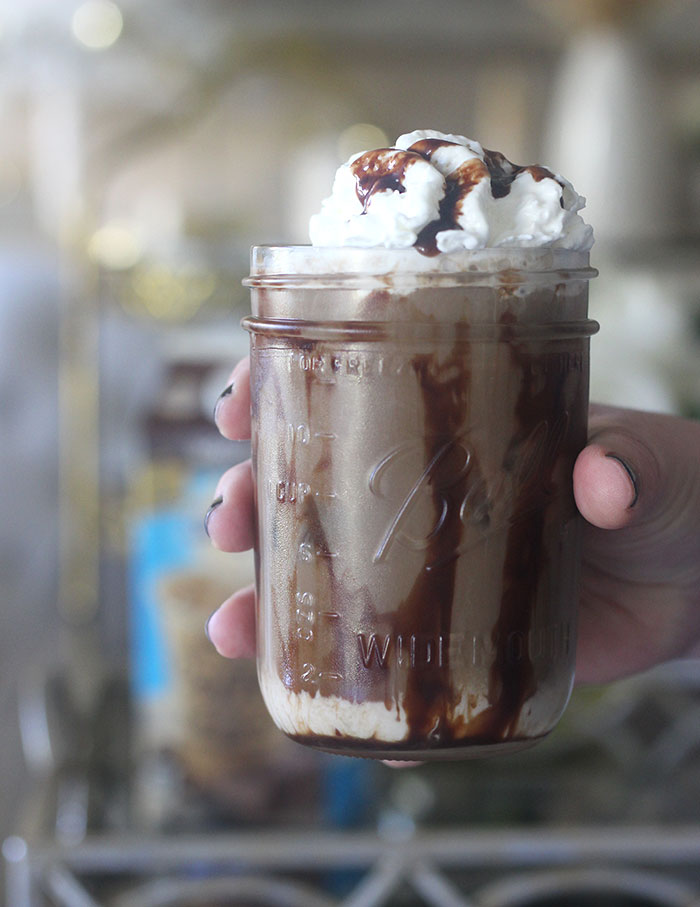 Caramel Latte Recipe
Have you always been confused on how to make a latte at home? Don't worry, you aren't alone. There's a new product in town that makes it all possible in just a few seconds flat. It's the International Delight One Touch Latte. Each makes 7 lattes. You do the math and see how this will help you save your cash in the new year. Let's dig in:
Cup of Hot Coffee
International Delight Caramel One Touch Latte
Caramel Sauce (Optional)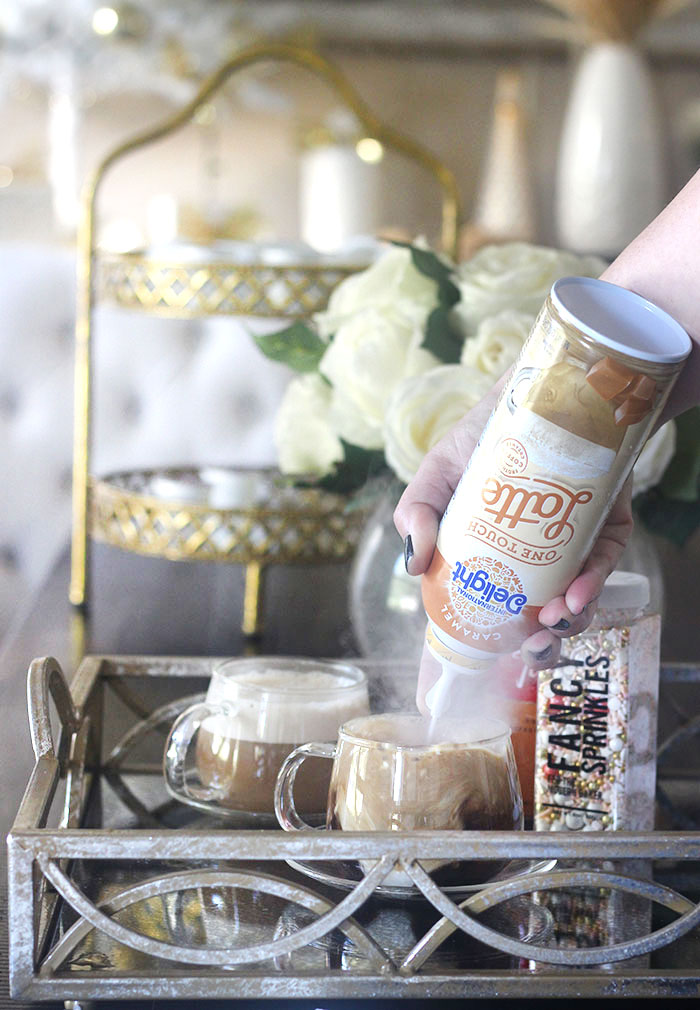 If you're opening your One Touch Latte for the first time, make sure to remove the cap and pull back on the nozzle to pop it open. Then, shake, shake, shake it like you would a can of whipped cream. Next, hold your can (nozzle down) over your cup of coffee and PRESS down as HARD as you can. For your perfect latte, you HAVE to press it super hard. Then, HOLD it for 5 seconds. Get ready for a "latte" goodness. Top with a drizzle of caramel sauce for that fancy touch.

"Almond Joy" Blended Iced Coffee Recipe
I am all about frozen coffee drinks for a special treat. You can whip one of these frappe style drinks in just a few minutes! This flavor combo is SO good!
8 oz Double Strength Coffee – Cooled
1/2 Cup Milk
2-3 Scoops of Vanilla Ice Cream
2 TBSP of International Delight Almond Joy™ Creamer
2 TBSP Sweetened Shredded Coconut
1 TBSP Semi-Sweet Chocolate Chips
1 TBSP Chocolate Syrup
1 Cup of Ice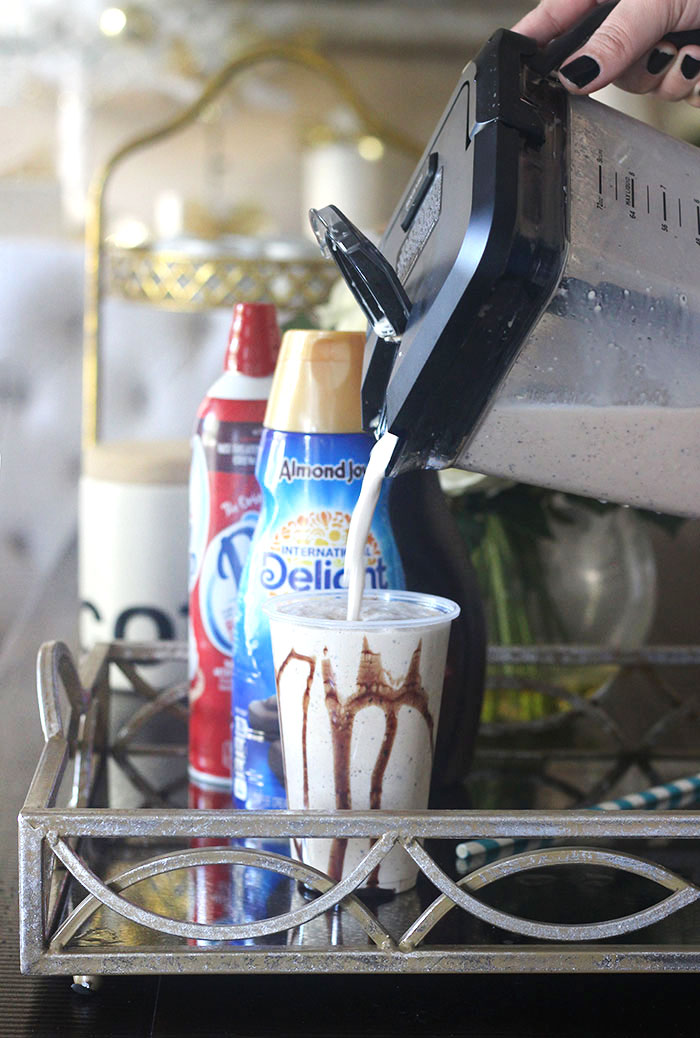 Add all the ingredients to a high powered blender and mix until ice is completely blended. For extra coffee house fun, drizzle chocolate syrup in your cup before pouring and top with whipped cream. Yummy to my tummy! Cheers!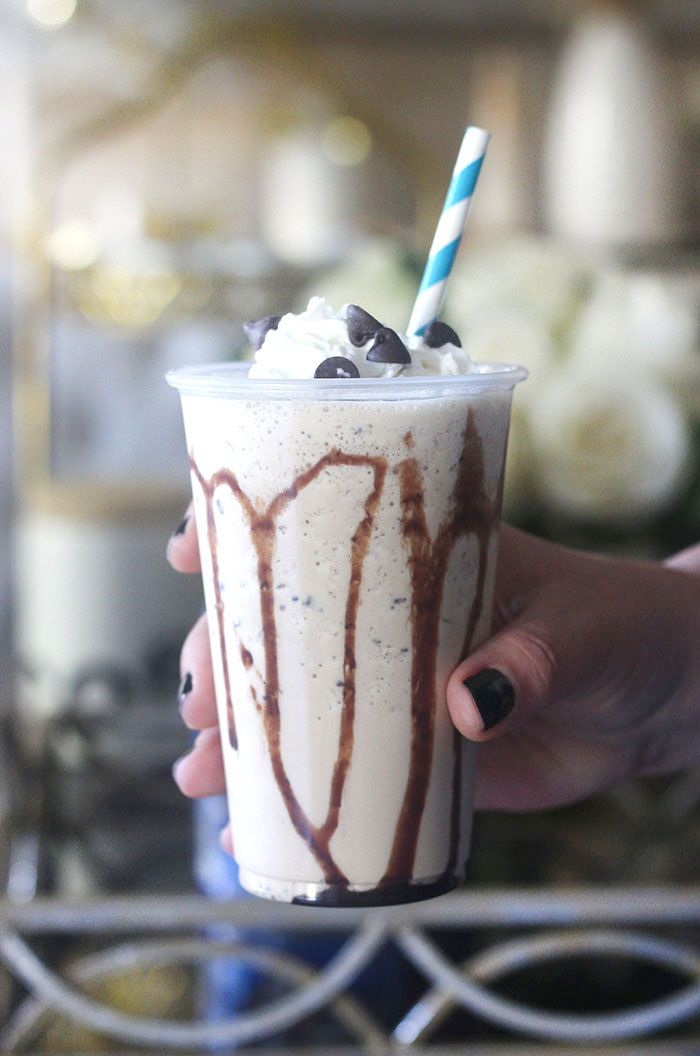 Frothed Milk Magic
The last thing that I want to share today has been my go-to past year. If you've never tried this at home, you are going to love this. Frothing milk and adding it to your coffee is a simple way to upgrade your at-home coffee drinks fast. You will need a frother to easily do this, but the good news is that they are pretty inexpensive. I use a manual frother, but they also have electric. You can also try frothing milk in your blender to give it some fluff and volume.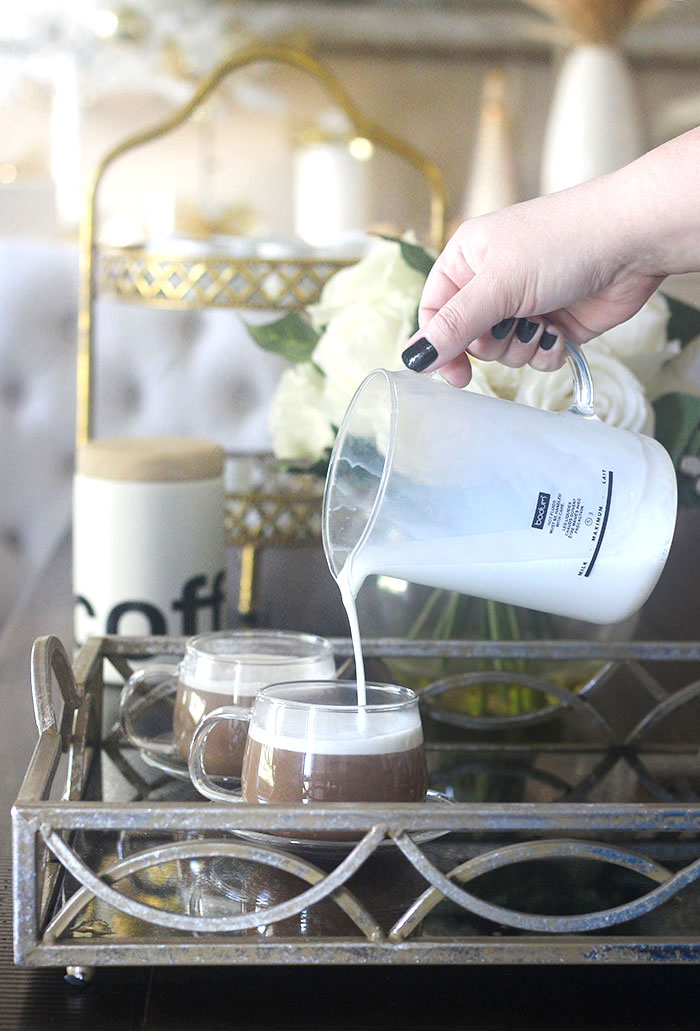 To give your coffee a frothy pop of flavor, add a little of your favorite flavored International Delight creamer to the milk before frothing. Don't add too much because it won't froth up. Pour this delicious concoction right over your cup of coffee. I personally adore it in my iced coffee. Oh yum.
As you can see, it's so easy to make your own coffee shop inspired drinks right at home! I hope you found some tasty inspiration today! Here are even more delish coffee recipes using International Delight products.
Which of these tasty recipes do you want to try first?