The combo of chocolate and peanut butter simply doesn't get old around here. I've had this "Oh Henry" bar recipe earmarked forever now and I finally got a chance to make them. A couple of weeks ago, I'd planned on bringing these to my cousin's house for a barbecue. Well. I forgot to buy the oats for the recipe and ended up making a crazy combination of these peanut butter bars and the recipe I'm sharing today. They came out awesome, but man did I really screw that up. I didn't realize that the new recipe I'd found was for no bake bars so I greased my pan. Oops.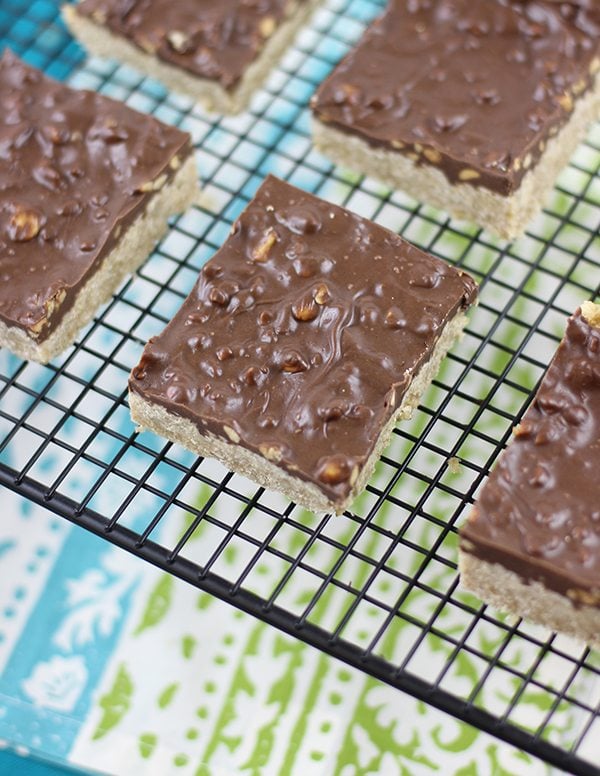 I thought I had enough graham crackers for that recipe, but I didn't. I threw in some Maple & Brown Sugar packets of oatmeal to make up the difference. I should have just threw in the towel and stopped to pick up something else on the way to the party. But. I was in too deep. Luckily they ended up coming out delicious.
What luck.
Anyway, I finally did indeed get to follow the intended recipe and it really was perfect. The recipe comes from one of my favorite books called "Incredible Country Store". It has all kinds of diy recipes for not only foods but other common household products.
It's a real fun find, especially if you like trying to create your own concoctions at home.
Now back to these bars. They are perfectly yummy for the chocolate and pb fan in you. Only 20 minutes in the oven and a handful of ingredients. I loved that they baked to perfection. Smooth and even in my piece of crap oven. What more could a girl ask for?
Some friends of ours came over last night, so luckily we didn't have to eat this entire batch on our own. With the amount of butter in the recipe, that was a seriously waist saver.
Ha! However, there are still two bars left and they're dangerously sitting within 4 feet of me. I might go in for the kill.
My hubby and I just went through all our bills this morning, cancelled some unnecessary credit cards and services. It's quite possible that I've actually just earned the rights to one of those remaining bars for being such a responsible human. Don't you agree? See, I knew you'd take my side!
Now back to these "Oh Henry" Bars, the original candy bar was rumored to have been named after a boy who would flirt with the girls who made it.
If that's true, that is just too cute. There are other theories, but I liked that one the best.
What does seem to be true is that the original candy was developed way back in 1919.
Whatever you believe, these bars are scrumptious and simple and must be tried. Shall we?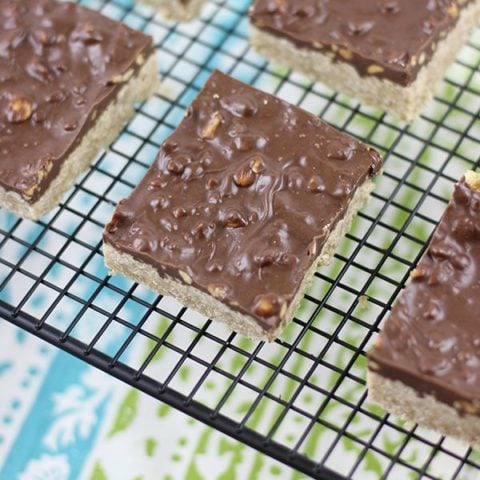 Homemade "Oh Henry" Bar Recipe
Yield: 12

Prep Time: 5 minutes

Additional Time: 20 minutes

Total Time: 25 minutes

Easy chocolate peanut butter bars that taste like Oh Henry bars.
Ingredients
4 Cups of Quick Cook Oats
1 Cup of Light Brown Sugar
1/2 Cup of Granulated Sugar
1 Cup Butter
1 Cup Semi Sweet Chocolate Chips
1 Cup Crunchy Peanut Butter
Instructions
Preheat the oven to 350ºF.

Grease a 9"x13" inch pan.

In a large bowl, mix oats, granulated and brown sugar.

Melt the butter, pour in bowl and mix well.

Press the mixture into the pan.

Bake for 20 minutes.

Let cool for 20 minutes.

Then, melt the chocolate and peanut butter together on low heat.

Once melted, spread evenly over bars.

Refrigerate for about an hour or until fully cooled.

Slice and serve as desired.

I found that these tasted better at room temperature, but you could keep them stored in the fridge if desired. Enjoy!
Nutrition Information:
Yield: 12 Serving Size: 1
Amount Per Serving:Calories: 450Total Fat: 28gSaturated Fat: 12gTrans Fat: 1gUnsaturated Fat: 13gCholesterol: 35mgSodium: 200mgCarbohydrates: 48gFiber: 5gSugar: 28gProtein: 8g

Have you ever royally messed up a recipe that you were trying to make? Share your whoopsie moments!