Get ready to make your Halloween colorful! If you are looking for super easy Halloween cake ideas, you have come to the right place. It does not get more simple and fun than this easy DIY. This Trick or Treat Ghost is the cutest Halloween cake hack for all of your celebrations this year. This is a sponsored post with Color it Candy™, all opinions are my own.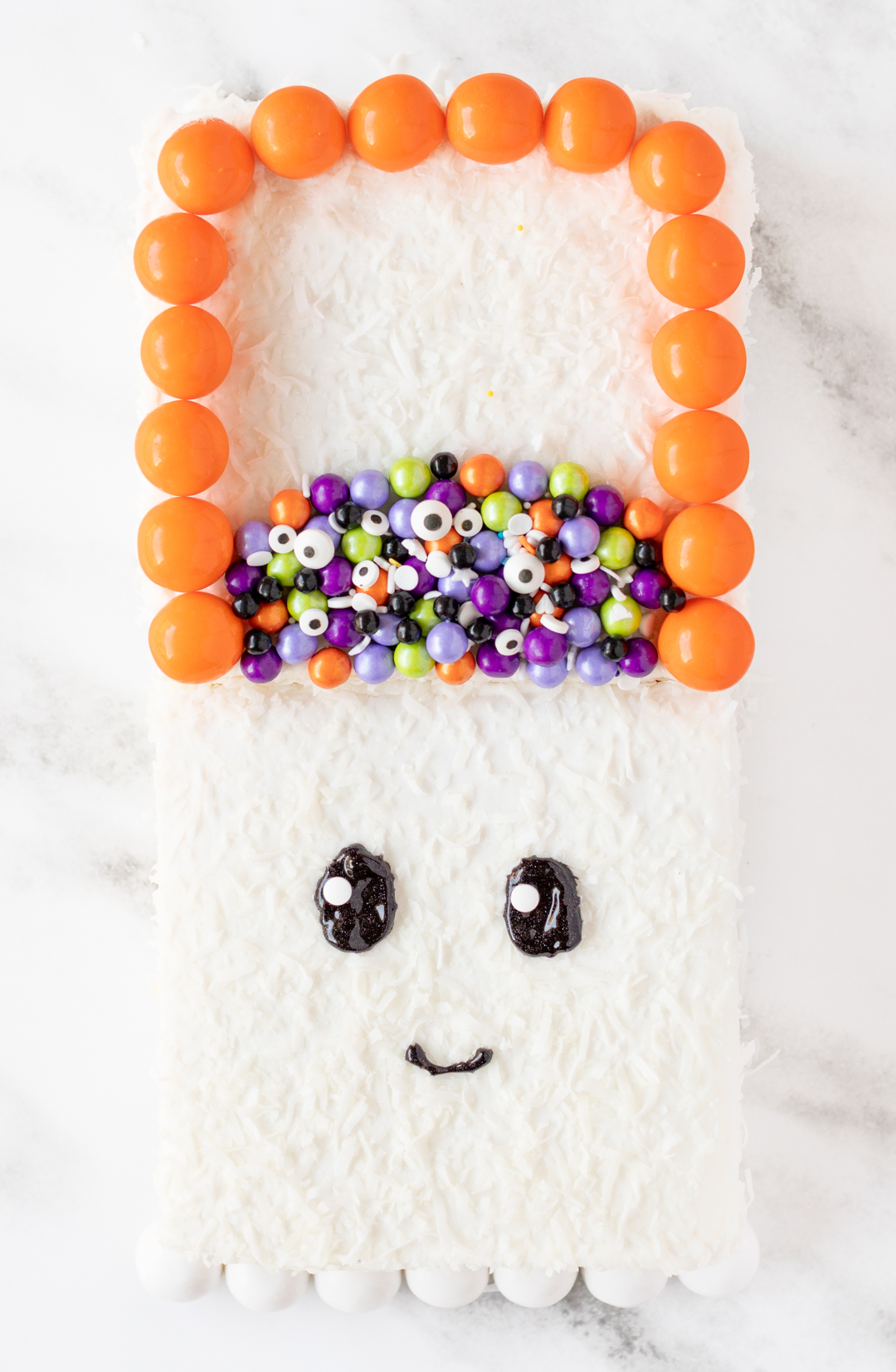 Gumballs and Sixlets® and pearls... oh my! I'm a sucker for all things Color it Candy in case you haven't noticed around here. Their awesome selection of colors comes in handy to match pretty much any party celebration. Whether using their fun candies for a Halloween candy buffet or using them to decorate the perfect festive desserts, there are so many things you can do with them. The possibilities really are endless. You can even make your own color combos. They have so many fun options. Think purple candy, black candy, orange candy, green candy and much more. So many colors come with a fun shimmer, too.
EASY GHOST HALLOWEEN CAKE
Ever wondered how to make ghost cake? Today I'm sharing how to make a super cute ghost cake that is as colorful as it it simple to make. Best part is there is no baking involved. We will start off with store-bought freezer cakes for this easy tutorial. To get started with this fun Halloween cake, you will need two small square shaped coconut cakes put together or any rectangle shaped cake with white icing.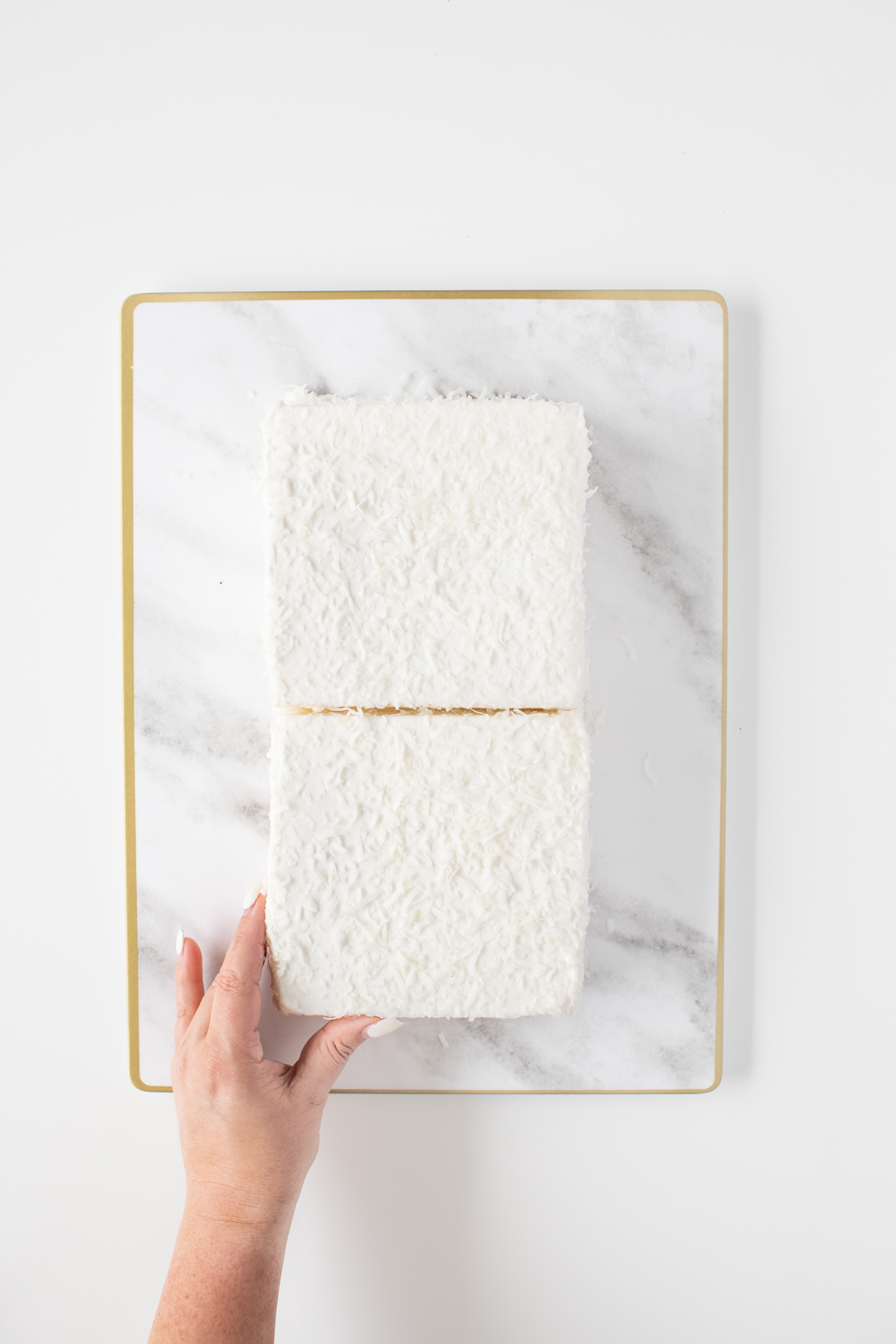 You can choose to decorate the top or the bottom first. It's your choice. I liked to make the face first since that can be more challenging and you want to nail it. I had to make a second try because my first face was awful, so my suggestion is to keep yours super simple. I love how the super minimalist style turned out. To make the eyes, I used Sparkle Gel to make two small oval shaped yes.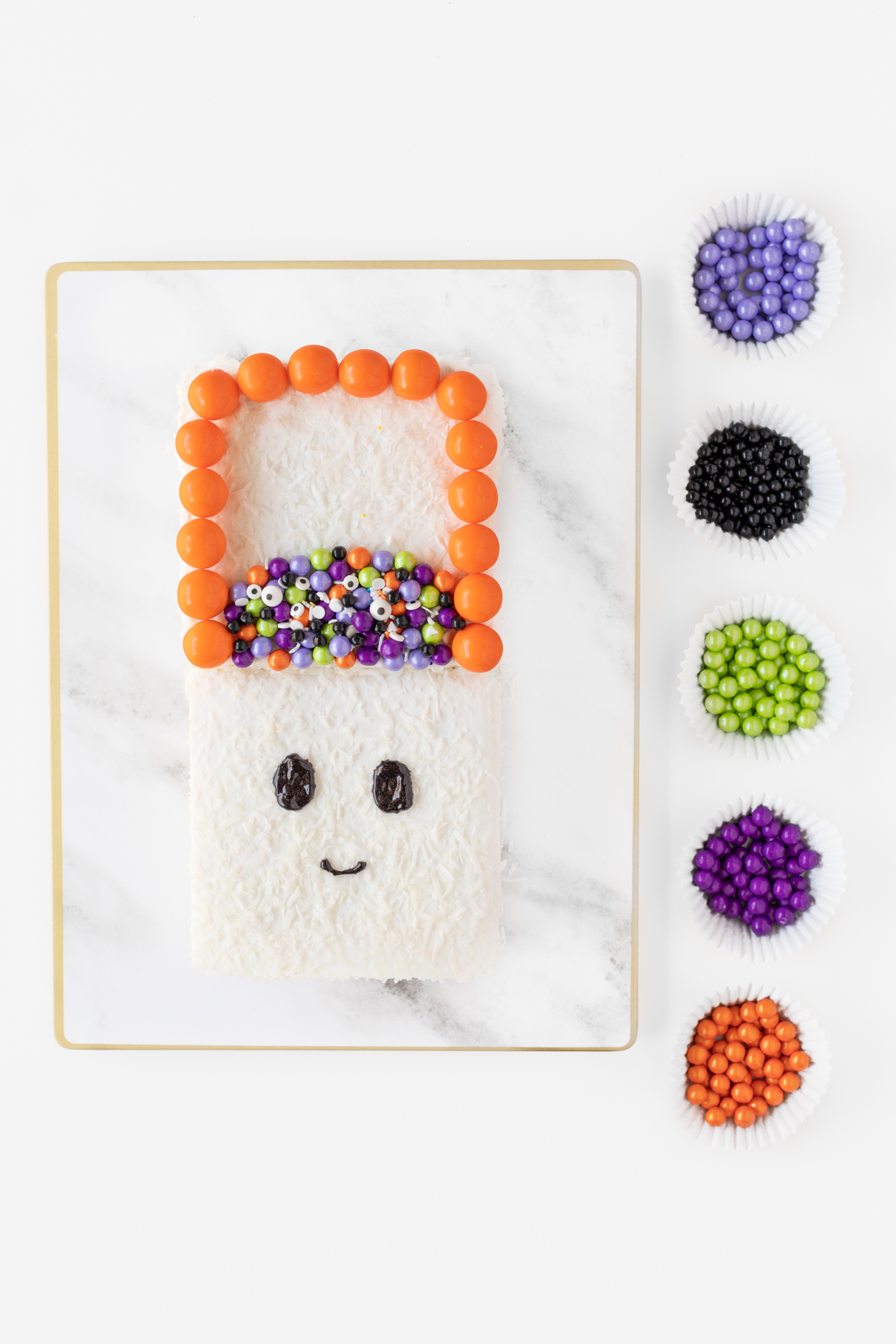 To finish the eyes, use small candy eyes turned backwards and place on the upper left corners of the black icing eyes.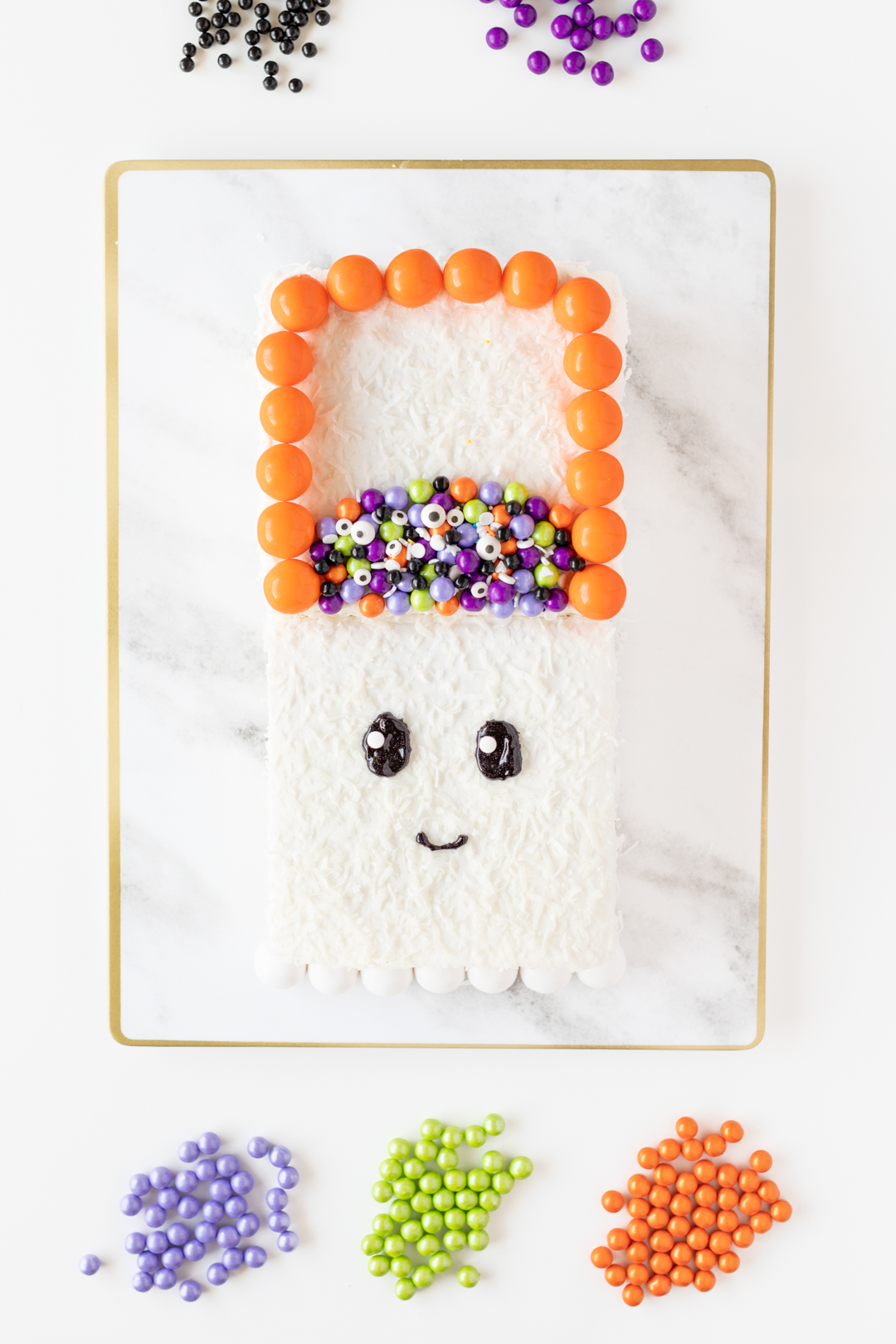 Then, the mouth is a very small upturned line. Such a cute little smile to make the cake sweet and fun.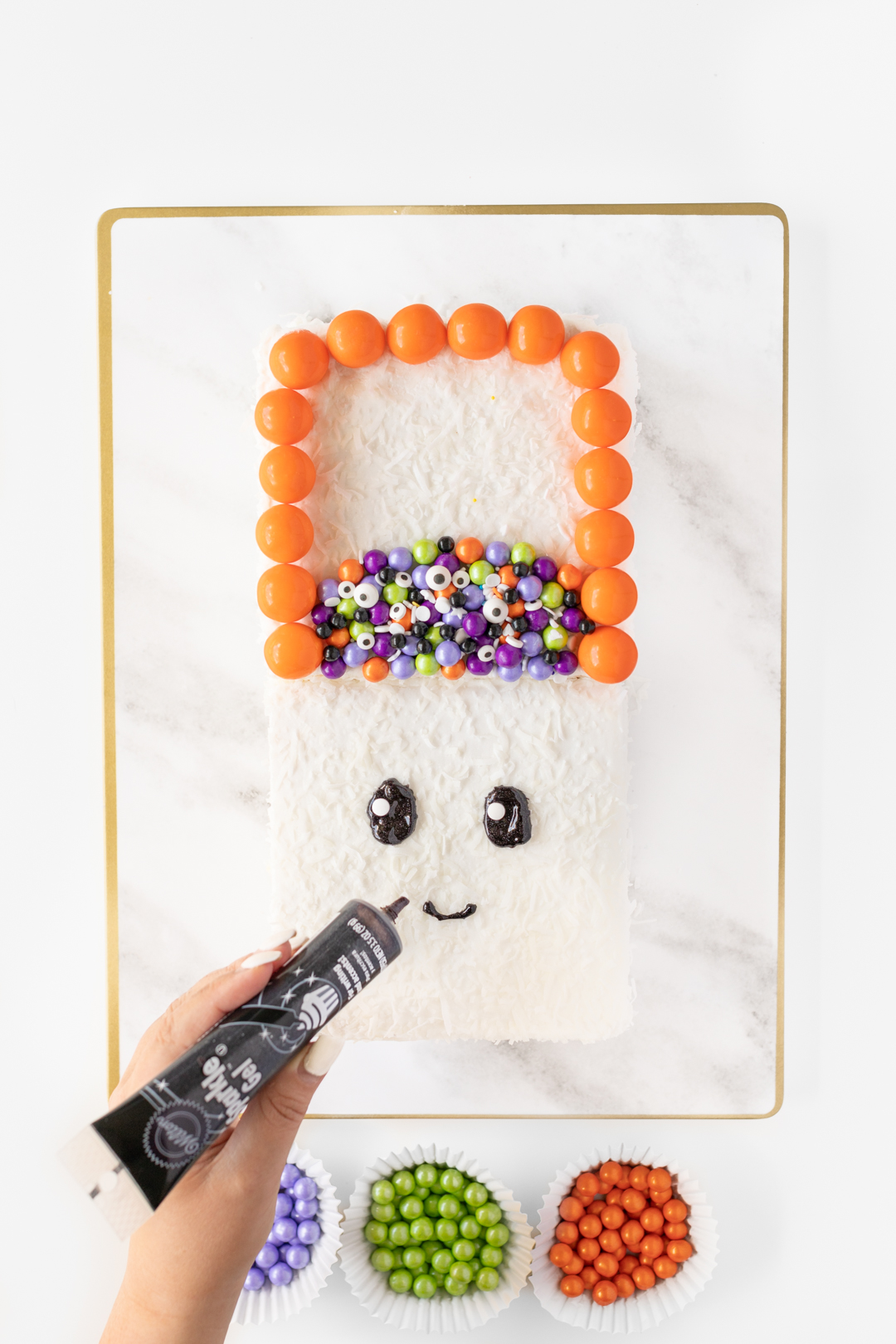 Next, it's time to tackle the top of the cake. Use Orange Gumballs to form the bag handle.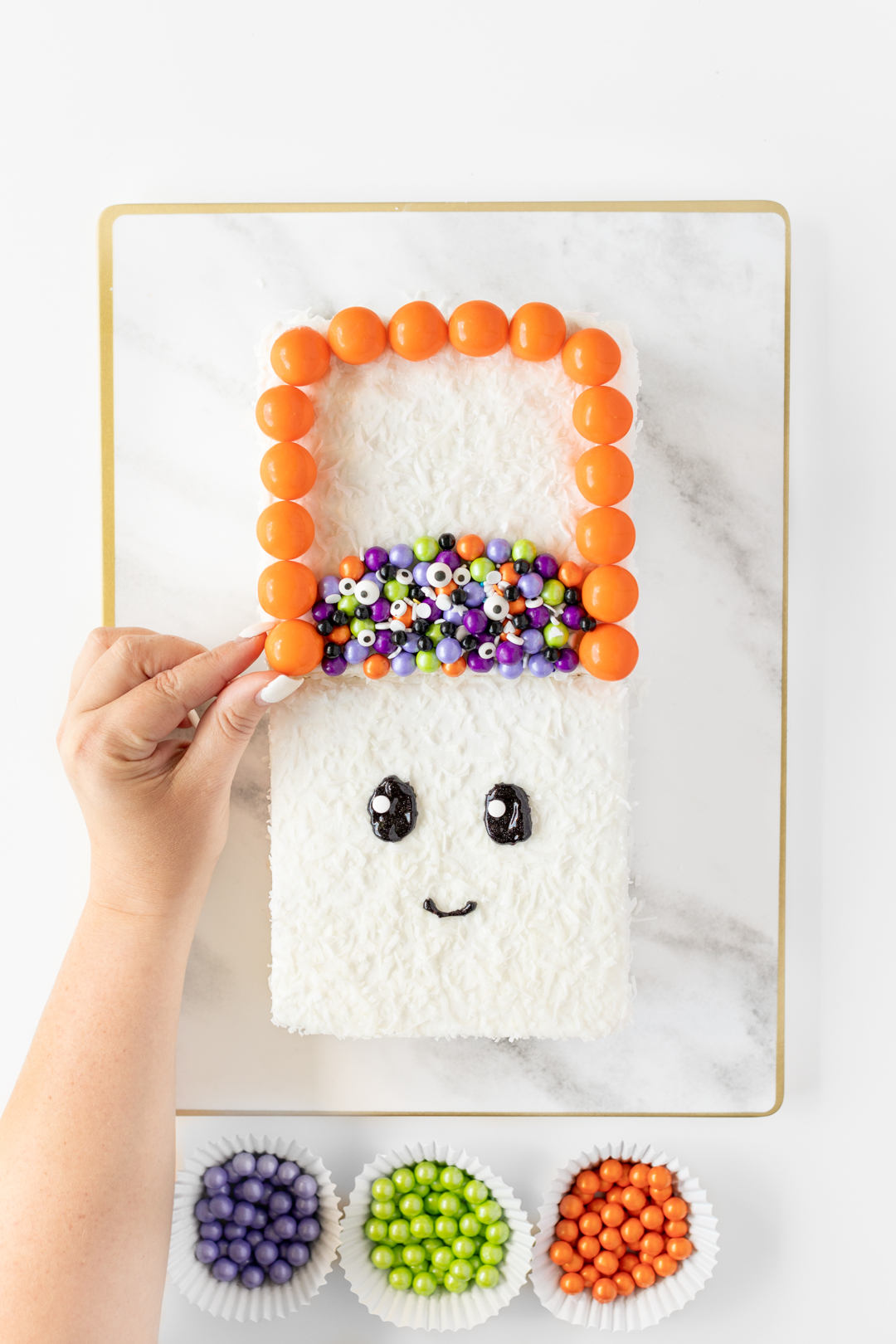 Then, is my favorite part! We're using an assortment of Color It Candy colors and candies at the bottom of the top cake to represent Halloween candy. I loved using Sixlets in colors like Dark Purple, Shimmer Lavender, Shimmer Orange, Shimmer Lime Green, and for size variety, the addition of Black Pearls.
Add in a variety of candy eyes for an added festive touch to the trick or treat "candy".
The final thing to do? Line the bottom of the cake with White Gumballs to give it a cool ghost vibe.
Once you put all of these simple touches onto your base cake, it's ready to serve immediately. If you plan to serve it later, keep the ghost cake refrigerated.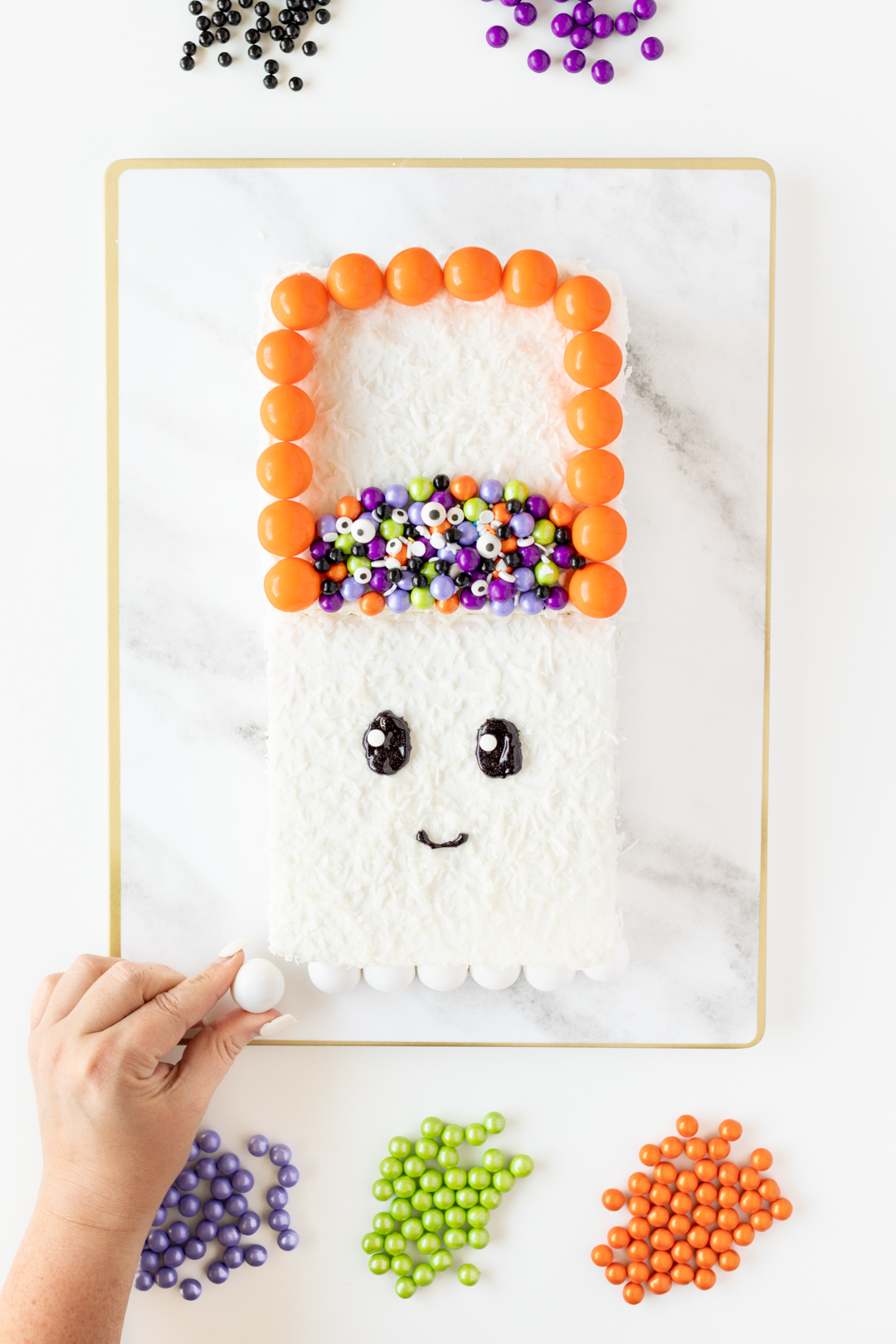 See? I told you this such an easy Halloween ghost cake to make! You can whip this up in about twenty minutes flat. This is about one the most amazing Halloween cakes you can find with very little effort. This recipe idea is perfect for kids to help make, too. No baking required!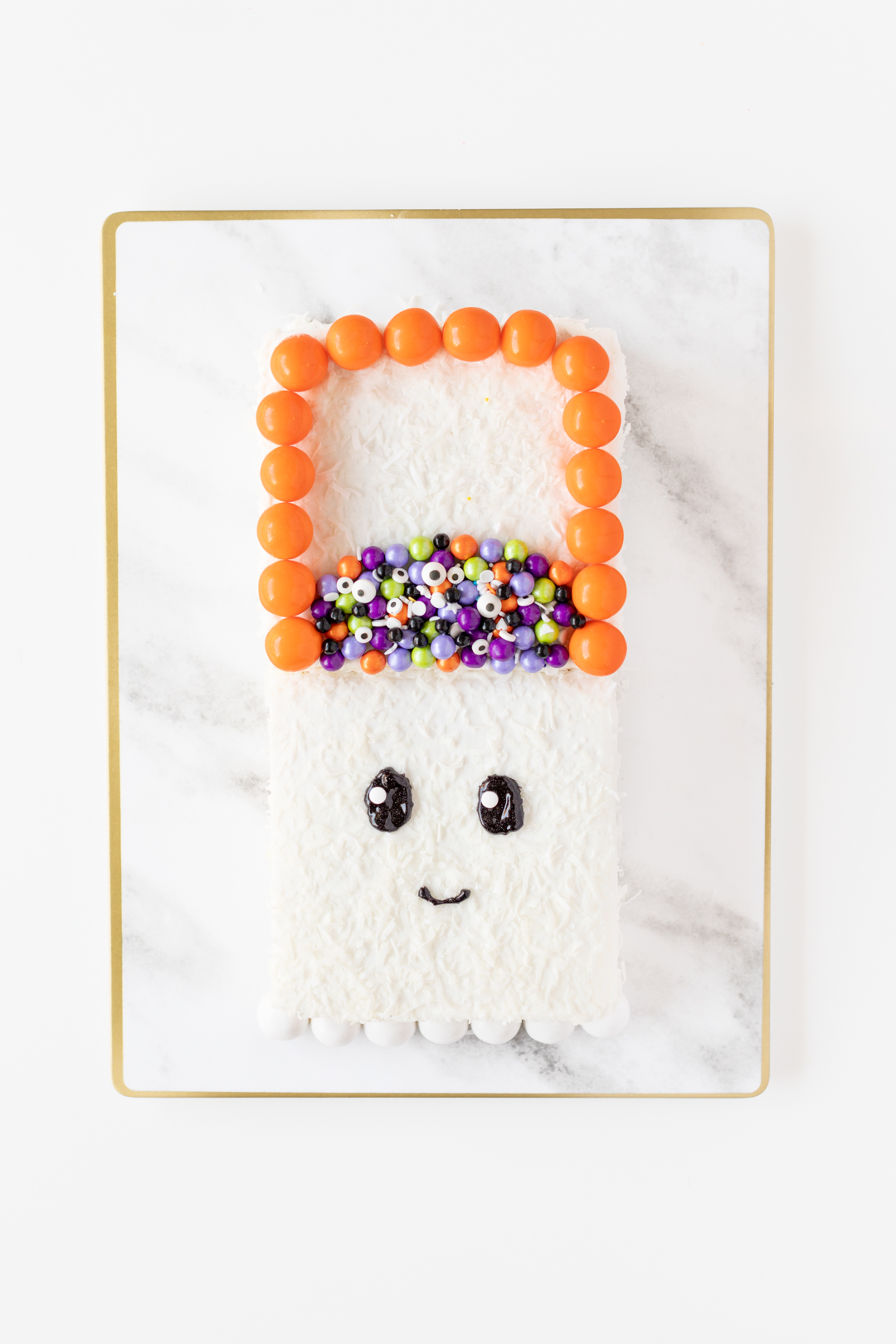 Want more BOOtiful ideas this season? I've teamed up with Amy from Savvy Saving Couple to bring you even MORE easy ideas you will love this fall! This is our very first collab and I'm SO excited about sharing all of this goodness with you.
As a part of this fun collab, be sure to check out her easy Halloween monster cake for more delicious colorful fun with Color It Candy.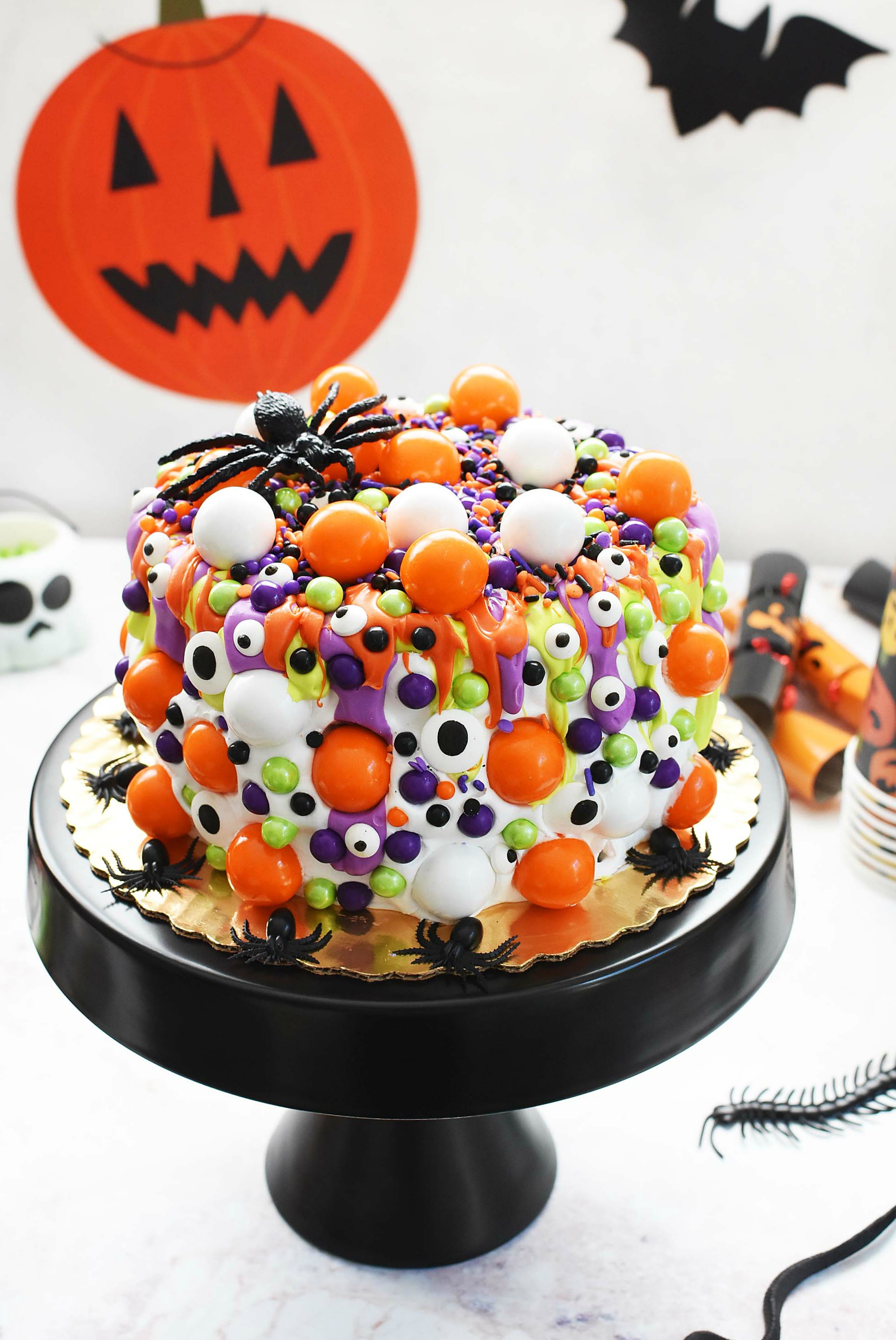 MORE EASY CAKES
Halloween Cheesecake with a fun candy twist
$5 Cake Hack you can customize for any party
How to Make a Cake look Professional the easy way.
Print the recipe below to learn how to make this easy ghost cake.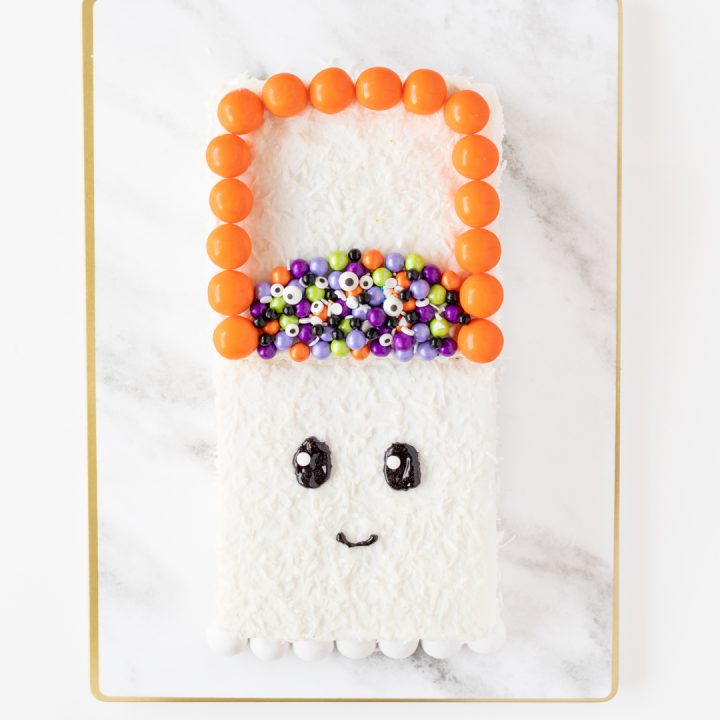 Halloween Trick or Treat Bag Ghost Cake
Halloween Cake Idea featuring a cute ghost themed trick or treat bag.
Ingredients
(2) 19.6 oz Pepperidge Farm Coconut Layer Cakes or (1) Medium sized white frosted rectangle shaped cake.
16 Orange Gumballs
7 White Gumballs
½ Cup Assorted Color It Candies (Orange, Light Purple, Dark Purple, Black, Green)
10 Small Candy Eyes, divided
4 Medium Candy Eyes
Black Icing for Writing or Black Sparkle Gel
Instructions
Place the two cakes together to form a tall rectangle.
Draw two small ovals with black icing to make the eyes on the bottom cake.
Place two of the small candy eyes backwards on top of the eyes.
Draw a small mouth with black icing.
Line the top cake with gumballs to form a "handle".
Use assorted Color It Candy and candy eyes to form a candy hump on the top cake, right above the bottom cake.
Line the bottom of the cake with the white gumballs.
Voila. Your cake is ready to serve. Serve immediately or keep refrigerated.
Recommended Products
As an Amazon Associate and member of other affiliate programs, I earn from qualifying purchases.
Nutrition Information
Yield

16
Serving Size

1
Amount Per Serving
Calories

339
Total Fat

12g
Saturated Fat

10g
Trans Fat

0g
Unsaturated Fat

2g
Cholesterol

6mg
Sodium

134mg
Carbohydrates

59g
Fiber

7g
Sugar

41g
Protein

3g
Hope that you like these ideas for Halloween cake!
Make sure to remember to shop bulk candy by color with Color It Candy this Halloween season!