The best thing about summer is a good cookout or BBQ. This divine Orange Fluff dessert recipe is the perfect thing to serve or bring. With the end of the season coming, it's time to bring out our best and savor the moments before it comes to a close. This post may contain affiliate links.
Fruity and creamy, this Orange Fluff dessert is light and the perfect way to enjoy the end of summer. Not sure about you, but I love to change of seasons when things start to get just a little cooler. End of August and beginning of September are my favorite times to host a little backyard soirée.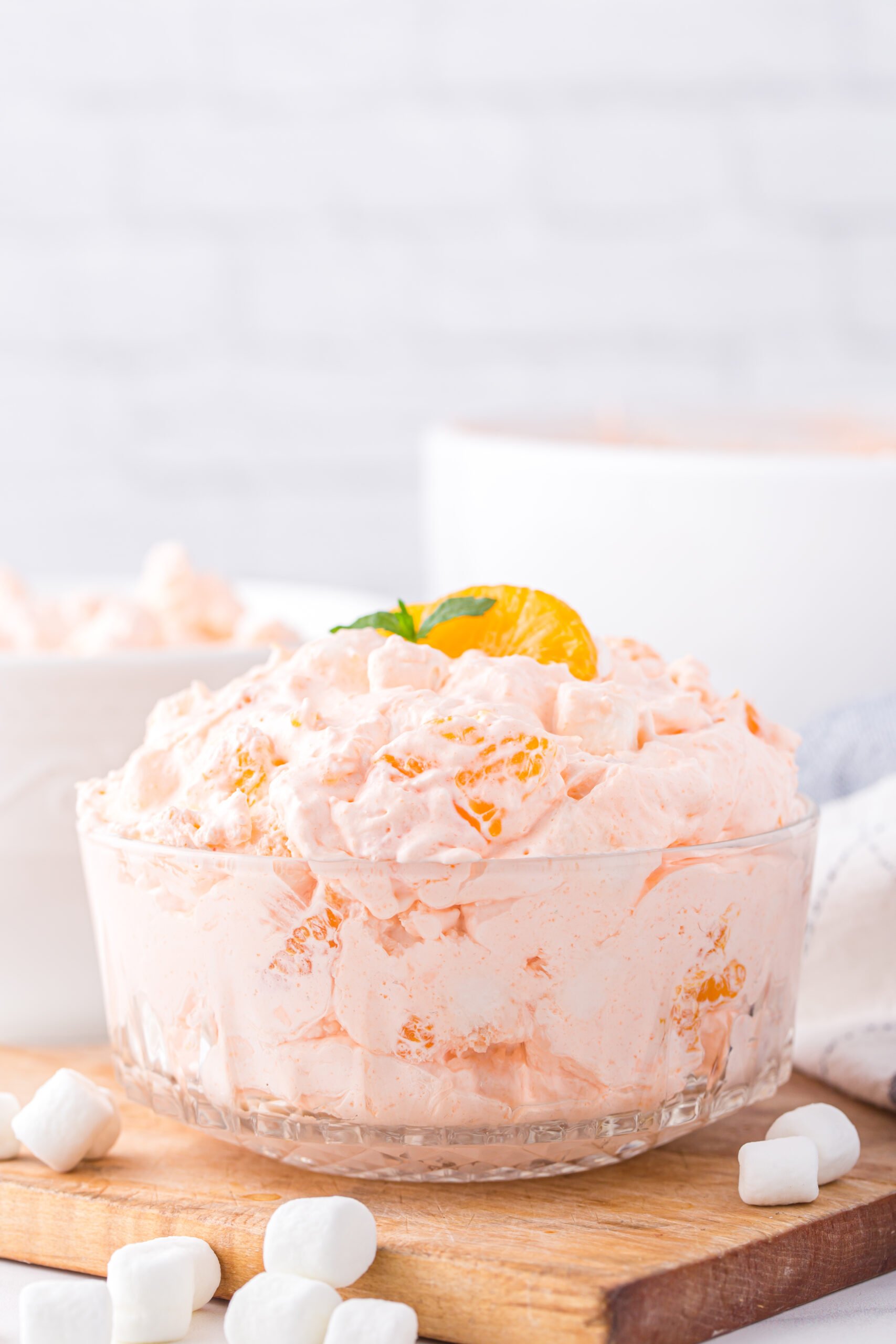 This orange-flavored dessert is light and creamy, perfect for savoring this season's best flavors. Let's talk about how to make it.
ORANGE FLUFF RECIPE
The recipe is easy and every bite of this fluffy Orange dessert will leave your taste buds in love with the best of the season. With the beginning of Fall right around the corner, we'll definitely need a good way to savor all the moments we can get as we say goodbye to summer.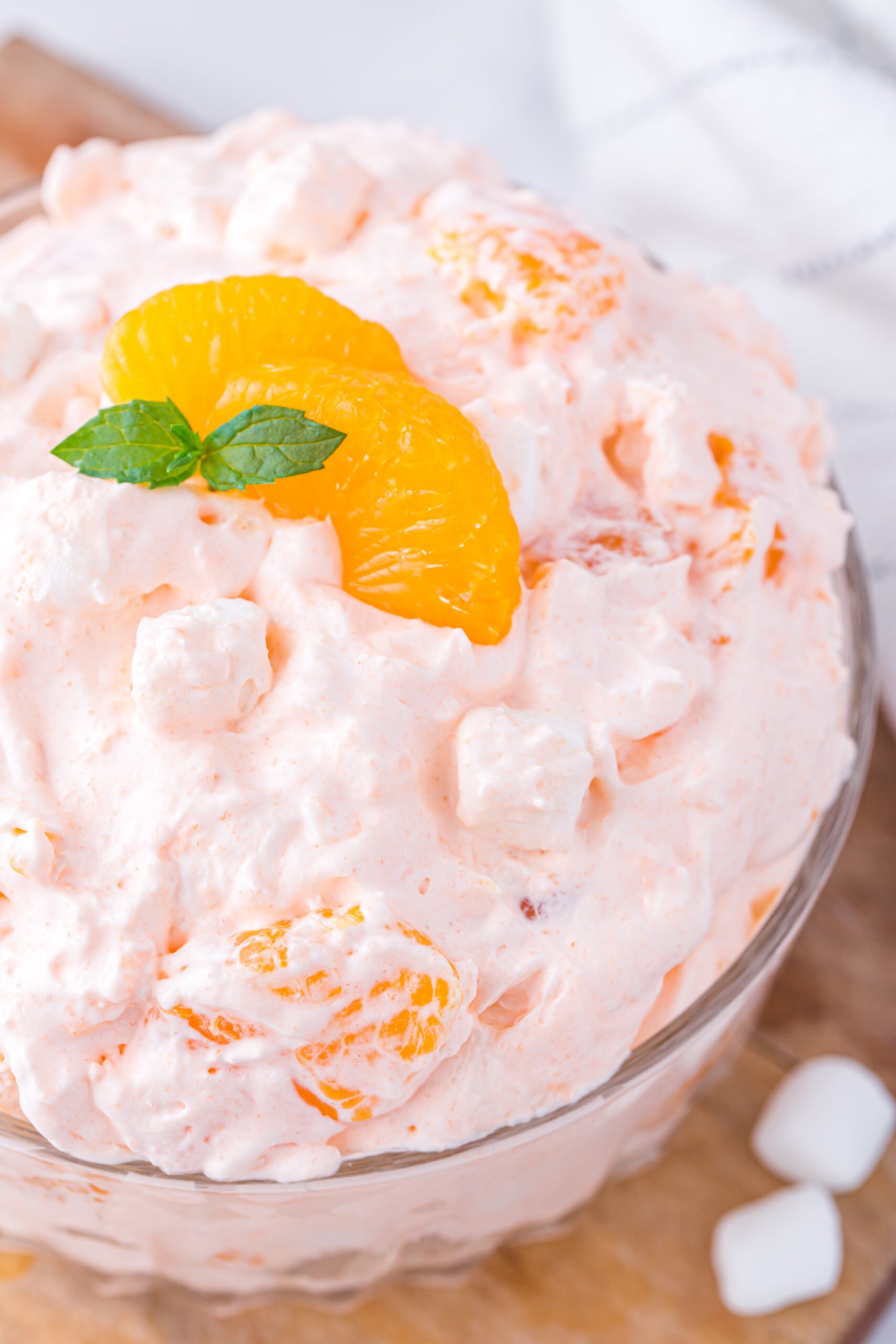 ORANGE FLUFF INGREDIENTS
Small-Curd Cottage Cheese - proves it's more than just a plain old side dish here. Cottage cheese is the unsung hero in this recipe. It may not be a favorite to eat straight, but the texture is amazing here.
Orange Flavored Gelatin Mix - is the perfect ingredient to add massive orange flavor to this dessert with no fuss.
Greek Yogurt - Greek yogurt is a great ingredient for smoothies, desserts, and sauces. In this recipe, it serves as a great way to add creamy tang with little effort.
Canned Mandarin Oranges - This time saving ingredient is an amazing way to add citrus to your desserts with no prep needed. This delicious fruit will elevate any recipe with just the right amount of bright flavor.
Whipped Topping - Its light and fluffy texture that blends seamlessly with your favorite dessert recipes! Love that it's delicious in taste and always recipe-ready.
Mini Marshmallows - Marshmallows come in a variety sizes and colors but everyone's favorite is the mini-sized choice. Surprisingly enough, these tiny treats pack tons of flavor in this recipe that will satisfy your sweet tooth every time.
Garnish Ideas - Fresh Mint, Walnuts, Pecans all make great options to garnish this easy dessert recipe.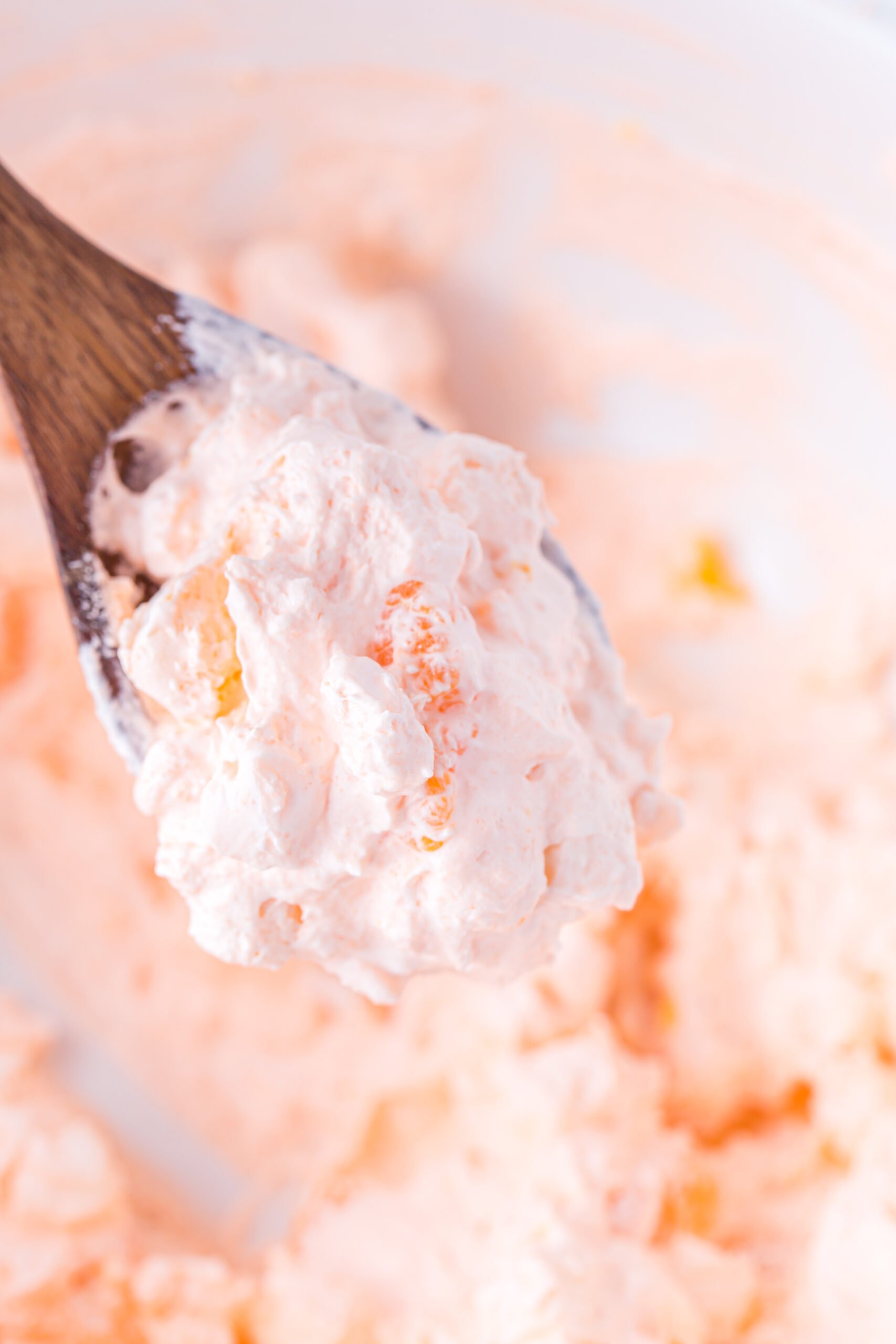 KITCHEN TOOLS NEEDED TO MAKE ORANGE FLUFF
Mixing bowl and tools
HOW DO I STORE THIS ORANGE FLUFF?
Orange Fluff needs at least a few hours for the jello to set and all the flavors to blend together, so feel free to make this the night before and set it in the refrigerator. However, once you are ready to store it, make sure it is covered tightly and not kept for more than 3 days. You can also put it in the freezer for 2-3 months, though the marshmallows won't keep perfectly in the freezer.
HOW CAN I MAKE THIS ORANGE FLUFF HEALTHIER?
This little salad is already pretty healthy because of the cottage cheese and plain yogurt. However, if you are worried about the sugar, you can get a sugar free jello and/or whipped topping. Omit the marshmallows and use raw walnuts or pecans. Then you will have yourself a delicious meal with no added sugars!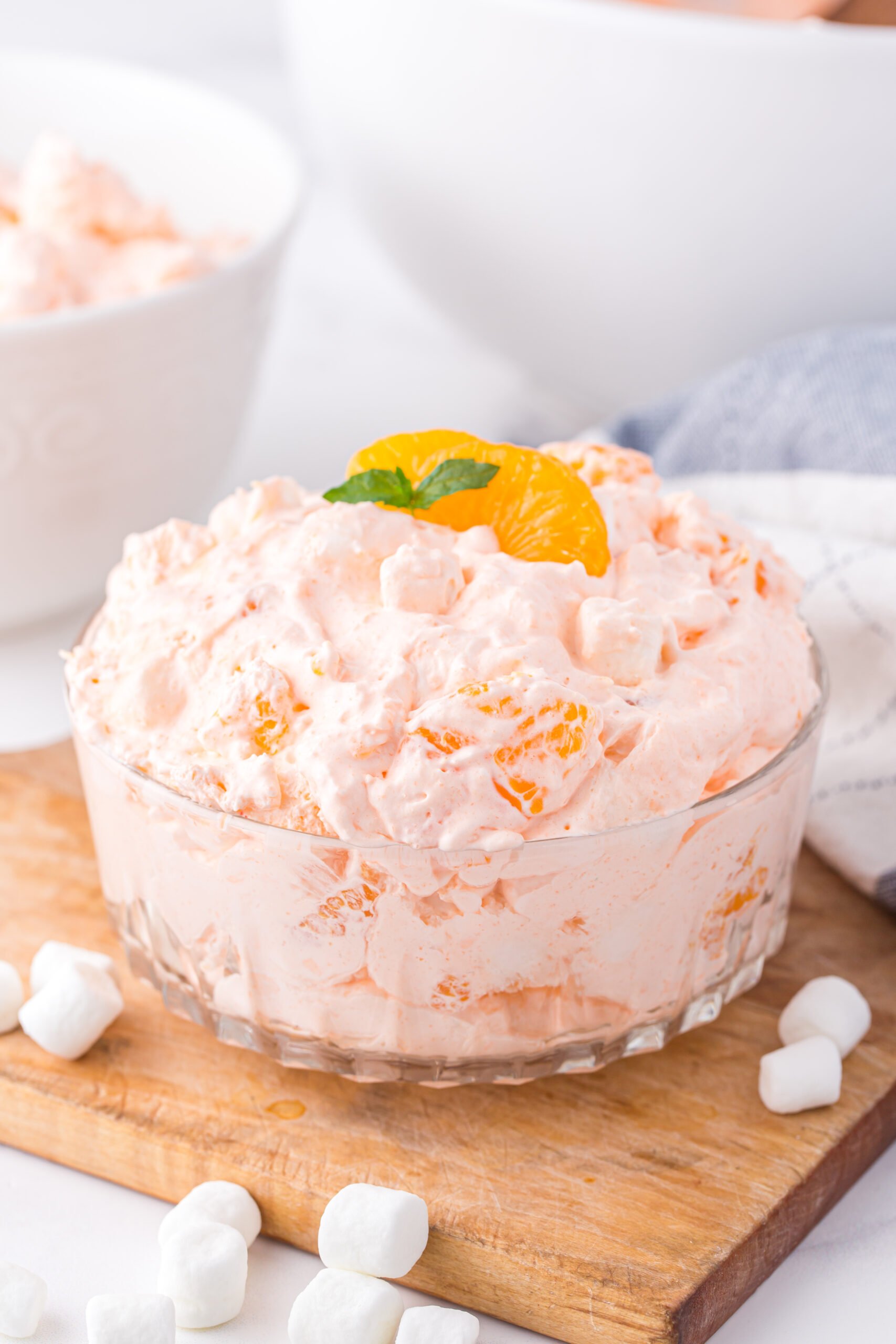 WHAT OTHER WAYS CAN I CHANGE UP THIS ORANGE FLUFF?
I am all for personalizing recipes and this one is no exception! You can make so many, easy changes to this Orange Fluff so that it is just what you want. For example:
Change up the jello flavor and pair a matching fruit to get a new "fluff". I recommend trying strawberry Jello and strawberries, blue bello jello and blueberries or even keeping the orange jello and using a different tropical fruit such as mango or pineapple.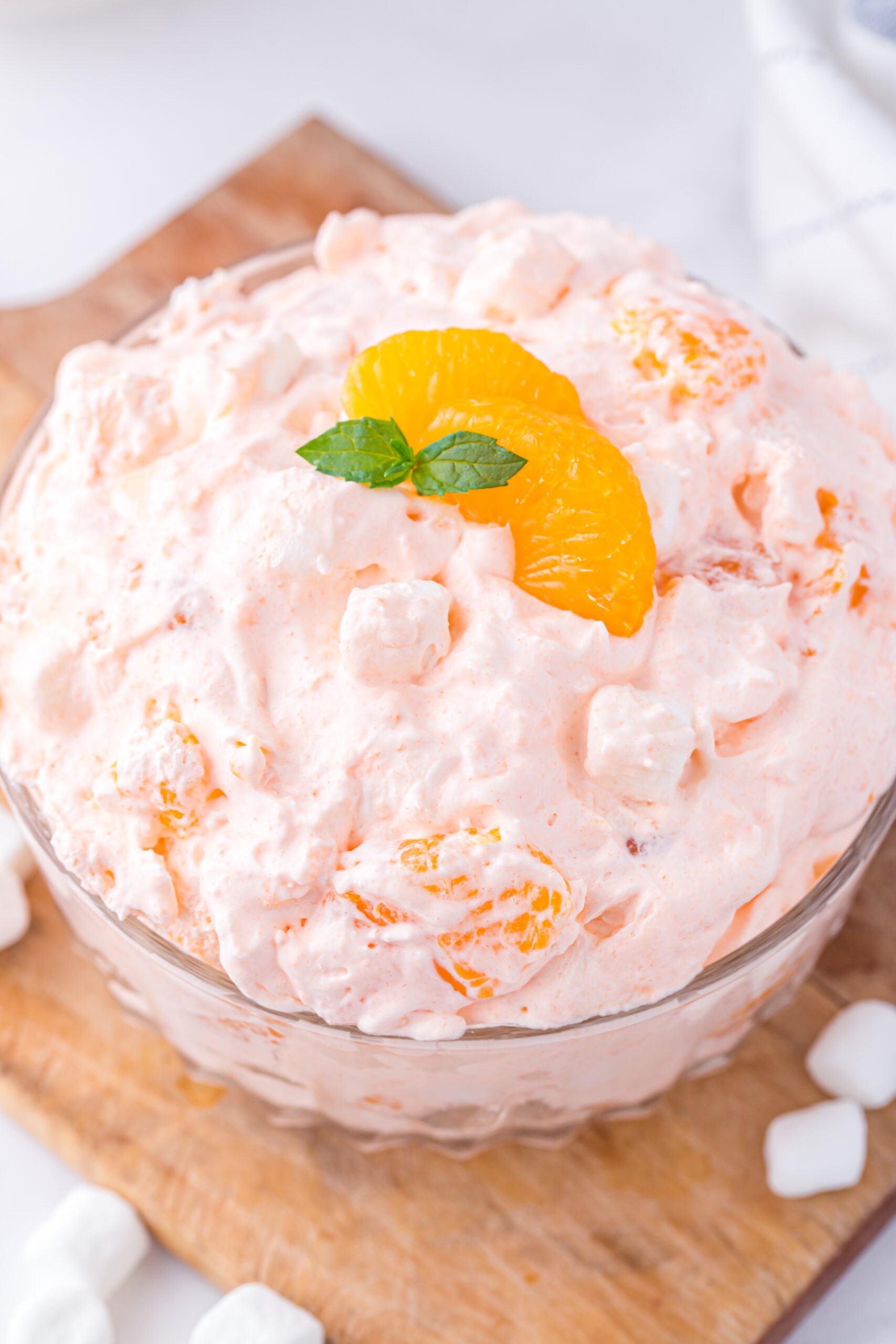 Use a different greek yogurt in your fluff. This recipe works well with vanilla or honey vanilla flavors but if you change the jello and fruit you can change the yogurt to match! Strawberry and blueberry yogurts are easy to find.
Add your favorite mix-ins! This dish is great with nuts, such as pecans, walnuts or almonds. You could also add dried cranberries to add a bit of tartness or some coconut for added flavor and texture. Your imagination is your limit so go wild!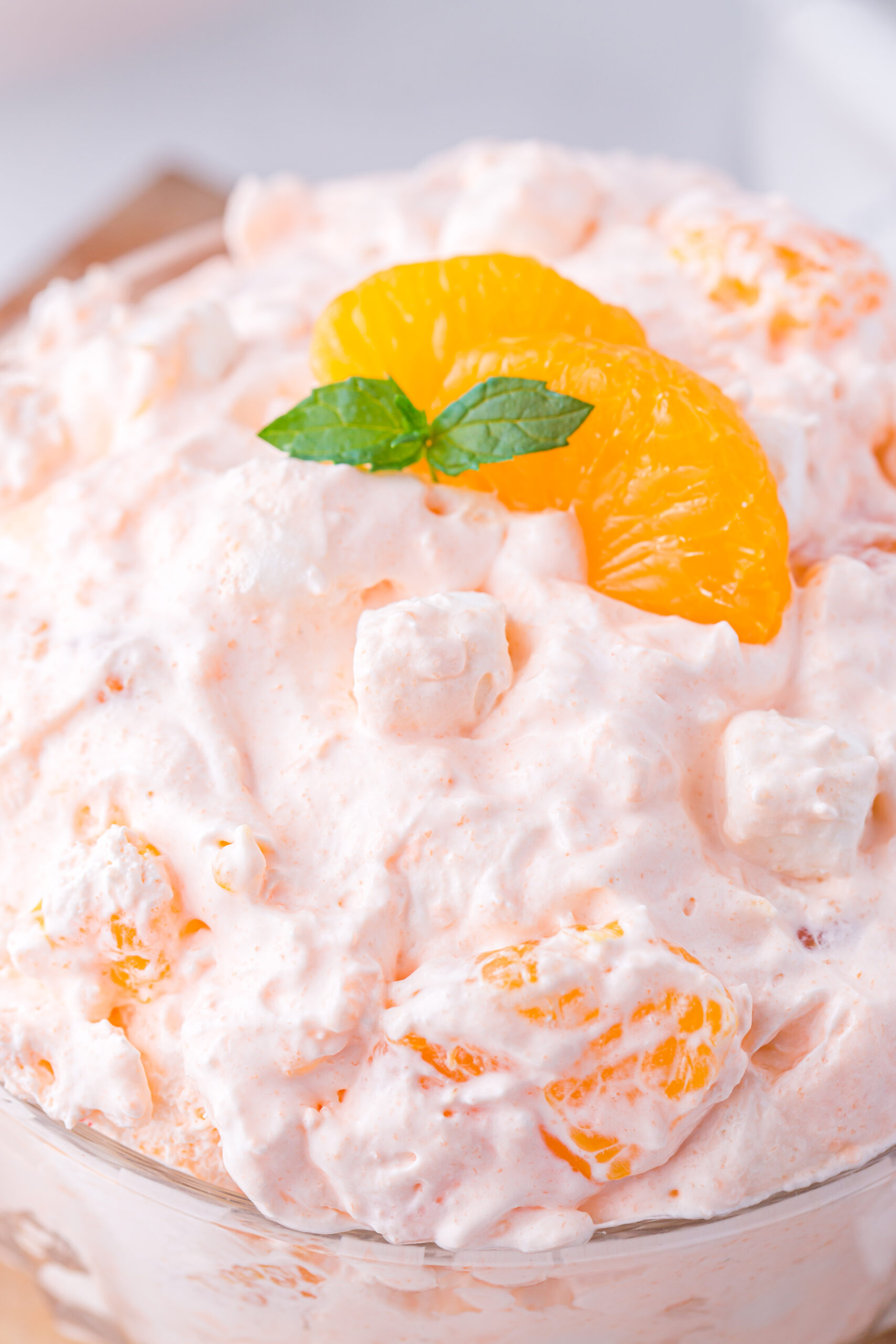 DESSERTS MADE WITH MANDARIN ORANGES
Looking for more ideas using canned mandarin oranges? Here are a couple of my favorites to try.
This Mandarin Orange Pie could not be any simpler to make. This chilled dessert is another party favorite, especially when you are crunched on time.
3 Ingredient Mandarin Dessert is one of the most popular dessert recipes here at Cutefetti.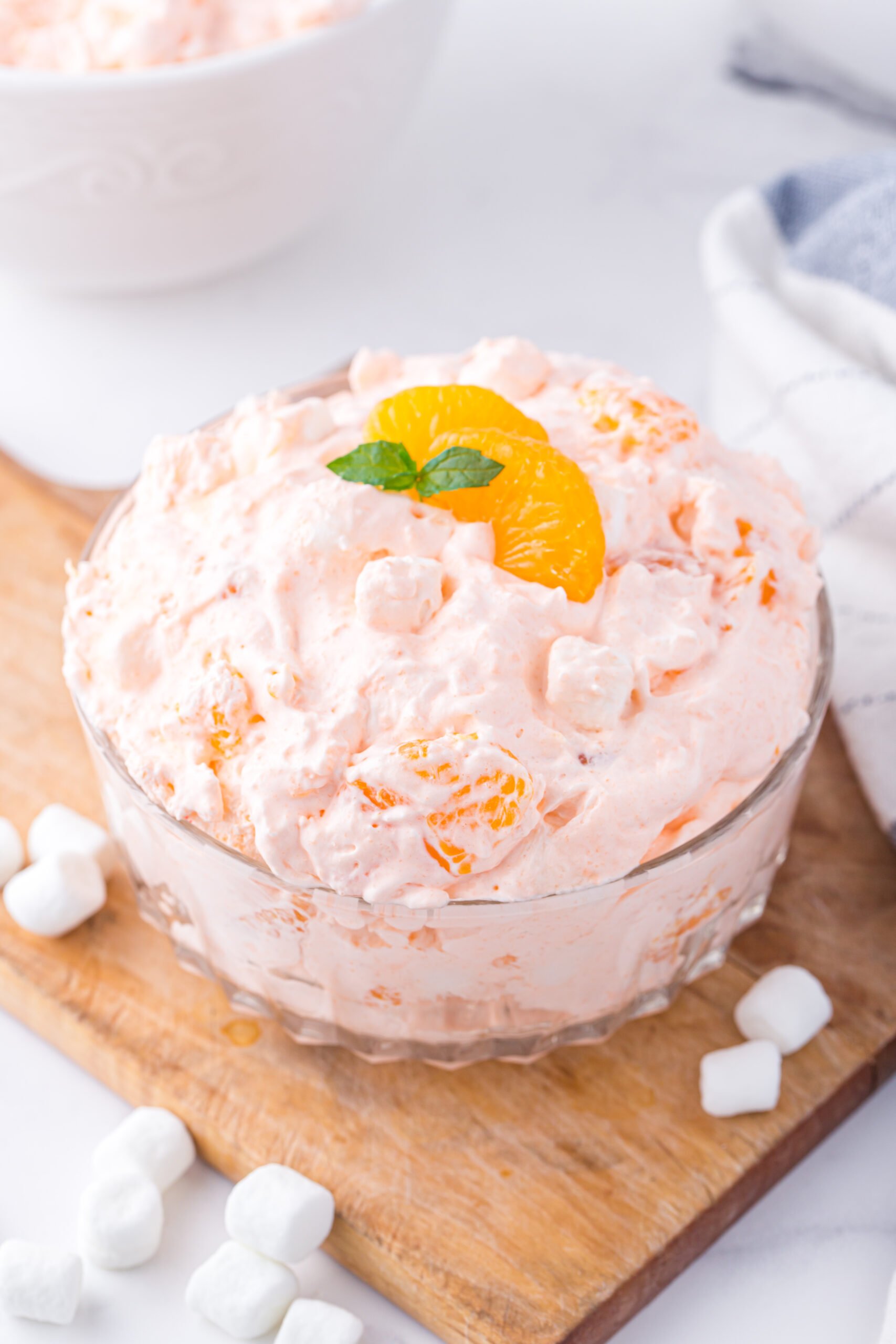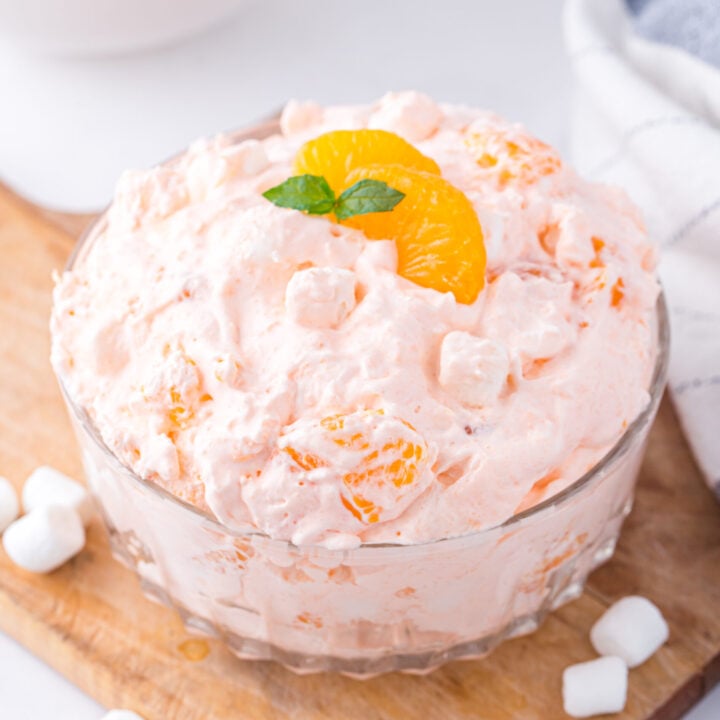 Orange Fluff
Total Time:
3 hours
10 minutes
Learn how to make the best orange fluff; a delicious, fluffy dessert that's great for any occasion. Easy dessert for BBQs, cookouts and potlucks.
Ingredients
1 (16 ounce) container small-curd cottage cheese
1 (3 ounce) box orange jello mix
½ cup plain Greek yogurt
1 (15 ounce) can mandarin oranges, drained & patted dry
1 (8 ounce) container whipped topping
1 ¾ cups mini marshmallows
Walnuts, optional garnish
Pecans, optional garnish
Instructions
Mix the cottage cheese, orange jello powder, and plain Greek yogurt together in a large bowl.
Fold in the mandarin oranges, whipped topping, and mini marshmallows.
Chill in the refrigerator for a minimum of 2-3 hours and then plate and serve cold.
Notes
Small curd cottage cheese: If you want to use a different size curd or your favorite fat content, feel free to change it up.
Orange jello mix: You can use either Jello brand or generic orange gelatin mix.
Plain Greek yogurt: To add some more sweetness, try this with vanilla Greek yogurt or honey vanilla Greek yogurt.
Canned mandarin oranges: Switch this out for fresh peeled and sliced oranges if you would like a fresher dish.






Nutrition Information
Yield

6
Serving Size

1
Amount Per Serving
Calories

126
Total Fat

2g
Saturated Fat

1g
Trans Fat

0g
Unsaturated Fat

1g
Cholesterol

6mg
Sodium

111mg
Carbohydrates

22g
Fiber

1g
Sugar

17g
Protein

5g
This nutritional information is for reference only. We are not responsible for these calculations.
I hope that you enjoyed reading about what goes into making this delicious dessert and will share your thoughts with us in the comments below!