How did we already get mid-way through November? Seems like it was just Halloween. I actually made this recipe to share last week, but I've been so busy that I didn't have time to actually get to it. I'll admit that I was probably a little distracted while planning my trip to NYC, but I've finally caught up on sleep. Mostly. I'm so happy that it's Sunday, going to do a little cleaning, football watching and luckily I can record The Walking Dead to watch later because the game is playing at the same time. Phew. Loving modern conveniences right about now.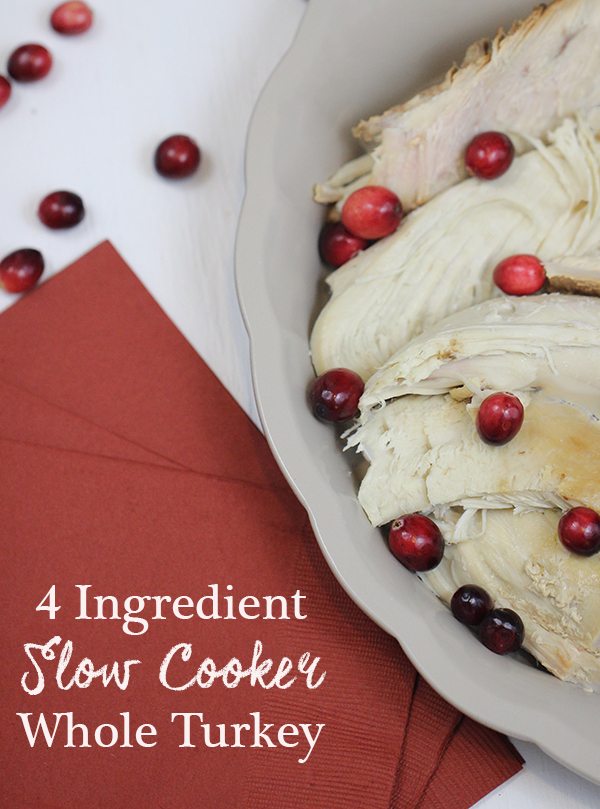 Now on to the turkey! I wanted to make something that was really easy to do. I mean cooking a turkey is no easy feat, or is it? First of all, you need to make sure it's going to fit in your slow cooker. This is really, really, truly very important. You're not going to be able to cram in 2o pounds of any kind of meat in a tiny Crock Pot.  So, let's keep the turkey on the small side. I got this recipe idea from this Turkey Breast of Wonder post over at Jamie Cooks It Up.  She recommending using a 5-6 pound turkey and that totally worked for perfectly in my 5 quart slow cooker.
There are only few ingredients to this and the result is a oven-free sumptuous moist whole turkey ready to be served on the big day, or since it's so easy… any day really.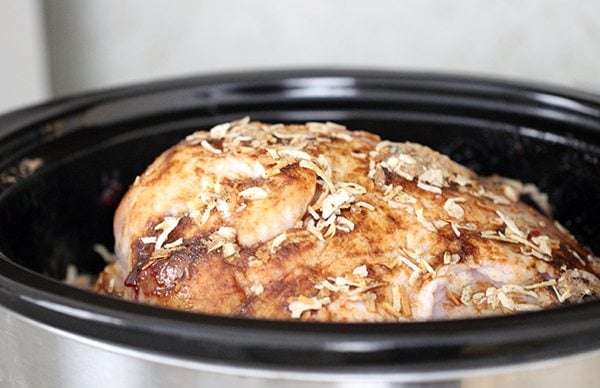 Now, I'm going to happily admit that I've been spoiled year after year. I've only had to make about one turkey on my own. I remember practically crying when I held that giant thing in the sink to give it a rinse. Not my cup of tea or gravy as the case may be. So this smaller and easy option is definitely more my style. Plus, it keeps the oven free for sides and pies. What a dream! Keep in mind it wont serve a giant crowd. Probably more for 4-6 people if you're sticking with the 5-6 lb turkey.
4 Ingredient Slow Cooker Whole Turkey
This recipe comes from the Turkey Breast of Wonder recipe at Jamie Cooks It Up. I didn't change any of the ingredients. I did accidentally omit the salt and pepper. She says that you can swap out the orange juice for broth if needed. I had OJ, so I went for it.  This truly is Turkey Breast of Wonder and beyond! I hope you enjoy it as much as my family did. I'm not one for following directions, so I'm going to explain how I put this recipe together below. Easy and delish!
INGREDIENTS 
1 (5-6 pound) turkey breast
1/2 cup orange juice
1 (14 ounce) can whole cranberry sauce
1 (1 ounce) package Lipton Onion Soup Mix
DIRECTIONS
Add orange juice and can of whole cranberry sauce to your slow cooker. Rub the package of Lipton Onion Soup Mix all over your turkey, then place in the slow cooker. Cook on low for 5-6 hours.  Make sure to use a  food thermometer to check the internal temperature. The minimum internal temperature  for safely cooked turkey should be 165 °F.
Other things to note about cooking a turkey in the slow cooker, adding stuffing will add extra cook time and consideration. This recipe does not include stuffing, but keep in mind these two things. 1) The turkey's form will not be like the Griswold's Christmas Turkey (on the outside anyway).  If you're serving company, plan on slicing and serving on a platter. 2) If you venture to cook it with a stuffing, make sure that the internal temperature of that stuffing is also a minimum of 165 °F.  If you want to add a little form to your turkey, you could easily add lemon halves or stocky vegetables to keep it simple.
It's all gravy! Okay, a note about the gravy. The original recipe tells you how to make a gravy from the juices and some other ingredients. My family didn't like it that much, so you might want to keep a backup pouch of turkey gravy mix on hand. Just in case.
And, that's it!
Want more slow cooker recipes? Make sure to follow my pin board:
Follow Dawn Lopez's board Food: Slow Cooker Recipes on Pinterest.
Ooh and by the way, I did get some cleaning done and tossed a spiced holiday chicken in my slow cooker. Look for that recipe over the next couple of days. This should be epic! So, what are your plans for turkey day?  Are you cooking or bumming a delicious meal off someone else?  (Tee hee)