You might be wondering what the heck is a toasted ravioli? It's typically a deep-fried, breaded and toasted ravioli. And if you're anything like me, your first thought was "that sounds delicious!" But I bet you're also thinking that it sounds way too complicated. Not at all! This blog post will show you how easy it is to make this amazing appetizer in an air fryer. So go ahead and grab those ingredients, because we're going to start cooking or pressing buttons on our air fryers, anyway! This post may contain affiliate links.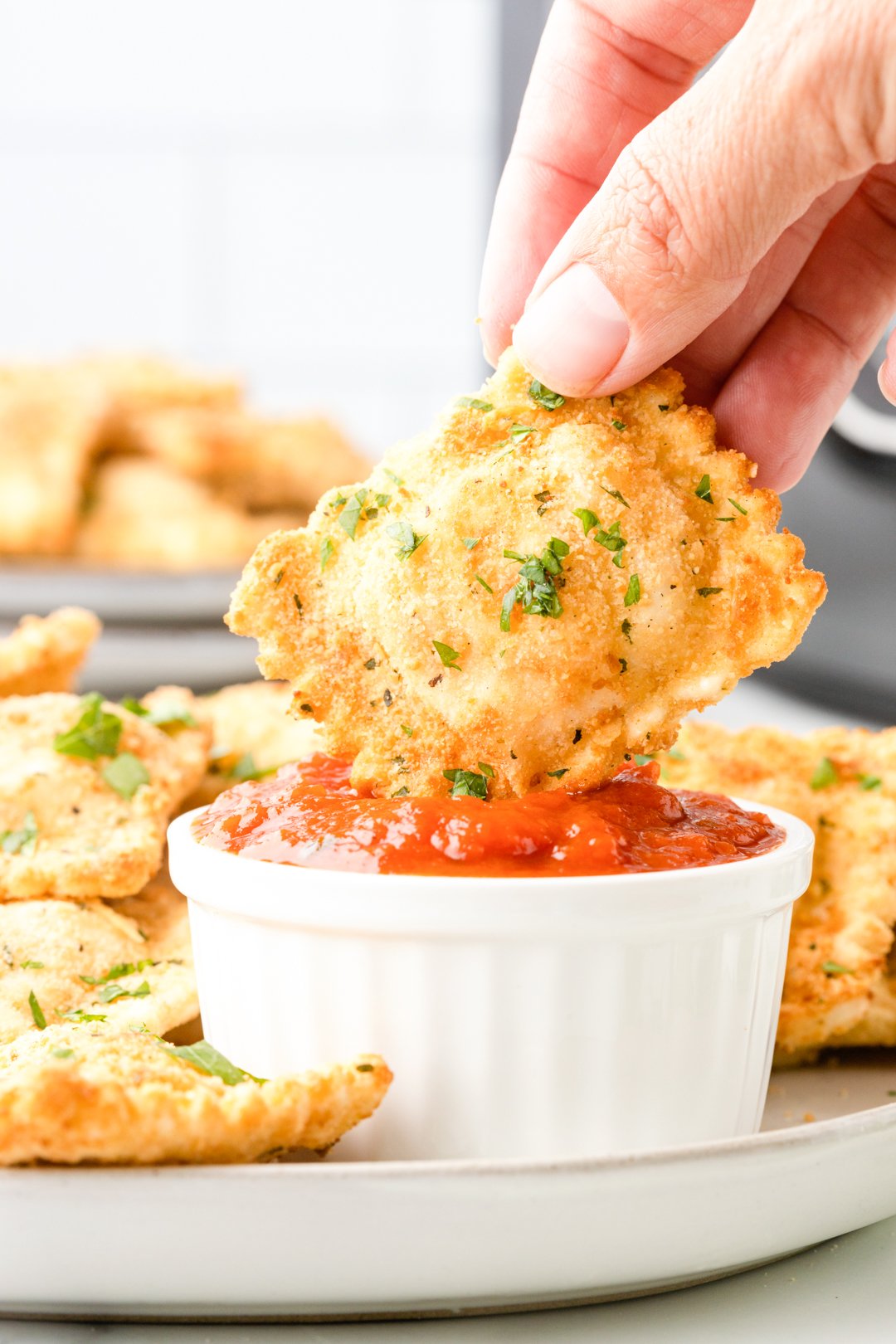 My husband and I recently became addicted to eating these at a local Italian restaurant. They are SO yummy.
If you typically love something like mozzarella sticks, you will love this as a unique twist.
Dip these delicious bites into some marinara sauce for an instant win.
AIR FRYER TOASTED RAVIOLI RECIPE
For a unique snack or appetizer, these breaded and air fried ravioli are amazing. You might want to plan to make an extra batch or two.
Let's go over the simple ingredient list and then I will walk you through the easy process on how to make this in your air fryer.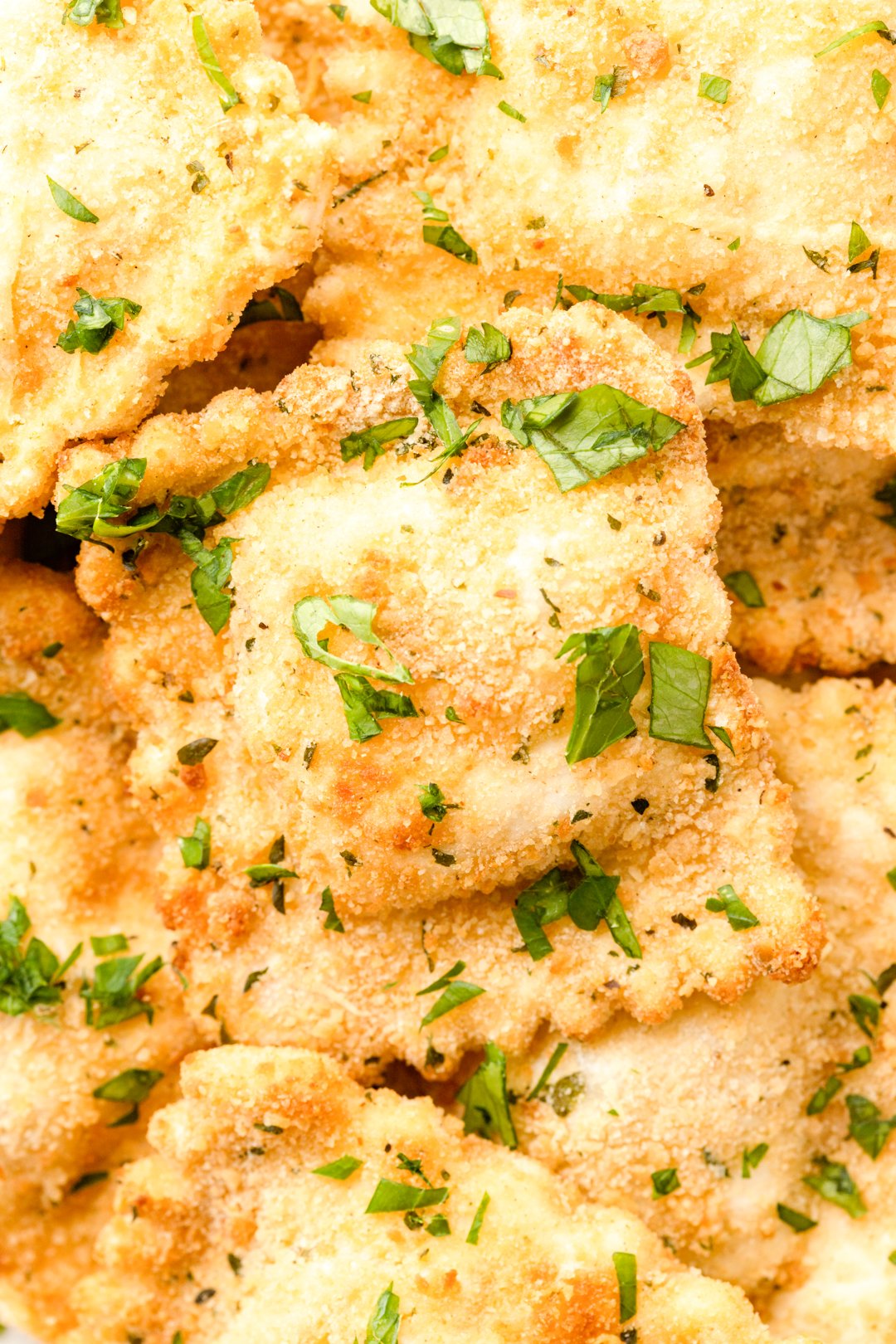 AIR FRYER TOASTED RAVIOLI INGREDIENTS
CHEESE RAVIOLI - Use store-bought ravioli for an easy and cheesy appetizer. You can also swap for other ravioli flavors, but cheese is definitely one of the best for this recipe.
EGG - Eggs are versatile ingredient that can be used in any dish. For this recipe, they are used to help us get the breadcrumbs to stick to our ravioli.
MILK - Another common ingredient that we will be using to make this ravioli magic happen.
ITALIAN SEASONED BREAD CRUMBS - These yummy flavored bread crumbs will help to add some easy flavor to this appetizer.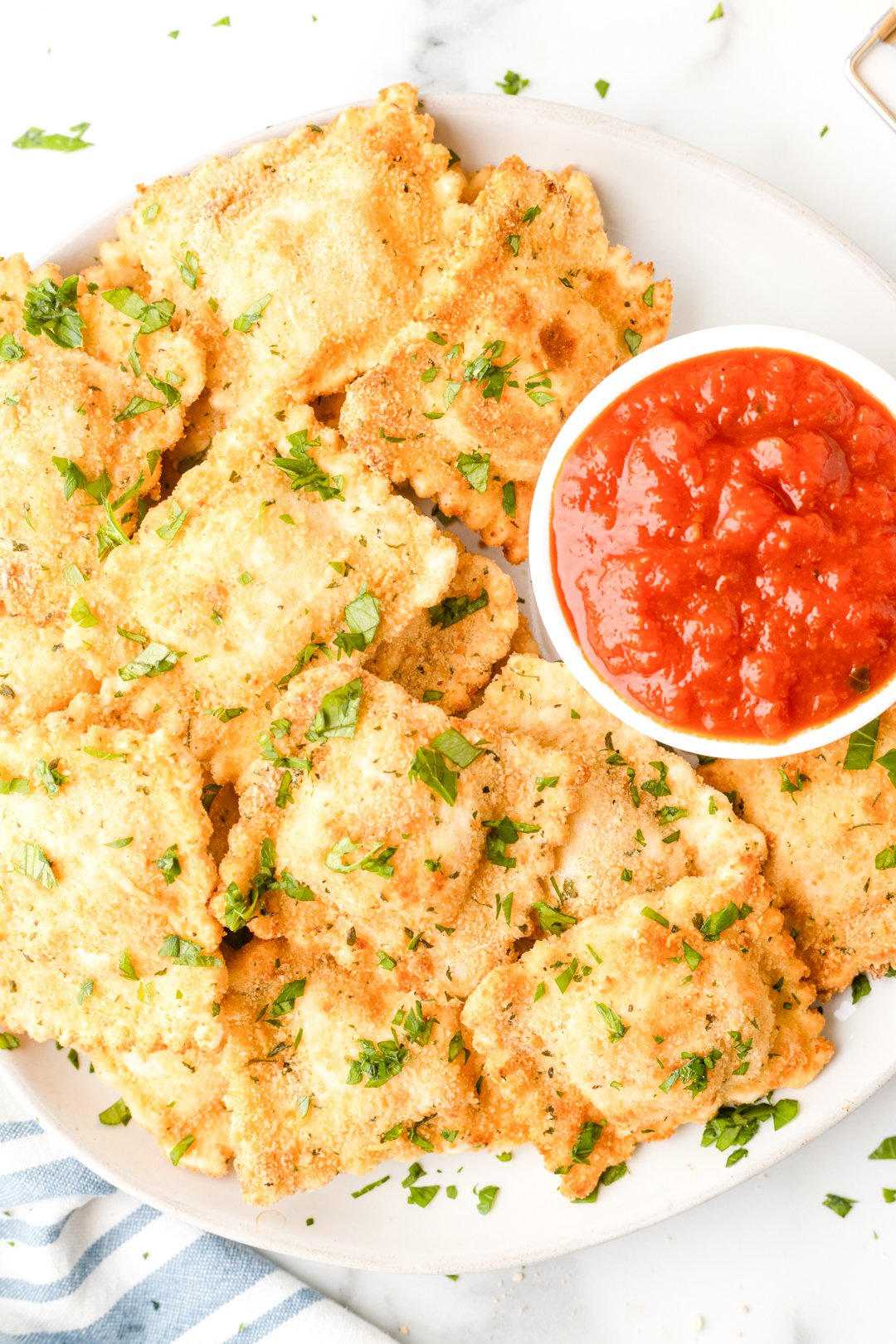 GRATED PARMESAN CHEESE - More cheese, please. Grated parm is the perfect add on to make the overall cheesiness pop.
OLIVE OIL SPRAY - We're making these ravioli bites crisper with a bit of olive oil spray. It will make this recipe come to life with just a spritz.
MARINARA SAUCE - Once our delicious ravioli bites are ready-to-eat, you will want to have some marinara sauce ready for dipping. It's the perfect marriage of flavors. Don't skip it.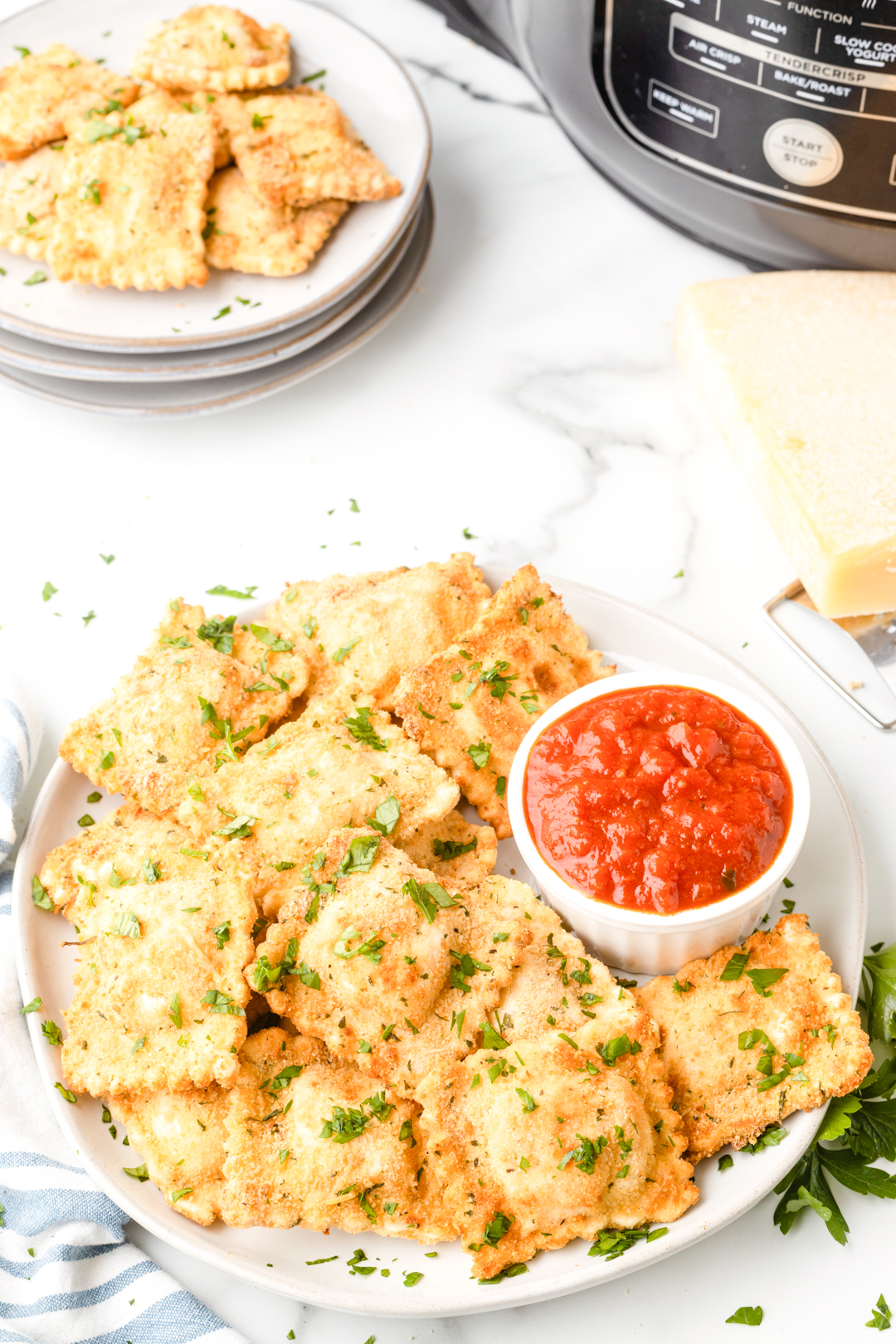 HOW TO COOK AIR FRYER TOASTED RAVIOLI
In just a handful of steps, you will be able to enjoy the fruits of your labor. Let's do it.
First, we will boil salted water. Then, cook the pasta for about three minutes and drain.
Stir the egg and milk together in a shallow dish and then combine the parmesan cheese and breadcrumbs together in another shallow dish.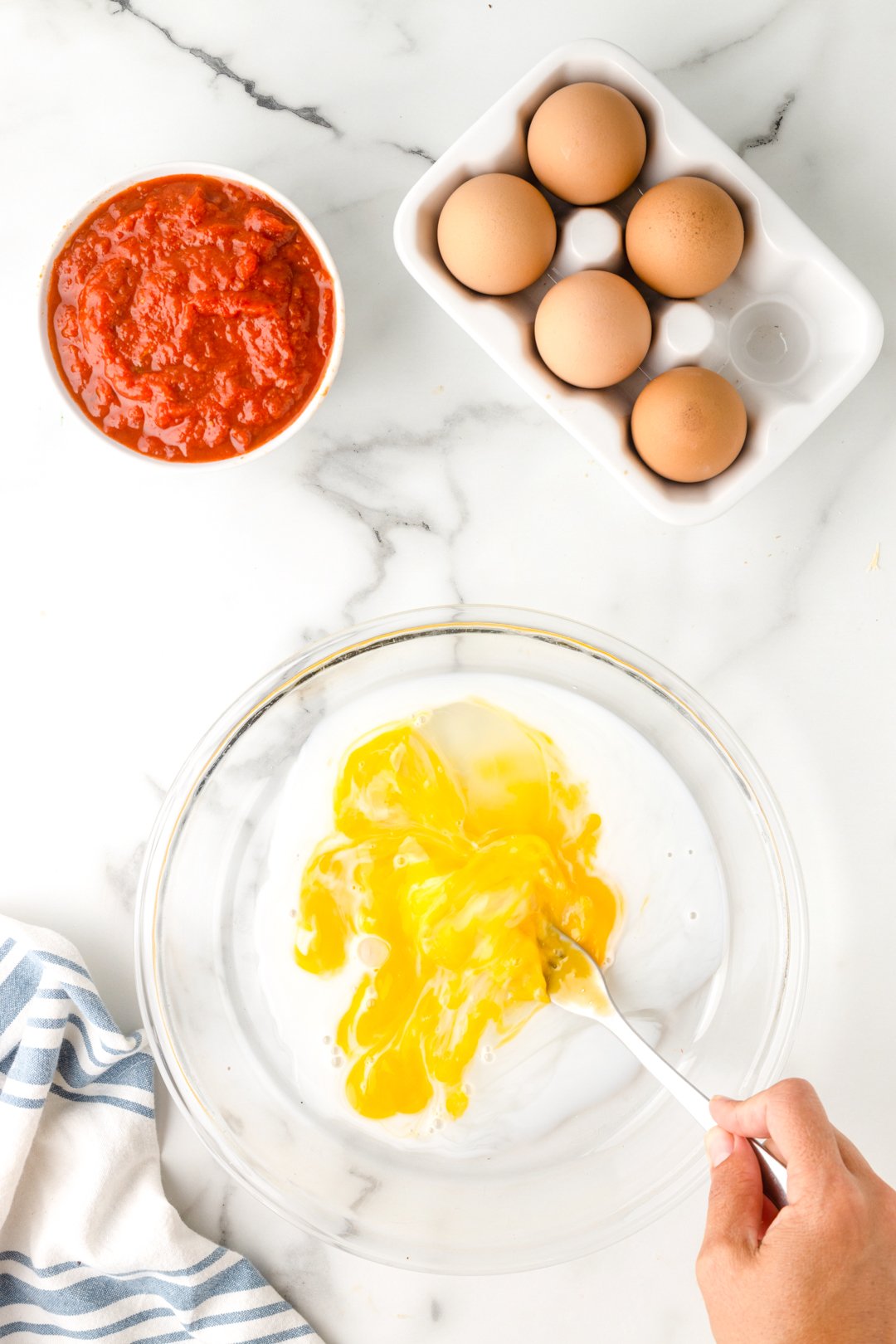 Start by dipping a few of the ravioli into the egg mixture followed by the bread crumb mixture. Make sure that both sides are fully coated.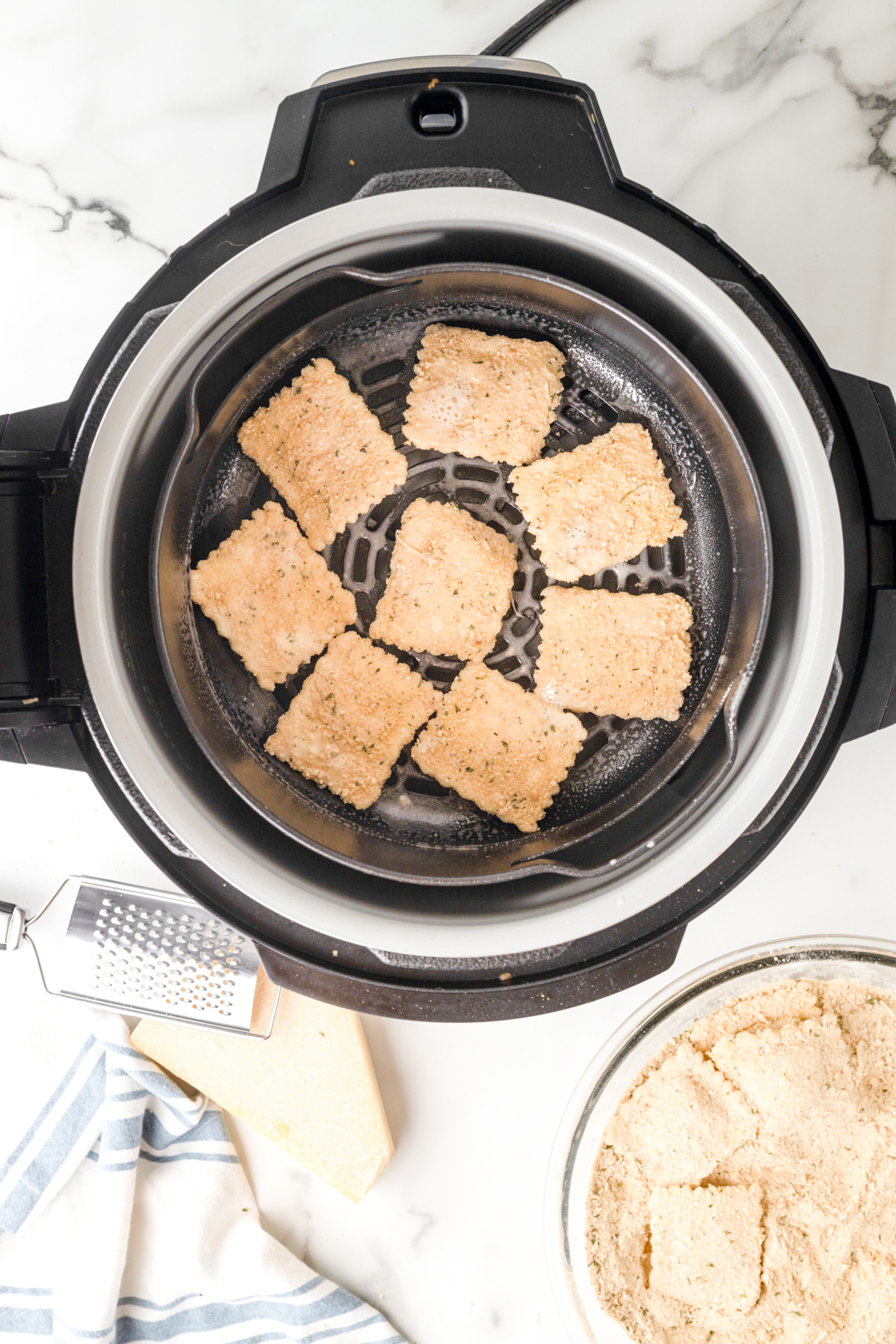 Put some of the coated ravioli into the air fryer basket, making sure to not overlap them.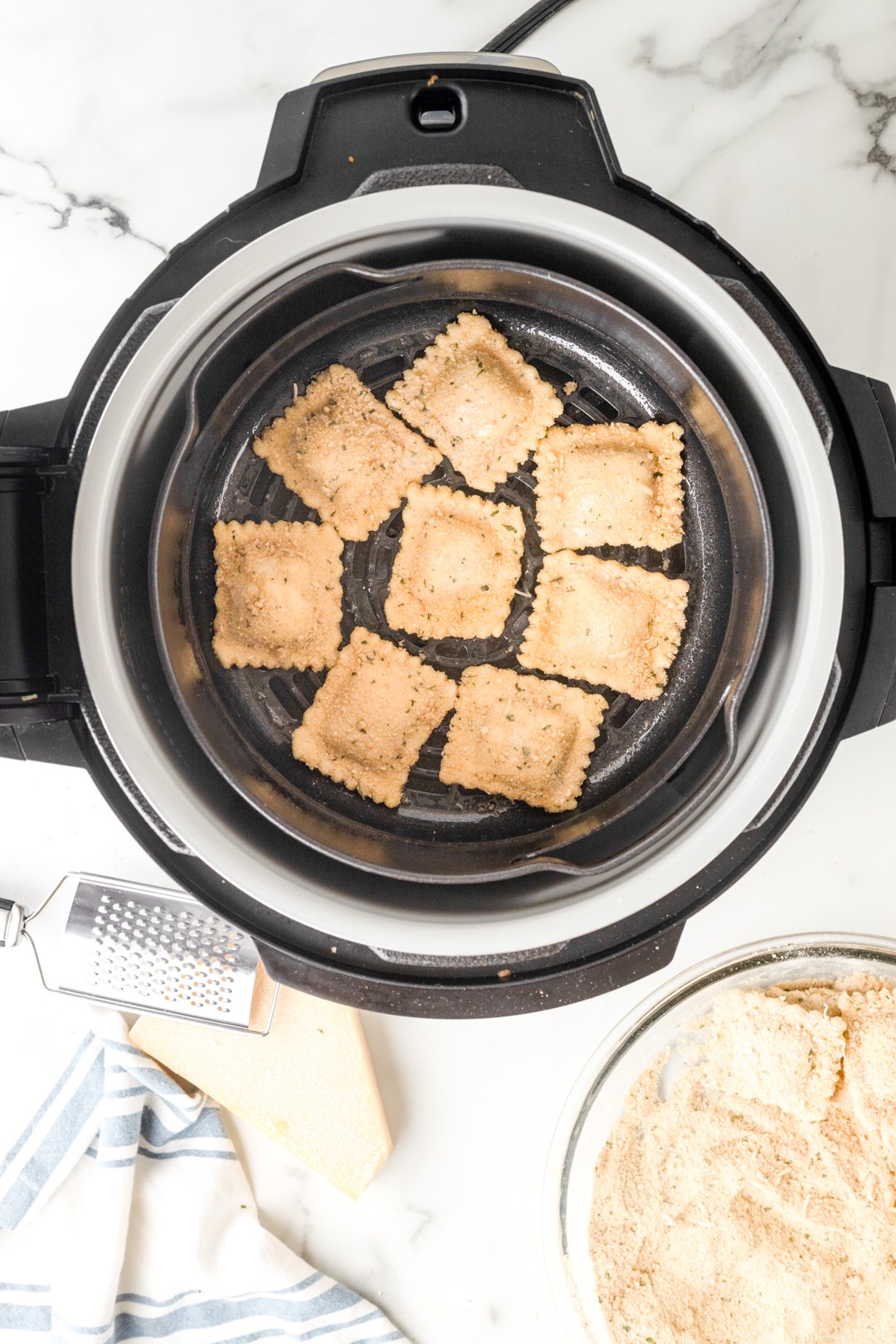 Once they are in, spray the oil over them to cover which will help them brown. Set your air fryer to 390°F for 4 minutes.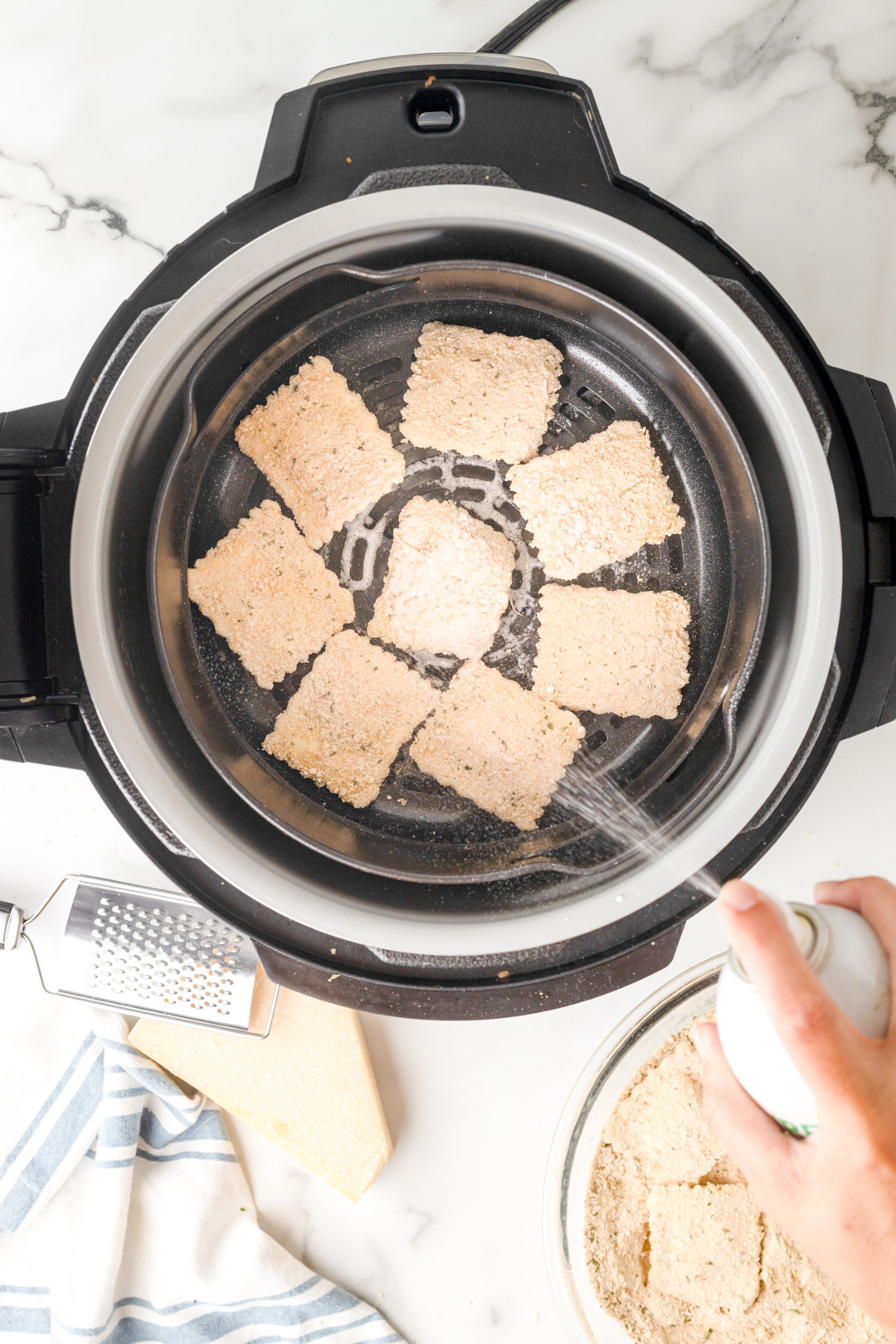 Next, flip all of the ravioli over and respray them with the oil. Set it for an additional 4 minutes.
Once the time is up, remove from the air fryer and repeat with the rest of your ravioli.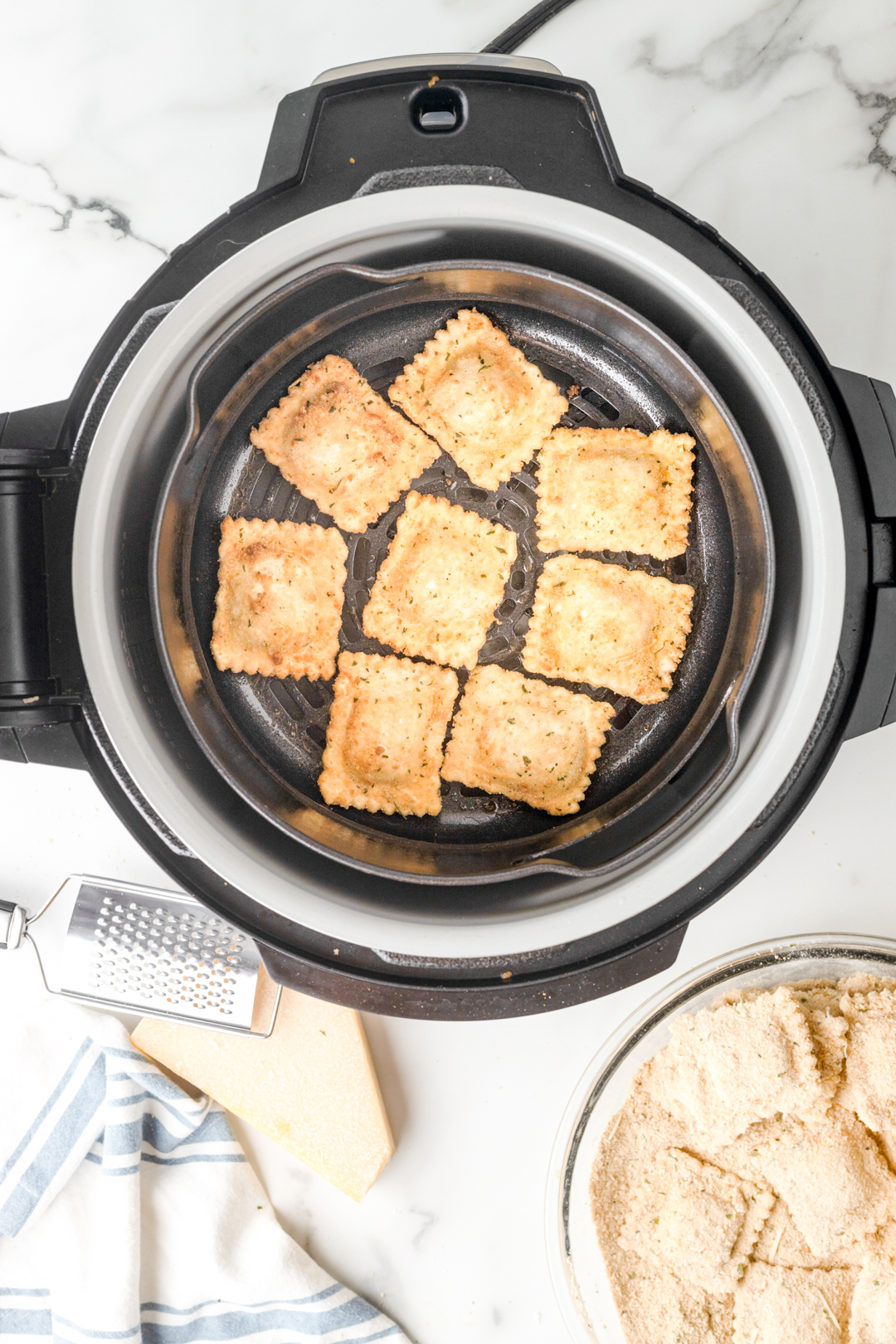 Next, warm your marinara sauce and serve it immediately with the ravioli.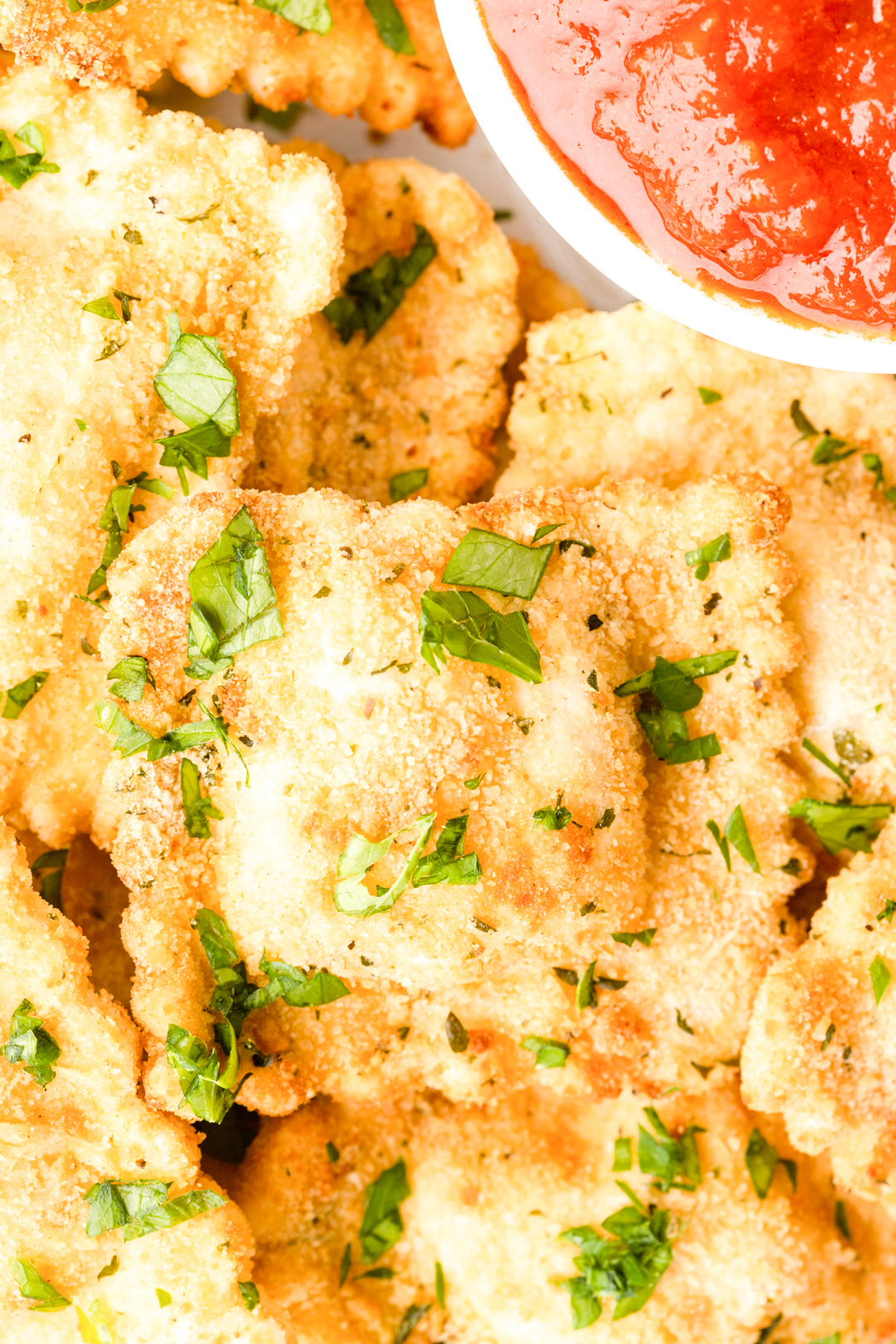 It's finally time to enjoy every last bite of goodness.
WHAT AIR FRYER DO YOU USE?
The Ninja Foodi was used to make this recipe.
CAN I MAKE THESE IF I DON'T HAVE AN AIR FRYER?
Yes, the authentic way to make these is to fry them in oil, and they're so amazing in the oil. Just heat cooking oil to 350°F and place them into the oil a few at a time until they're golden brown, which will take about 3 to 4 minutes. Place the cooked ravioli onto a paper towel-lined plate to help remove some of the excess greases.
ANY OTHER GOOD CHOICES FOR DIPPING SAUCE?
You can use any pasta sauce to dip these in. For example, you can use pesto, Alfredo, or even a spicy tomato sauce.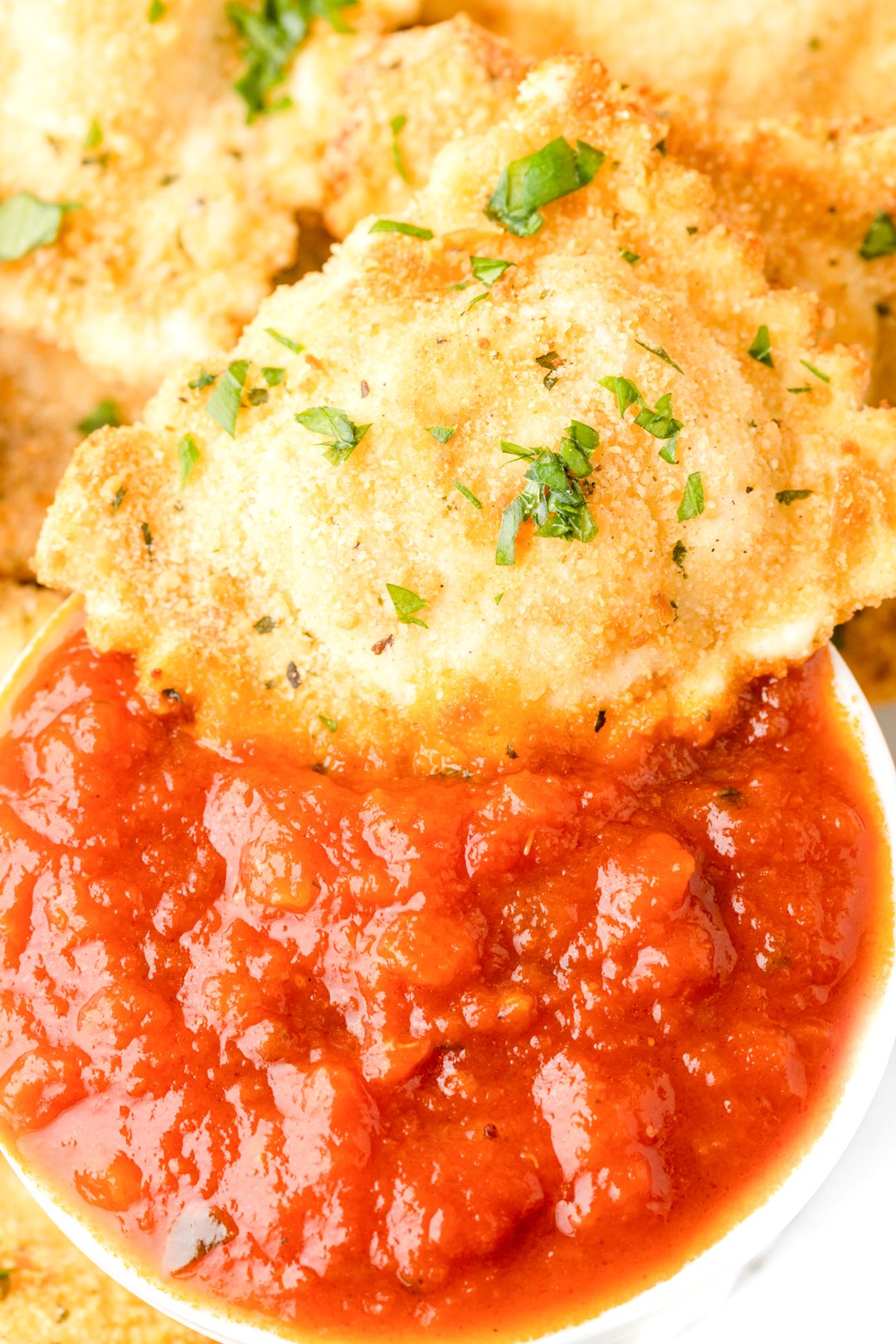 ABOUT HOW MANY RAVIOLIS WILL FIT IN THE BASKET OF THE AIR FRYER?
This is where it's hard to tell because air fryers come in so many different shapes and sizes. It honestly just depends on the particular model of your air fryer.
HOW DO I STORE THESE, AND HOW DO I REHEAT THEM?
I recommend eating these fresh because they are a fry-type product that is best the day of. You can store them in an airtight container for up to three days. When you want to reheat them, place them back in the air fryer for about 2 to 3 minutes until they're warmed but keep an eye on them that they don't get too brown.
HOW MUCH SALT SHOULD I ADD TO THE WATER?
Since this is the only time to season the pasta, it's essential you add it to the water. I have always been taught to add about one tablespoon of kosher salt for every gallon of water.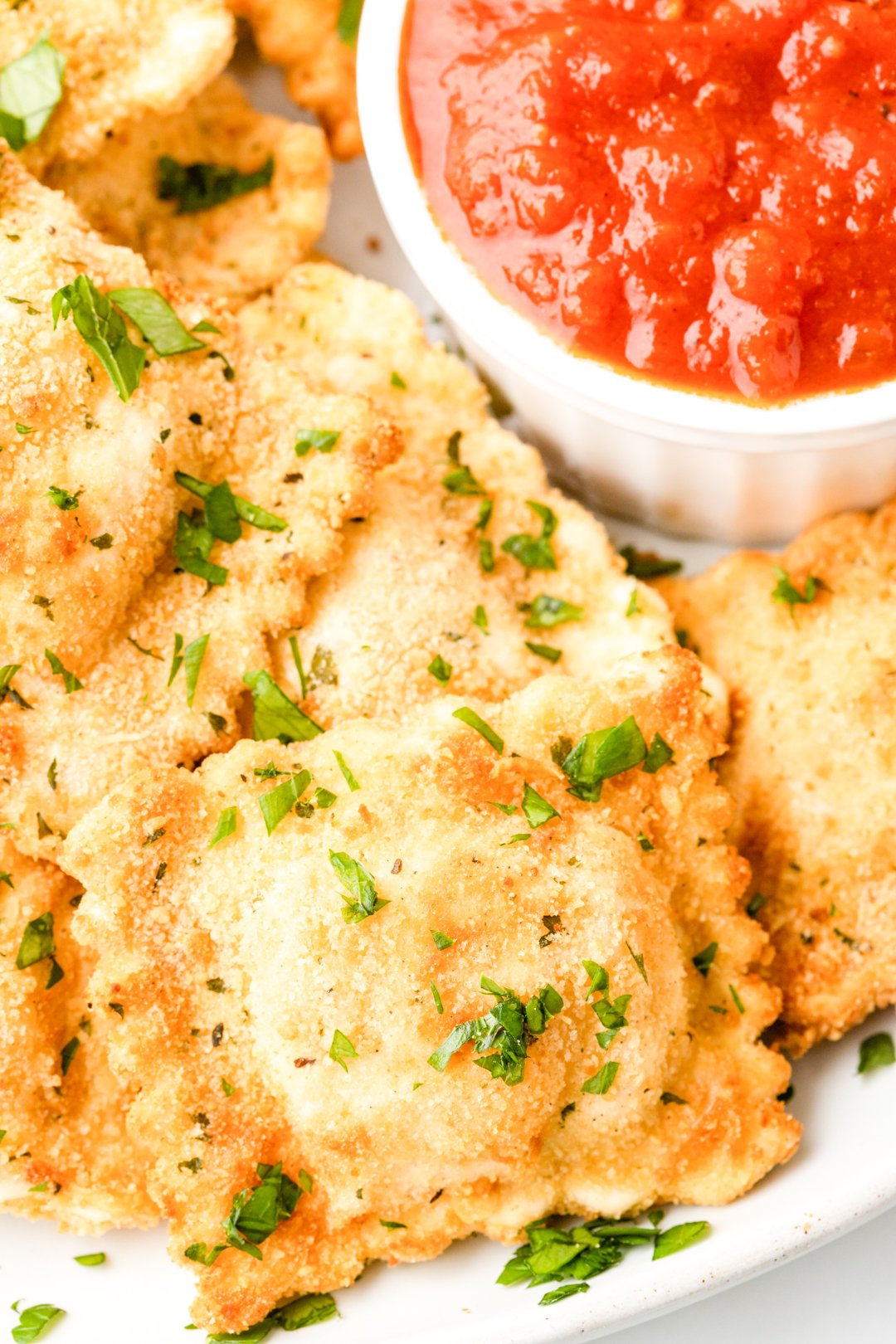 EASY APPETIZER RECIPES
Want more tasty appetizer ideas? Here are some fun ideas for you.
If you love easy recipes, you will love this pizza skillet dip.
This yummy French Onion Dip is perfect for dipping just about anything.
For another unique option, how about these Fiesta Shrimp Bites.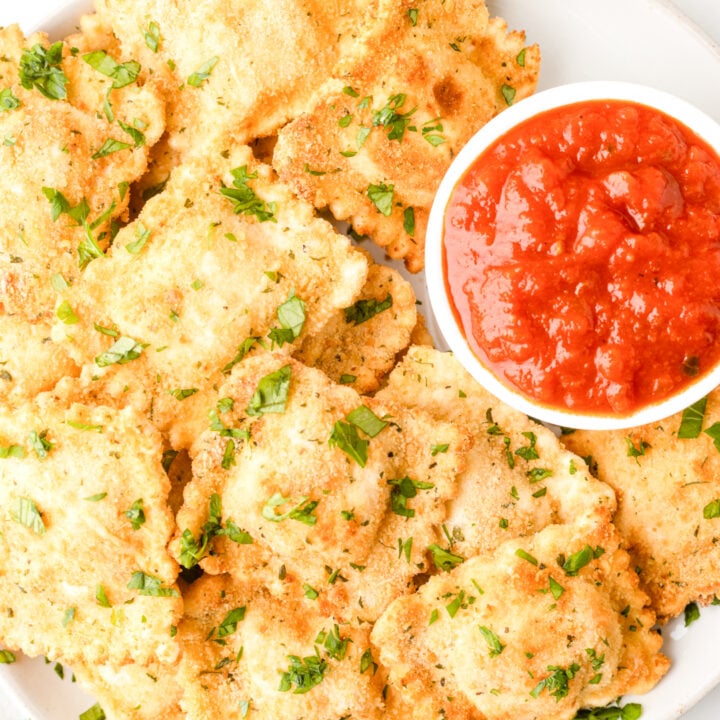 Air Fryer Toasted Ravioli
Additional Time:
7 minutes
Ingredients
10 oz cheese ravioli
1 egg
1 tablespoon milk
1 cup Italian seasoned bread crumbs
1 tablespoons parmesan cheese, grated
Olive oil spray
1 cup marinara sauce
Instructions
Bring a large pot of salted water up to a boil. Add the pasta to the water and allow it to cook for three minutes. Drain the pasta from the water.
In a shallow dish like a pie plate, stir together the egg and milk. In another shallow dish, combine the bread crumbs and the parmesan cheese.
Dip a few ravioli into the egg mixture, then into the bread crumb mixture, making sure to coat each side.
Place some of your ravioli into the basket of the air fryer, making sure they don't overlap each other. Spray the oil over the ravioli to help them brown. Set the air fryer to 390°F for 4 minutes. Flip the ravioli over and respray them with the oil. Set it for an additional 4 minutes. Remove them from the air fryer and repeat with the remaining pasta.
Warm your marinara sauce in a small saucepan over medium-high heat and serve it with the ravioli.
Nutrition Information
Yield

4
Serving Size

1
Amount Per Serving
Calories

330
Total Fat

13g
Saturated Fat

4g
Trans Fat

0g
Unsaturated Fat

7g
Cholesterol

66mg
Sodium

921mg
Carbohydrates

40g
Fiber

3g
Sugar

5g
Protein

14g
This nutritional information is for reference only. We are not responsible for these calculations.
How do you like to spend your weekends?
If the answer is cooking up something yummy with friends, then this Air Fried Toasted Ravioli appetizer recipe is perfect for you!
With just a handful of simple ingredients and 10 minutes, these delicious little bundles of joy will be ready-to-eat.
This quick and easy dish can also make an excellent appetizer or snack idea. If you try them, let me know what you think!