Wish everything was easy? Me too! Well, while I can't completely help with that, I can help you with a sweet treat for Valentine's Day. I think chocolate and cherry pretty much always equals delicious, especially to celebrate a day of love. I recently made these adorable and easy dessert cups using apple pie filling and they were yummy. Wonton wrappers can easily baked into little cups which serve as a shell for both savory and sweet foods, which is super fun.
So, its time to switch them up a bit and this totally worked too especially for V-day!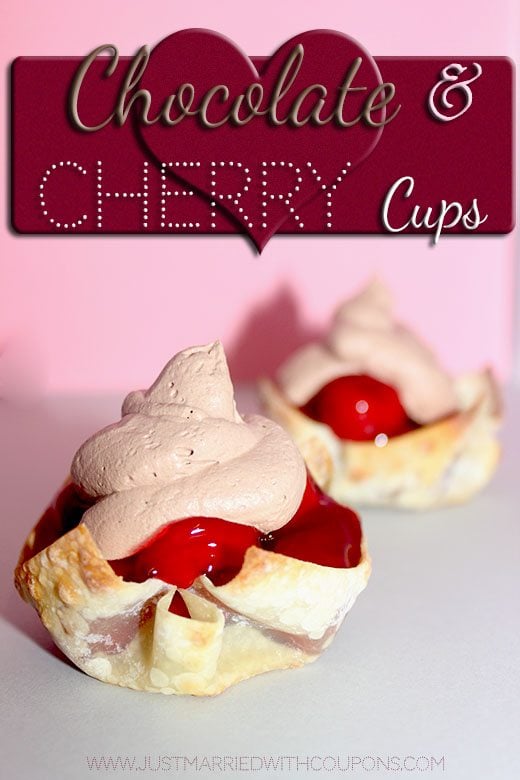 You can get super creative with these, try out different pie fillings and whipped toppings. Raspberry pie filling is also perfect for V-day. I haven't made a variation that wasn't scrumptious yet. Get creative and tell us what combination is your favorite too!
3 Ingredient Chocolate Cherry Pie Cups
Ingredients
16 Individual Wonton Wrappers
1 Can of Cherry Pie Filling
Chocolate Whipped Topping (I used Chocolate Cool Whip Frosting)
Instructions
Preheat the oven to 350º. Press each Wonton Wrappers evenly into the center of each cup in a small muffin tin. Bake for 8-10 minutes. When the corners become lightly golden they are ready. Warm the cherry pie filling on the stove top or microwave. Spoon about 1.5 tablesppons into each cup. Top with your choice of whipped topping.
Note: Serve these immediately, only make what you will eat. If you want to use the cups later, store them aside. Don't store with any wet fillings or they will get soggy.