Spring is here, and we all know what that means, it's time to start planning Easter! If you're looking for an easy and creative way to celebrate this springy holiday, then why not make your own Easter Bunny Candy Garden? This fun activity is perfect for foodies, moms, hosts, and homemakers alike. Let's take a look at why you should make your own Easter Bunny Candy Garden this year. This post may contain affiliate links.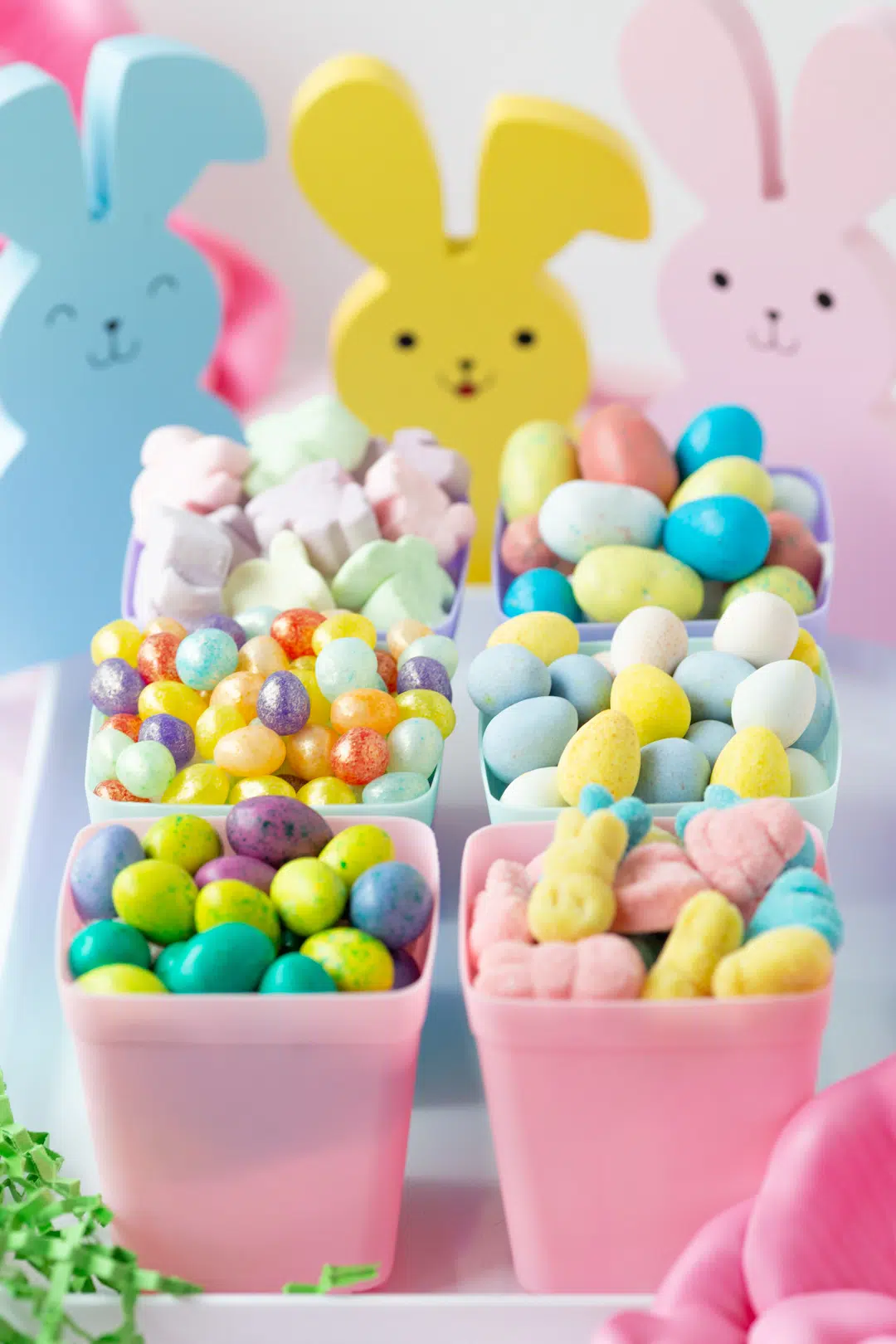 Making an Easter Bunny Candy Garden is a great way to get into the spirit of the season. Not only does it put a sweet twist on traditional decorations like bunnies and eggs, but it also gives you something fun to do with family or friends.
EASTER BUNNY CANDY GARDEN
Making your own candy garden can be as simple or as elaborate as you'd like, it's totally up to you! Whether it's just some small chocolates scattered around a few plastic eggs or an elaborate terrarium made with jellybeans, licorice ropes, and marshmallow chicks, your candy garden will look gorgeous no matter what.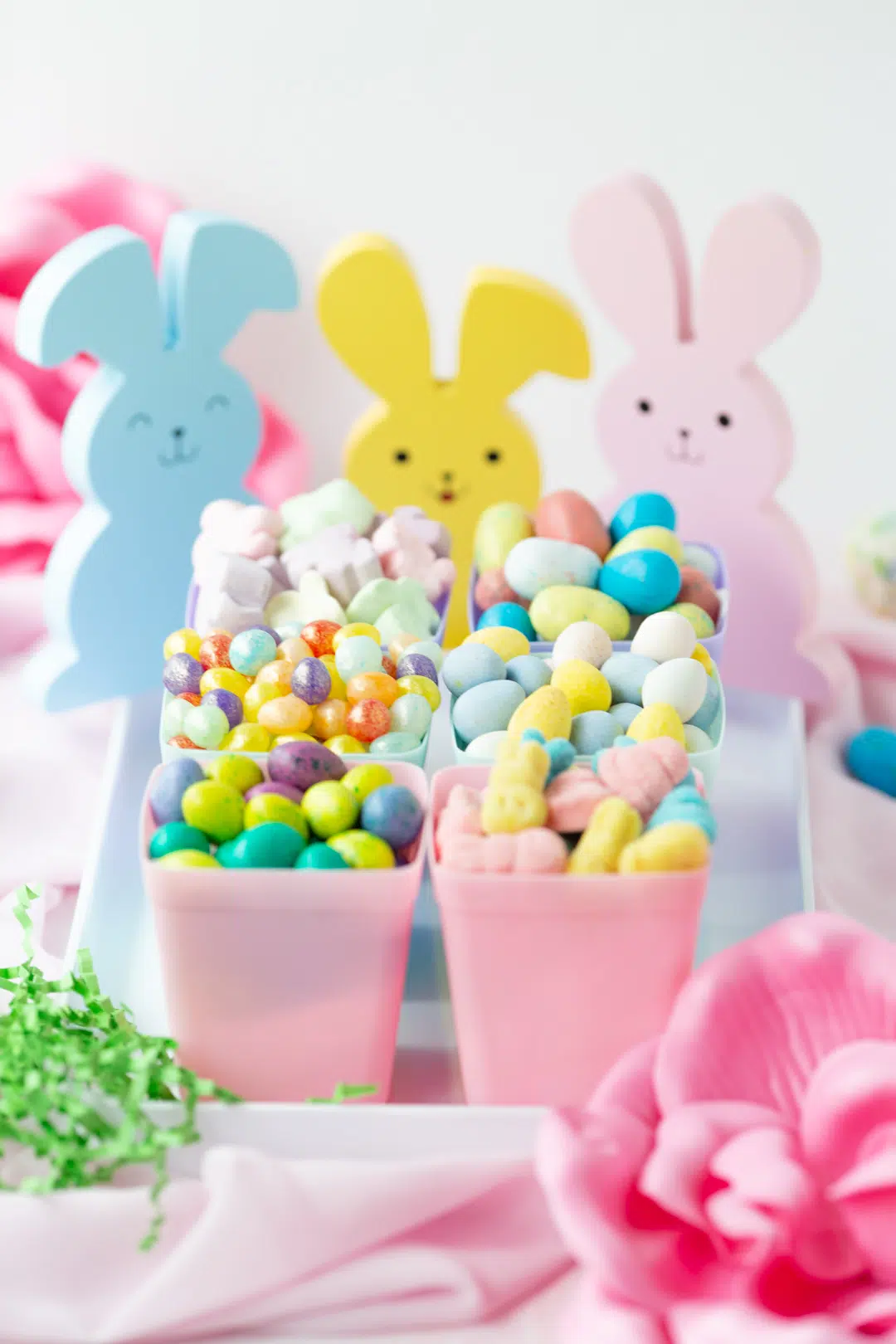 I opted for a simple version which comes together so nicely thanks to pretty pastel pots.
CANDY GARDEN SUPPLIES
You just need a few items to get your own easy candy garden started or Easter. Then, you can pick and choose all of your favorite Easter candies to include. I added some of my favorite picks or 2023 below as well.
Small Serving Tray - used to hold the candies.
Pastel Plastic Plant Pots - are so perfect for this fun Easter entertaining idea.
Bunny Decorations - I used this Wooden Bunny Decor Trio.
Easter Candy Ideas - here are a handful of ideas to get your planning started.
Easter grass - this is optional, but adding some adds to the fun. I prefer these green paper crinkles.
To get a run down of exactly how to put this idea together, be sure to scroll to the recipe card below. You can print and save it for your convenience.
The best part about making your own Easter Bunny Candy Garden is that there are infinite possibilities when it comes to design. From tiny chocolate bunnies tucked between colorful jellybean shrubs to licorice vines winding around marshmallow carrots, the opportunities are endless!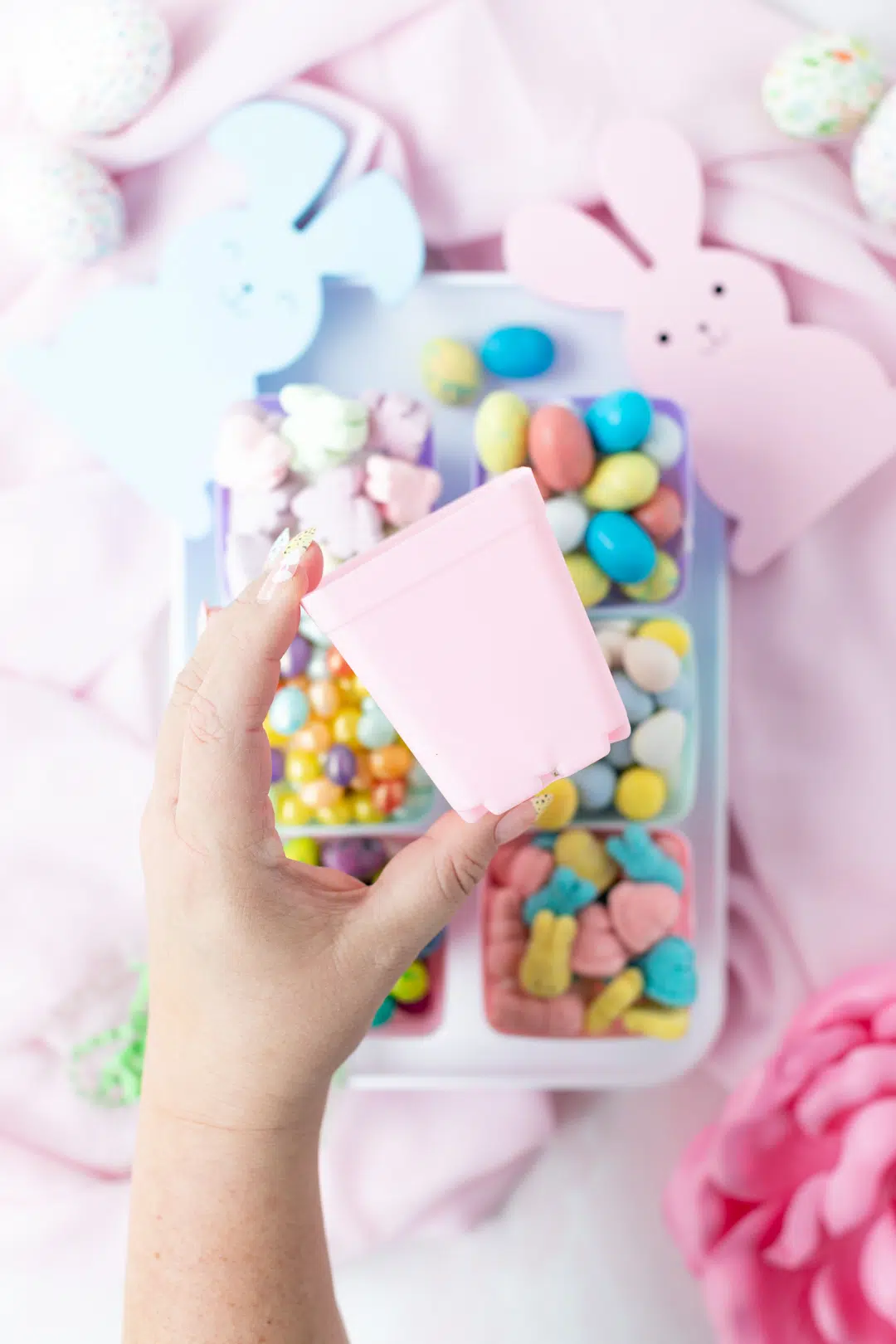 You can even add some greenery (real or artificial) for a more realistic look. The possibilities are truly endless when creating your very own one-of-a-kind edible masterpiece.
Making an Easter Bunny Candy Garden is an easy and fun way to celebrate this spring holiday.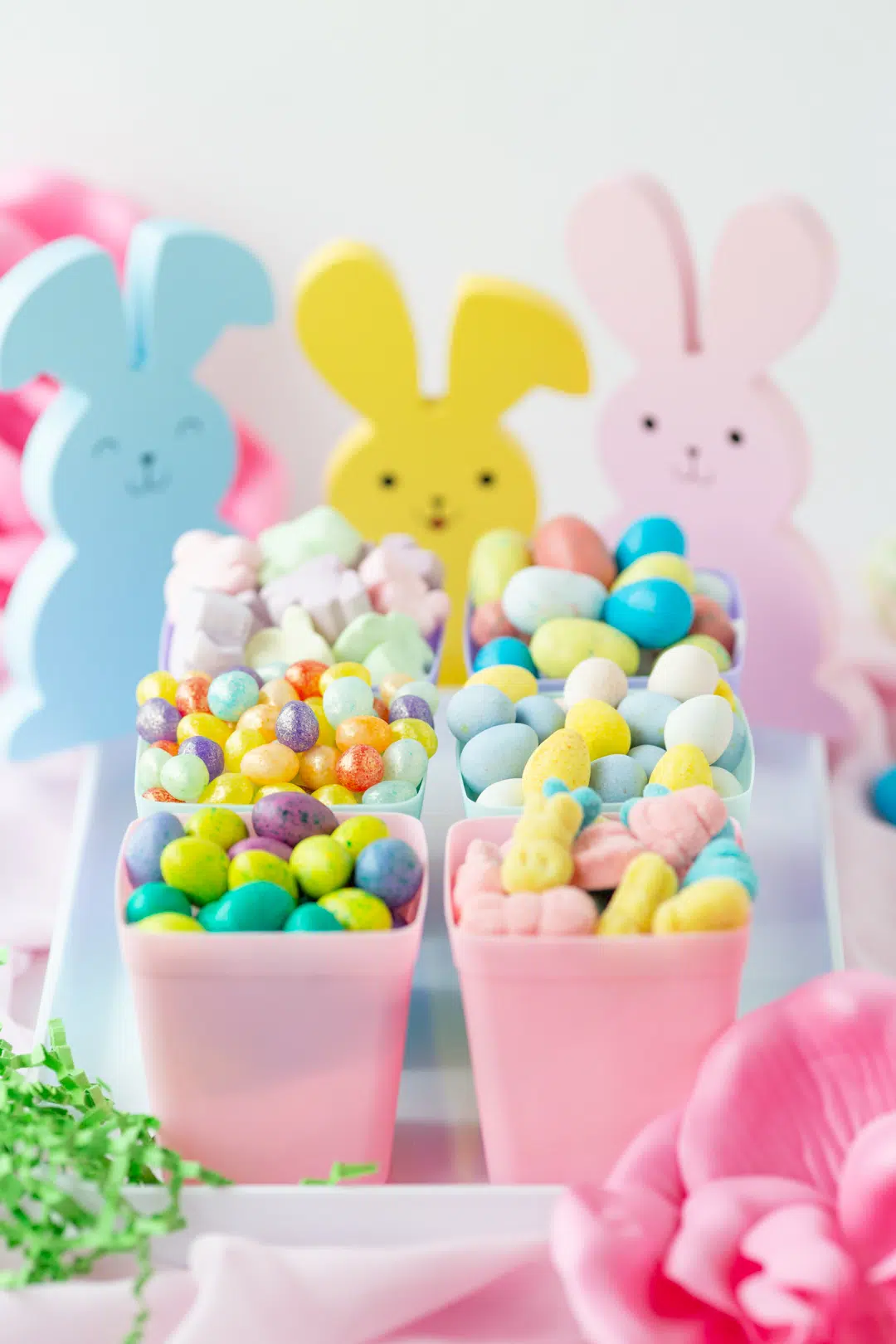 With so many absolutely fun Easter candies available these days, there's something here for every sweet tooth out there, whether they're big or small!
Get creative with colors and shapes while having fun with family and friends as you build your very own edible masterpiece this season!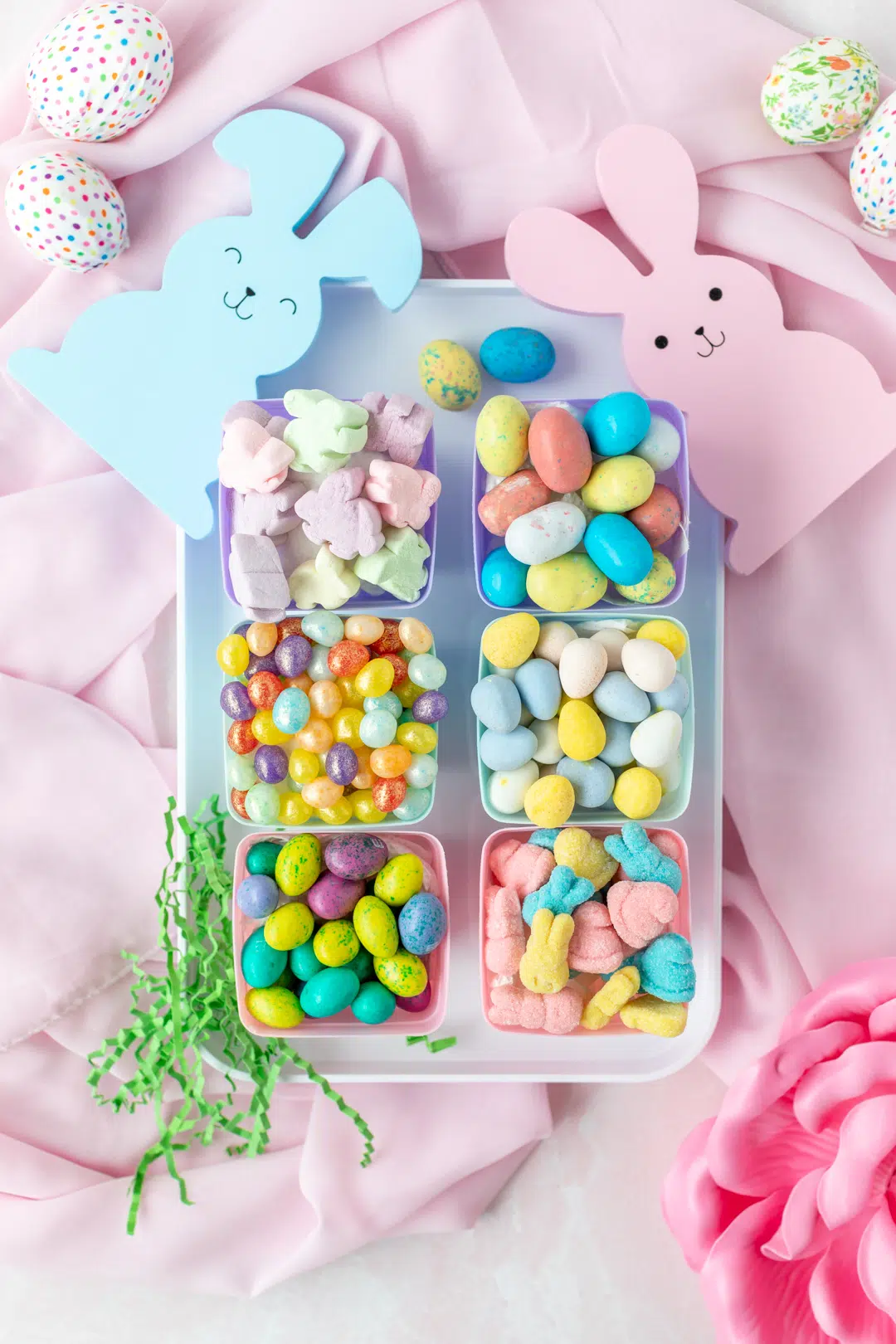 So grab some of your favorite treats and get started on creating this cute treat today! Hoppy Easter!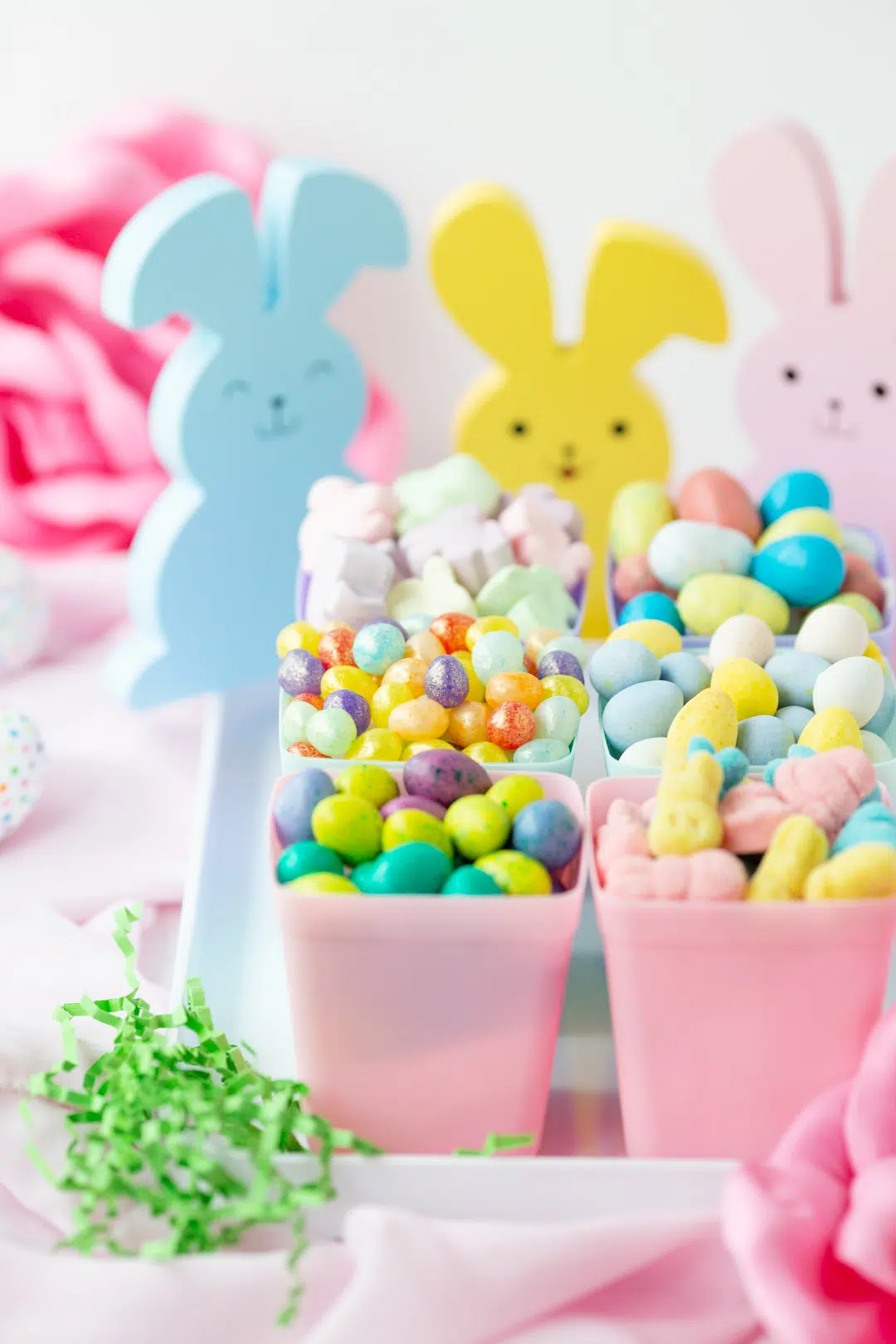 Love entertaining with candy? Here are even more ideas that will help you nail your Easter holiday.
EASTER IDEAS USING CANDY
Take jelly beans to the next level with this BIG edible centerpiece for your Easter tablescape.
Play with your jelly beans and make a fun themed candy board for your Easter dessert table.
Add all of your favorite Easter candy picks to your own candy charcuterie board.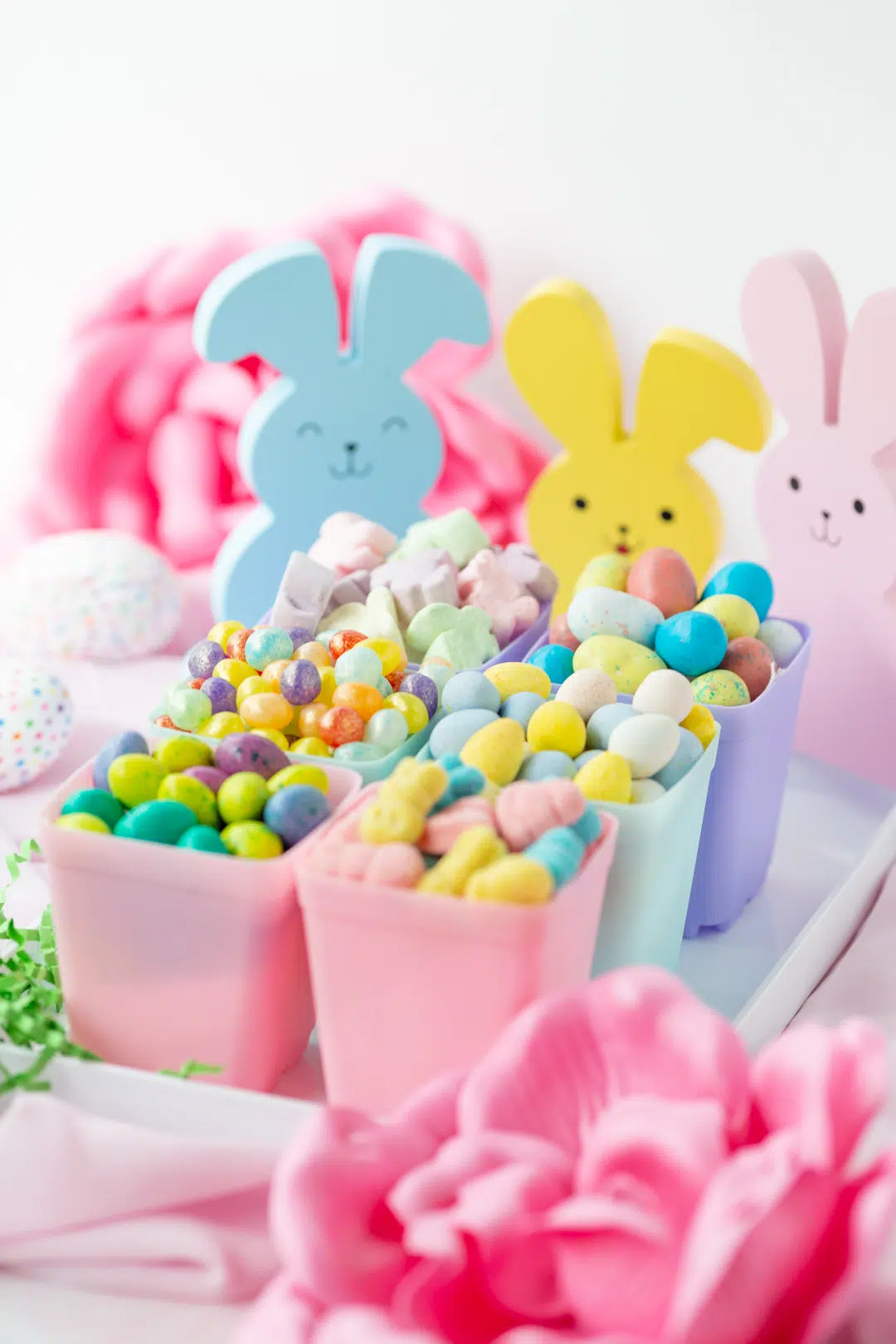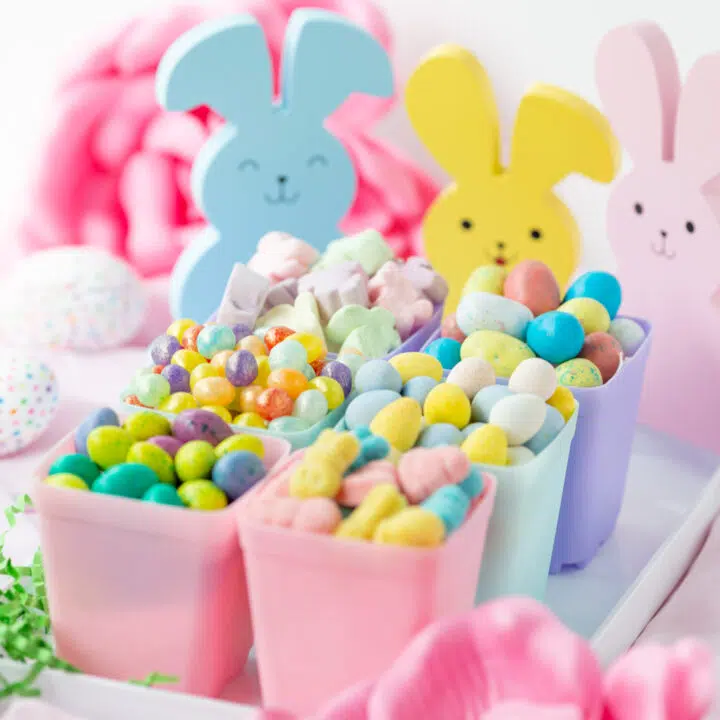 Easter Candy Garden
Pastel Candy Garden for Easter Entertaining. Add a variery of candies in small plastic planters for a fun surprise.
Ingredients
Peeps Gummy Candy
Robin's Eggs
Shimmer Jelly Beans - such as Jelly Belly or Brachs.
Cadbury Mini Eggs
Bunny-Shaped Marshmallows - such as Jet-Puffed brand.
Easter Peanut Butter M&M's Eggs
Easter grass
OTHER SUPPLIES
Small Serving Tray
Pastel Plastic Plant Pots
Bunny Decorations
Instructions
Select a tray to set up your garden on.
Fill your plastic planters with your desired candies.
Add decorative bunnies, easter grass or faux flowrer to your tray.
Set out and enjoy.