Turkey day is fast approaching guys. If you haven't already nailed down your menu, it's about time to! Since we're running out of time, I thought it would be fun and hopefully helpful to put together a list of Thanksgiving slow cooker recipes with just 5 ingredients or less.
Keeping it simple and freeing up your oven will help you nail your meal! A couple of weeks ago, I cooked a whole turkey in my Crock-Pot, so now I'm truly convinced you can pull almost anything off in that magic pot of wonder.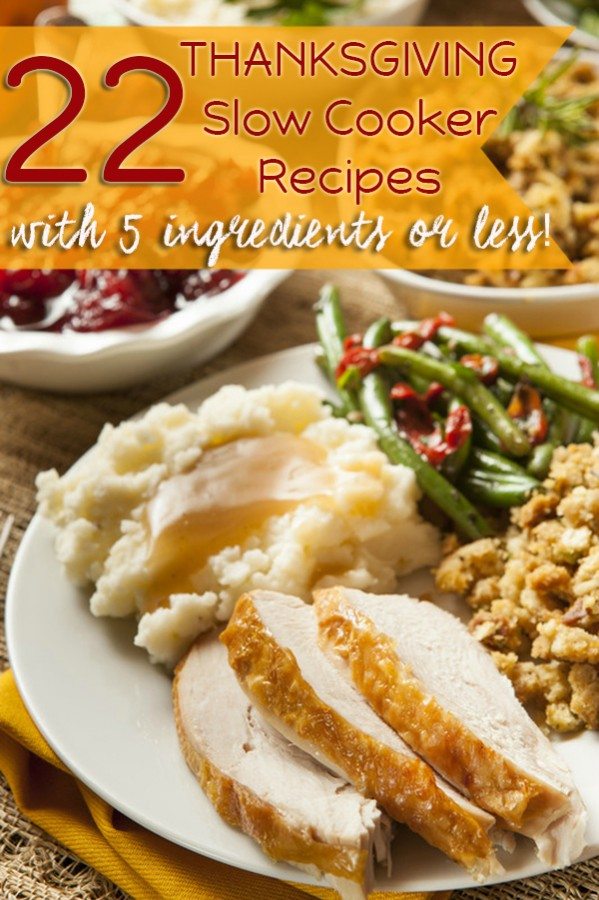 From whole turkeys to your favorite traditional Thanksgiving side dishes, I think I got it covered. Cranberry Sauce? Sweet potatoes or my favorite... broccoli and cheese, check out these quick and simple recipes! Just a heads up, I didn't factor in spices as part of my ingredient count. I think it's safe to say we all have salt, pepper, cinnamon and other common spices.
The 5 ingredients are based on food ingredients and not spices. Hope that totally works for you! Enjoy and please come back and share your favorites!
Slow Cooker Thanksgiving Main Dish Recipes
Here is a list of slow cooker recipes with 5 ingredients or less for the easiest Thanksgiving meal prep you can imagine.
4 Ingredient Slow Cooker Turkey here at Cutefetti
Holiday Whole Chicken here at Cutefetti
Slow Cooker Butter & Herb Turkey by Love Grows Wild
Crock Pot Whole Turkey with Apples from Crock-pot 365
Crock Pot Turkey with Italian Seasonings from Practical Stewardship
Simple Slow Cooker Turkey by Food.com
Slow Cooker Ham and Sweet Potatoes by Simple Nourished Living
Coca Cola Ham by TammileeTips
Crock-Pot Ham by Tammilee Tips
Slow Cooked Ham in Cider Gravy from Savvy Eats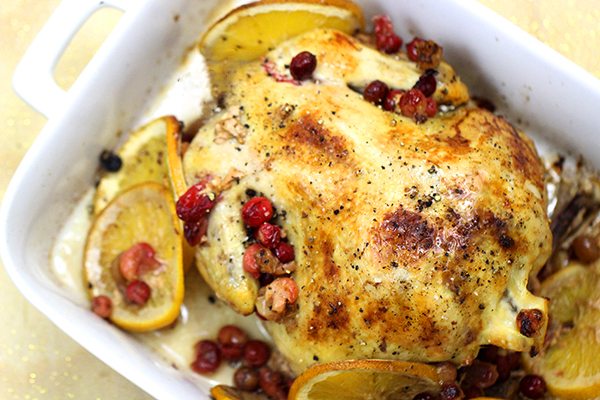 Slow Cooker Thanksgiving Side Dishes
Easy Crock Pot Mashed Potatoes One Good Thing by Jillee
Sweet Potatoes and Apples in the Slow Cooker by Eat at Home Cooks
Slow Cooker Candied Sweet Potato Recipe by Six Sisters Stuff
Slow Cooker Alfredo Green Bean Casserole by Pillsbury
Easy Green Bean Casserole in the Slow Cooker by Crystal & Co.
Honey Glazed Carrots by Small Home Big Start
Mashed Turnips by Small Home Big Smart
Easy Cheesy Cauliflower by The Frugal Girls
Easy Cheesy Broccoli by The Frugal Girls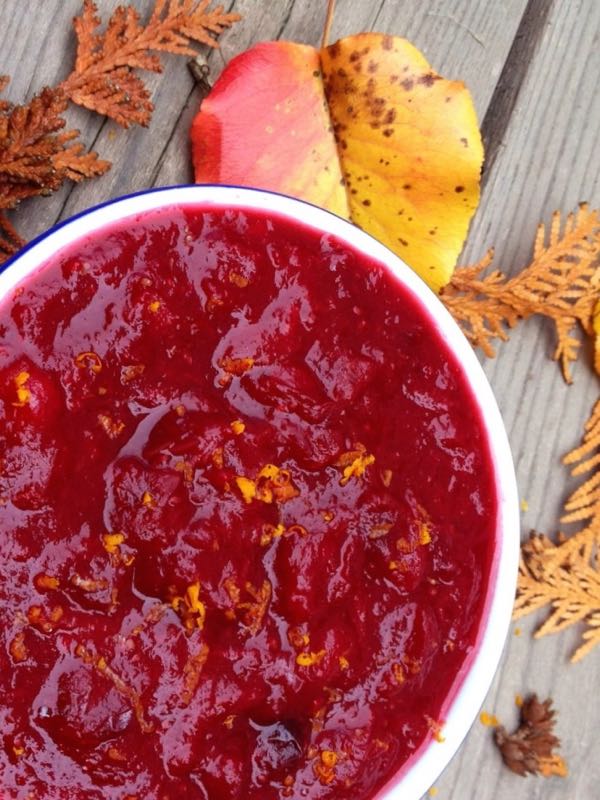 Photo Credit: The Lemon Bowl
Slow Cooker Butter and Sauces
Crock Pot Cranberry Butter by The View from Great Island
Slow Cooker Pumpkin Butter by Mom on Time Out
Slow Cooker Cranberry Sauce by The Lemon Bowl
Voila! Fast and easy slow cooker recipes to rock out your Thanksgiving table. Yum, yum. I can't wait!
Want more? Check out these posts:
44 Slow Cooker Recipes with 4 Ingredients or Less!
25 Slow Cooker Recipes with under 3 Ingredients!
45 Slow Cooker Recipes with 5 Ingredients or less.
15 Gluten Free Slow Cooker Recipes.
15 Paleo Slow Cooker Recipes for Fall.
12 of the Best Slow Cooker Chicken Recipes.
Of course, no meal is complete without dessert!
12 Delicious Desserts you can make in a Slow Cooker
Make sure to follow my Slow Cooker Recipe Board on Pinterest for my latest slow cooker recipe finds!
Have you ever made Thanksgiving easier by using your slow cooker? What did you make?