It's funny to use the words fast and slow to describe one thing. But, in this case it's rings true! This Cinnamon Swirl Pancake Bake can be made in about an hour in your slow cooker. It's basically pancake mixed baked up into a thin bread form. In my opinion, it sure beats sitting over the frying pan and forming pancakes all morning for breakfast. I'd much rather set and forget for a bit. While I am doing all of my other morning rituals, breakfast is cooking all the while. Sweet deal and makes the house smell fabulous too.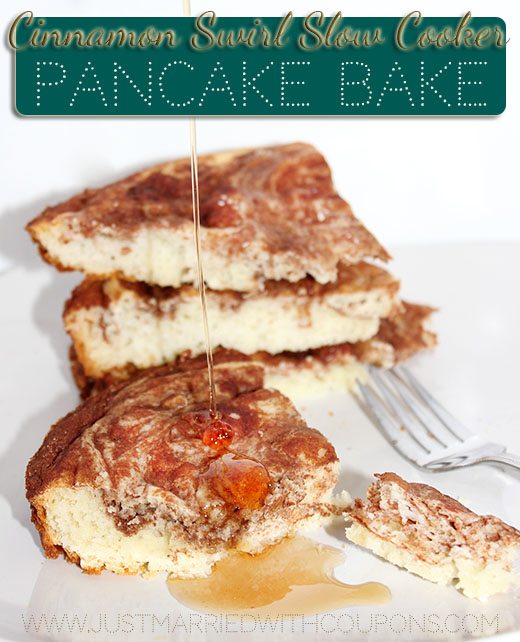 Last week I shared a 1 hour slow cooker bread recipe and decided to try something sweet, well, that's how I ended up giving this pancake bake a try instead. So, I'll still be playing around and giving some different ideas a try. You know I'll share. I picked up this amazing apple bread from the grocery store last week, it was total heaven. If I can re-create something like that in the slow cooker, I will be ecstatic! So look out for my little slow cooker experiments 😉 My goal here? Shortcuts. Saving on time and save on money! Keep my family happy! Will keep you posted if it's any good, that is!
Happy slow cooking!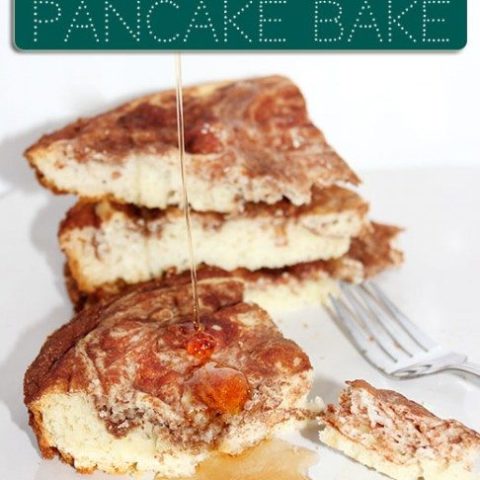 Cinnamon Swirl Slow Cooker Pancake Bake Recipe
Ingredients
1 Cup of Bisquick
½ Cup of Milk (Skim works)
1 Egg
⅓ cup of granulated sugar
1 Tablespoon of Cinnamon
Non-stick spray
Instructions
Blend Bisquick, milk and egg until there are no lumps. In a separate bowl evenly blend the sugar and cinnamon. Spray the bottom portion of your slow cooker generously with non-stick spray. Set on high. Pour your mixture into the bottom of the slow cooker. Then, sprinkle the cinnamon and sugar mixture evenly over the top of the batter. Take the end of a spoon and swirl the cinnamon and sugar down into the batter. Cook for approximately 1 hour - 1 hour and 15 minutes. Check the center to with a fork, when none of the batter sticks, your breakfast is ready.
Nutrition Information
Serving Size

1
Amount Per Serving
Calories

793
Total Fat

12g
Saturated Fat

3g
Cholesterol

3mg
Sodium

1361mg
Carbohydrates

161g
Sugar

76g
Protein

17g
Do you have a special home cooked shortcut for breakfast? Share your tips!