Gobble, gobble. Generally we serve up turkey and ham for holiday meals, but chicken can be fancied up too! I kept the ingredients down to only five to make this really simple. Plus cooking it in the slow cooker frees up your oven for all the other delicious sides you're planning. I'm just drooling at the thought!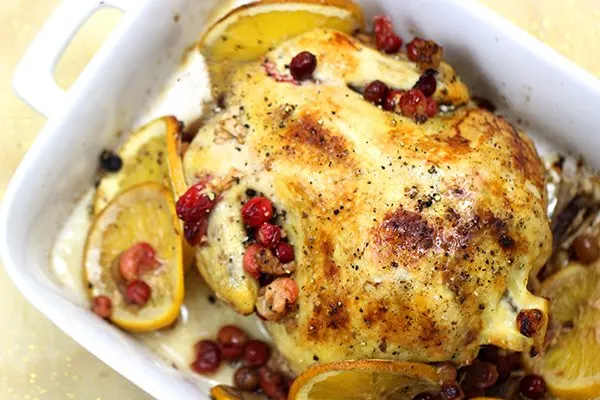 A couple of weeks ago, when I was lounging around and pinning recipes to my slow cooker recipe board, I stumbled on a really intriguing chicken recipe. It was "Chicken In Milk", the pinner proclaimed that it was quite possibly the best recipe of all time. How could I not try it?? I never really thought of using much milk in the slow cooker with meats, I thought maybe cooking it that long would make it funky. I'm glad I was wrong because this recipe turned out famously.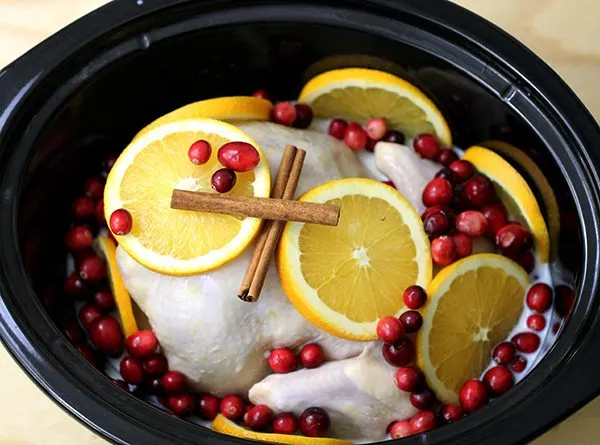 After digging in a little I found the original recipe using the milk with chicken from Jamie Oliver. That recipe calls for sage, lemon and garlic and other goodies in addition to the milk. The pin that I actually found first was based on Jamie's recipe, but made slow cooker friendly from Simple Bites called Christmas Chicken in Milk with Orange, Cinnamon & Savory.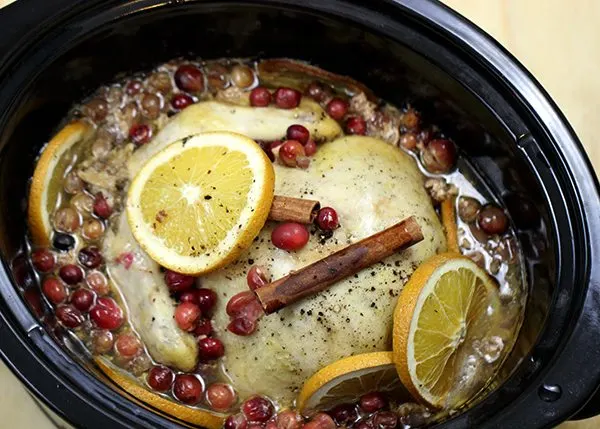 Just the idea of cinnamon and orange sounded brilliant. I could practically smell it through my computer screen. Well, since I had a gigantic bag of cranberries begging to be used, I had an idea! The combo of oranges, cranberries and cinnamon just sounded really splendid for the holidays. The best part about the recipe I put together is the scent! Great way to make your house smell just like Christmas.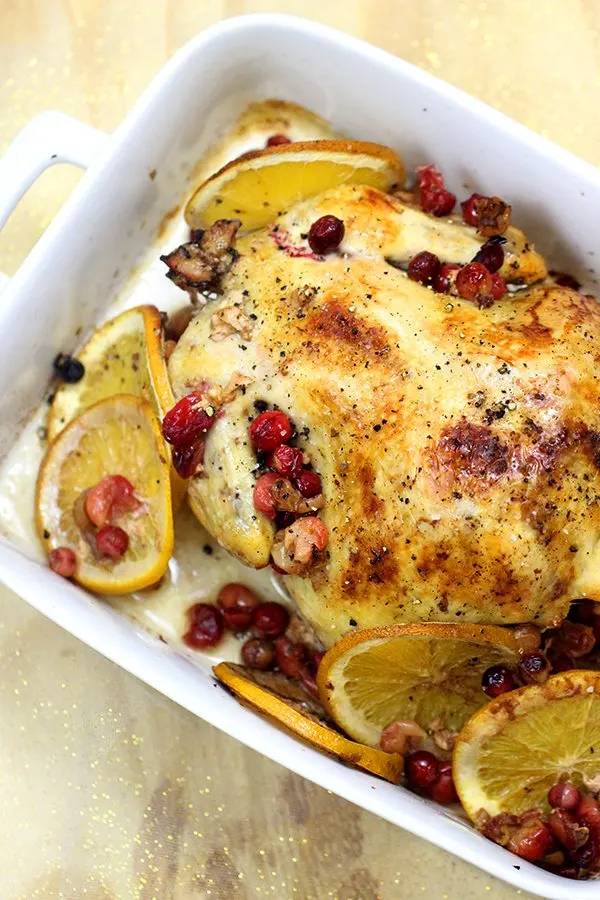 Before I jumped in head first, I wanted to look up other tips for cooking a whole roaster chicken in the slow cooker. I snagged some awesome tips from this post from The Little Kitchn. After reading, I decided to broil the chicken after it was done cooking, it was an excellent idea as it looks and tastes a whole lot better with a beautiful browned crisp to it. I would really recommend doing it although, it's really not mandatory since your chicken will technically be cooked once removed from your Crock Pot. But.. seriously, do it *wink*. I also used the idea of stuffing orange halves into the chicken for extra flavor, but mostly to keep a nice form.
I took all the best cooking ideas and minimized the ingredients to make it more simplified. Cuz, that's how I roll!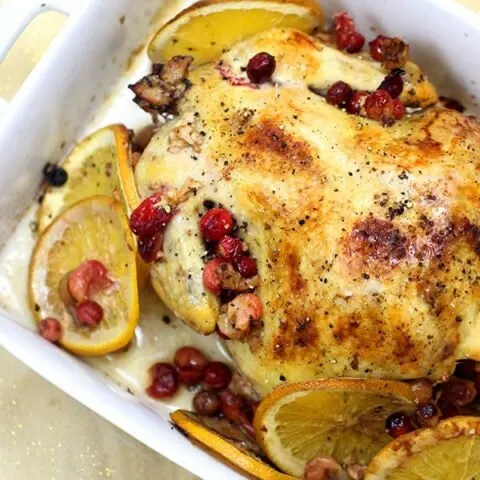 Christmas Slow Cooker Whole Chicken Recipe
Ingredients
1 Whole Roaster Chicken 4-5 pounds
2 Cups of Milk
2 Cups of Fresh Whole Cranberries
1.5 large Oranges
2 Whole Cinnamon Sticks
Salt and Pepper as desired
Instructions
Prepare whole chicken for cooking by removing neck and any organ packages that were included. Clean and pat dry with paper towel. Cut one half of a large orange into two quarters and stuff the chicken with it. Tie the wings back. Take your whole large orange and cut into slices. Add milk and place chicken breast side down in the slow cooker. Sprinkle salt and pepper over the entire exposed chicken. Pour the cranberries over the top, allowing for some to rest on the chicken. Place some of the orange slices on top and place the extras surrounding the chicken. Add cinnamon sticks over the top. Cook on low for 6 hours or until ready. Recommended to use a pop up thermometer to make sure the internal temperature is 165°F (per FoodSafety.org).
Once chicken is cooked, carefully move the chicken to an oven safe casserole dish. Carry the cranberries and oranges over with only little juice. Discard the cinnamon sticks. Broil the chicken for about 10 minutes or until the skin is a nice crispy brown. Let rest for about 10 minutes before serving. Enjoy!
What are your holiday go-to recipes? Have you ever made chicken for a special holiday get-together?