In celebration of "Pi" Day on March 14th, I thought it would be fabulous to put together a collection of delicious no bake pie recipes. I adore no bake recipes because they are generally less time consuming and even better, you don't have to fire up your oven. These are great for last minute parties, hot days or just any old time you want to tackle your cravings without tedious baking. These no bake pies will make your mouth water. From fruit pies to cheesecakes and other chocolate wonders, you'll love this collection of taste bud tickling no bake pies. Can I get a yum? This is a sponsored post in collaboration with Foodie. All opinions and drooling are my own.

Click through to widget above view my complete collection on Foodie.
These are my top 18 No Bake Pie Recipe Picks on Foodie. Prepare for awesome pie-liciousness. Yes, I made up a word in honor of these amazing pies. Enjoy!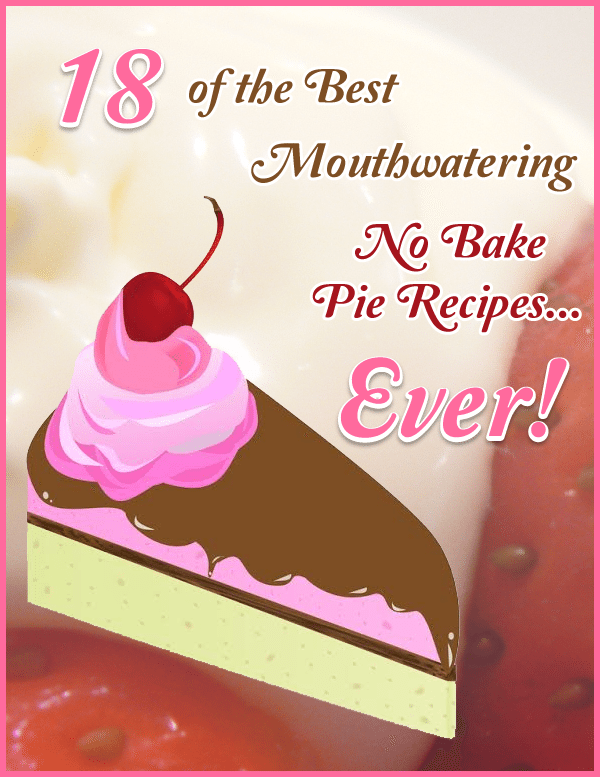 18 Mouthwatering No Bake Pie Recipes
1. Frozen Chocolate Chunk Cookie Mud Pie – Chocolate and cookies, yes please. This pie looks heavenly. Frozen pie sounds like the perfect way to cool up when it warms up.
2. No Bake S'mores Cheesecake Pie – A delicious nostalgic idea all packed into a pie dish. This looks like an instant hit in the making. Kids will be swarming around this one.
3. No Bake Speculoos Pie (Biscoff) –  Simply can't get enough cookie butter, can you? If you haven't tried it yet, beware it is addicting.
4. No Bake Chocolate Chip Cookie Pie – Chocolate chip cookies in pie form. Yeah this is a winner right out of the gate. This looks like an amazing way to get your cookie cravings out.
5. Cookies and Cream No Bake Pie – More cookies, yes please! My son loves everything cookies and cream, I think he would go bananas.. or just cookies over this pie.
6. Skinny No Bake Peanut Butter Pie – I like the way this sounds, looks decadent. I'm thinking if it's skinny that I can have two pieces? Just sayin'!
7. No-Bake Deep-Dish Peanut Butter Snickers Pie With Salted Caramel – I think I might have instantly fallen in love. No bake pie with salted caramel? Be still my heart!
8. No Bake Nutter Butter Nutella Pie – Nutella and Nutter Butter all wrapped up into one amazing pie. Sounds like a winning combo!
9. No Bake Mango Pie – This looks outstanding, I can't wait to try this one. Perfect for spring! I can honestly say that I've never had any type of dessert with mango. This is a must try.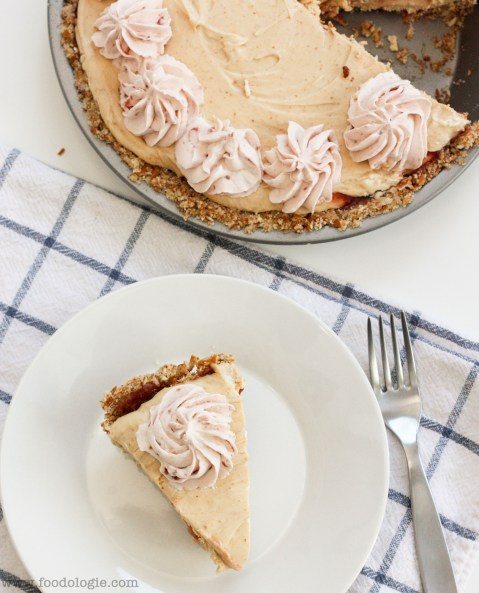 Photo Credit foodologie.com
10. Peanut Butter and Jelly Pie in a Pretzel Crust – I love how this recipe takes classic flavors and reinvents them into a magical pie form.
11. No-Bake Chocolate Kahlua Pie – Can't wait to impress with this Kahlua laced creamy pie. Kahlua is one of the few liquors that I enjoy from time to time.
12. Ultimate No Bake Peanut Butter Pie – Who can resist ultimate pies? Not me!
13. No Bake Strawberry Lemon Cookie Pie – Seriously, I need to get this in my belly. I just drooled on my keyboard.
14. No Bake Chocolate Raspberry Cream Pie – This has to be one of the most tempting pies ever.
15. Berry No Bake Cheesecake – I love the use of fresh blueberries in this one. Such a picture perfect pretty pie.
16. Easy Apricot Cheesecake Pie – This scrumptious recipe that features apricot is perfect for warm lazy days.
Photo Credit: cupcakesandkalechips.com
17. S'mores Pudding Pie – Another awesome twist on S'mores in pie form. I love the browned pie topping, simply impressive!
18. Passion Fruit Cream Pie – Oh my! This pie includes the unique flavor of Passion Fruit with a no bake crust that will knock your socks off!

How is that for decadent and mouth watering? View my complete Mouth Watering No Bake Pie Collection on Foodie.com to start collected your very own favorite pies!
Have you ever made a no-bake pie? What kind? What pie in this collection will you try first?