When the weather gets cooler, there's no better way than to start the day with the perfect comfort breakfast. I love the idea of stealing a sweet moment with my hubby before the day gets chaotic. This dreamy but simple French Toast Charcuterie Board for Two is so easy whip up and highly customizable. It's made perfectly sweet with delicious Nature Nate's Honey. This post was sponsored by Nature Nate's Honey Co. All opinions are my own.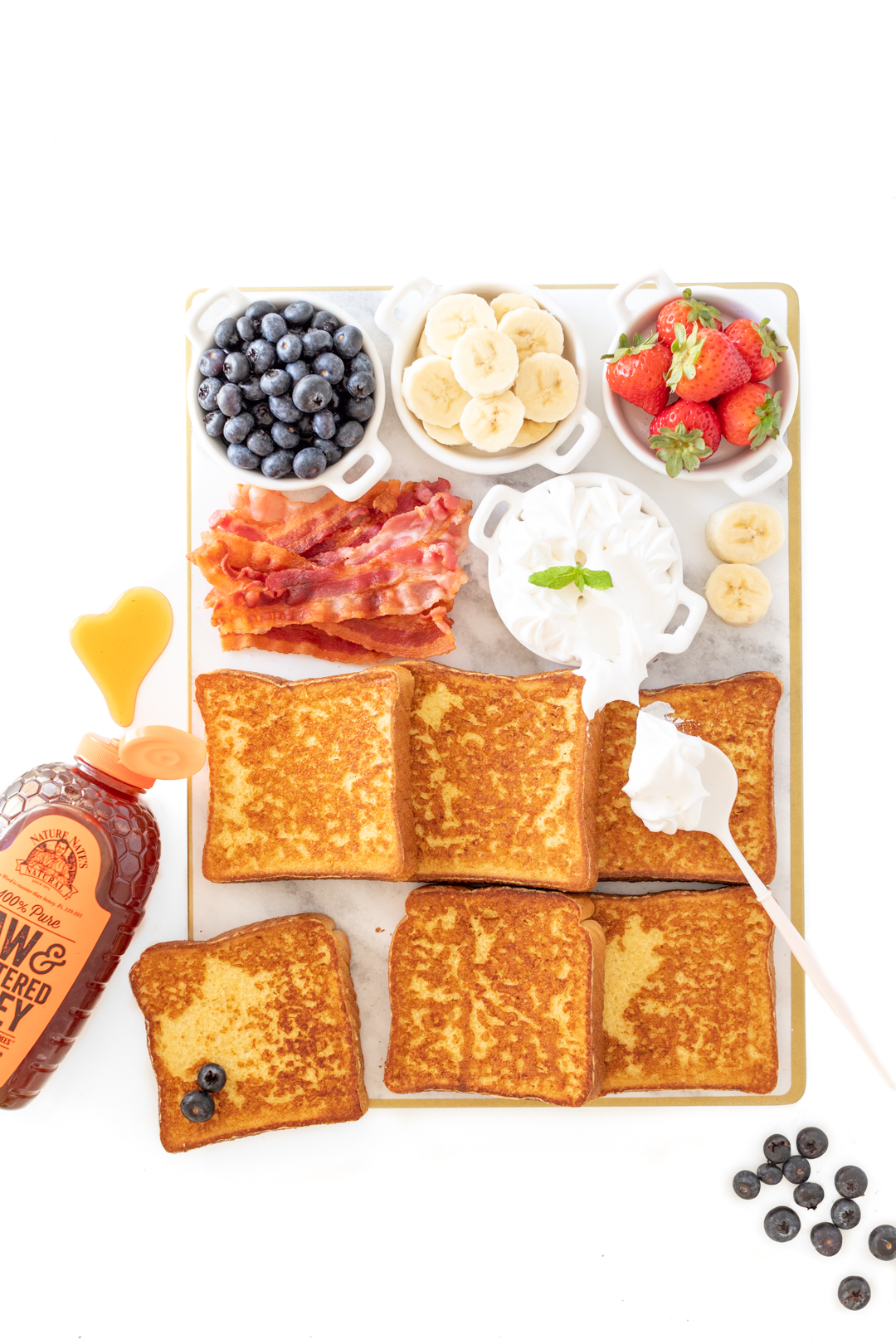 Have you tried Nature Nate's Honey? They produce 100% pure, raw & unfiltered honey right here in the U.S through their trusted beekeeping partners. Their select selection process and standards, the result is the perfect honey blend that is described as deep, balanced and sweet.
They aim to serve up the very best premium honey in every bottle. You will have to taste it yourself to see the difference.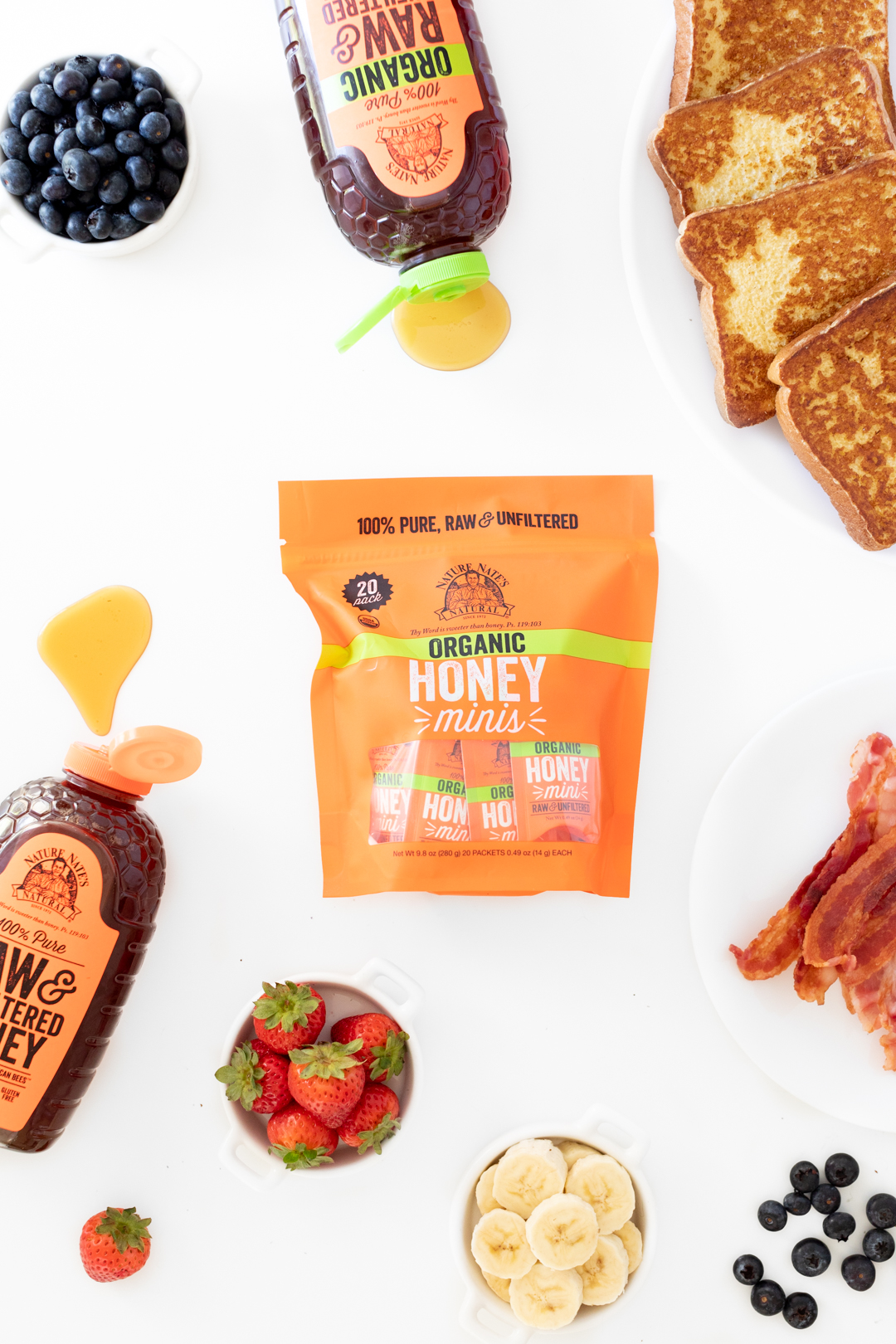 I had never tried it as a topping on french toast, waffles or pancakes, but I was so pleasantly surprised. So, I present to you a delicious breakfast that can even be enjoyed right in bed featuring Nature Nate's honey.
Let me share how you can put your own together.
FRENCH TOAST BREAKFAST CHARCUTERIE BOARD
Creating a delish and easy breakfast does not need to be complicated. This is actually as easy as it comes. I find that serving foods on a board or tray where everyone can select their own items really gives a fun twist to meals. The feeling of abundance also adds to the entire experience. If you have never tried it, you will quickly find out how much you love it. The best part is that it's actually easier than customizing everyone's plate yourself. Total bonus. You just present the goods and let everyone do the rest. Winning!
FRENCH TOAST BOARD INGREDIENT IDEAS
French Toast (From Scratch or Frozen)
Strawberries
Blueberries
Bananas
Whipped Cream
Bacon or Sausage
Chocolate Chips
Marshmallows
Sprinkles
Nature Nate's Honey of Choice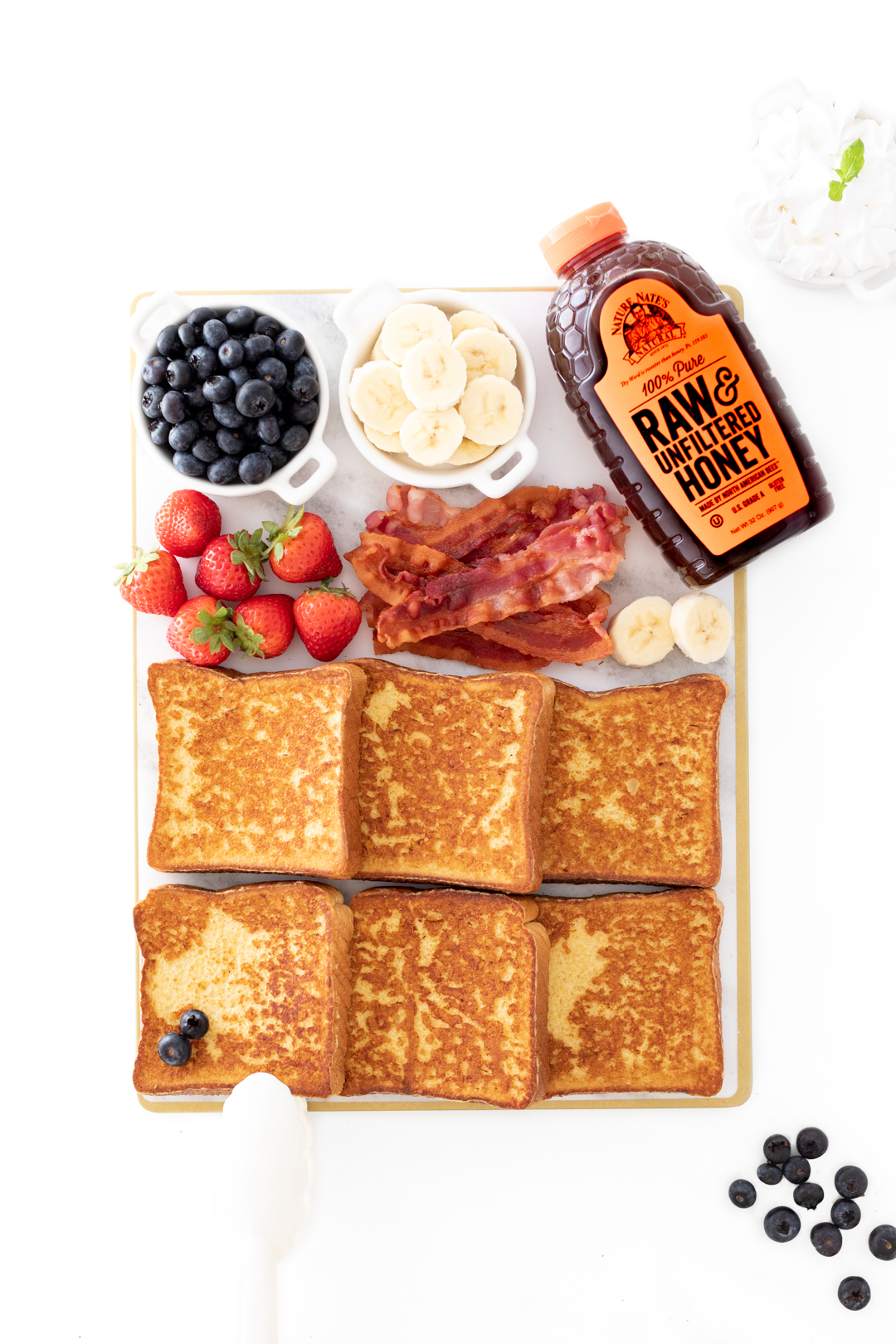 Find a small serving tray to prepare your fun breakfast with. I love a rectangular shaped one for this since the French Toast is square, it just fits nicely. But you can easily make it work on any shaped tray.
Use smaller dishes to separate your toppings as needed.
Once you place your French Toast and ingredients on your "board", it's now time to serve and enjoy.
I love that you can make this as small as you like for a romantic breakfast for two or larger for the whole family.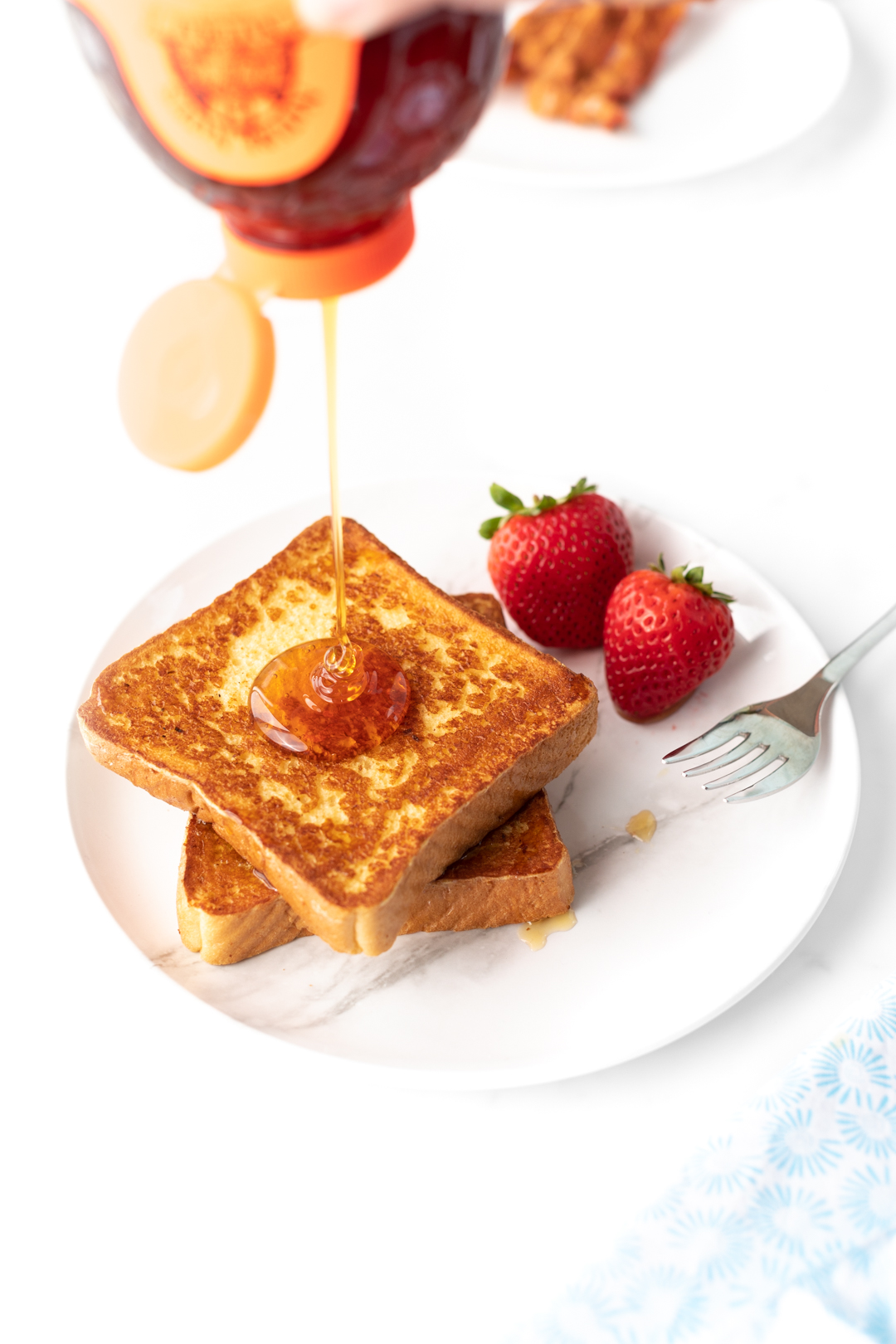 Don't forget the Nature Nates honey for the ultimate sweet way to start the day.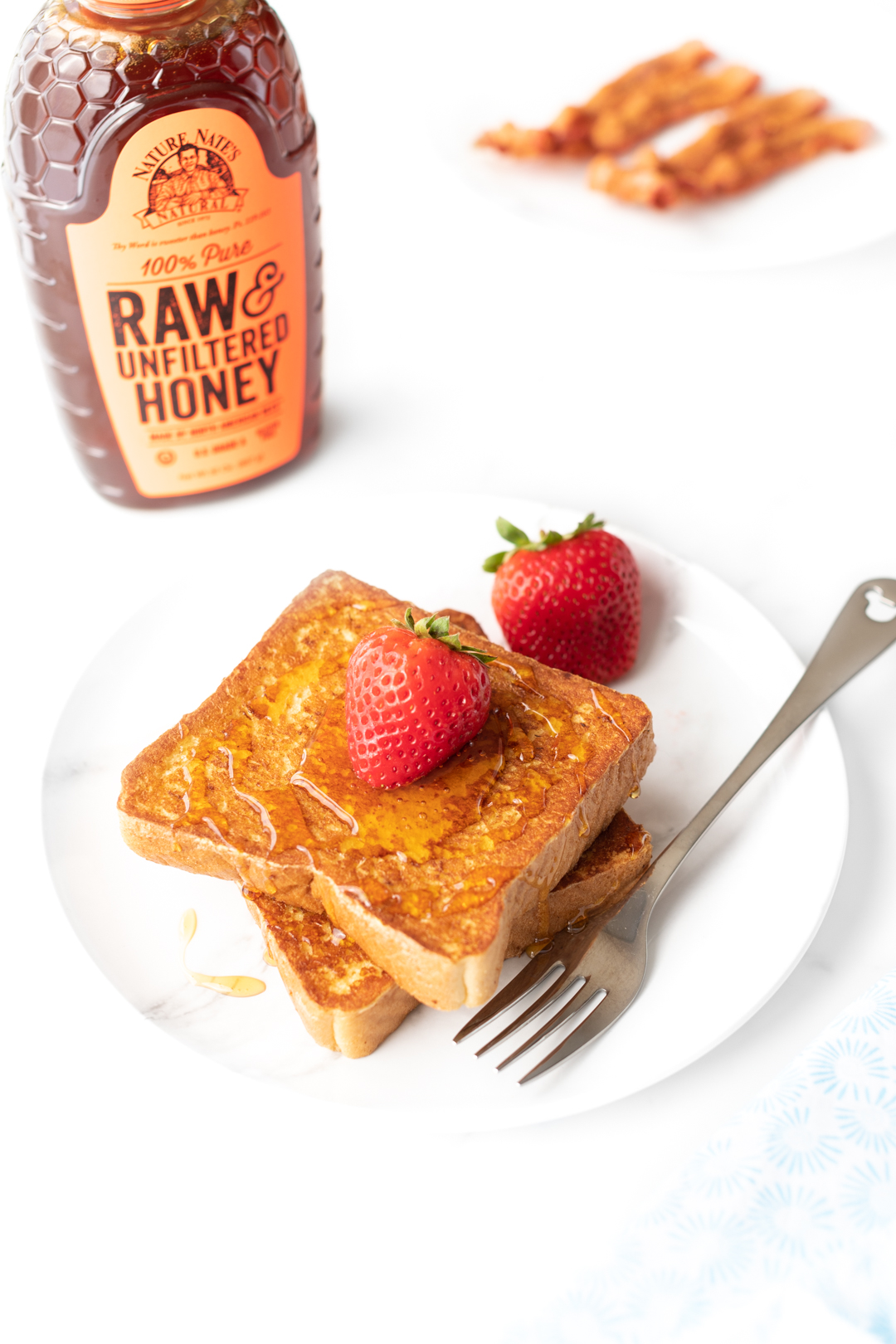 Nature Nate's works hard to cherish the precious resources honeybees gift to us. Learn more about Nature Nate's Purity Guarantee!
Visit your favorite retailer, and look for the orange bottle or ask for Nature Nate's!
What would you add to your French Toast breakfast?
Have you tried honey on French Toast before?