If 2020 was a sweater, it would totally be an ugly sweater! The idea of big goofy sweaters has totally become a trend and is still going strong. I thought it would be fun to make a not-so ugly sweater cake that is SO easy to make. For a little added twist, I have also transformed an OREO Ice Cream Cake into a cool reindeer cake, too. These fun holiday hacks will make your family smile big as they gather around the dessert table this Christmas thanks to a little help from I Love Ice Cream Cakes. This is a sponsored post with I Love Ice Cream Cakes, all opinions are my own.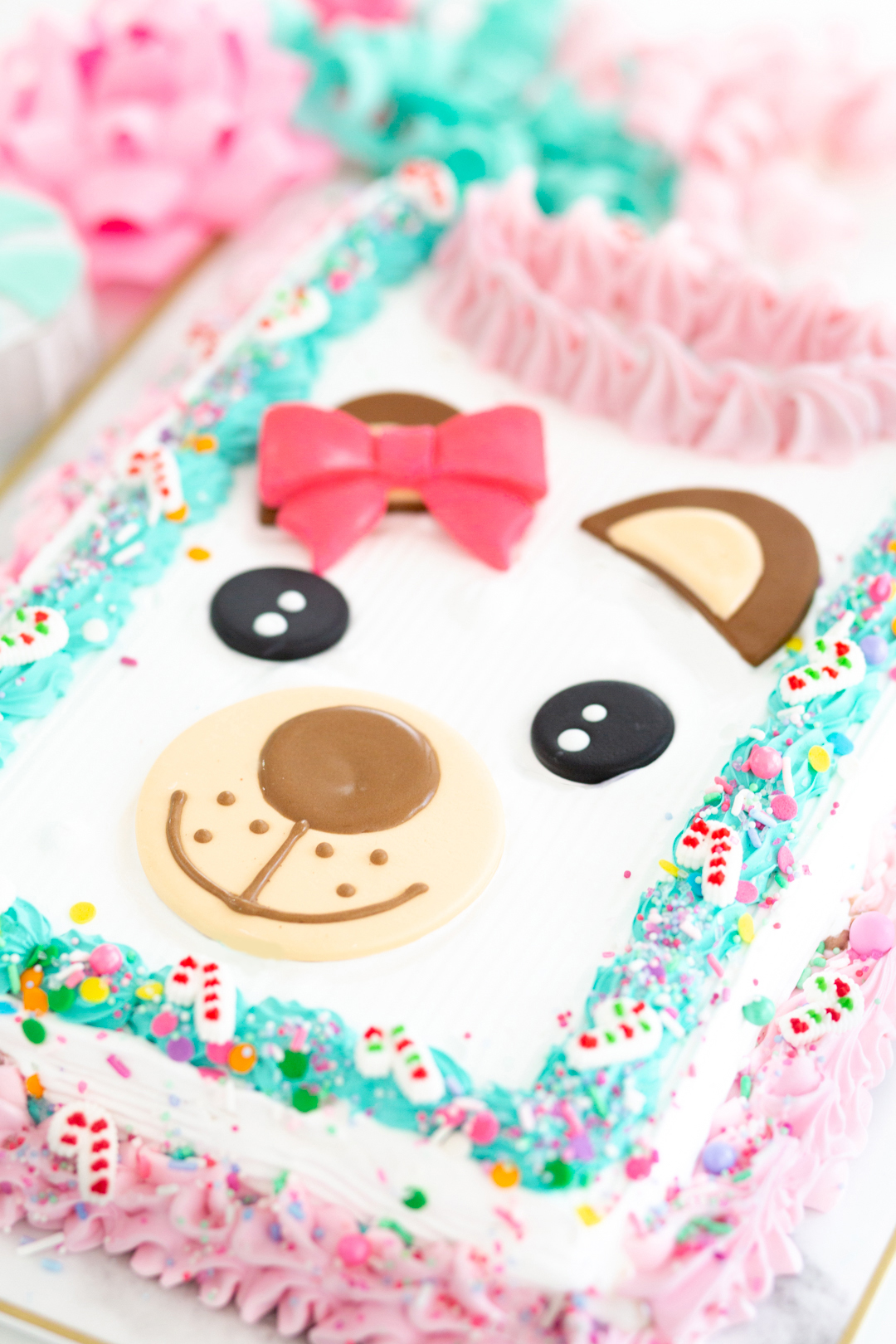 We all need a little magic to end the year right, so I thought it would be totally fitting to share a few ideas using delicious cakes from I Love Ice Cream Cakes, which I grabbed easily at the grocery store. Their fun ice cream cake options are the perfect way to celebrate any occasion, big or small. Whether you pick up one of their seasonal selections like the Snowman Cake or use a classic cake as a base to get a little creative like I did, it will be a hit. See how easy it is to transform their yummy OREO® Ice Cream Cake into a Reindeer Cake or one of their larger sized Carvel® Cakes into a super cute Ugly Sweater Cake (did I just contradict myself?!)! As I always say... the sky is the limit with a little imagination.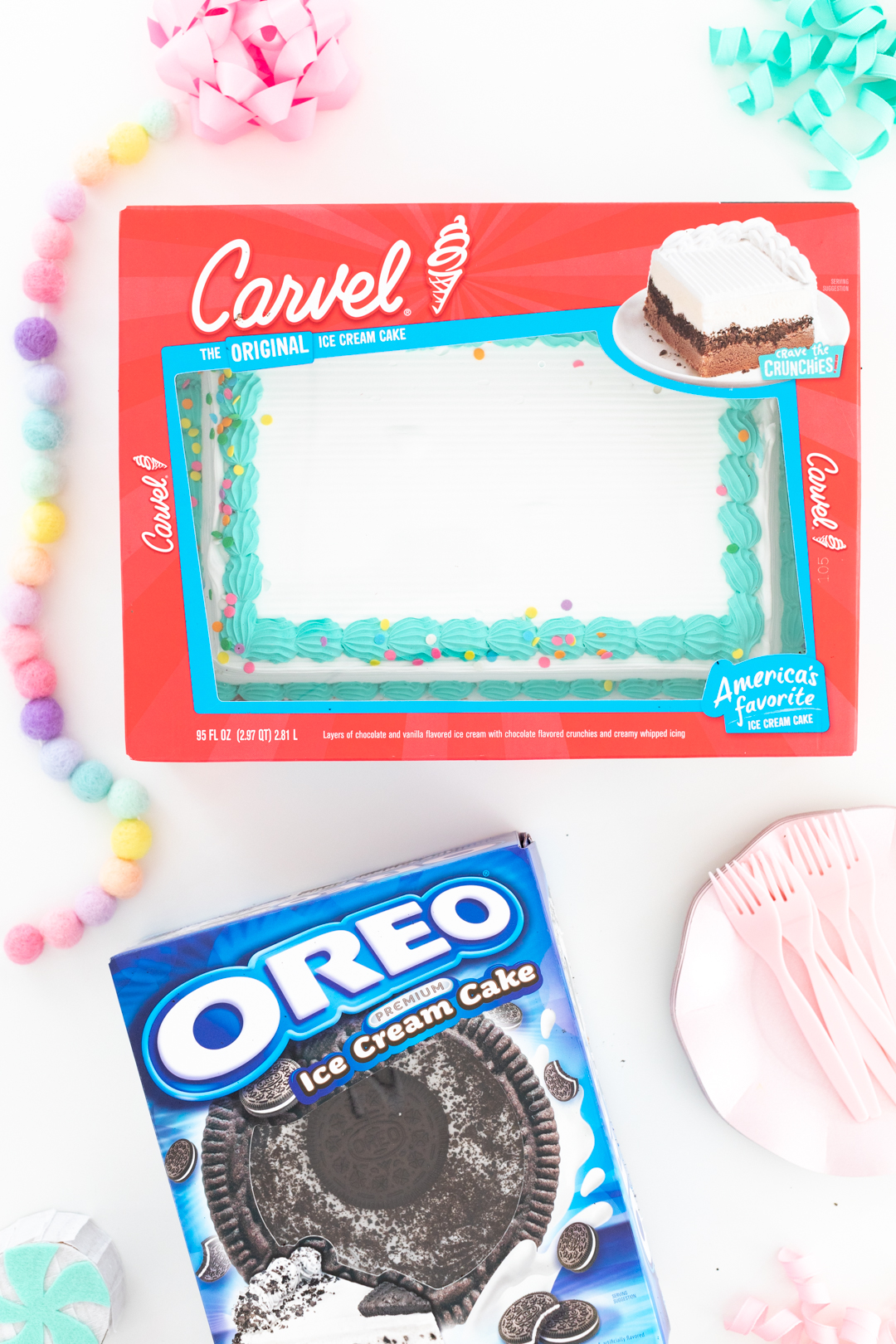 Are you ready for a season to remember? Fill it with a magical touch of whimsy to make all the difference. It really is amazing how just a little effort can have such a lasting impact. With these simple ice cream cake hacks, this holiday just might be remembered for years to come.
UGLY SWEATER ICE CREAM CAKE
With just a few small festive add-ons of frosting, sprinkles and candies, it will surely be a ho ho holiday to remember. I cannot wait to serve up these cakes for the holidays. Remember to have your camera ready to capture the looks on your loved ones faces when you present them.
You know me, I love to add a pop of color into my holiday goodies. The touch of pink frosting paired perfectly with the beautiful icing on the Carvel Ice Cream Cake, which is packed with delicious chocolate crunchies and vanilla and chocolate ice cream. I am kind of obsessed with how it turned out. Here is what I used to make this:
If you haven't tried the I Love Ice Cream Cakes options yet, look for them at your local grocery store in the freezer or bakery section! With cake selections including Carvel, OREO, REESE'S and more, you can make any day a celebration – holidays, anniversaries, birthdays or "just because!" They are the perfect way to make life's little and big moments even sweeter. See where you can find your favorites now with their product locator. I purchased my cakes at my local Publix in the bakery's freezer section.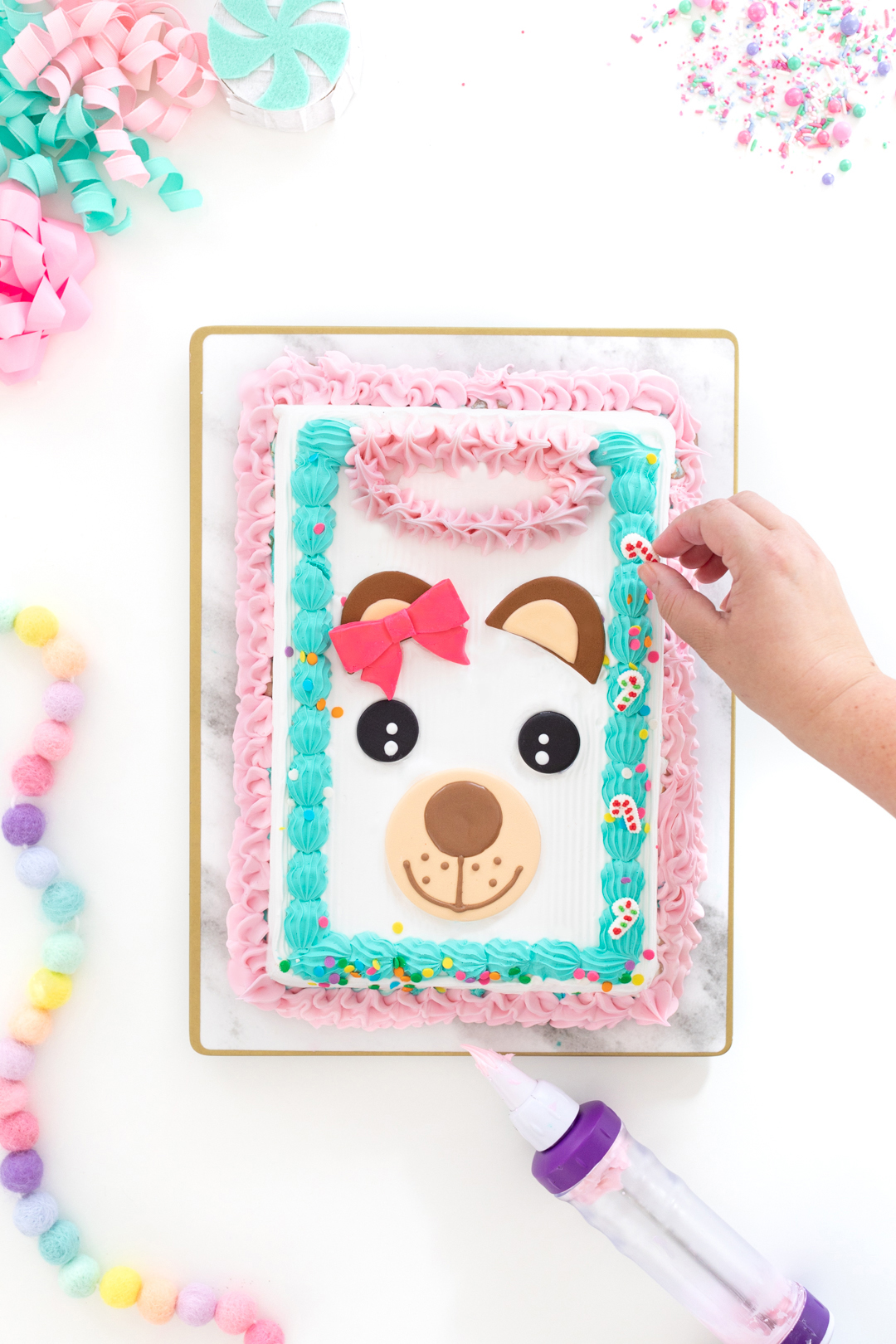 Now, let me show you how easily I made this Ugly Sweater Winter Bear Cake. First thing that I like to do is remove the cake from the box and transfer it to my final serving platter (making sure that it can fit back in the freezer of course). For this sheet style cake, I used a flat rectangular serving tray to work on. Once I set the cake onto the new tray, I place it back into my freezer. You will want to make sure that you do that in between each step to ensure the cake doesn't melt.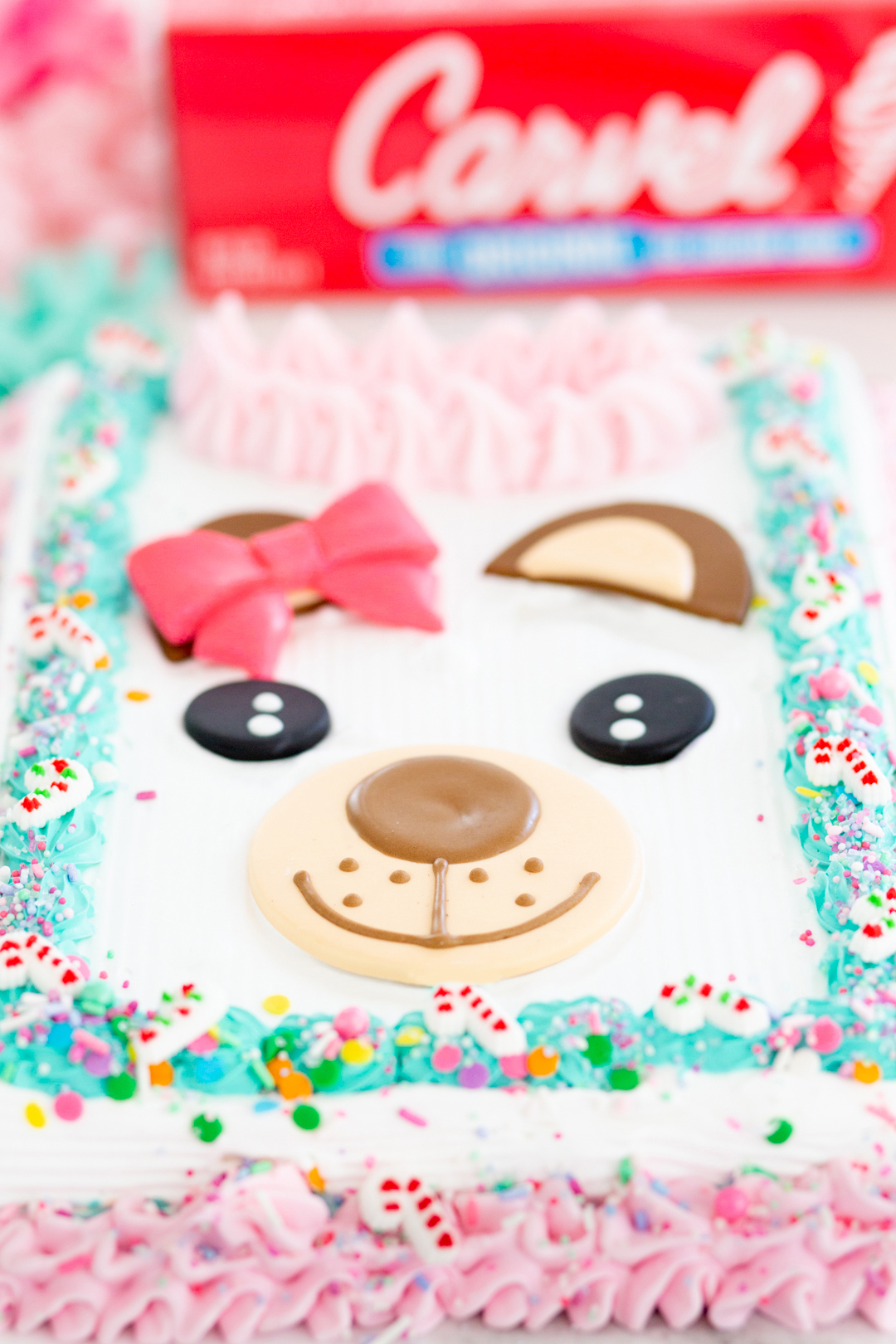 The first thing that I did is add the pink frosting to make a sweater "collar" at the top of the cake. I decided to carefully remove the strip of existing icing first before laying it down.
Then I removed a little of the bottom layer of frosting as well and added a big fluffy layer to wrap around the entire base of the cake in its place. I absolutely love the contrast between the frosting color on the cake and the light pink that I added.
Next up, it's sprinkle time! Add your choice of pastel sprinkles galore over the frosting areas.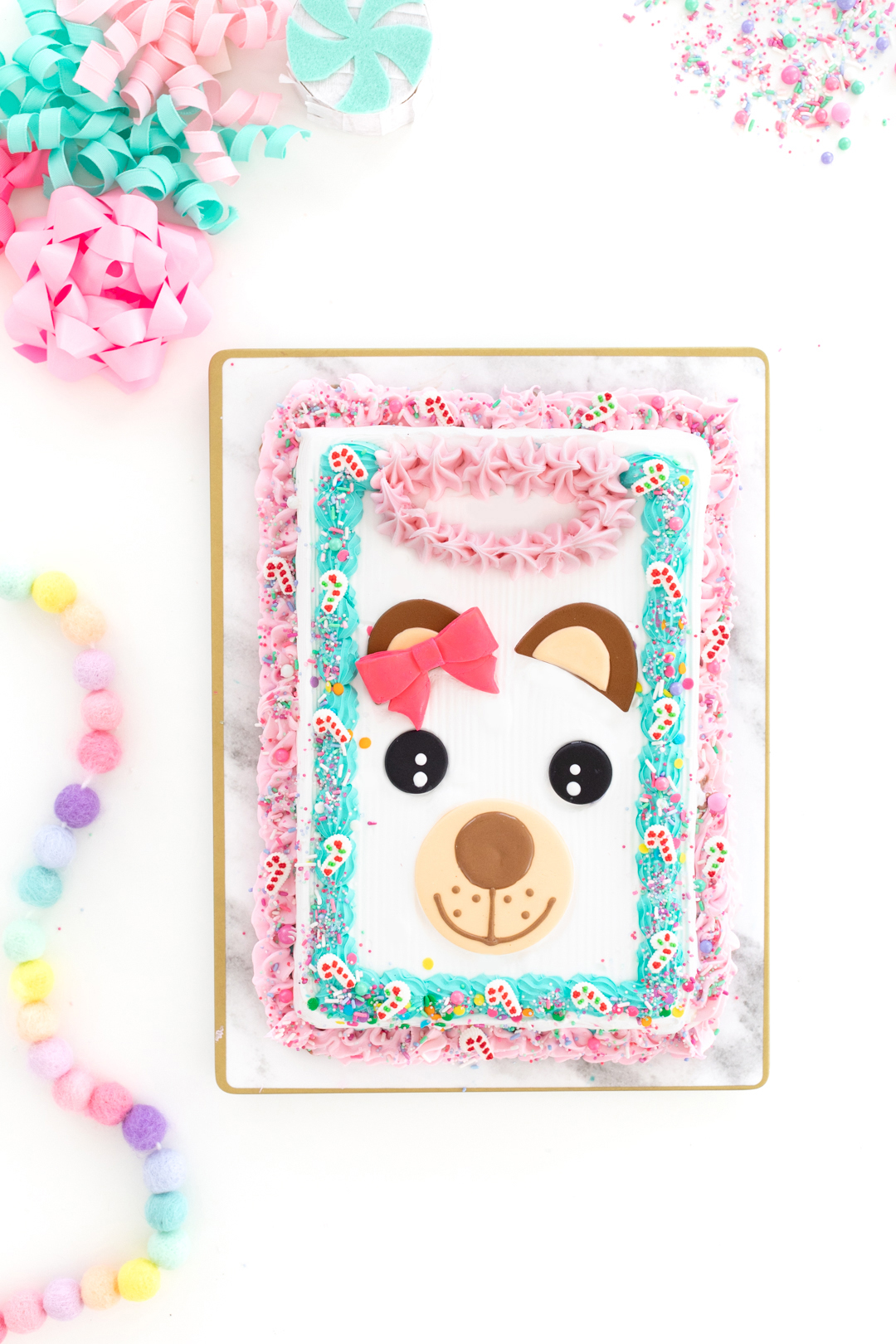 For the next step, I placed down my bear ears, eyes and nose. Then, added the fondant bow over the left ear.
To make it extra festive, I added mini candy cane icing decorations around the top portion of frosting.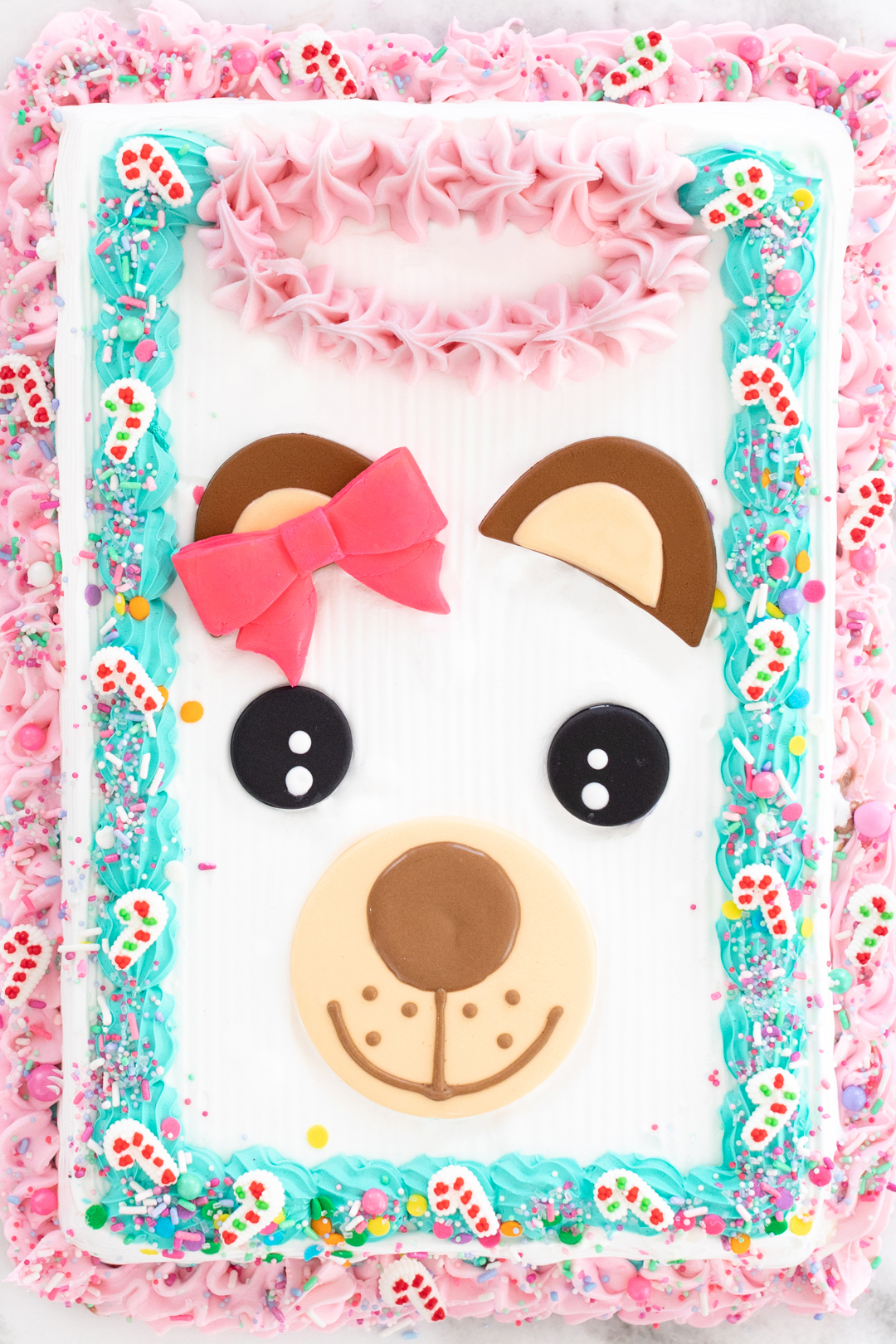 Voila. That is all! Oh so simple and so very cute!!!
Just return to your freezer until it's ready to serve.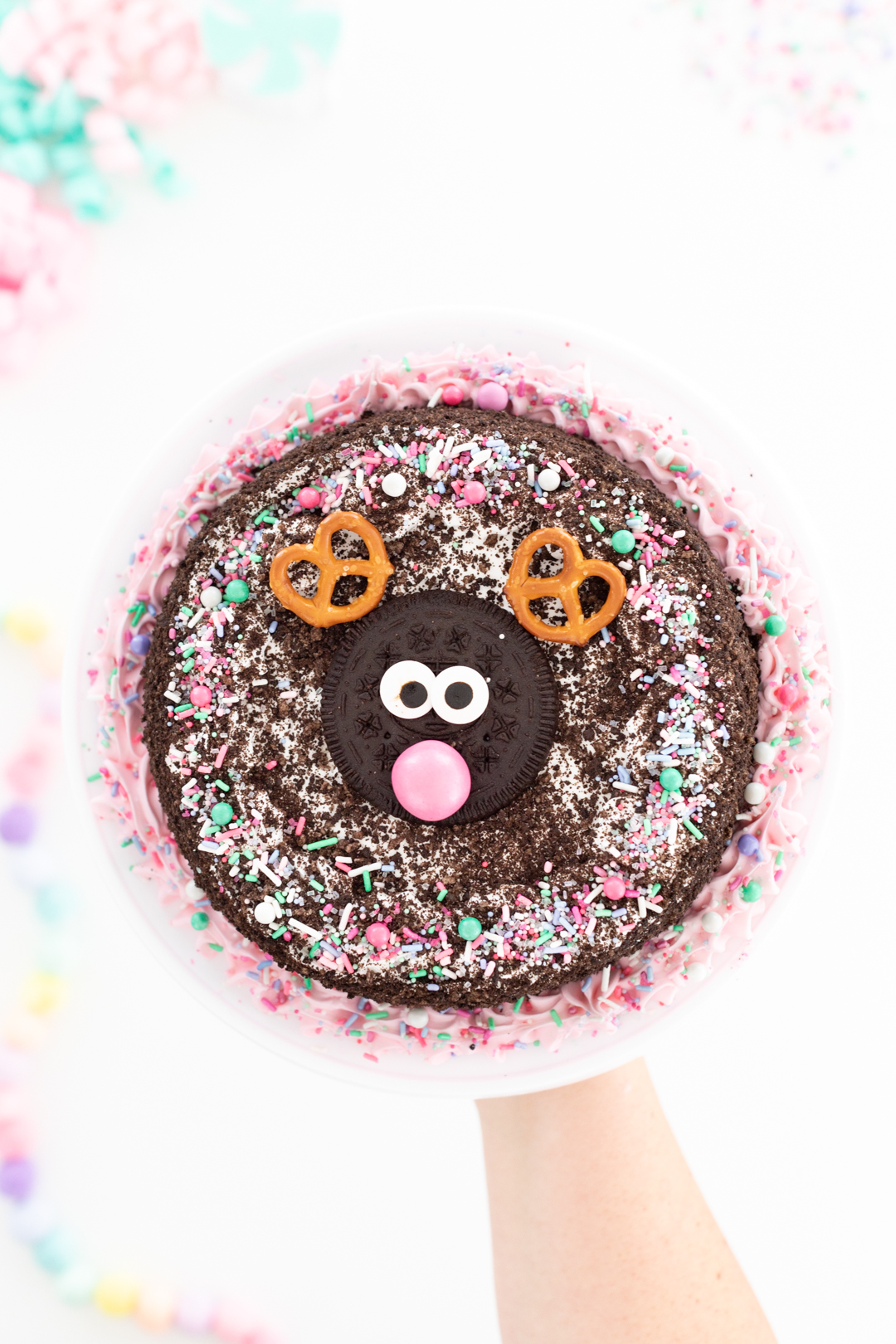 REINDEER ICE CREAM CAKE
Want a side-kick to your ugly sweater cake or a smaller main attraction? I totally have your back with this adorably simple Reindeer Cake!
Here is what I used to make this:
2 Small Pretzels
2 Large Candy Eyes
1 Pink Gum Ball
Pink Tinted Frosting
Pastel Sprinkles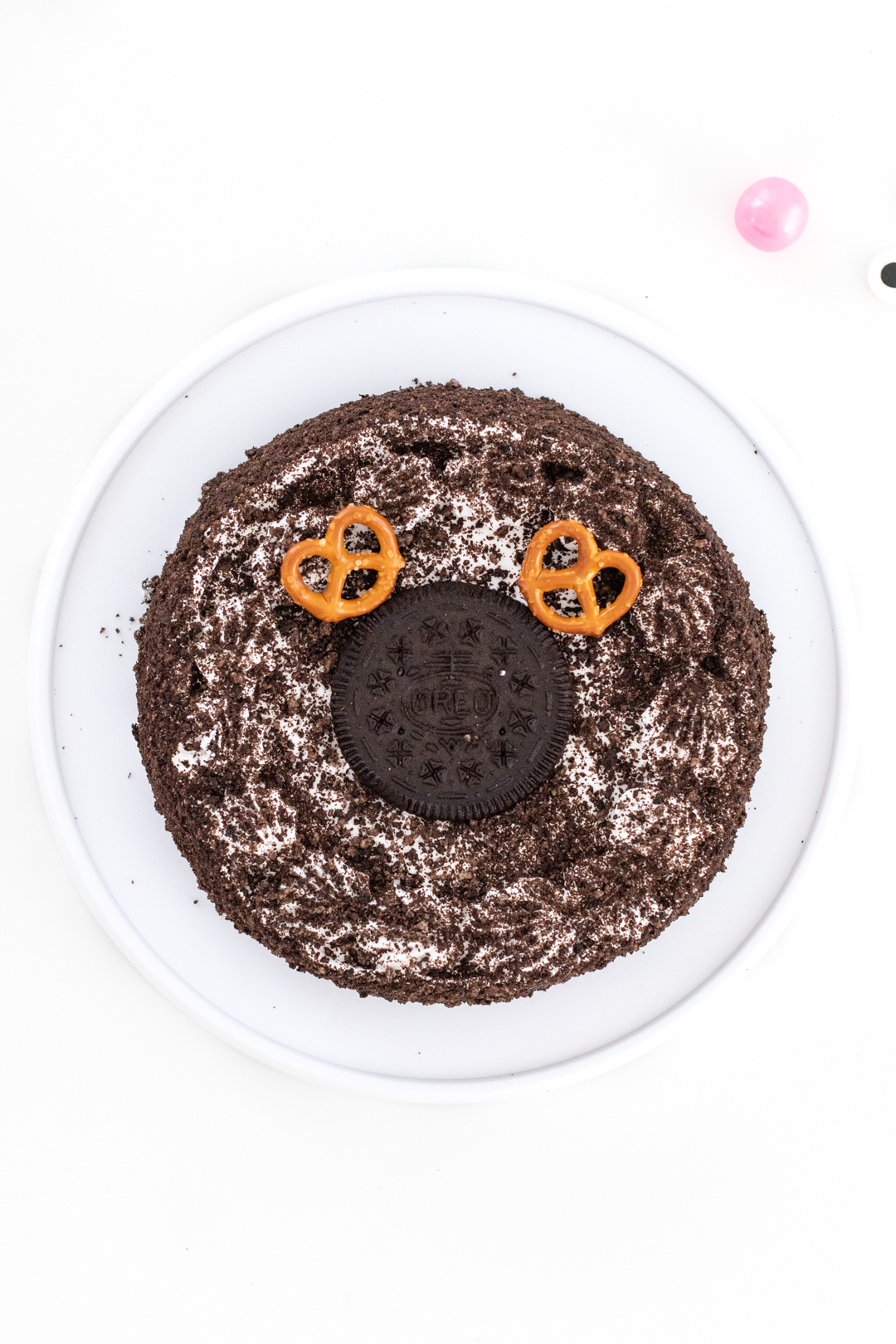 This transformation could not be any simpler, I promise.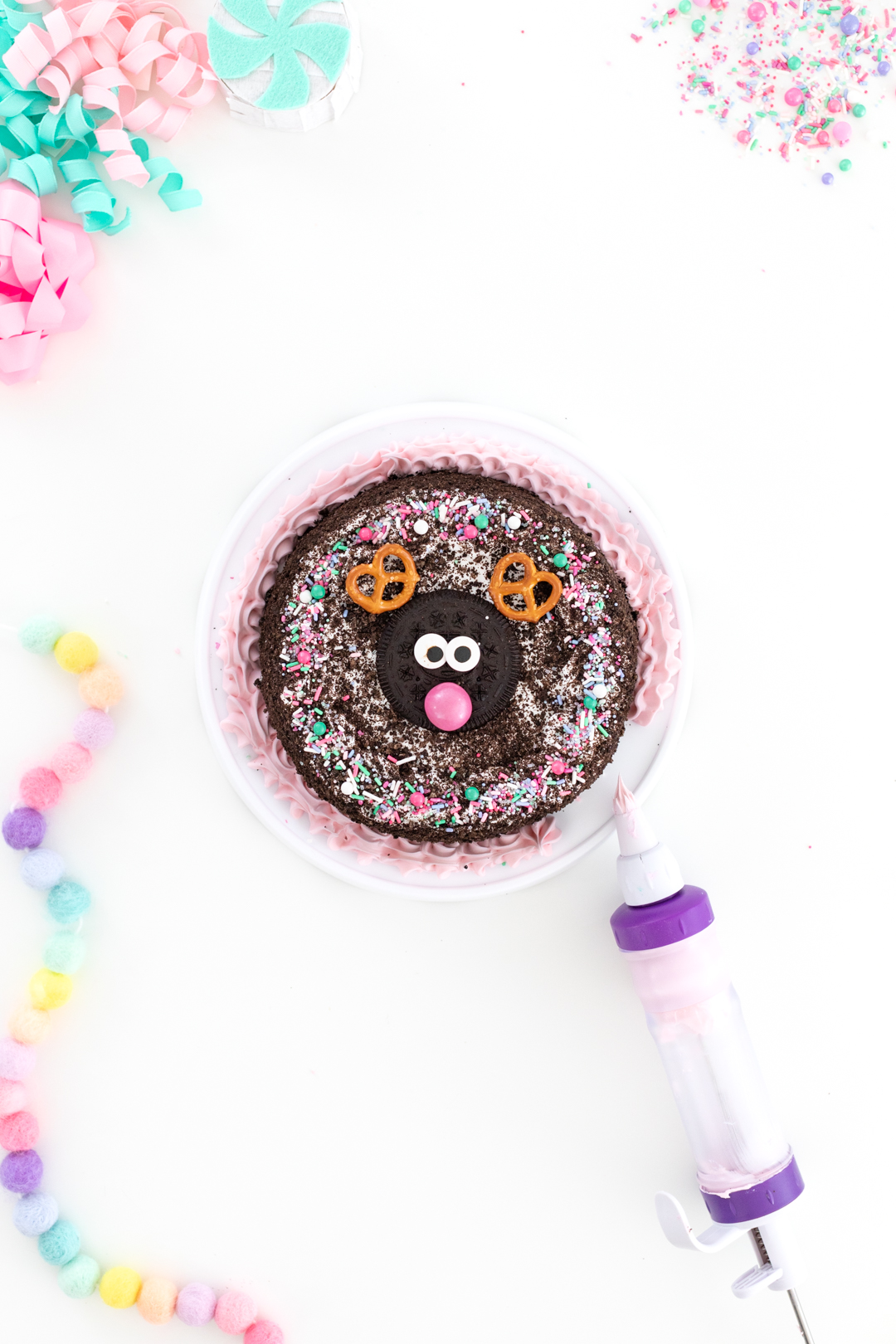 To turn the large OREO cookie in the center of the cake into a reindeer, use pretzels for the ears, candy eyes and a big pink gum ball for the nose.
So very cute, it might be hard to cut out that first slice!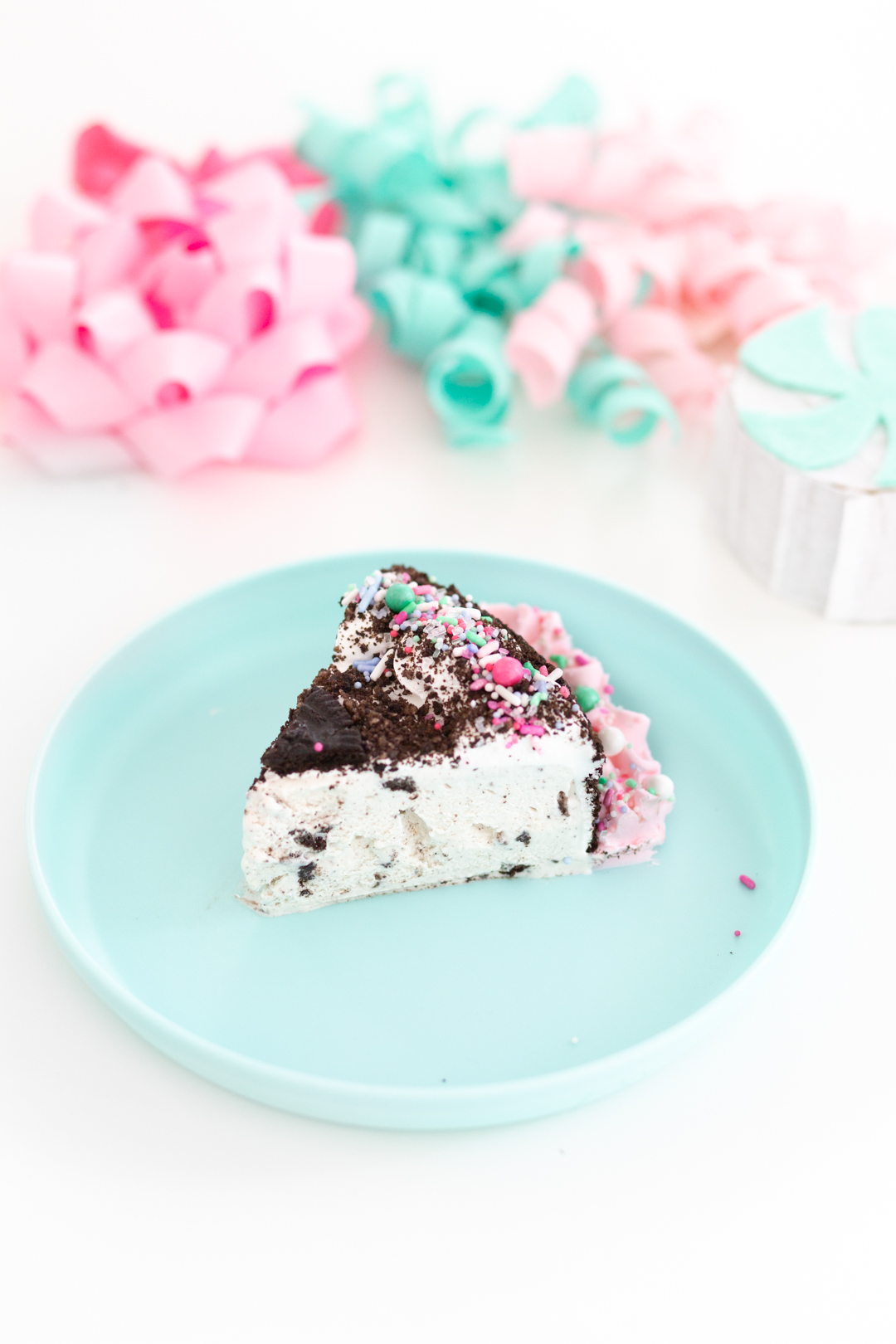 Then to make the entire cake pop, it's time to add a layer of extra frosting around the base of the cake and sprinkles, of course.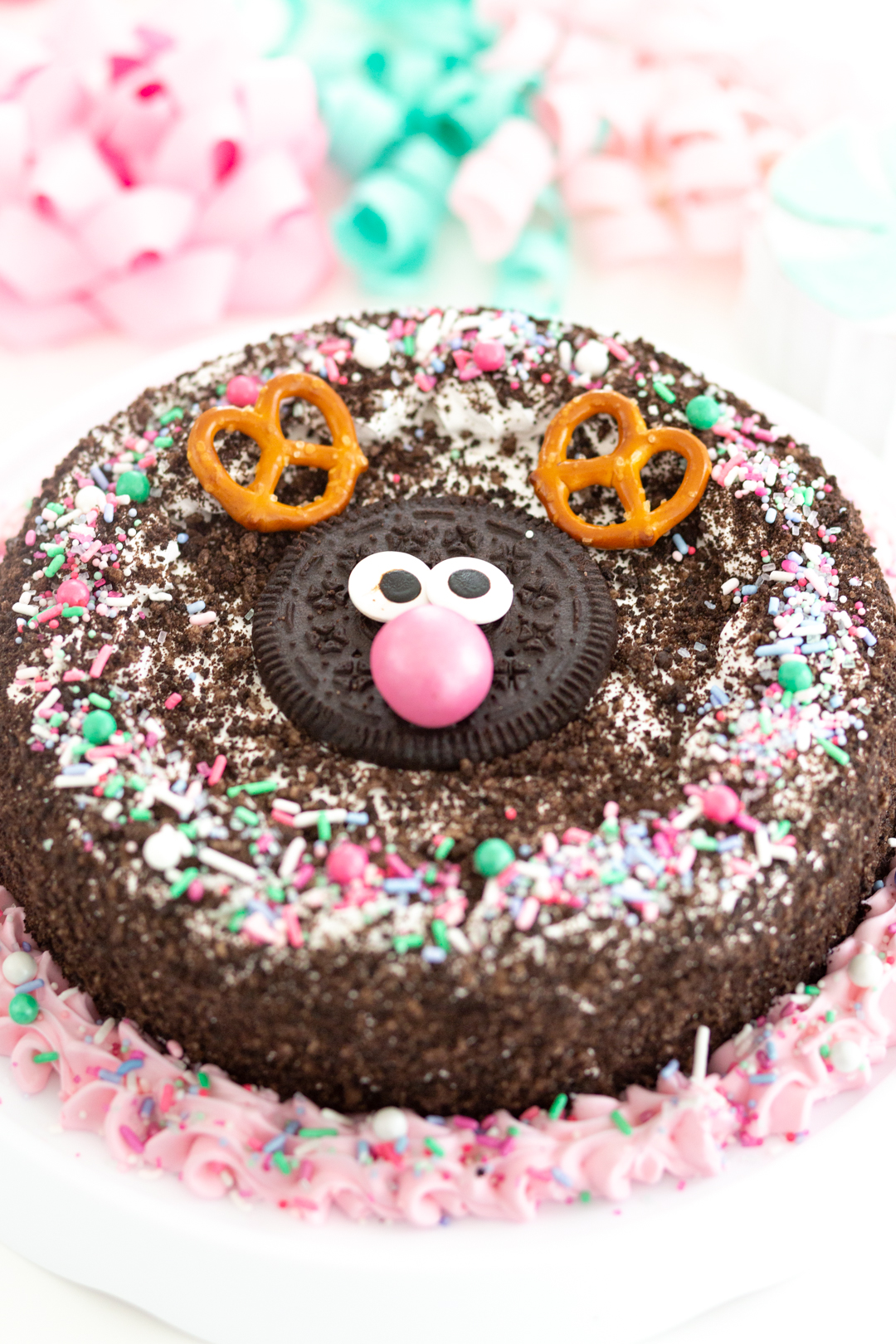 Have fun with it because your cake is finished. Whoo hoo!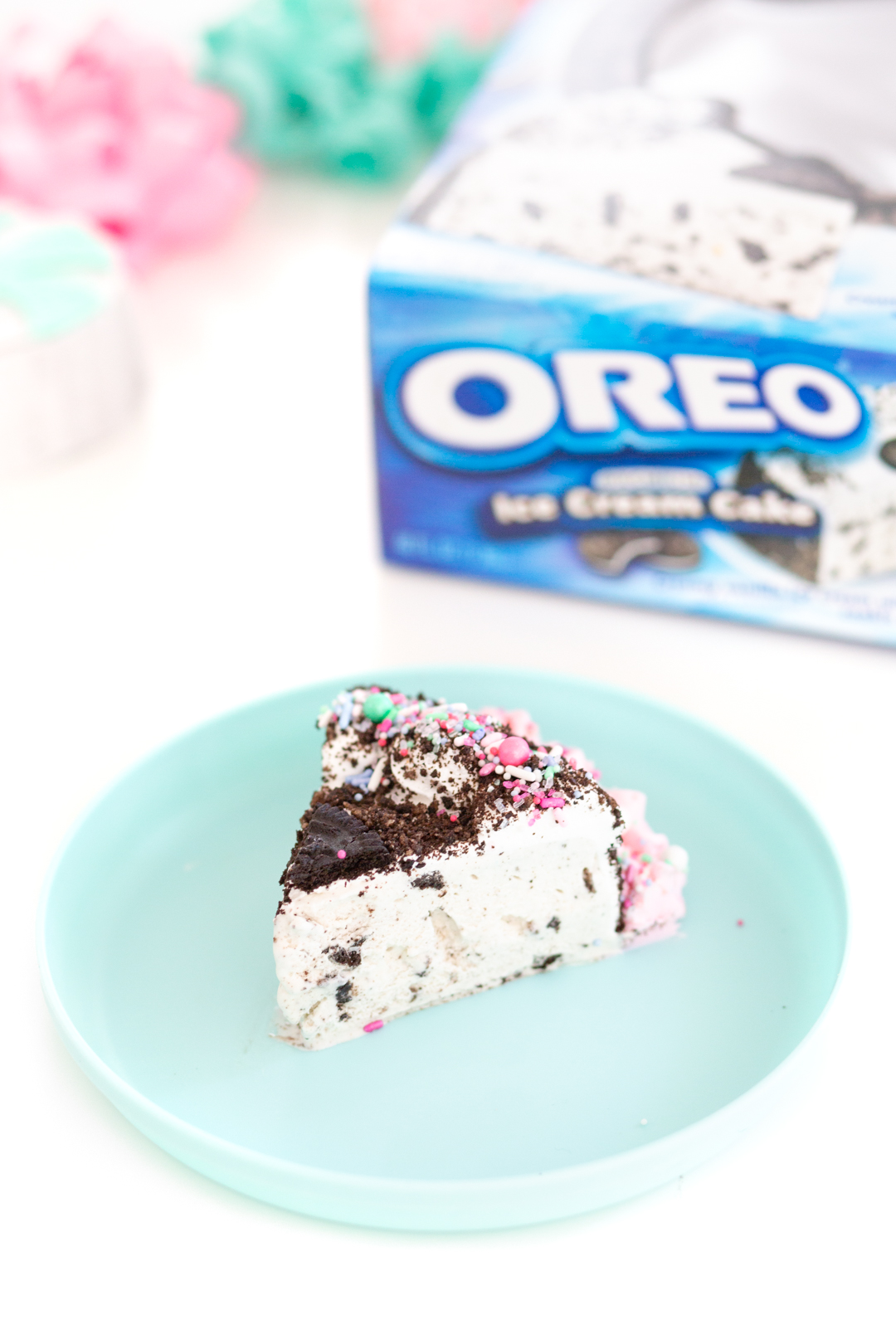 Want more sweet ideas for the holidays? I've teamed up with Amy from Savvy Saving Couple to bring you even MORE easy ideas you will love this season! I'm SO excited about sharing all of this goodness created for you!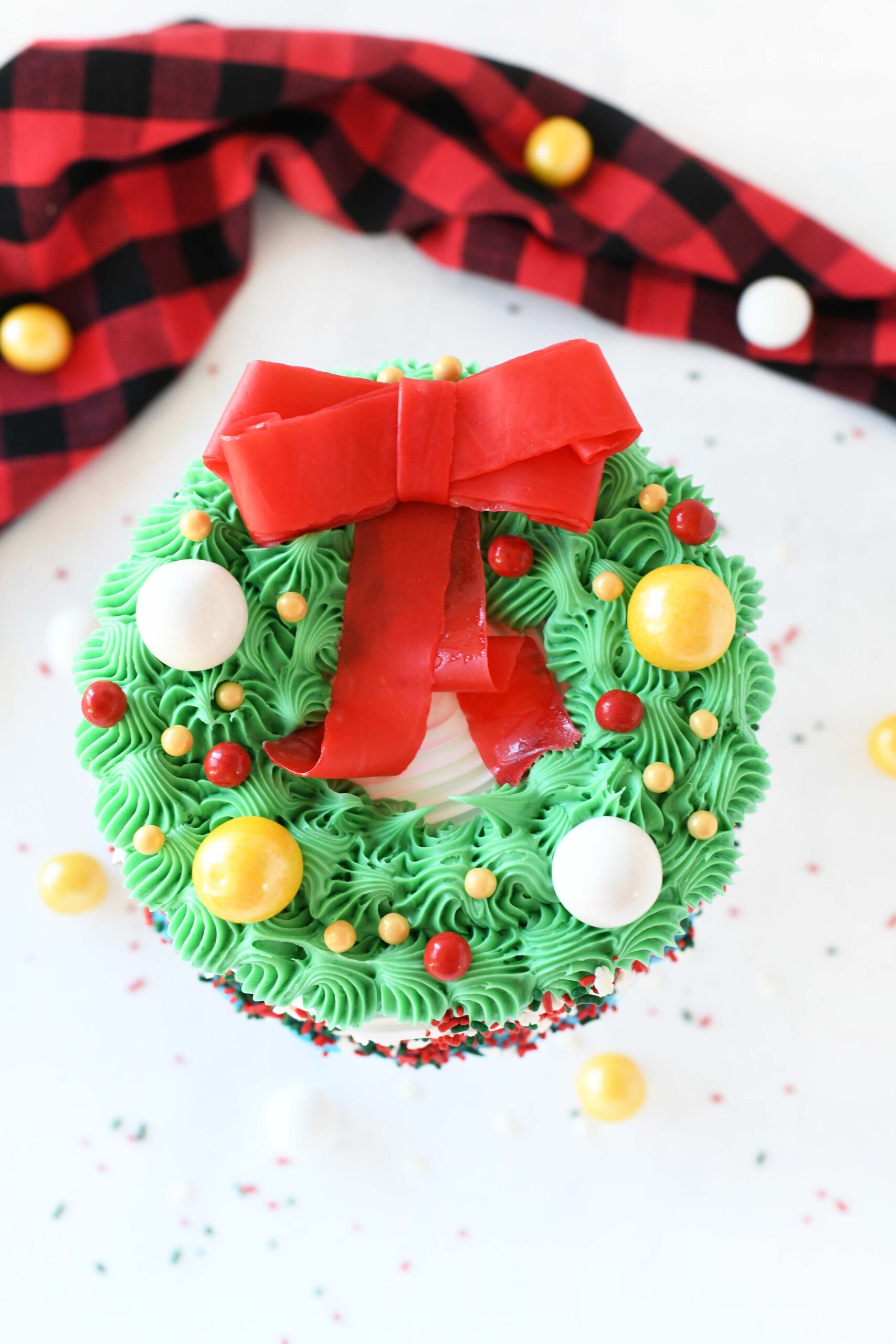 As a part of this fun collab, be sure to check out her wonderful DIY ice cream cake creations for more delicious fun with I Love Ice Cream Cakes.
To stay in the loop and score coupons and other fun goodies including a $5 coupon, join the The Inside Slice Club here.
And for more perfectly sweet ideas follow I Love Ice Cream Cakes on Facebook and Instagram, too!