It's officially holiday o'clock on Cutefetti and I'm SO excited! You may know me as the girl with the pink everything for Christmas. Well, I still love a good pink theme, but I'm diving into new territory. It's time for a very merry teal Christmas tree for 2020. I am obsessed with this color and it looks stunning with fun pastels added to it! This post may contain affiliate links.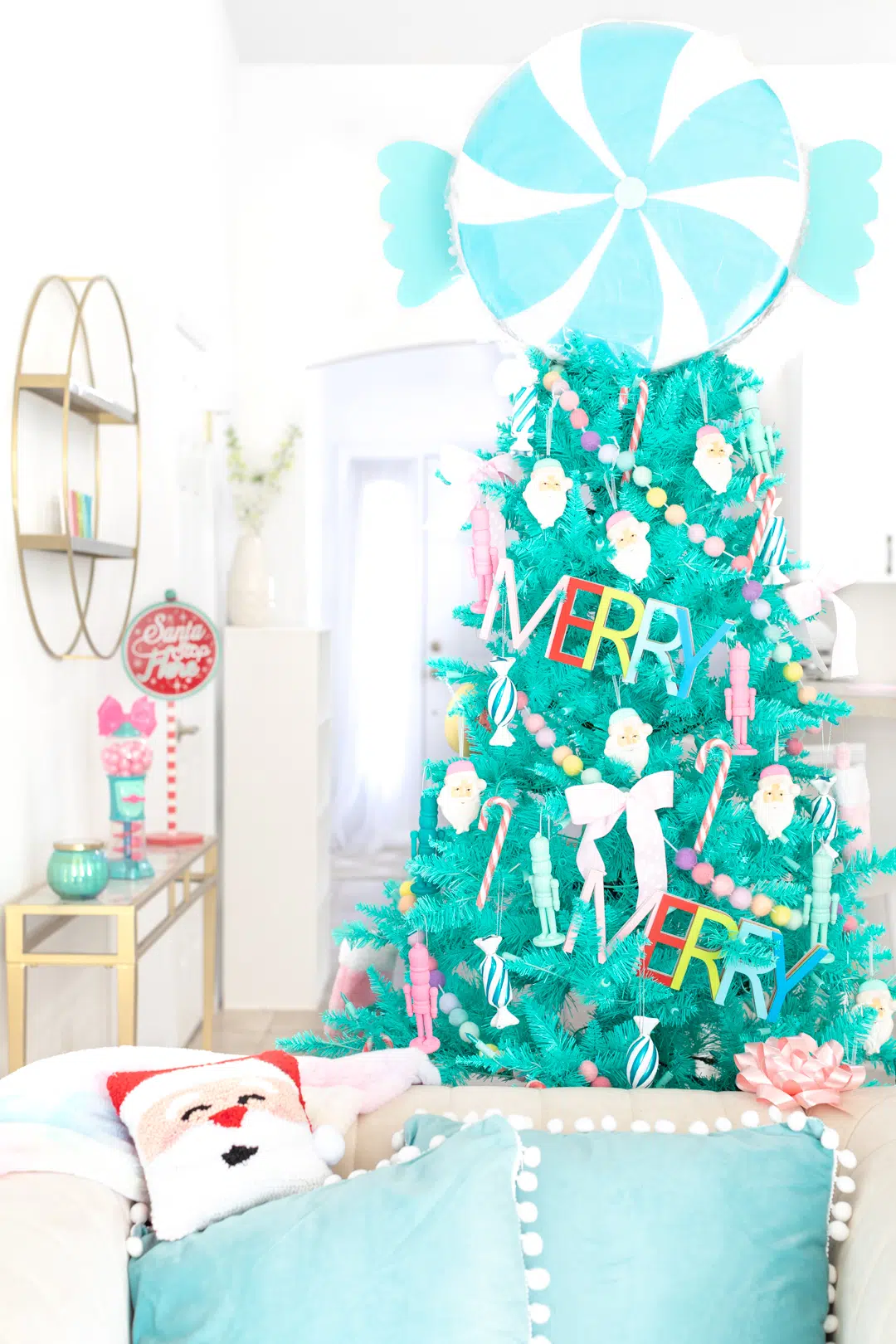 You may have seen my cute ghost-themed Halloween tree and had a little spoiler. This tree is actually much smaller than I originally wanted. But, I fell in love with it quickly. Plus, my budget called to inform me that I'm stuck with this smaller size for now. Almost a true story.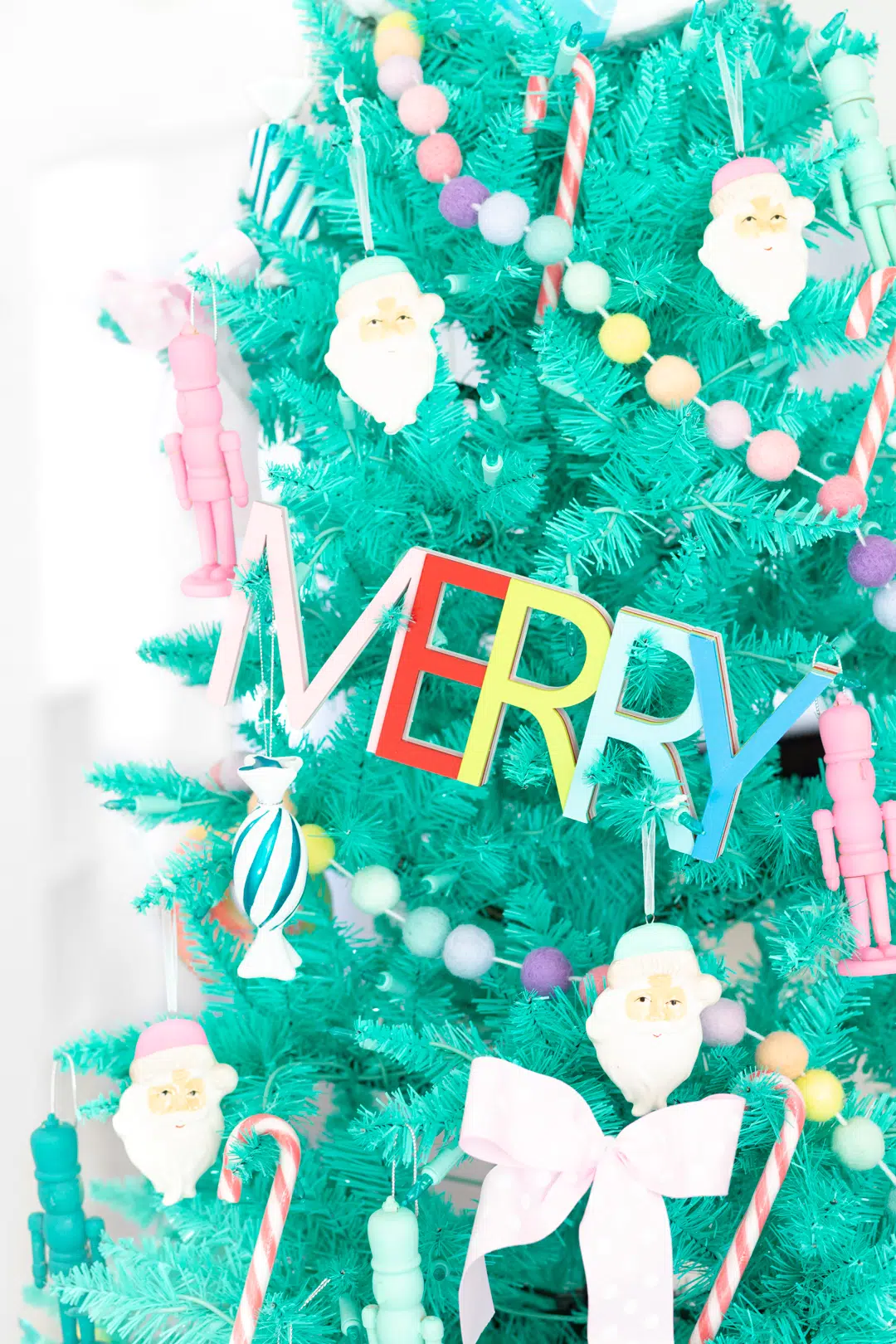 TEAL CHRISTMAS TREE DECOR IDEAS
If you are looking for ideas on how to decorate a teal tree for Christmas, you have come to the right place. These simple pastel ornaments are as whimsical as they are simple. Since it's harder to get pastels for Christmas, I tweaked a couple of ornaments with some paint to make it really work. I'm so happy with how it came out. It's like a dash of pastel candy-land and it makes me so happy. Let me share what I added to this super cute tree to give you inspiration to decorate your own.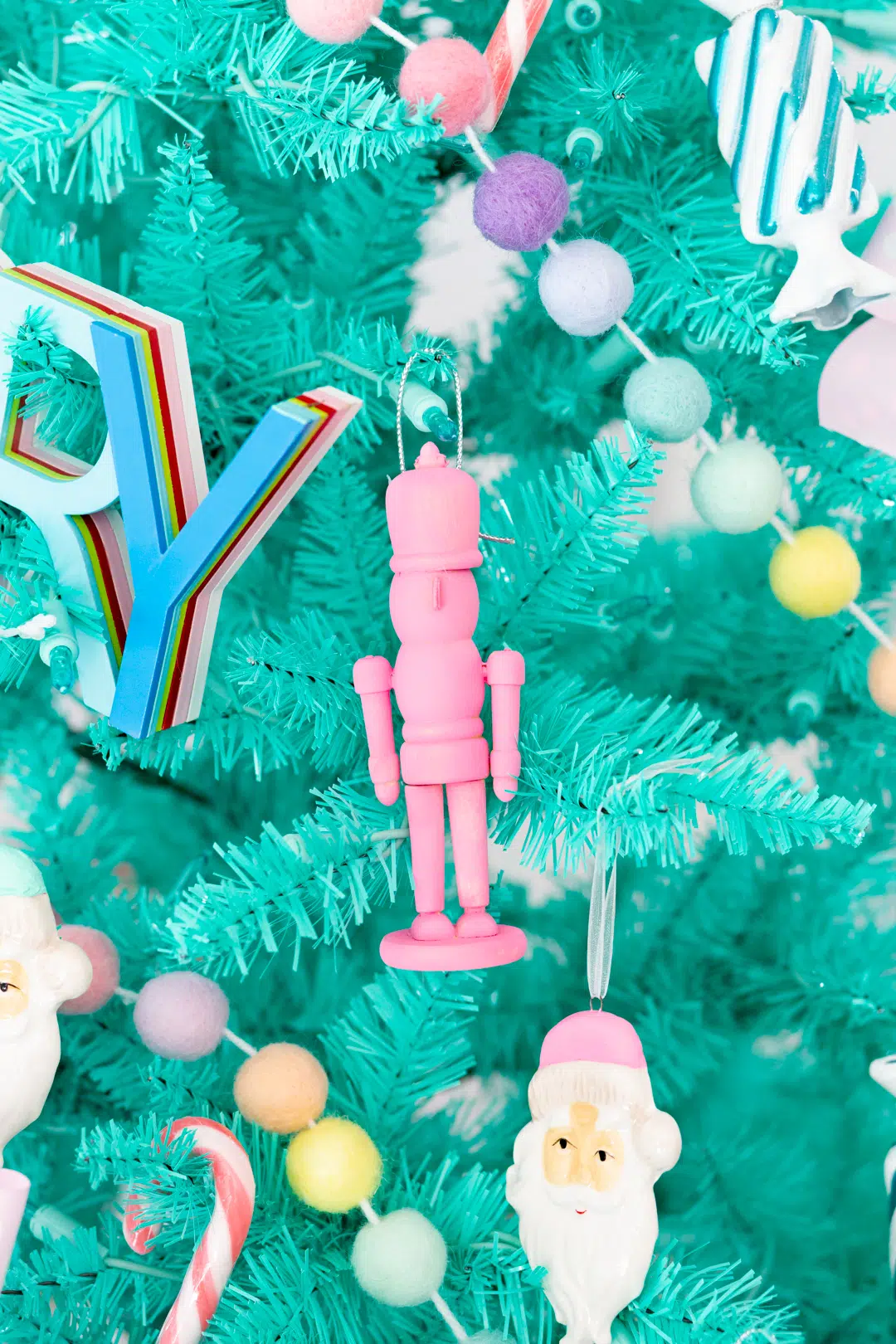 Teal Christmas Tree - These are not that easy to come by as there are only a handful available for online shopping. If you can grab one, I highly recommend it. It's so very beautiful when the sun hits it and its so much more versatile than I would have imagined. Here is the smaller tree that I purchased, here.
Candy Ornaments - I love the idea of adding candy ornaments and the pretty teal and white striped version that I also used in my Halloween tree could not be a better match. Find them here. I may even get the pink version of these to add to it.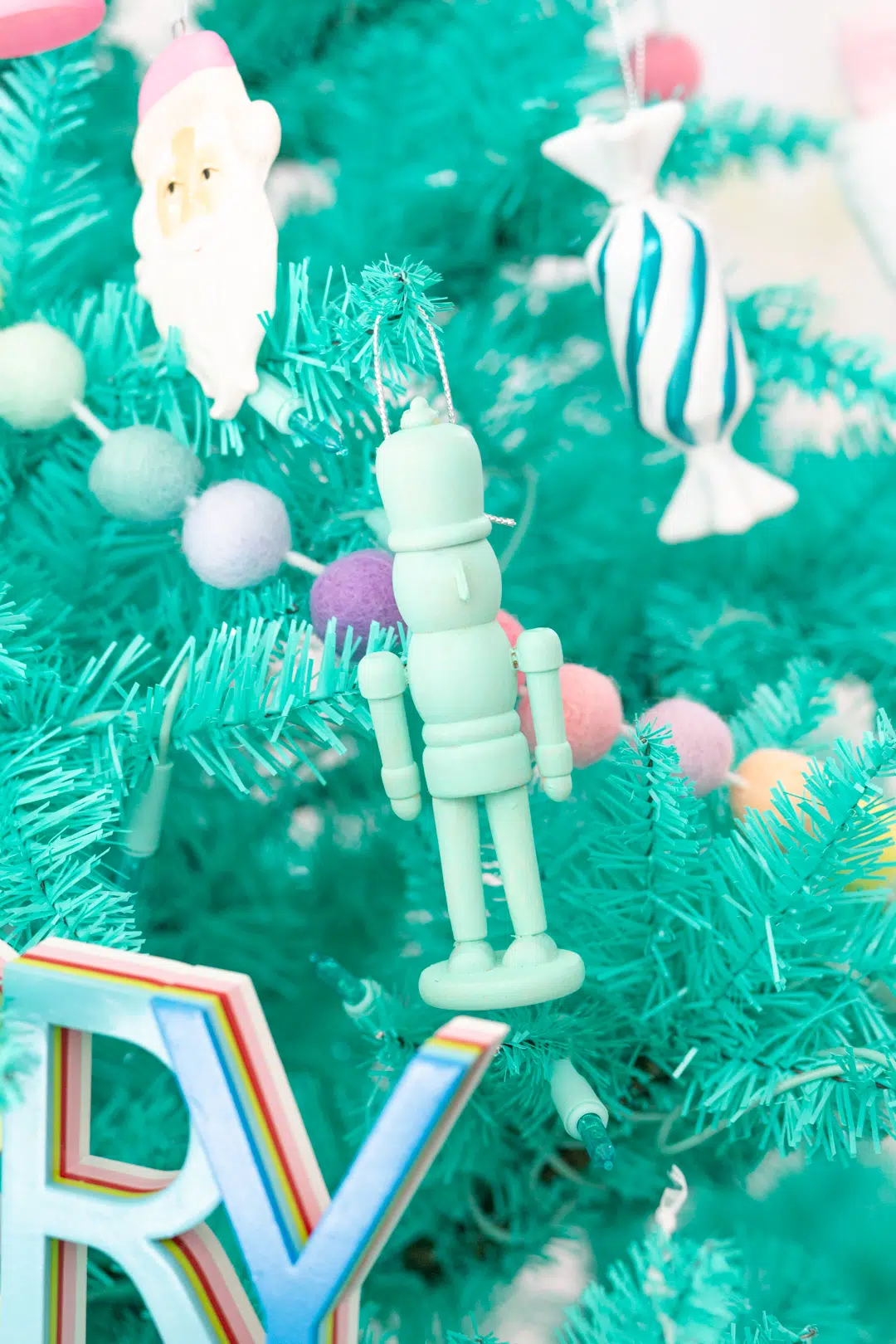 Pastel Nutcrackers - These are just the cutest, I love that you can buy a set of them unfinished here and then transform them into pretty much any matching colors. I did a hot pink, light teal and dark teal for mine. I may add a light pink later, too.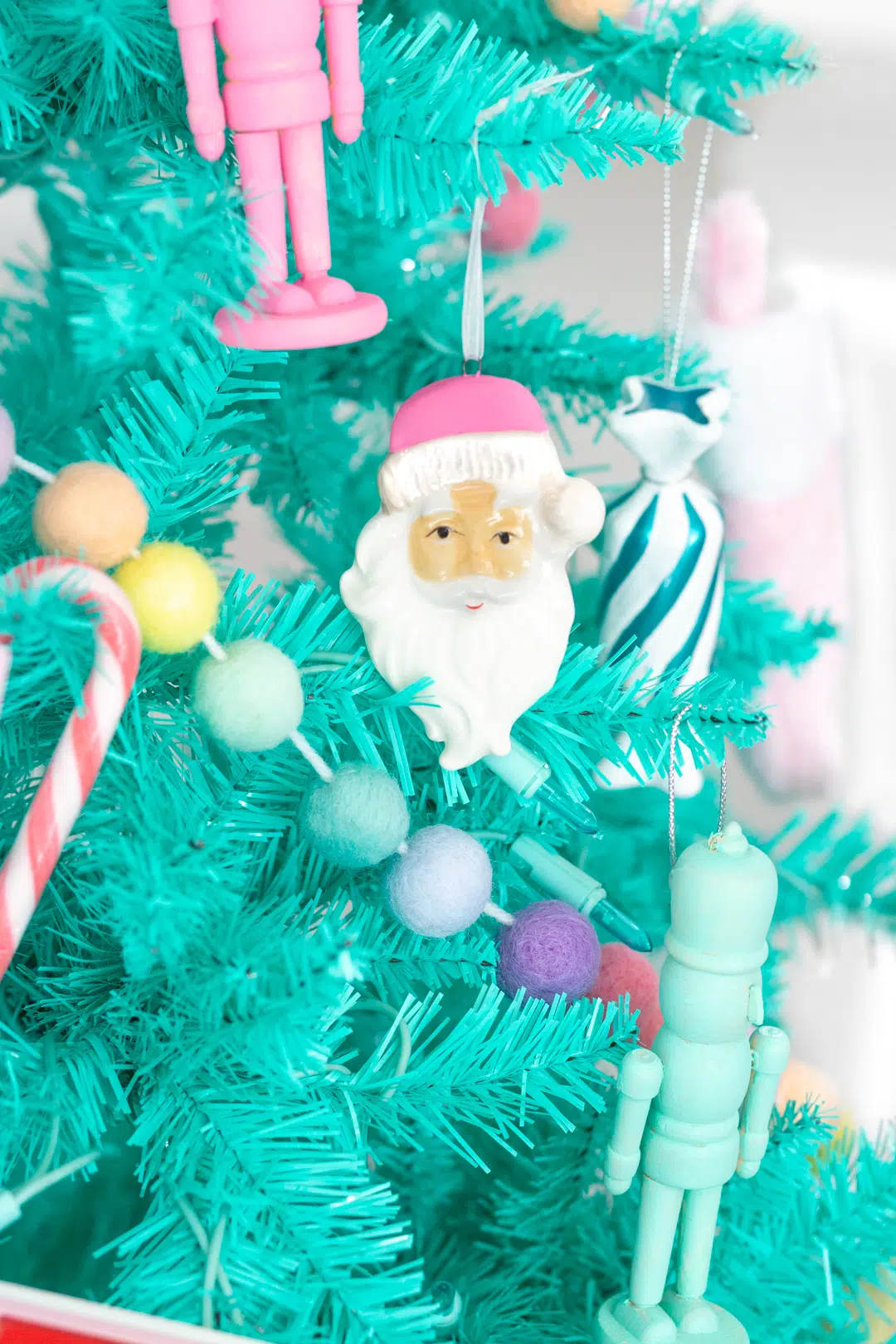 Pastel Santa Ornaments - Pink Santa Ornaments and Teal Santa Ornaments. I ordered these basic Santa ornaments here and used acrylic paint to alter them to get what I wanted. I am beyond obsessed with how cute these are. Saved a ton of money doing this. I found a couple pink Santa ornaments but there were very pricy. This is a perfect solution.
Pastel Candy Canes - This is the perfect addition for that magical winter wonderland meets sugar plum fairy goodness. Pastel candy canes are pretty hard to find so I cheated and bought wicked gross ham candy canes here because they were pink. Don't tell my family... I can't wait until someone tries one. Muah ha ha. The truth is, they won't be surprised because I buy gross offbeat flavors every year like pickles and gravy. 😛
Colorful Garland - When I spotted this garland and the price, I knew it was worth a try. Pretty garlands like this normally cost and arm and a leg, but this simple one I found here could not be more perfect to add that touch of color and whimsy I was looking for.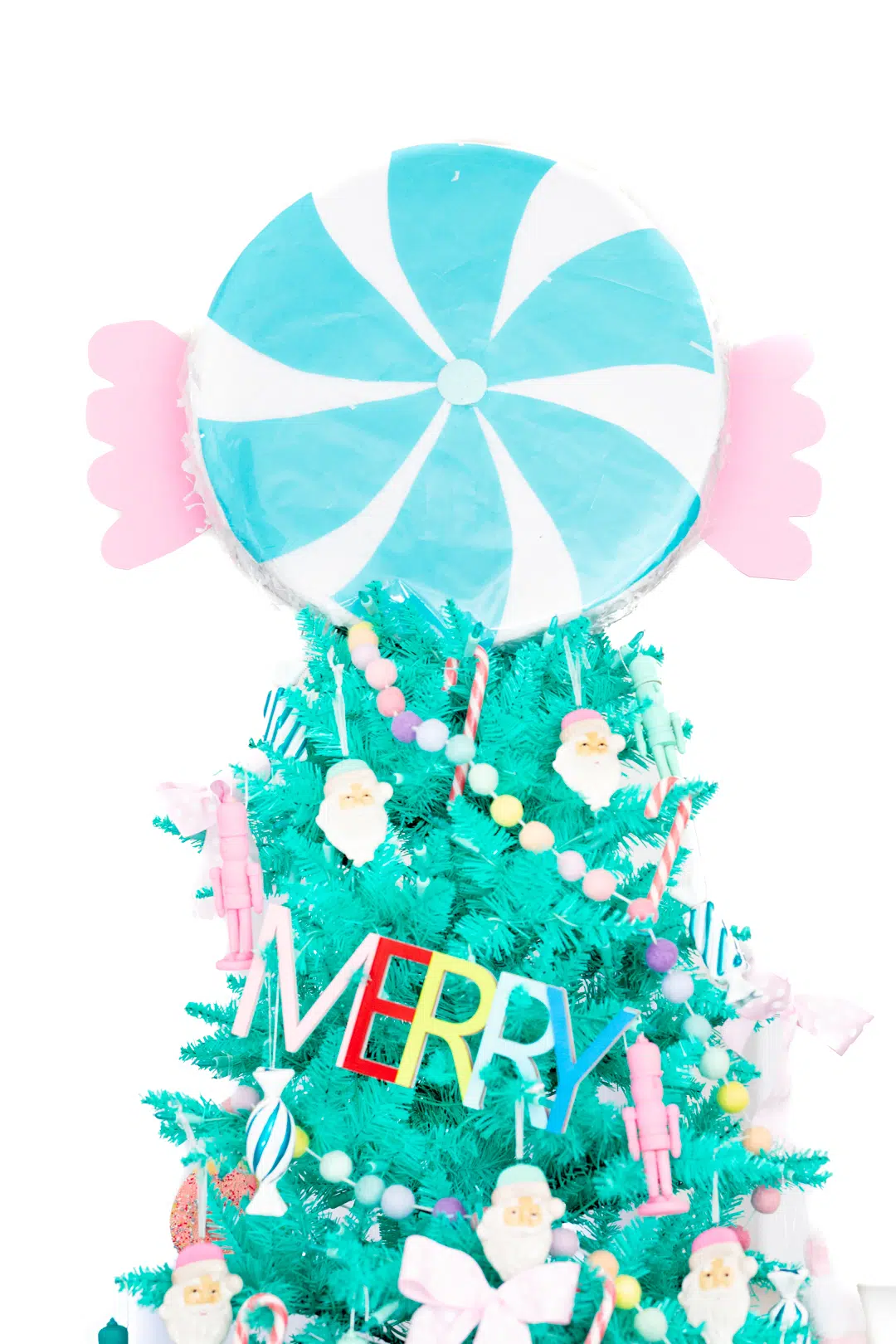 Candy Tree Topper - I knew that I wanted a candy topper for this tree, but there wasn't much available. I adored a lot of the peppermint piñatas and other peppermint decorations I found, but they were all red and white swirl. So, I got in touch with a seller on Etsy here that was offering one and they were able to customize it to make it teal. I am obsessed! I used pink foam sheets to add the wrapper.
I chose mine with the wrapper originally, but because the wrapping is clear, I knew it would not photograph well. So here we are with a pink wrapper. I am SO glad I did that. I would probably choose teal if I had more of an option, but I didn't have any teal foam sheets on hand.
Teal Christmas Tree Decor Ideas
Whimsical Teal Christmas Tree Decoration Ideas. Gorgeous Pastel Tree Ornaments. Pastel Nutcrackers. Teal Santa Ornaments and Pink Santa Ornaments.

Photo Credit: www.hobbylobby.com

Photo Credit: www.orientaltrading.com

Photo Credit: www.orientaltrading.com

Photo Credit: www.hobbylobby.com

Photo Credit: www.hobbylobby.com

Photo Credit: www.hobbylobby.com

Photo Credit: www.etsy.com

Want even more fun Christmas tree ideas? I'm inviting you to go check out Amy's Farmhouse-Inspired Christmas Tree ideas now! We've been collaborating each holiday to share a variety of tree decor ideas over the last year.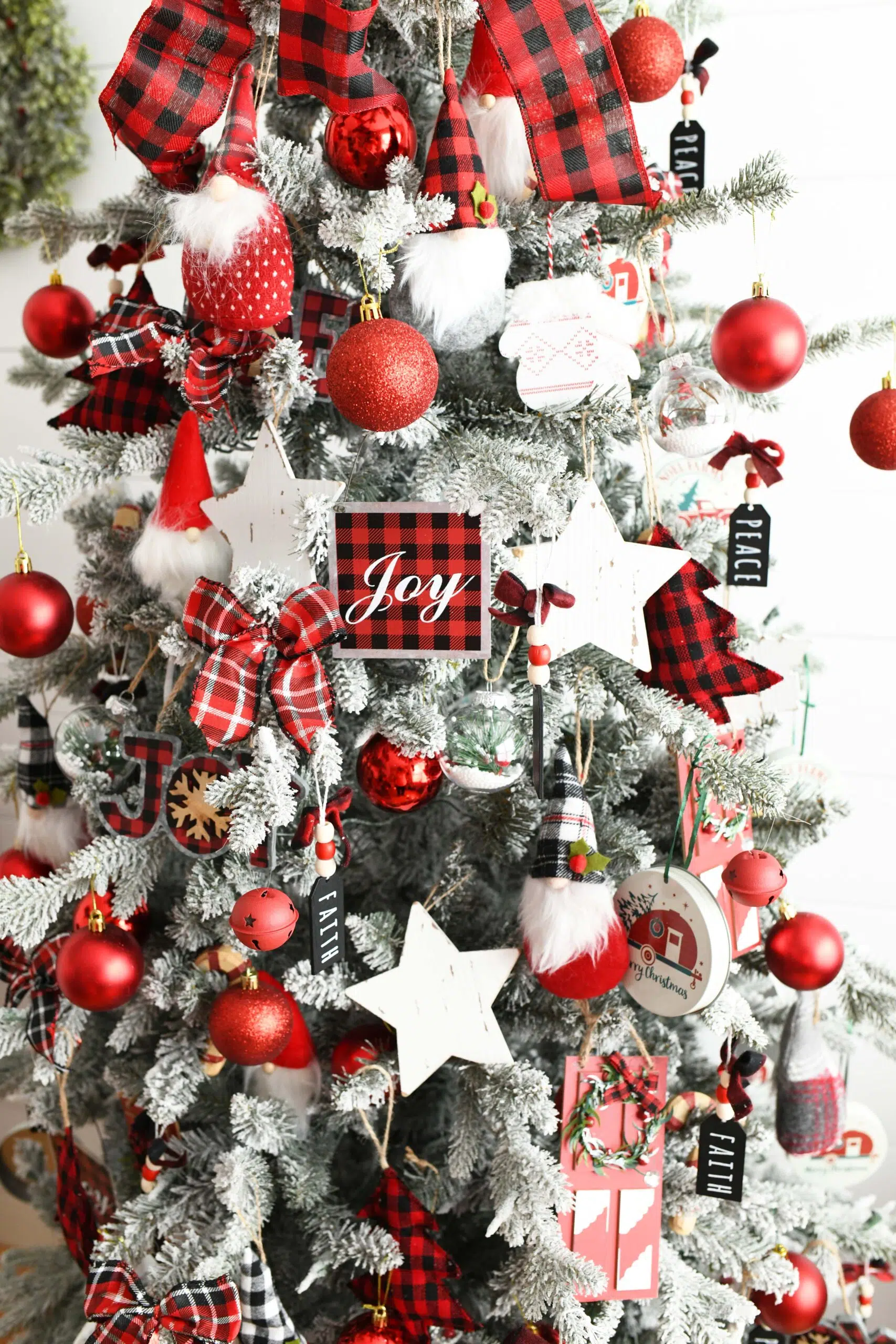 Our styles are so different from each other, so we love being able to share to appeal everyone's tastes. Hope you love it as much as we do!! 😉
TRENDY CHRISTMAS TREES
Looking for more fun trendy ideas to decorate for the holidays? Here are some more fun ideas.
See how to decorate a hot pink Christmas tree to add a pop of personal style to your home.
If you love pink as much as I do, you won't want to miss these 100 pink things for a whimsical Christmas.
See how to set up a fireplace or a small console with all the pink Christmas with this wall art goodness.