Pink! It's currently my favorite holiday color. You might even remember my pink tree from last year?! I wanted to change things up this year, but could not really decide on anything other than pink. When I spotted this 7' prelit hot pink Christmas tree from Treetopia, I instantly knew that I had to have it and make this year another fabulous pink Christmas and I can't wait to share how I decorated! Thank you, Treetopia for sponsoring today's Design Council 2019 post.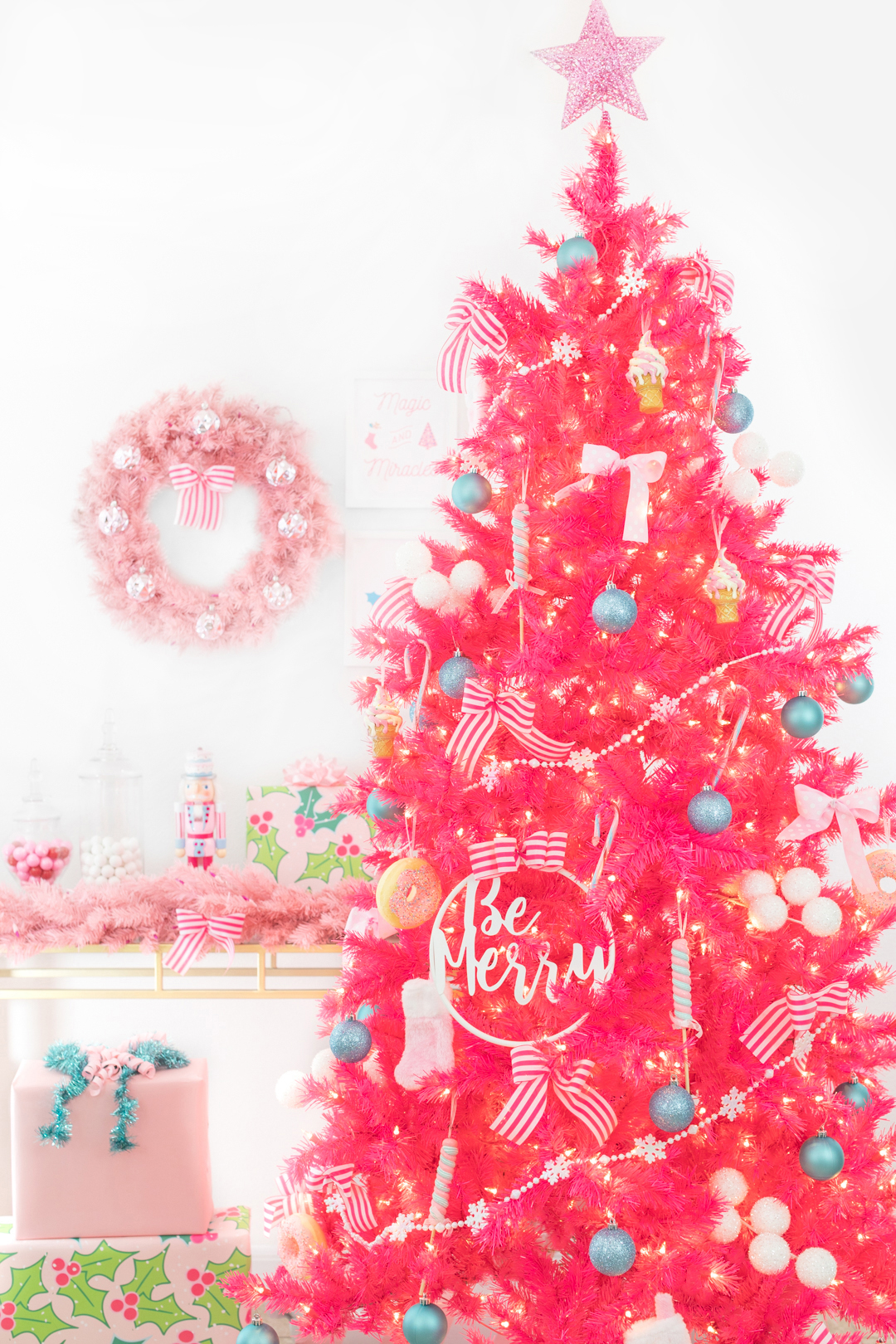 I'm super excited to announce that I'm a part of the 2019 Treetopia Design Council along with some other creative bloggers like my sister from another mister, Amy over at Savvy Saving Couple. Her farmhouse buffalo plaid flocked tree is just what you need for a fun twist on classic decor. More on that in a minute, but right now... I'm super crazy stoked to share how I decorated with this 7' Prelit Some Like it Hot Artificial Christmas Tree with Clear Lights by Treetopia. I also chose their Pretty In Pink Artificial Christmas Wreath & Garland for a little contrast. Can you say pink wonderland?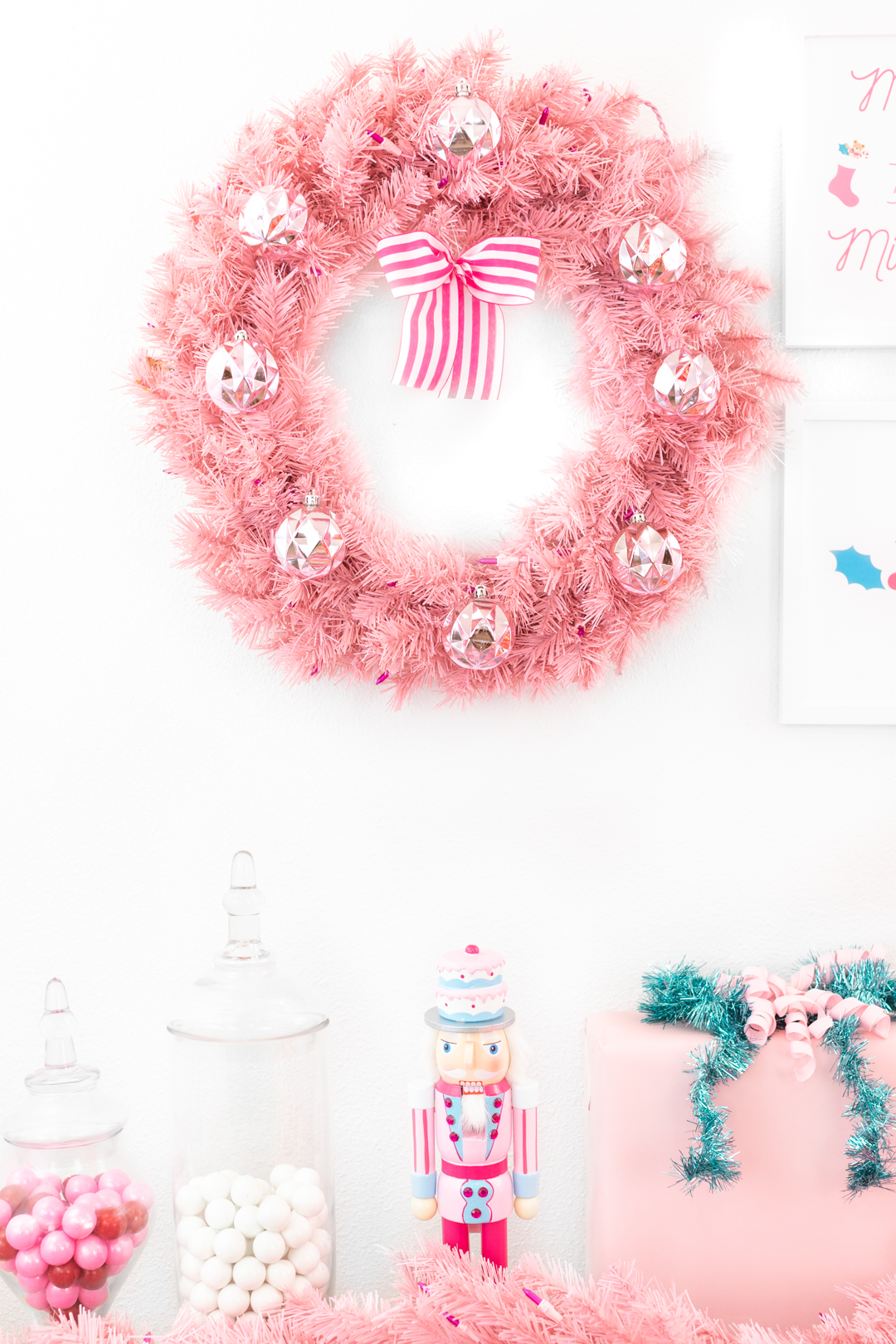 I learned about Treetopia last year when I was looking for Colorful Christmas Trees. Since my first purchase, I've been increasingly obsessed. I have had my eye on one for Halloween that I seriously need to get my hands on finally for 2020. Eek! When you see all they have to offer, you start getting BIG colorful ideas. Don't say that I didn't warn ya! On that note, let me give you a little pink tour of my 2019 holiday decor. I seriously ADORE how everything turned out. It's honestly the first time that I've felt like my new house is a home and I just know this is going to be a fantastic Christmas!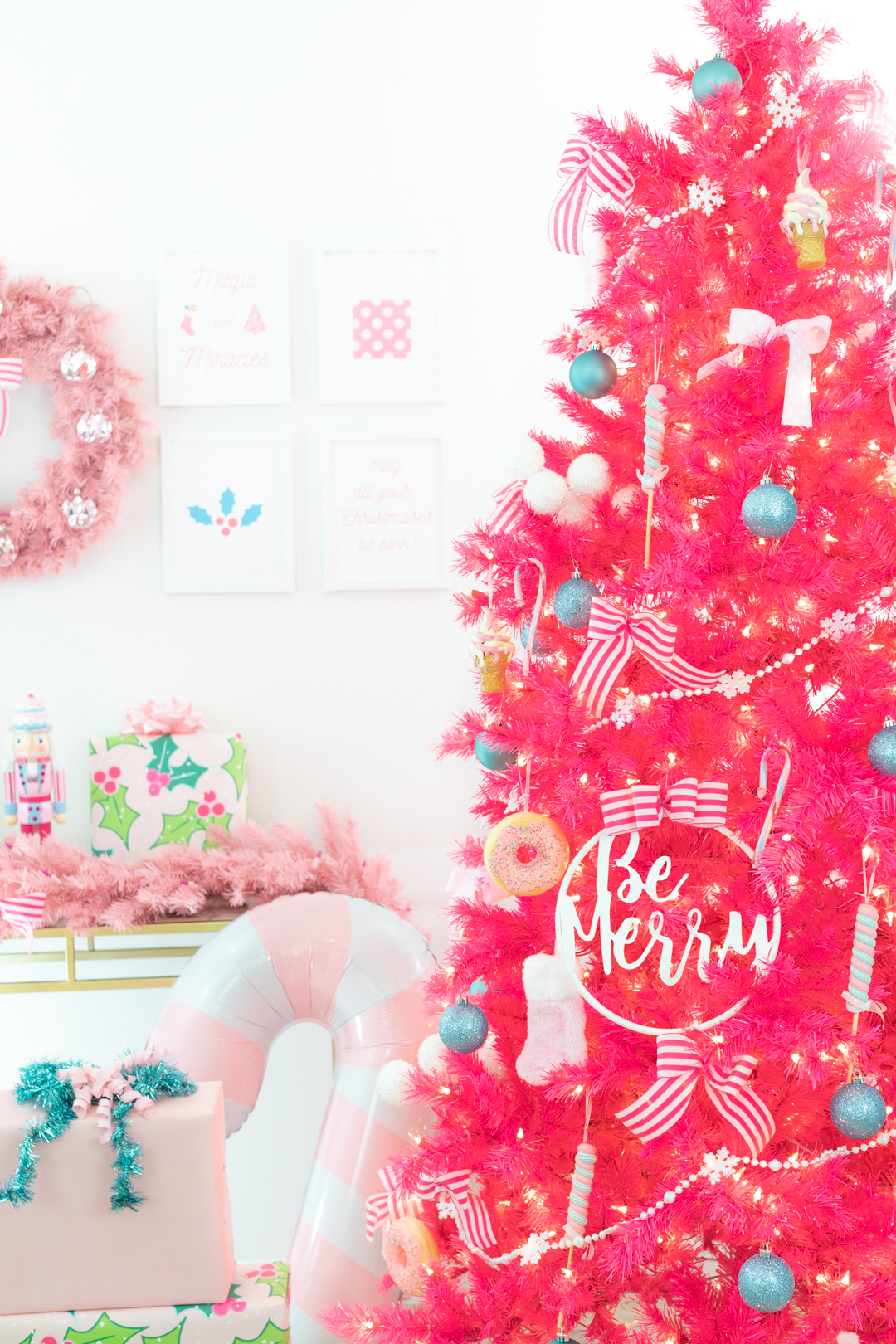 PINK CHRISTMAS TREE DECORATIONS
Are you ready for a very pink Christmas? Finding just the right pink for your decor is not the easiest of feats. I spent a tremendous amount of time coming up with the best pink Christmas decor and I couldn't be any more thrilled with how it all came together. I decided to add a pop of blue to really help make the hot pink color of this tree pop. It really worked out beautifully.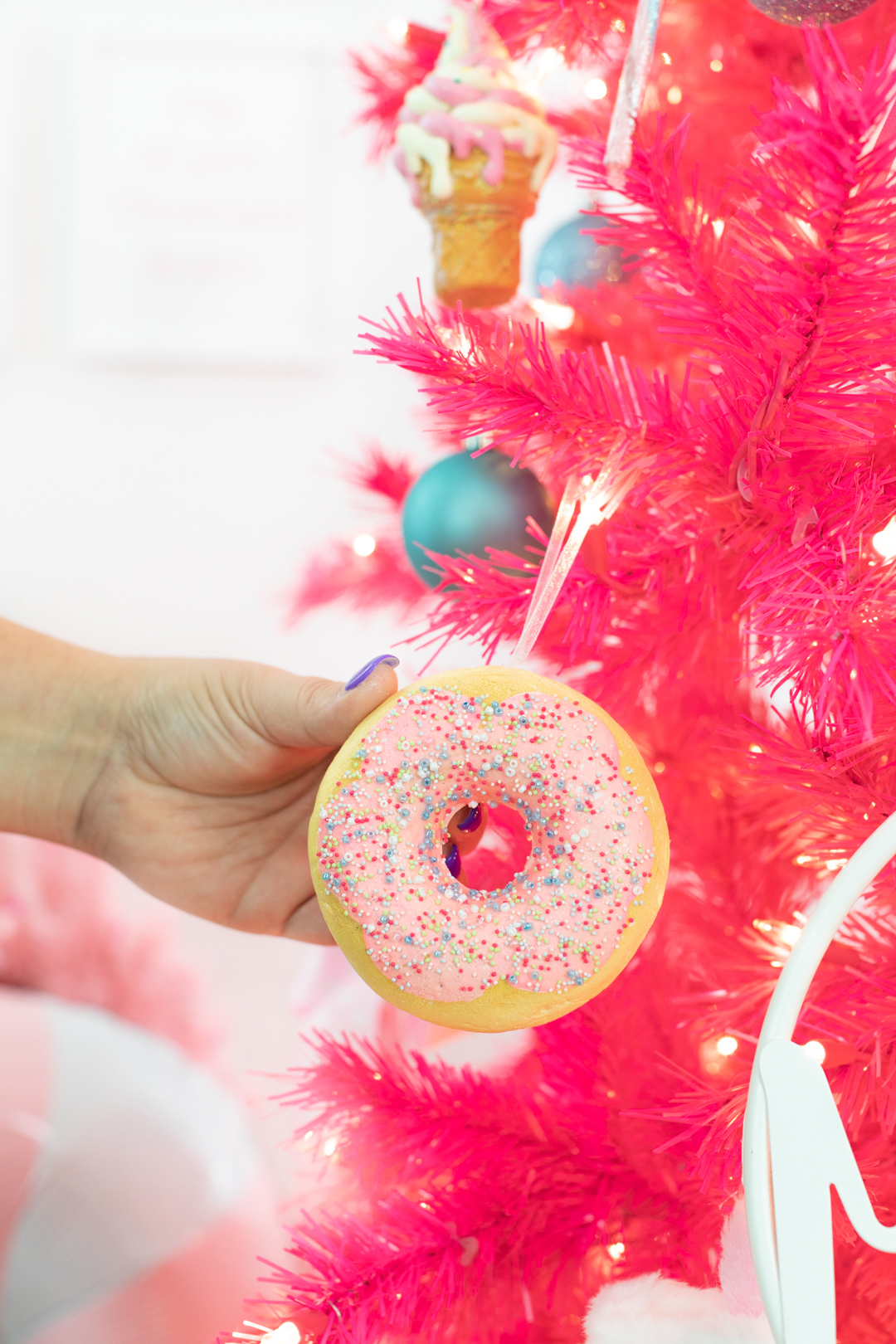 DESSERT INSPIRED ORNAMENTS
To get started, I wanted to choose sweets inspired ornaments. Basically a hint of that Candy Land or Land of Sweets vibe. The idea of indulgence adds some fun whimsy if you ask me.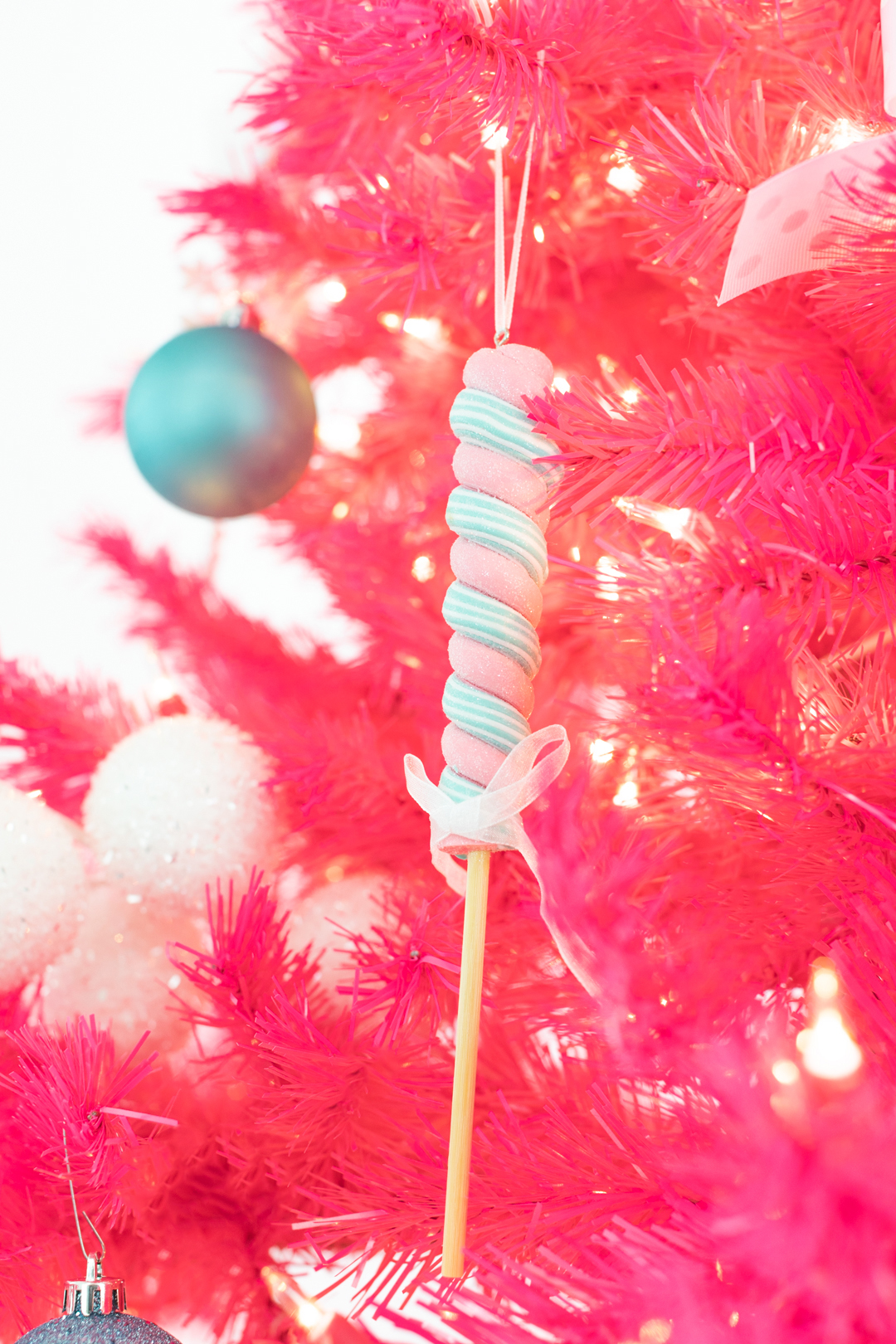 For this pinkalicious tree, I chose donut, peppermint twists and ice cream ornaments. For even more options, there are also cupcake ornaments and candy ornaments out there, too. Yum.
CHRISTMAS TREE SIGNS
If you are like me and want to make a big splash with your Christmas decor. You might consider adding a fun sign to your Christmas tree. I used a wreath sign for mine. It reads "Be Merry". The options are endless to add a little spunk to your decorations.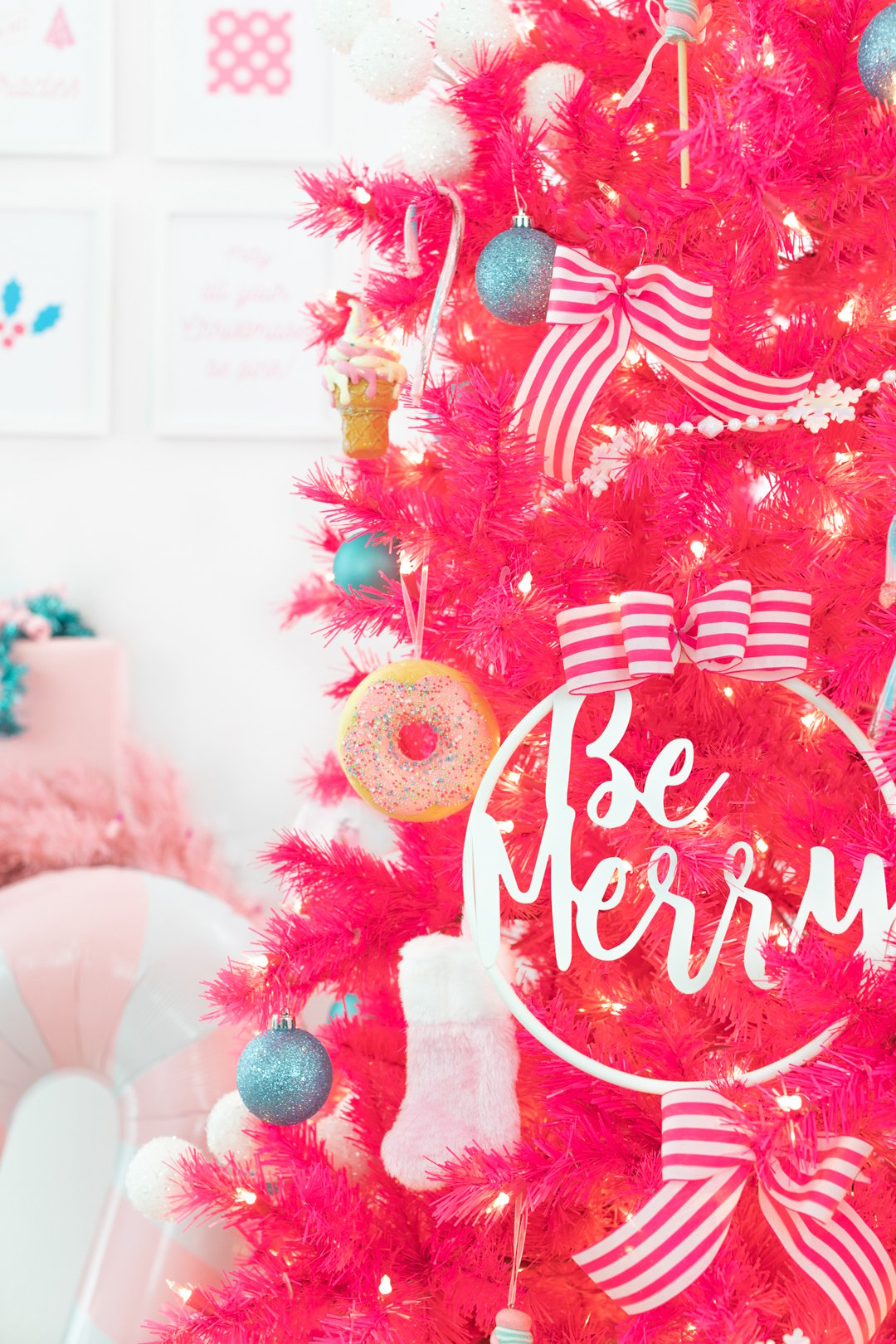 CHRISTMAS TREE EXTRAS
To add contrast, I wanted to choose another color like blue to balance things out. I also added pops of white, too. The hot pink color is REALLY bright, so it does well when adding a variety of ornaments to make it even more visually interesting.
Another pretty special touch that I added was through ribbon. I used a variety of patterns and shades of pink to compliment the hot pink Christmas tree.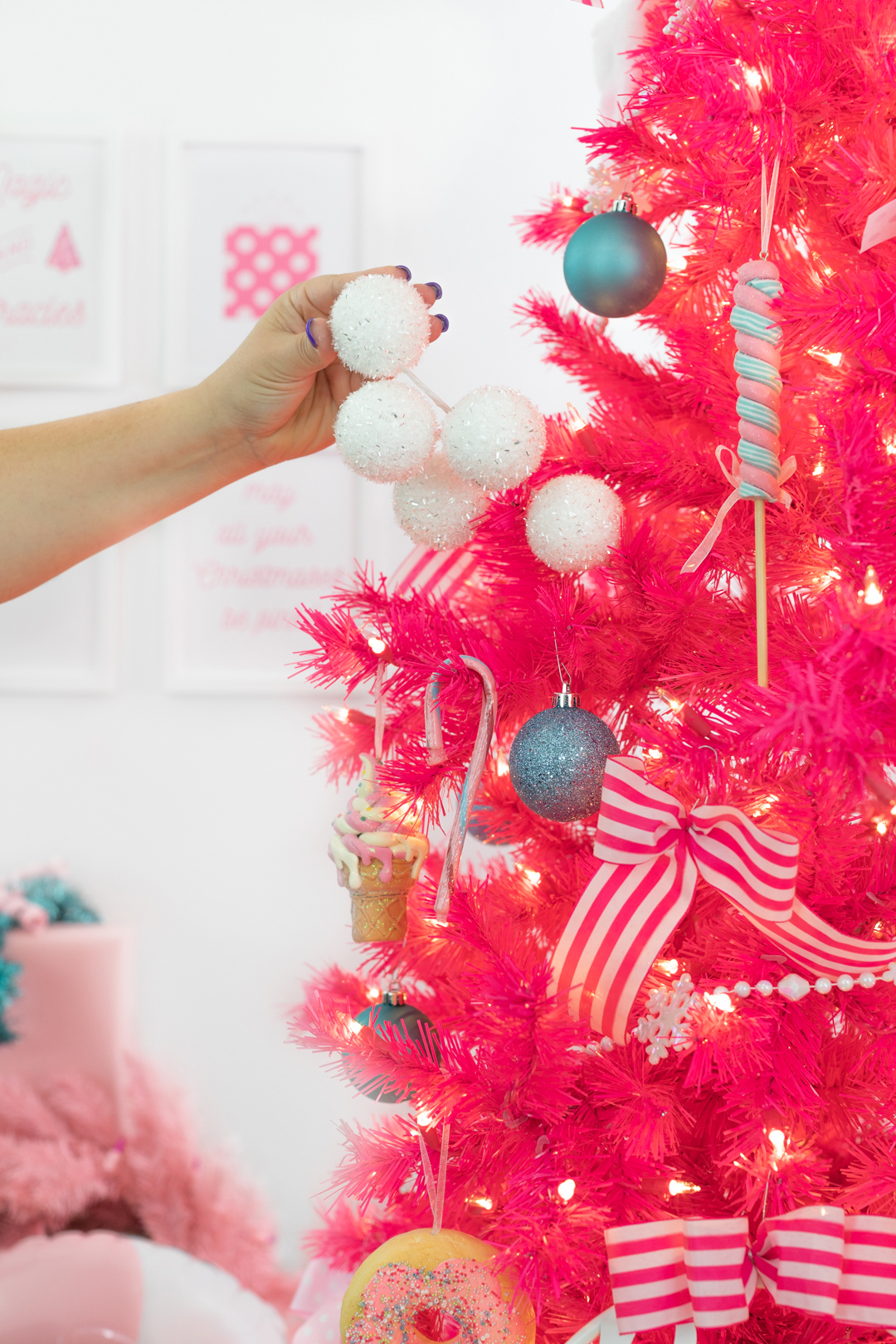 I am so excited on how everything turned out. I hope that you are feeling inspired to add some color to your holiday, too! Now onto more goodness for the holiday ahead!
ENTER TO WIN YOUR OWN TREETOPIA TREE
Visit this giveaway form to enter to win a tree for YOU and a FRIEND in the 8th annual Style Stars Secret Santa sweeps! Eek! Cannot wait to see who wins!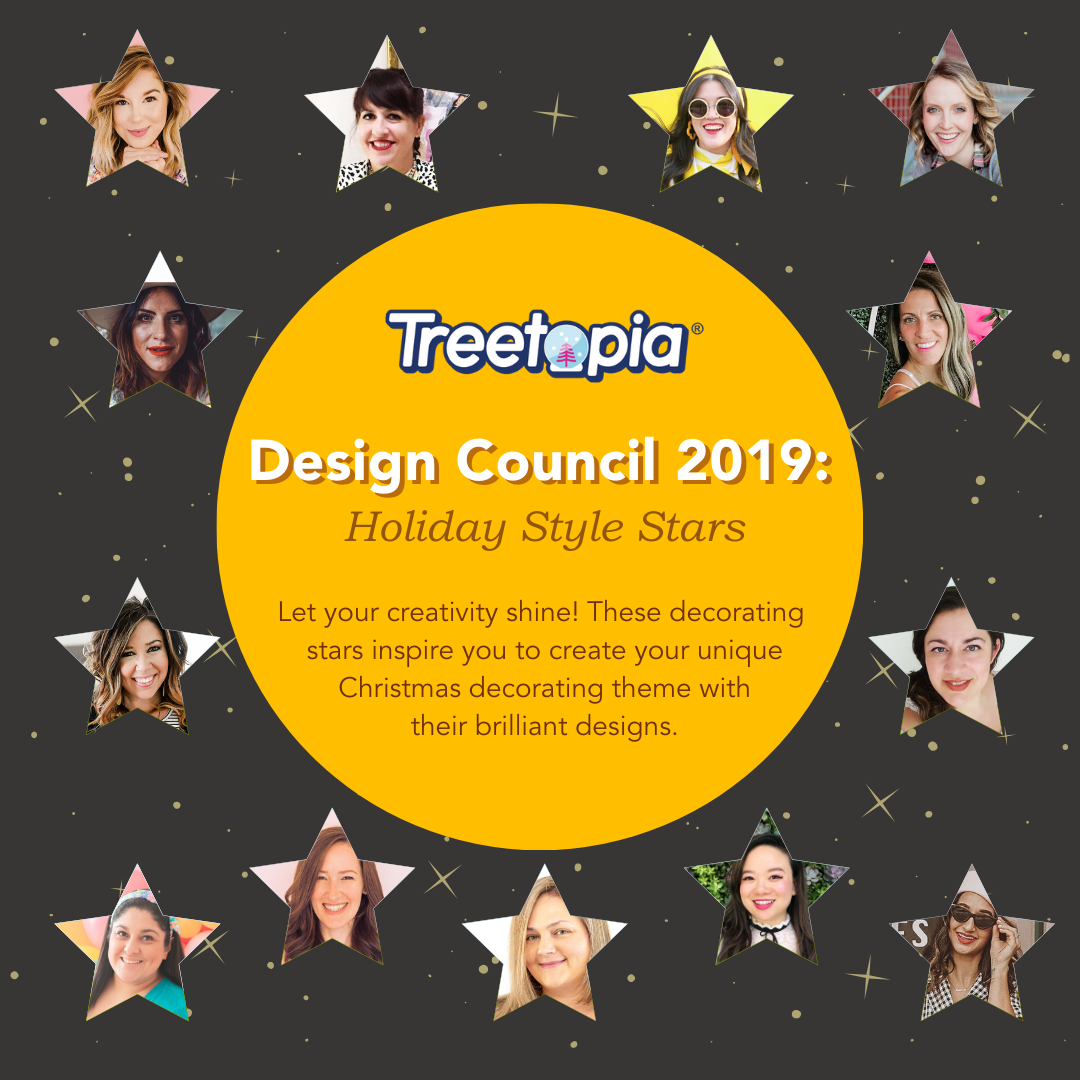 Before you go, make sure to go ahead and visit to see Amy's Farmhouse Christmas Tree ideas now, too! I love the way she added the ribbon through the tree. Such a warm and pretty touch!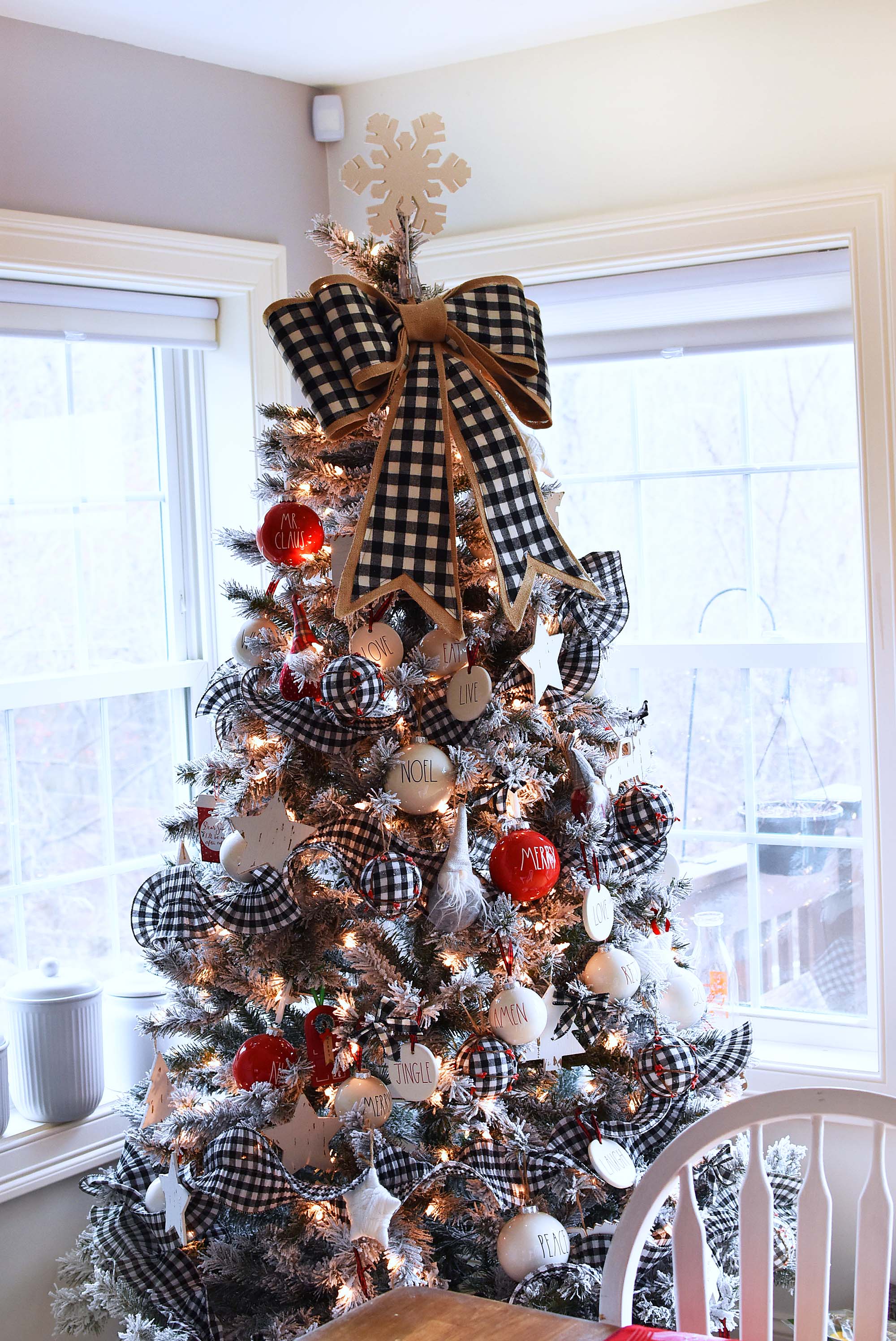 Want to get your own holiday style on?
Check out more of what Treetopia has to offer with their Green Christmas Trees and even more Wreaths & Garlands options.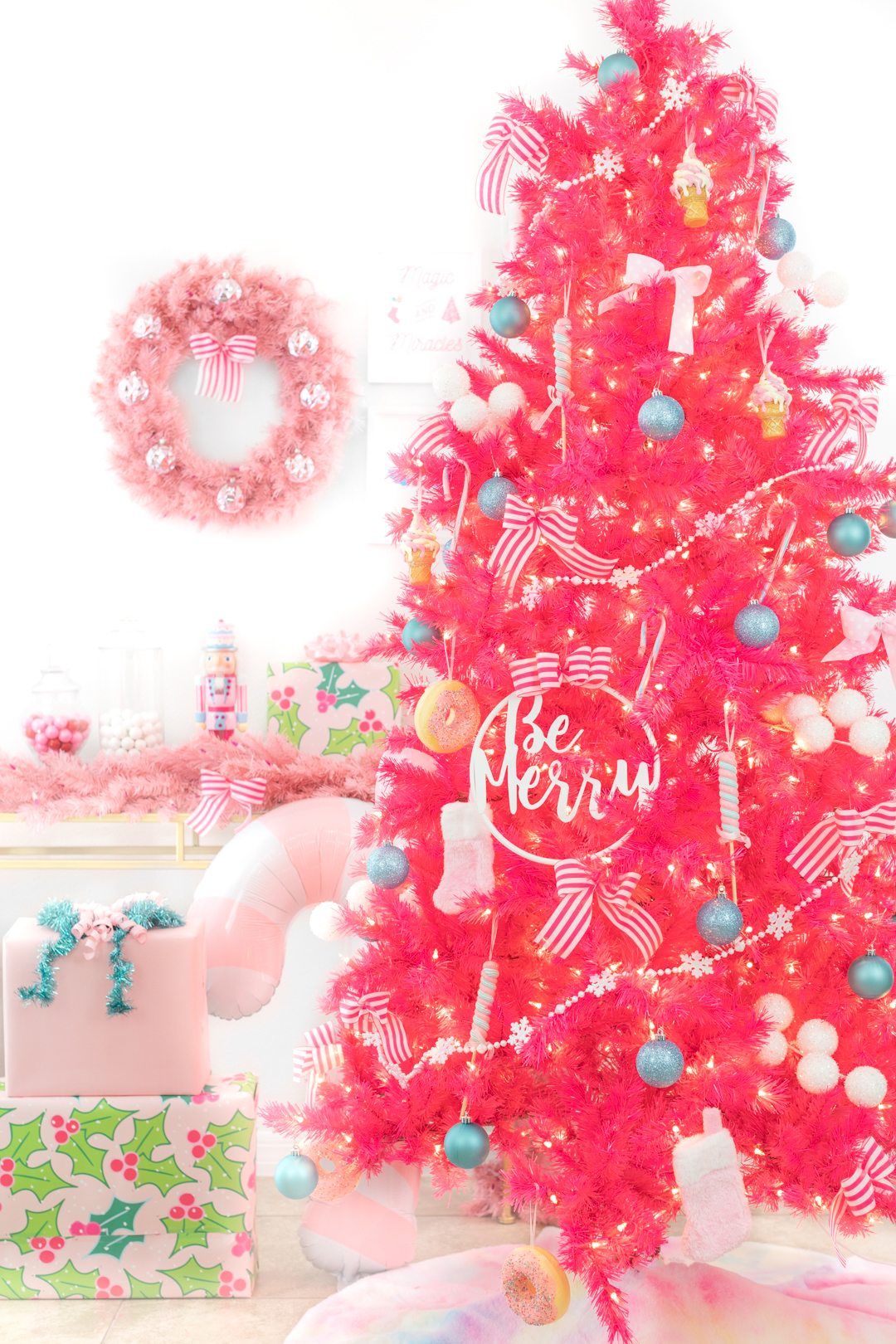 Are you planning to add some pink decor to your Christmas celebration this year?