Now that it's officially holiday season, I wanted to come up with even more ideas to add to my big no contact Christmas list. If you remember, last year I put together the best DIY Ugly Sweater party. It got me to thinking about the idea of a foot parade to flaunt your ugly all which keeping no contact and social distancing. It would be easy to keep some distance between each person or family while rockin' your ugly. This post may contain affiliate links.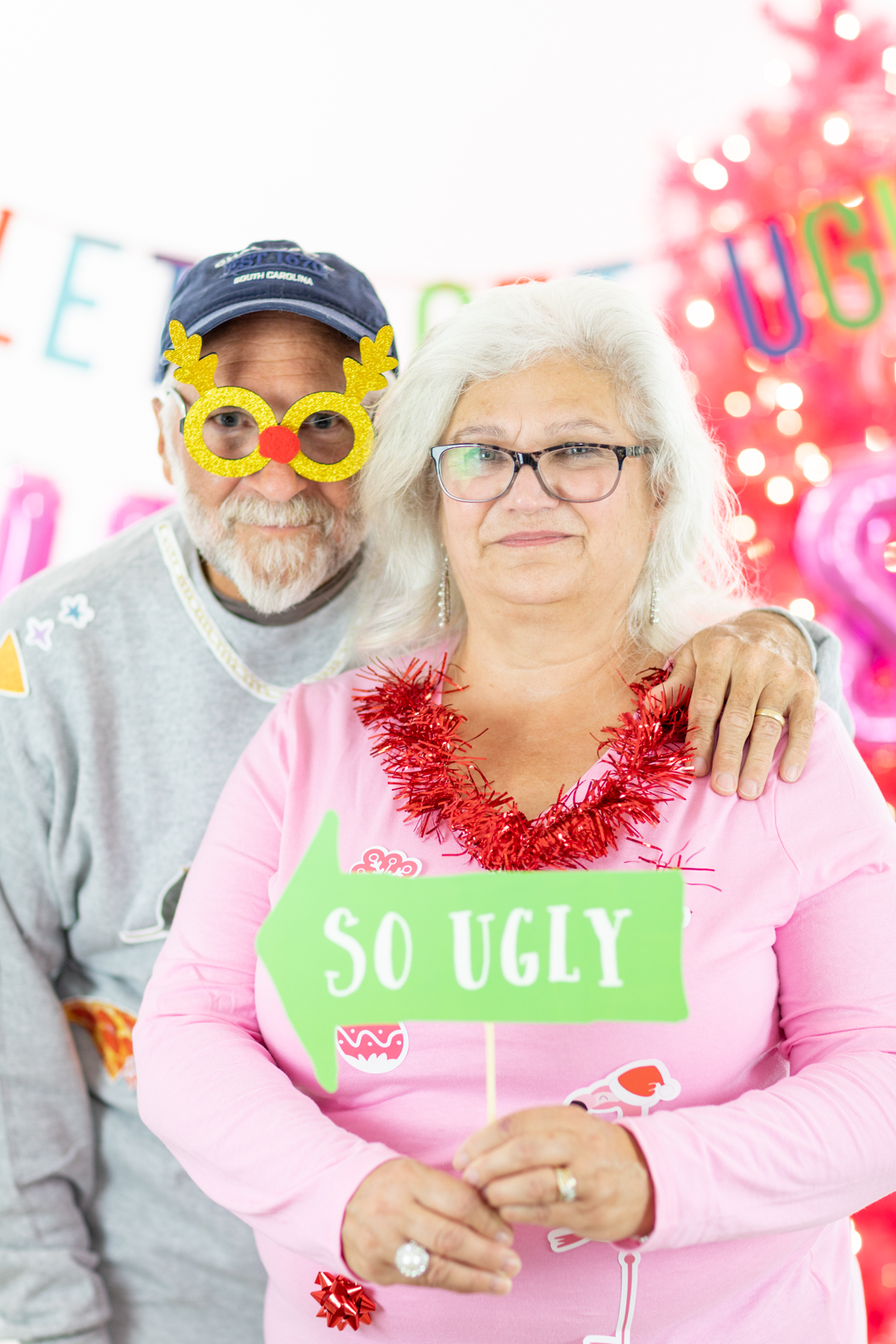 I actually planted the seeds for this silly idea when I wrote my no contact Thanksgiving ideas. I suggested an alternative to car parades. Enter an on foot parade where everyone dresses and/or acts like turkeys. How hilarious would that be?
Now on to Christmas. I couldn't think of a single better idea for a funny foot parade than an Ugly Sweater theme.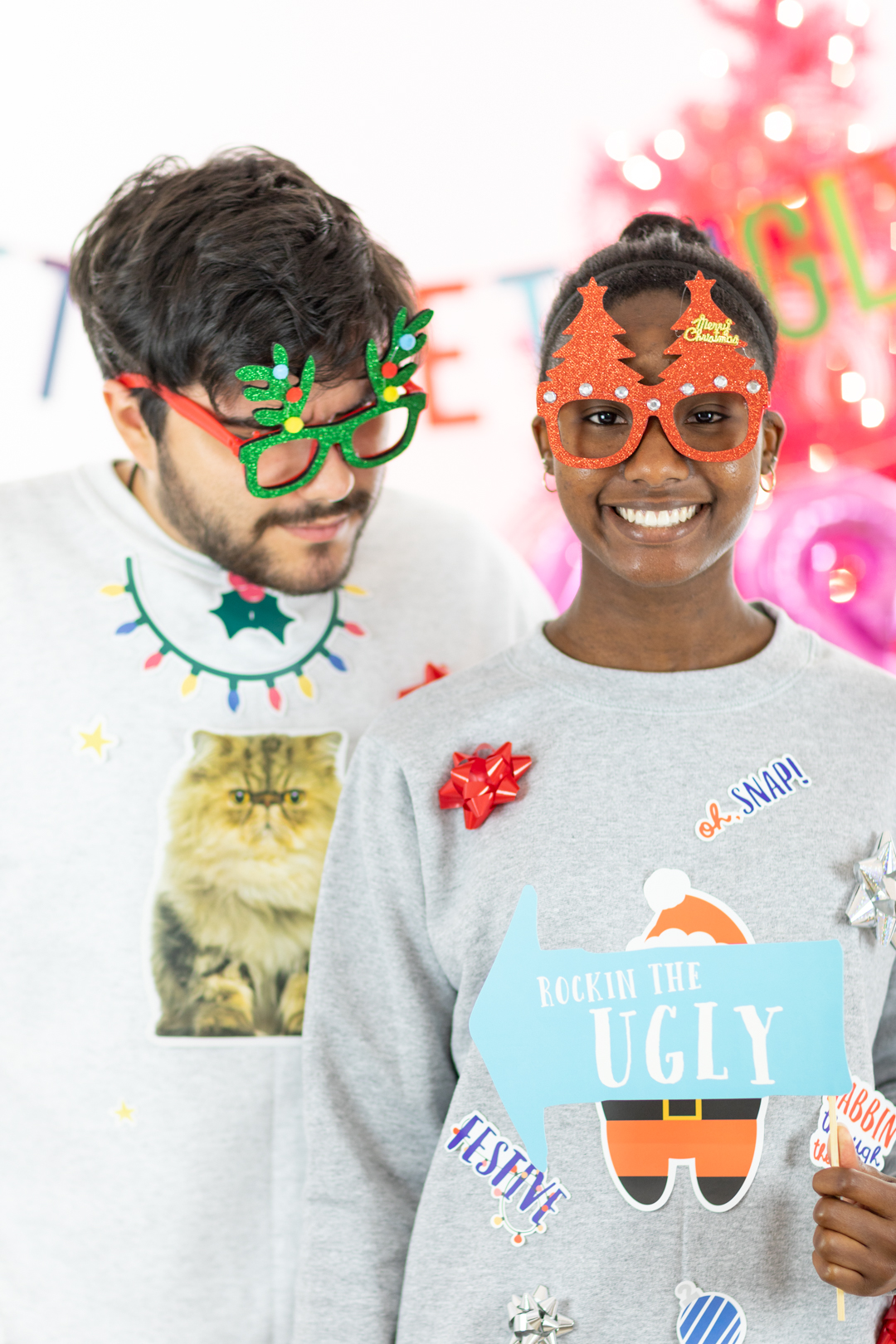 I'm all about making everyday special and creating our own moments. This is one of the best ways to do that this season. I also love the idea of making the entire month of December awesome with Advent Calendar Countdowns, too.
Even if things weren't a little different, this is still the perfect idea to have a good time and rally people together in a unique way.
NO CONTACT FOOT PARADE
Looking to create epic fun this holiday season? Host an Ugly Sweater themed foot parade.
I'm sharing some simple ideas on how you could create your very own community or family event this Christmas season with just a few simple steps.

Your foot parade can be a very small and intimate event held in a large yard or it could be larger and held in a local park or community. The possibilities are endless.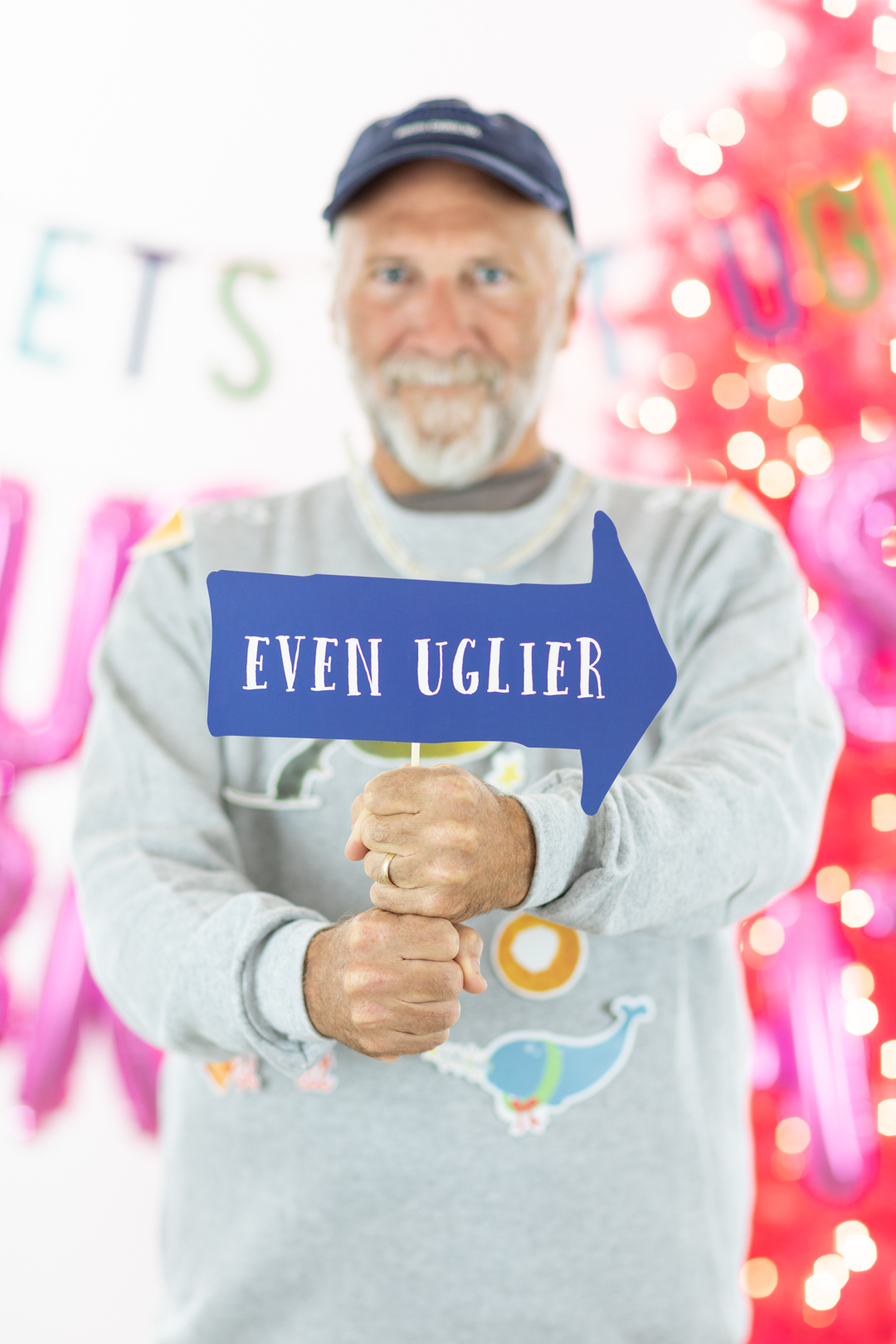 If after reading this entire t0-do list, things seem too overwhelming you could scale this general idea WAY back.
You could actually create an online group where people can share their ugly sweater photos just for fun.
If you are up for it, you could turn it into more of a virtual "parade" and still give out prizes.
Make your own good safe fun this year, no matter what.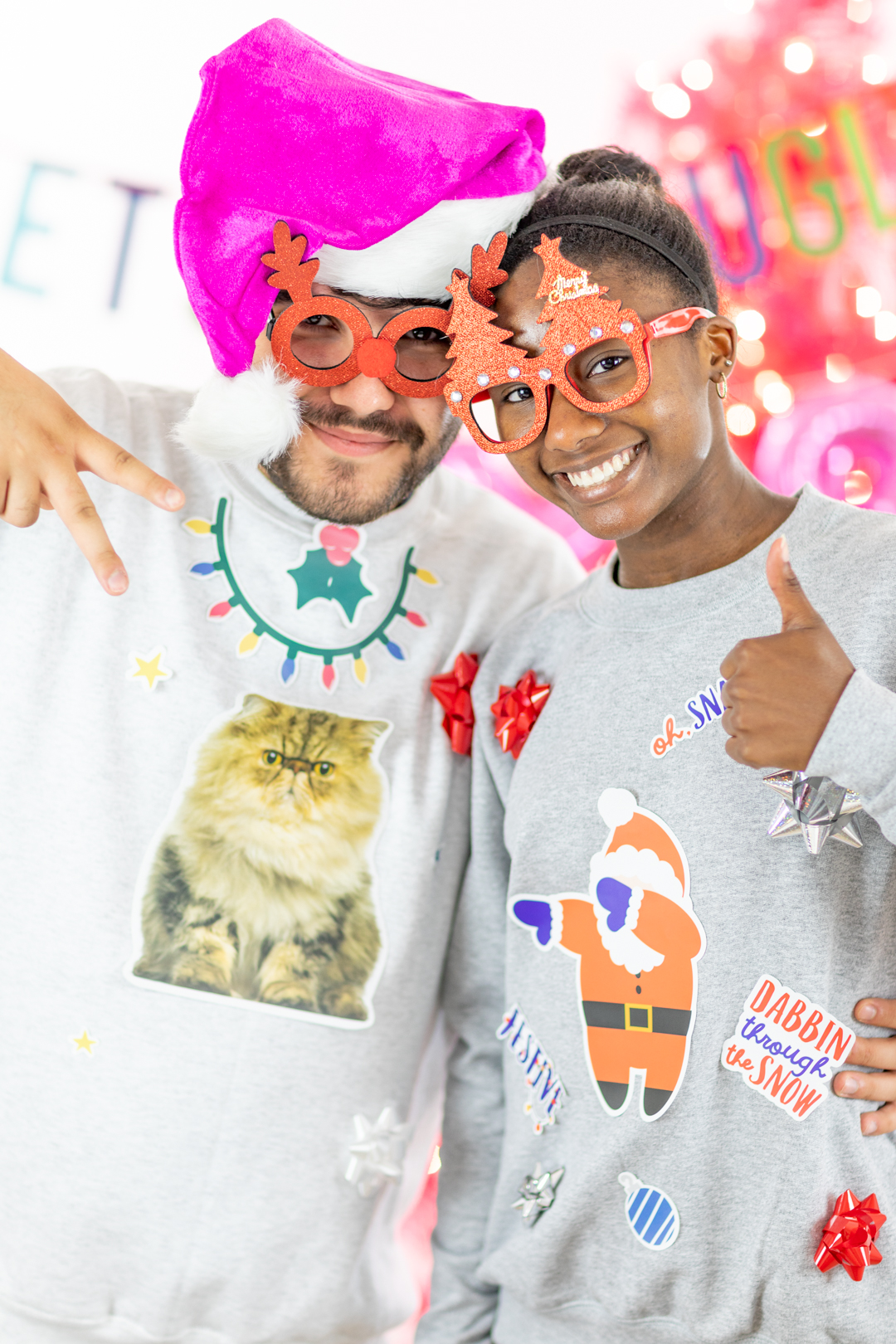 Are you ready to kick off the holiday season with an absolutely epic idea?
This is the perfect way to get friends, family and communities together for something absolutely amazing.
Keep scrolling to the bottom of the post for a very detailed list of easy instructions to help you plan your parade.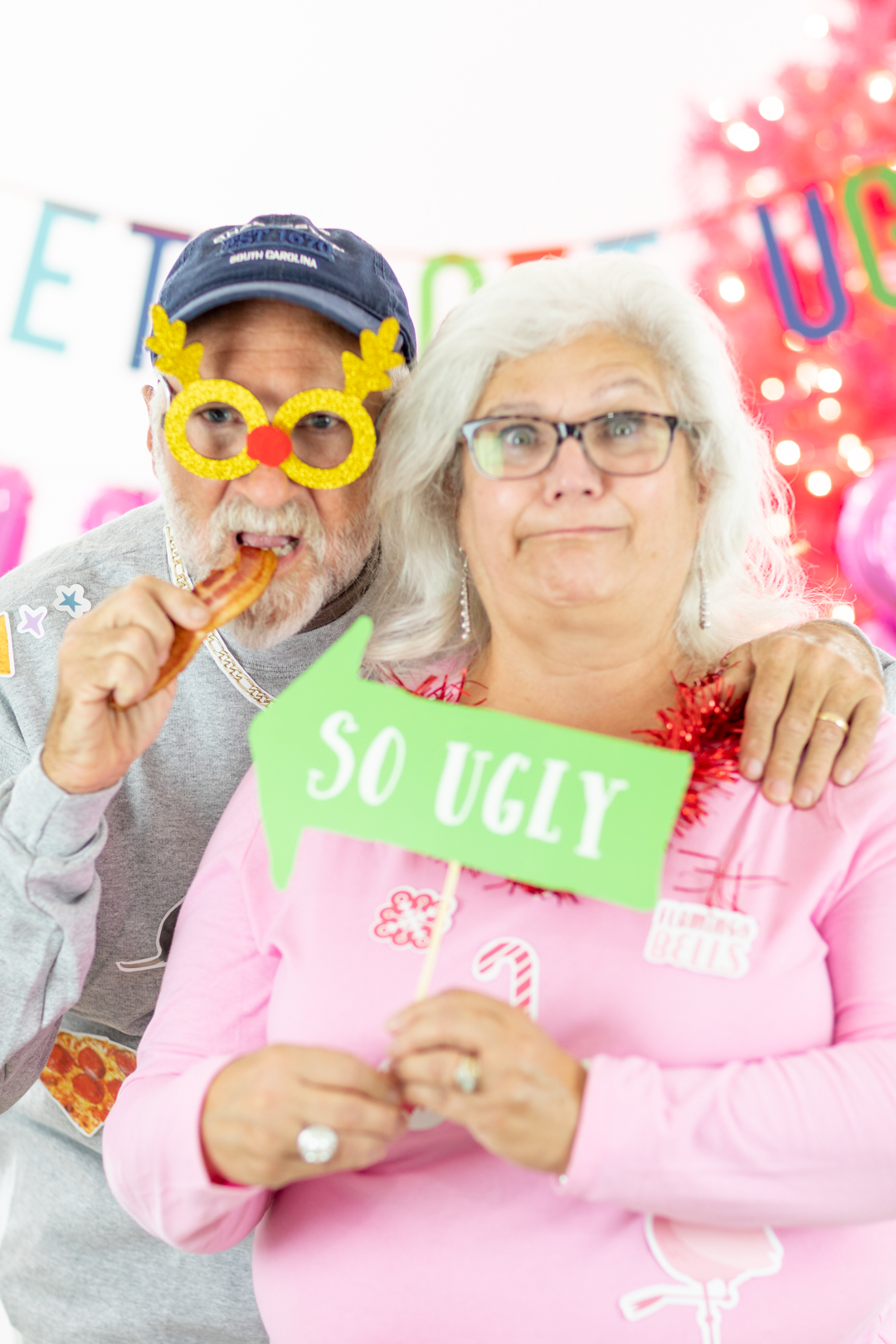 Here are some of my favorite items to easily create an ugly sweater of your own.
Ugly Sweater Foot Parade
Best items to use when planning an ugly sweater foot parade for a non contact Christmas. Fun non contact holiday idea.

Photo Credit: www.amazon.com

Photo Credit: www.amazon.com

Photo Credit: www.amazon.com

Photo Credit: www.amazon.com

Photo Credit: www.etsy.com

Photo Credit: www.etsy.com

Photo Credit: www.amazon.com

Photo Credit: www.amazon.com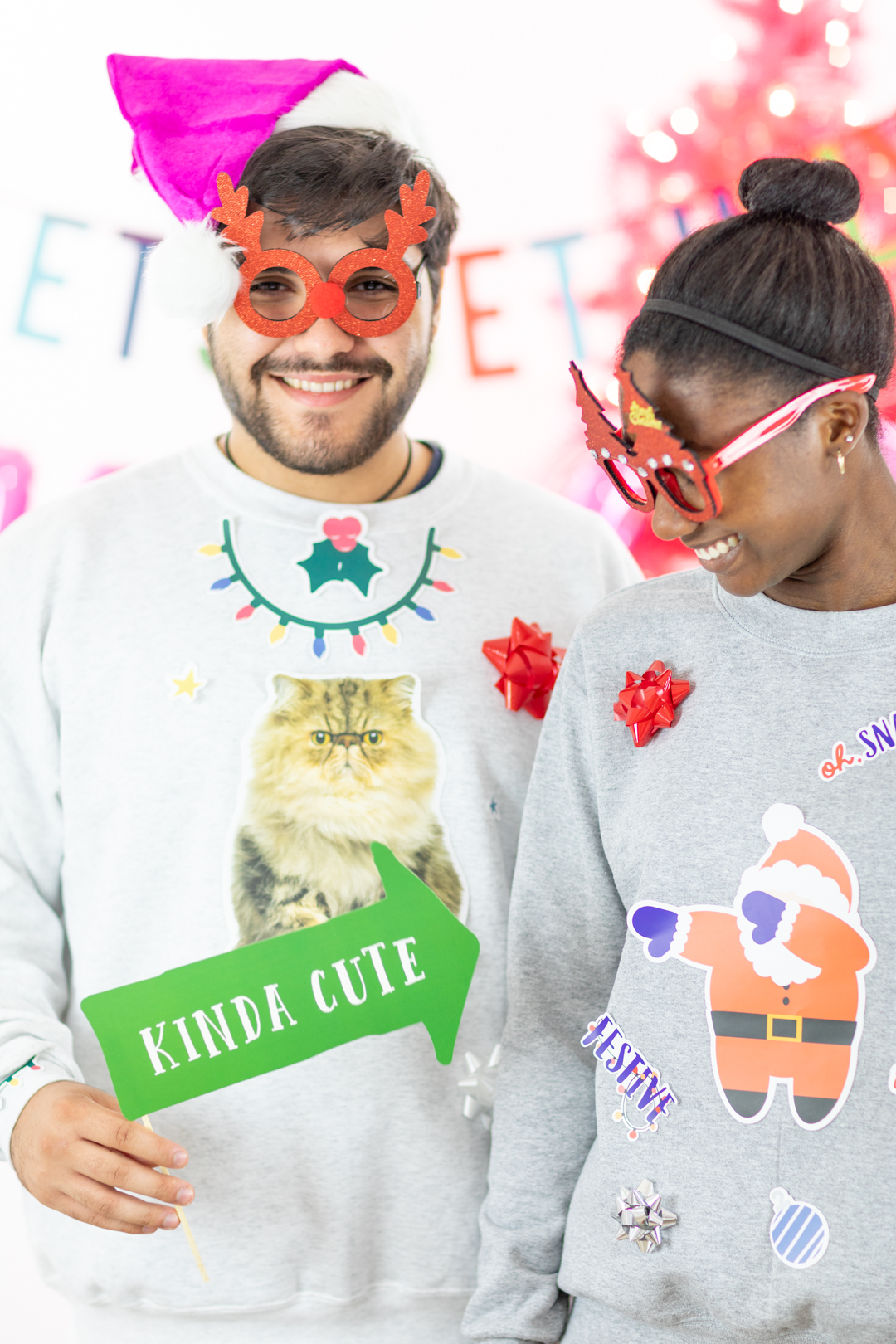 BEST UGLY SWEATER IDEAS
Do something unique and host an Ugly Sweater Brunch for a change.
Make these not so Ugly Sweater cookies.
Some of the best Ugly Sweaters you can buy or DIY yourself.
Ugly Sweater Foot Parade
How to plan to host your own community ugly sweater foot parade. Foot parade planning to-do list.
Brainstorm the Basics
Before getting started, it's time for a quick brainstorming session. Decide the who, the what, the where and the when. Make sure to pick a safe place for the event to be hosted. A small foot parade might be great for a small community, You may choose a public park for a larger event. Be sure that you have full permission and that you can plan safely. That is the #1 most important thing. Decide if there will be a rain date.
Decide Starting and Ending Point
Now that you know where you will be having your event, decide exactly where it will start and end. Be sure to let participants know where they will meet up to start and let invitees know exactly where they can sit to watch the festivities.
Decide If There Will Be a Contest
Want to take your parade to another level. Decide if you want to have people compete for prizes. You could make fun categories like funniest ugly sweater, ugliest ugly sweater, cutest ugly sweater. Be sure to plan everything out before moving to the next step so that everyone knows what they are getting into. Make sure to pick prizes and decide who and how people can vote for their picks.
Make Rules
To keep everyone safe, be sure to make a set of rules before you start inviting people to your parade. I suggest writing a list of rules for each element of your event. Don't miss letting participants know if there are rules for what they can actually wear in the parade so that you can keep everyone safe. Decide if pets will be allowed. (Side note, you could actually host an all pet parade, too.) Let people know that they can't throw items during the parade, etc. Basically think of any and everything that could go wrong and set it in writing as a rule on what everyone needs to avoid.
Invite Potential Participants
Before making your event official, it's a great idea to gauge who will want to participate in this funny ordeal. Dial them up or shoot an email and get some commitments before you finalize your plans.
Set Up an Online Group
You might also want to set up a group like on Facebook or the Nextdoor app if you are coordinating in your community. It's a great place to gauge participation and also provide info and to provide any last minute updates on the event.
Send out Virtual Invites
Once you have everything in place and a good number of participants, it's time to invite spectators in an official way. You might set up an invite linked to the group you set up above or use something like evites so that you can easily send invites and monitor who wants to watch. Remember to include directions on where they can watch safely so that you don't garner any crowds. Be specific.
Enlist Someone to Take Photos
You don't want to feel overwhelmed on the day of the parade, so be sure to enlist one or two friends who are handy with a camera. One can take photos and the other can take video. Be sure to share the photos or videos with all of the participants to commemorate your epic event.
Provide a Place for Voting Submissions
Be sure to collect all of the votes by setting up a place or a way for people to submit their votes so you can tally them. You might want to enlist someone to count them up quickly so that you can announce winners and dole out prizes while everyone is still there.
Award Prizes
Announce the winners and decide how you will hand-out prizes while everyone is still at the event. It will be so much easier.
Thank Everyone For Participating
Be sure to thank everyone in your group or by email for participating. Be sure to share the footage and photos.
If you host an ugly sweater foot parade, please tag me on social media @cutefetti. It would make me so happy to see!
Hope that you love these thought-starters. How else could you make a holiday-themed foot parade fun?