Christmas countdown calendars are a lot of fun for families all over the world. These calendars both celebrate the season of Christmas and the joy and spirit of the holiday season, in general. You guys, I love these Christmas countdown calendars because it's a great way to build excitement through the whole month of December. In 2022, making Christmas special is top priority. I searched the net and found the very best in countdowns this year. So excited to share this fun resource. This post may contain affiliate links.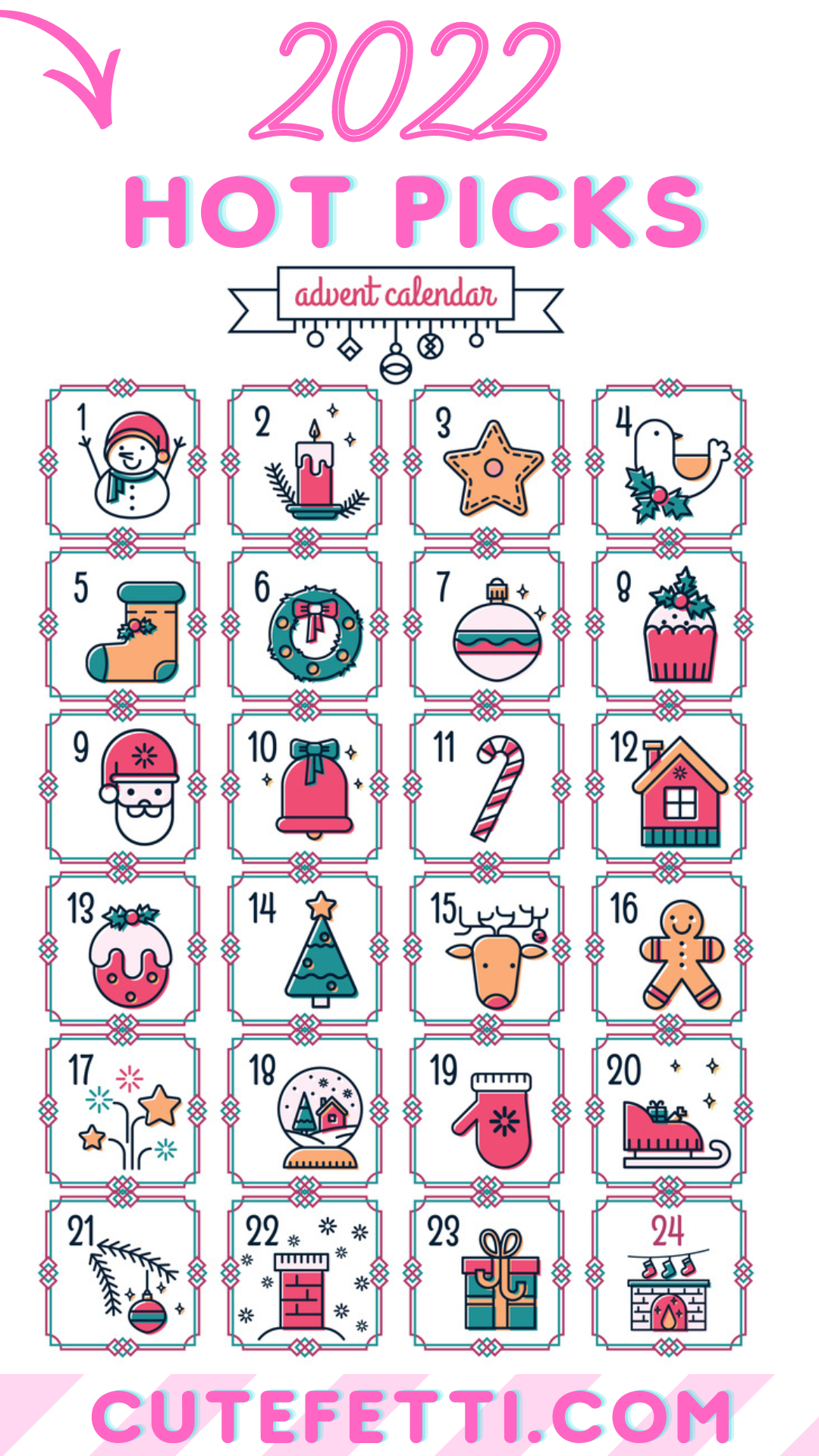 For a while, everyone thought they were just for the little kids, but now you can find Advent calendars for adults, teens, tweens, pets and like basically everyone. So the whole family can get in on the fun. I had an absolute blast opening my own over the last several years and plan to do it all over again in 2022! Whoo hoo!
If you want to take opening your holiday countdowns to an all new level. I recently shared how I did mine last year over on Instagram stories and how I'm doing it all over again this year. Hopefully bigger and better. Be sure to follow Cutefetti on Instagram for all the best reveals!

Here's my suggestion:
Pair up with a friend or ten and share your Christmas countdown reveals by text, video, FaceTime or any messaging app leading up to Christmas day. It will be a blast. You get to open your own surprises but also live vicariously through your friend's reveals, too. Score.
A BRIEF HISTORY OF ADVENT CALENDARS
Don't worry, we're not going into a full-on history lesson here, but the history of Advent Calendars is pretty interesting. Advent is the four weeks leading up to Christmas or from December 1st to Christmas Day. For believers, it represents the coming of Jesus into the world. For everyone else, it's a time of extended holiday season festiveness, and it usually involves Christmas countdown calendars.

Advent calendars date back to the 19th century. The first calendar that we know of was a handwork piece made in about 1851. The first printed Advent calendar, and the precursor to the modern-day calendars we use, was handmade in the early 20th century where a calendar with 24 small candles attached to cardboard was made to represent each day before Christmas. Clever indeed.
Okay. Class dismissed. Let's get down to the fun part.

BEST CHRISTMAS COUNTDOWN CALENDARS
Christmas countdown calendars are great fun for everyone in the family (pets included). Of course, there are calendars for the kids, but there are also tons of calendars for adults these days, too. You can find everything from candy and Disney princesses for kids to alcohol samplers for adults. There's a sea of calendars out there so there's one for everyone in the family. I'm highlighting some of the best finds for 2022.
If you prefer to see images of most of my picks for 2022, you can head over to my Cutefetti Store on Amazon to see them easily.
Note that really awesome Advent calendars can sell out SO quick... so don't hesitate to grab the ones you love in-store or online. They may not be available later.
BEST FOODIE COUNTDOWNS
First up, the best list of countdowns for FOODIES! There are many you can find online, but there are some really neat finds that you will find out in-stores closer to Christmas. Look for excellent foodie countdowns like the cheese countdown that was available at Aldi in previous years. I really want to get my hands on one of their cheese countdowns.
Here are my FAV food picks for 2022.

Williams Sonoma 24 Days of Baking Cookies
Bonne Maman Mini Spreads and Honey Countdown, here.
XO Marshmallow 2022 Marshmallow Advent Calendar, here.
Best of Harry & David Advent Calendar, here.
Kinder Milk Chocolate Countdown, here.
McCrea's Caramel Countdown, here.
12 Days of Noodles, here.
Seven Days of Sweets Countdown, here.
Walkers Shortbread Countdown, here.
William Sonoma Popcorn Advent here.
Holly Dolly(Parton) Advent Calendar, here.
12 Candies of Christmas, here.
Harry Potter Candy Countdown, here.
Winter Delight Holiday Popcorn Advent, here.
Sugarfina 12 Tastes of Christmas, here.
Vosges Haut-Chocolate Calendar of Advent, here.
Aldi Cheese Countdowns, find in-store.
NIPYATA! Boozy Advent Calendar, here. Save 20% off your first order with coupon code: ILOVEFUN20
Sip & Savor Wine Countdowns for 21+ only, Save 20% on Subs
Woodford Reserve 8 Day Cocktail Countdown for 21+ only, here.
Vintner's Choice 12 Days of Bubbles Advent Calendar, here.
Oh Holy Cow, Jerky Countdown, here.
Whittard Tea Countdown, here.
24 Day Hot Sauce Countdown, here.
BEST COUNTDOWNS FOR YOUNG CHILDREN
Simple countdowns for the littles are a must. You want to choose one that is easy to open and reveals something useful or fun. My favorite pick for 2022 is the Pipsticks Gingerbread House here. It's more than just a countdown, it's basically an interactive time capsule with daily prompts. If you are interested and you can find one in stock, I wouldn't hesitate.

One of my favorite finds for smaller children that doesn't involve candy are countdown story books or this really cute sticker countdowns.
BEST COUNTDOWNS FOR TWEENS
My very fav for the tweens? Slime countdowns! I did this one just for fun and it was my fav. Yes, a grown adult. It's fun revealing a new slime or sprinkles and mix-ins. Bath Bombs and Craft countdowns are fun choices, too.
This Haribo Candy Countdown might be good for younger and older kids alike here. I would most definitely enjoy it!

Then, of course candy countdowns will be a huge hit, too.
BEST COUNTDOWNS FOR WOMEN

Here are my top picks to treat yourself with. Then, the gem of all gems? Beauty countdowns and I'm in love with the nail-polish calendars! There are some seriously over-the-top beauty countdowns out there, here are some of my overall fav picks for the ladies.
BEST DISNEY COUNTDOWNS
There are so many fun Disney Advent Countdowns to choose from. You have the classic chocolate calendars, sock countdowns, story countdowns and some really cool Funko Pop! countdowns. I am obsessed with how cute The Nightmare Before Christmas version is!

Last year I purchased a couple of countdowns that were exclusive to Disney parks, so if you live local or are visiting be sure to take a peek into some of the shops to see if you can find something unique.
BEST PET CHRISTMAS COUNTDOWNS
Don't forget your furry friends. Don't leave Fido empty handed.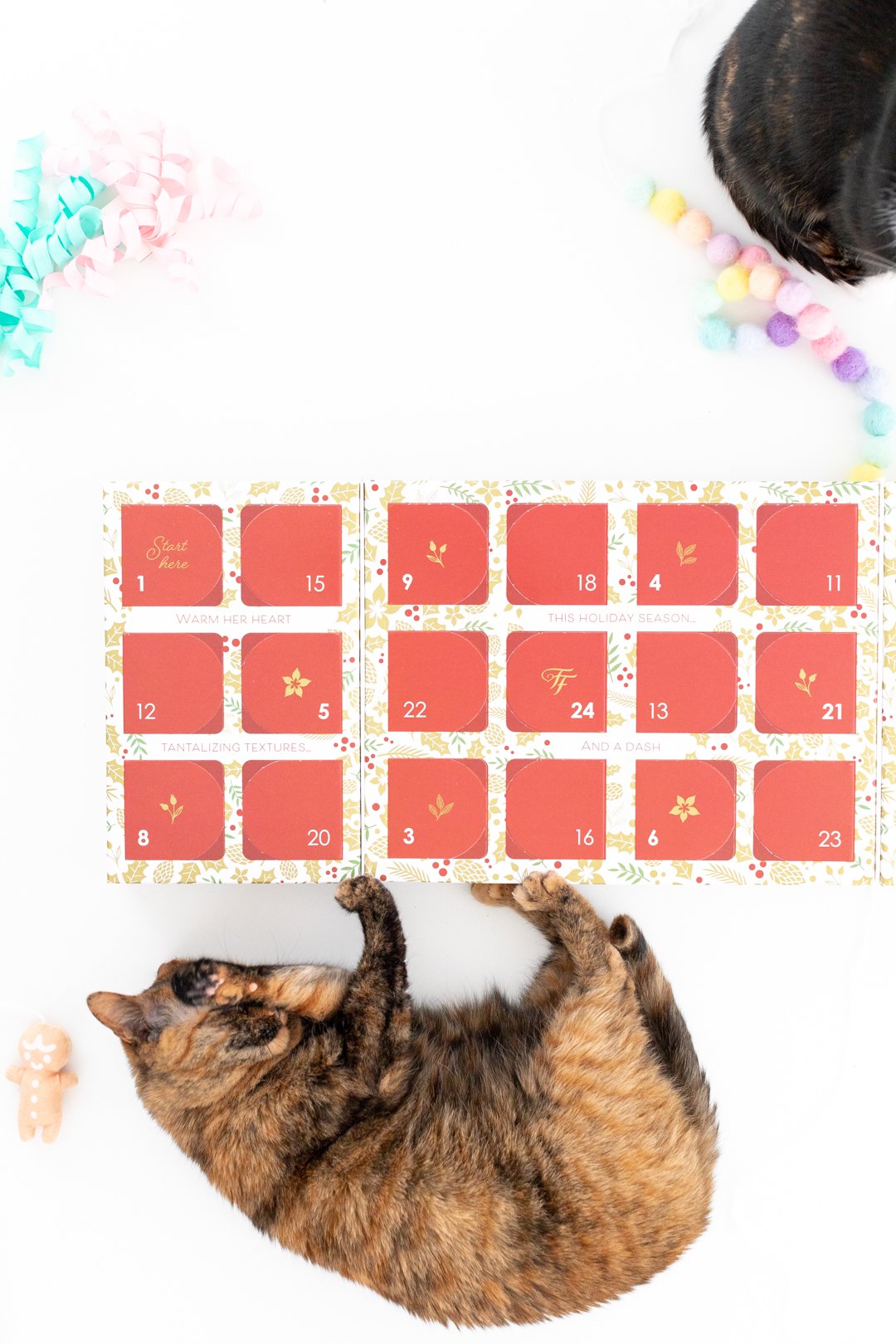 Here are the best 2022 Countdown Calendars for your cats and dogs.
BEST FAMILY CHRISTMAS COUNTDOWNS
Here are some of my favorite Advent calendars you can do as a family or display in your home.

CHRISTMAS ADVENT CALENDARS THAT YOU FILL
There are many kinds of countdowns to choose from. Be sure to know what you are looking for because some calendars are basically empty so that you can choose to add your own goodies to them. Here are some beautiful picks that I found on my search below.

Before I sign off, I wanted to share one of the most expensive Advent calendars I have ever seen. That is the Wedgewood 2022 Christmas Advent Calendar House. Wow.
MORE FUN CHRISTMAS IDEAS
Looking for more fun ways to celebrate the holiday season this year?
Make this adorable Santa themed candy board. You are going to fall in love with the huge Santa gummy lollipops.
Time for some Ugly Sweater Shenanigans! Check out these fun Christmas party idea and don't forget to take plenty of pics.
Did somebody say cake? These reindeer mini cakes are as delish as they are adorable!

CHRISTMAS COUNTDOWN CALENDARS FOR EVERYONE
Whether you want a religious Advent calendar, a calendar for the kids, or even a calendar for the foodie in your life. There are so many Christmas countdown calendars here, there's one for everyone in your family. Be sure everyone in your family has one of these super fun Christmas countdown calendars so you can all enjoy the season together.
Have you spotted any amazing countdowns this year? Leave a comment and let us know where you found it.