Looking for a unique Christmas party theme that requires little to no planning? I totally have your back with a silly, funny, care-free idea this holiday season. Enter these fun DIY Ugly Sweater Party ideas. Guests are going to love that they don't have to go hunting down the perfect ugly sweater because they will be making their own over at your place.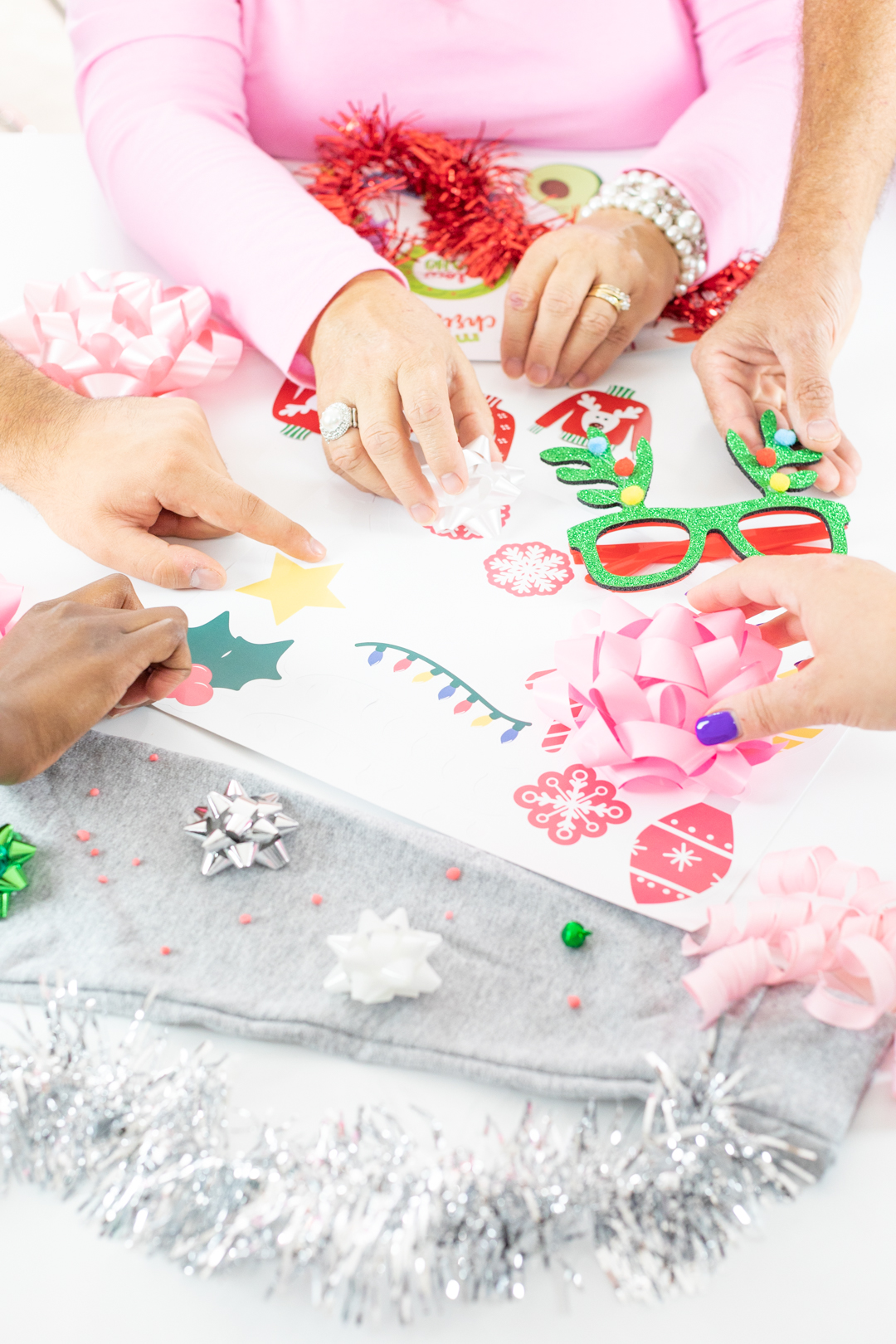 IDEAS FOR UGLY SWEATER PARTY
Here are some super simple tips to whip up a fun Christmas party theme that's SO simple to put together.
To make it easy, send out ugly sweater party invitations asking your guests to bring their own plain sweater or sweatshirt or if you live somewhere warm.... a plain T-shirt is totally good too.
Set out a variety of decorations on a table where guests can pick and choose their own ugly sweater decorations. There are easy DIY Ugly Sweater kits you can buy like I did to make it easy. You can also provide your own decor like tinsel, stickers and other goofy items. Don't forget Christmas gift bows and anything that jingles for added laughter. You should probably decide if you are going to add decorations that are permanent or temporary and let guests know in the invites. I provided all temporary options at my gathering. Both ideas can be fun in their own way.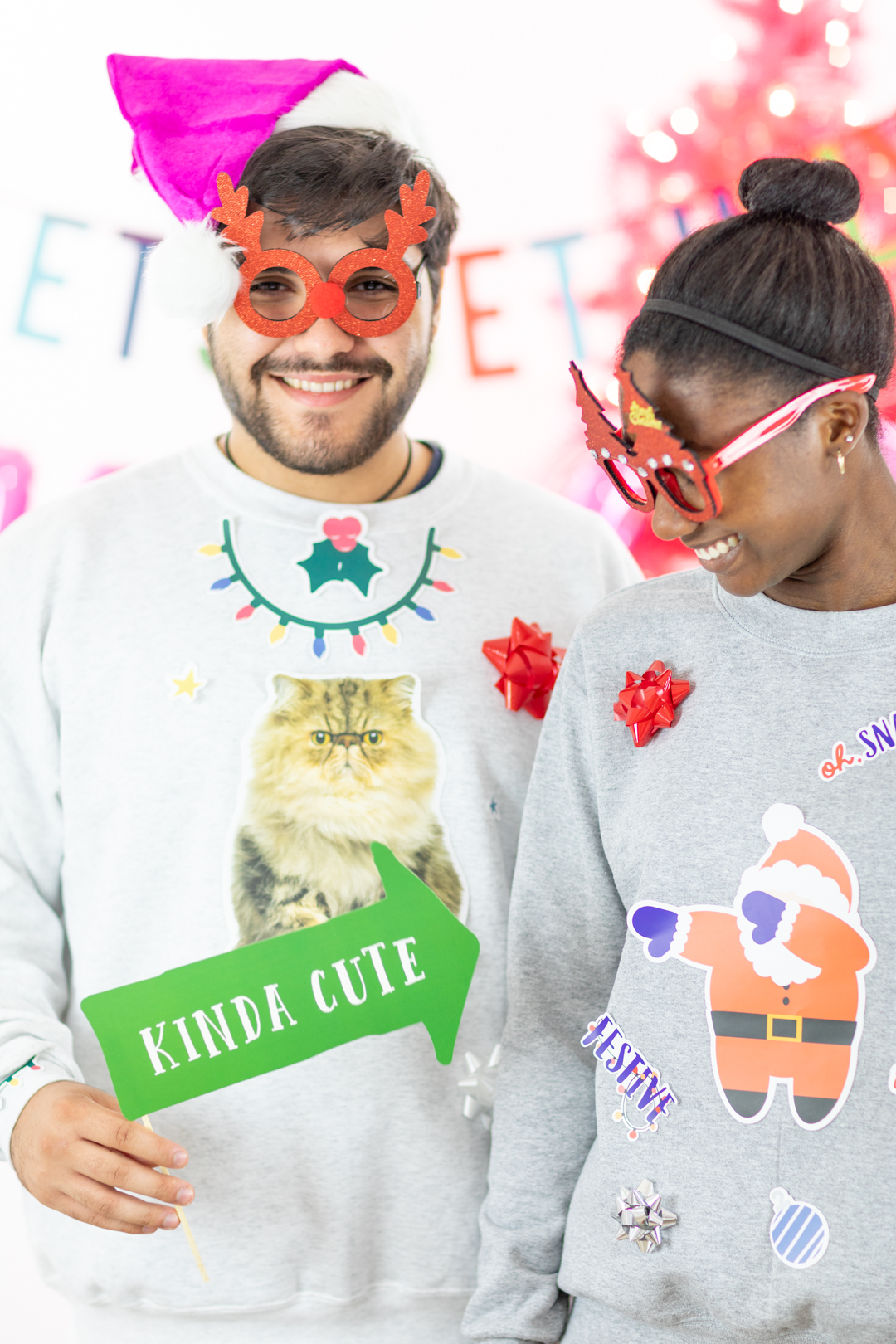 Add easy Ugly Sweater Decorations to set the scene. There's a cute banner that comes in the DIY Ugly Sweater Kit that I mentioned that reads "Let's Get Ugly" or you can also get some cool letter balloons that read "Ugly & Bright" from Etsy. I'm totally obsessed. Check my list of must-haves below to get the links to all of these party supplies.
Set out totally goofy accessories like a variety of Christmas themed costume glasses or maybe some fun hats and scarves, too.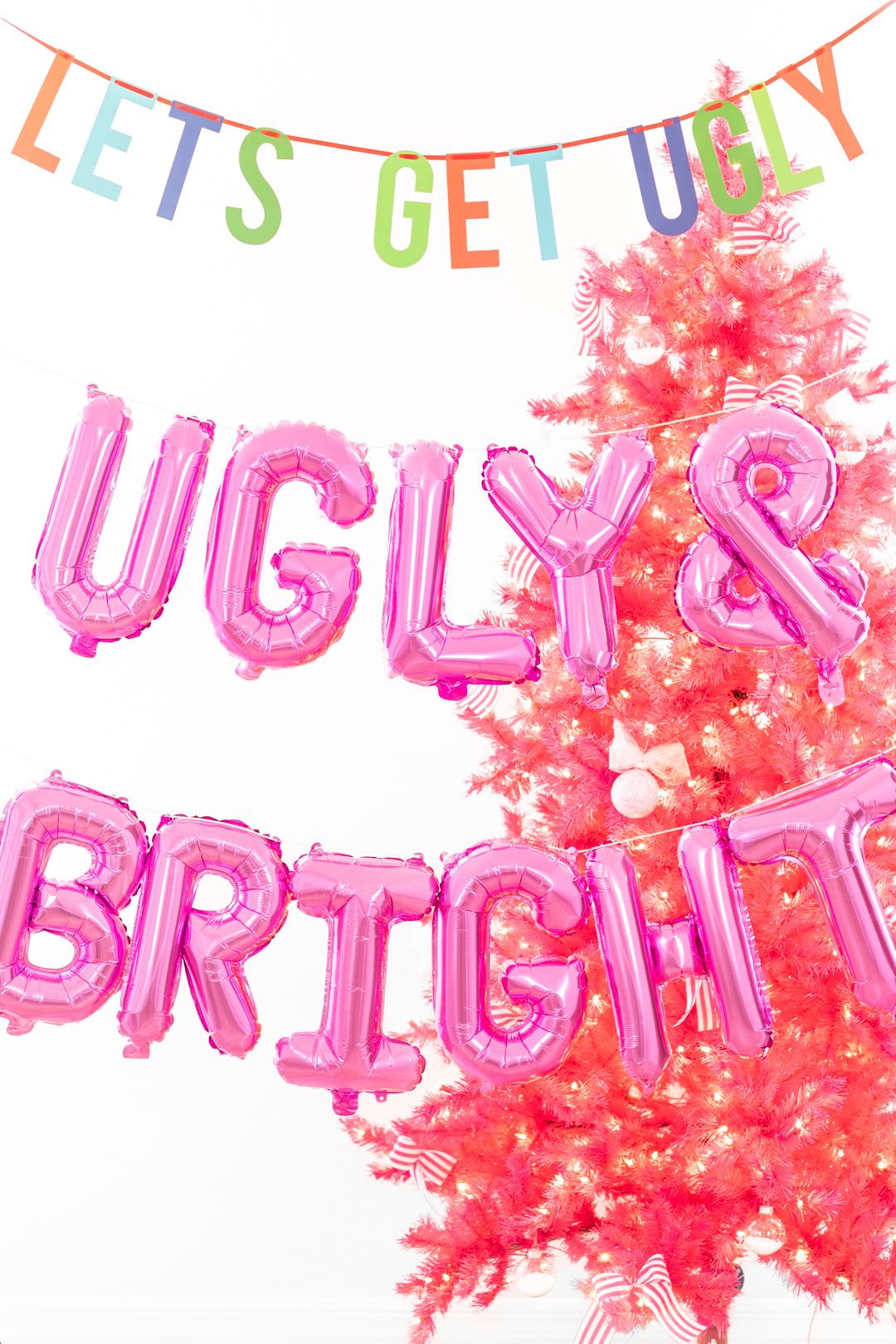 Provide a variety of fun photo props to commemorate this awesome party and all the hilarious gut-busting creations that come out of it. I found another kit by the same company, that offers a pack of the funny ugly sweater themed photo props shown in this post.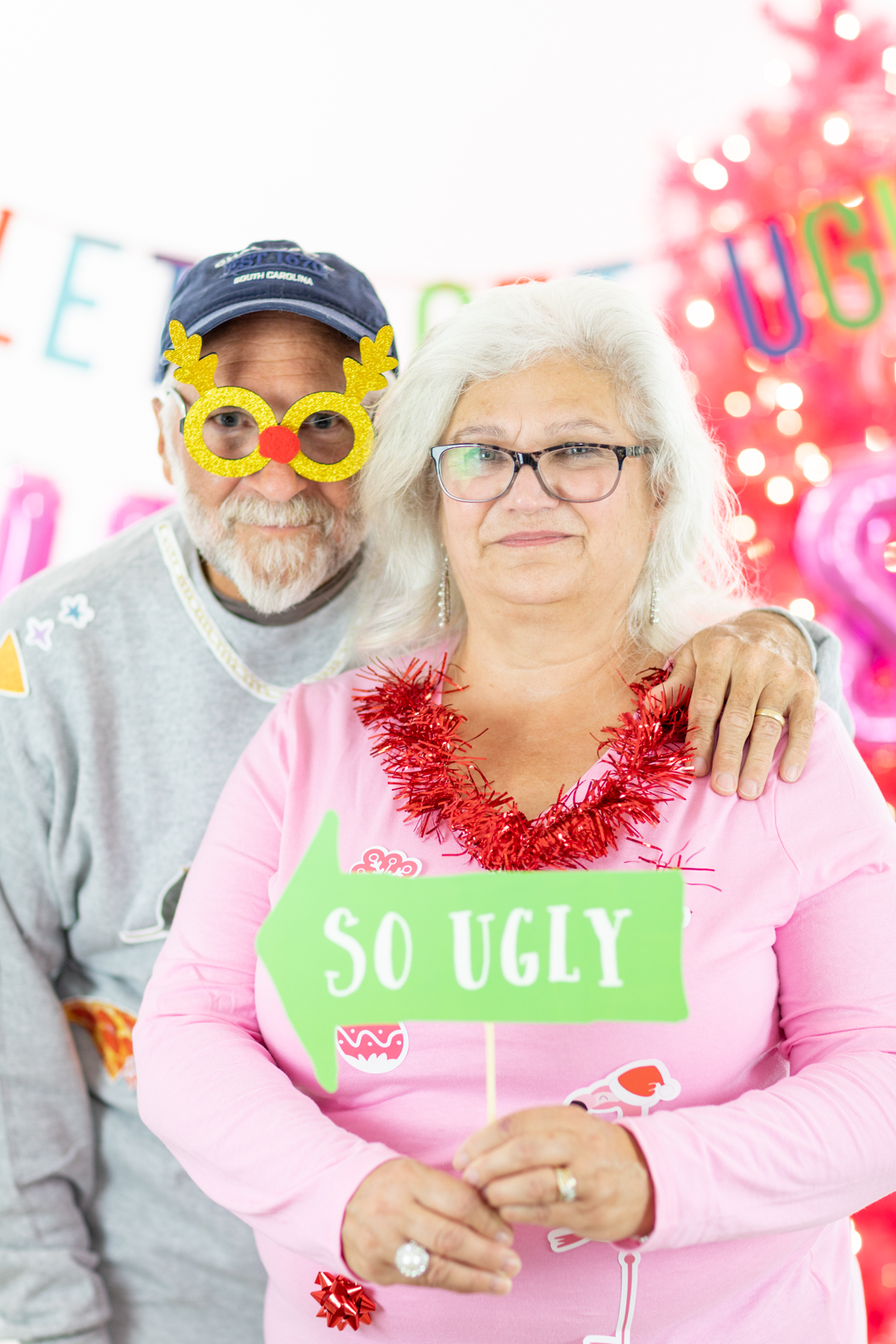 Serve a variety of easy Christmas themed foods. Get my list of recipes below. Or make an Ugly Sweater cake or cupcakes using ugly sweater cupcake toppers. (See below.) I also recently shared Ugly Sweater Themed Brunch ideas that would make for an even more unique twist.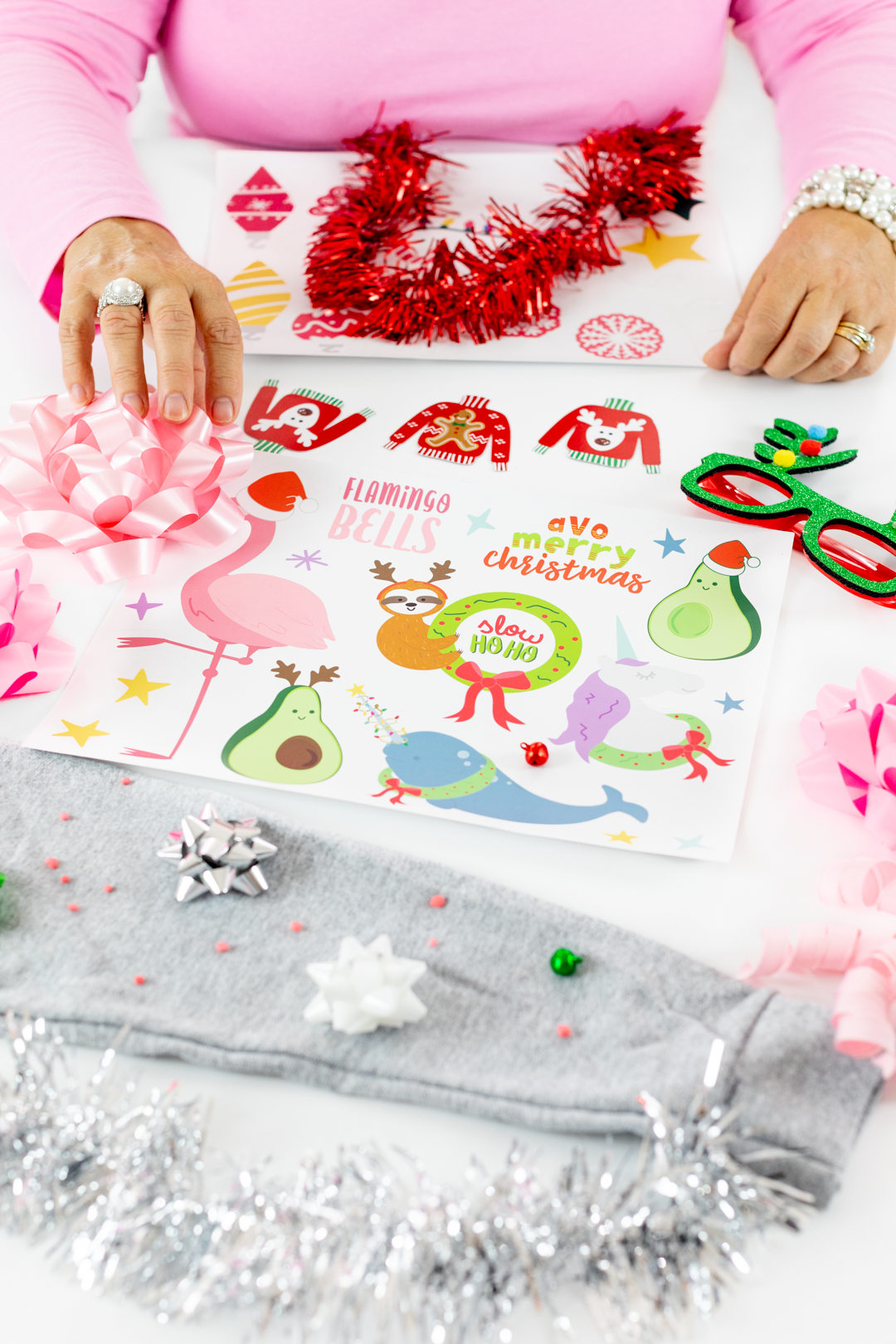 I want to thank my family for being super awesome and agreeing to come to my test party way back at the beginning of November. I just have to love them for that. We had a lot of fun and laughs and I can't wait to do something like this again. If your friends and family have a great sense of humor, they are going to LOVE having over-the-top fun with this party theme.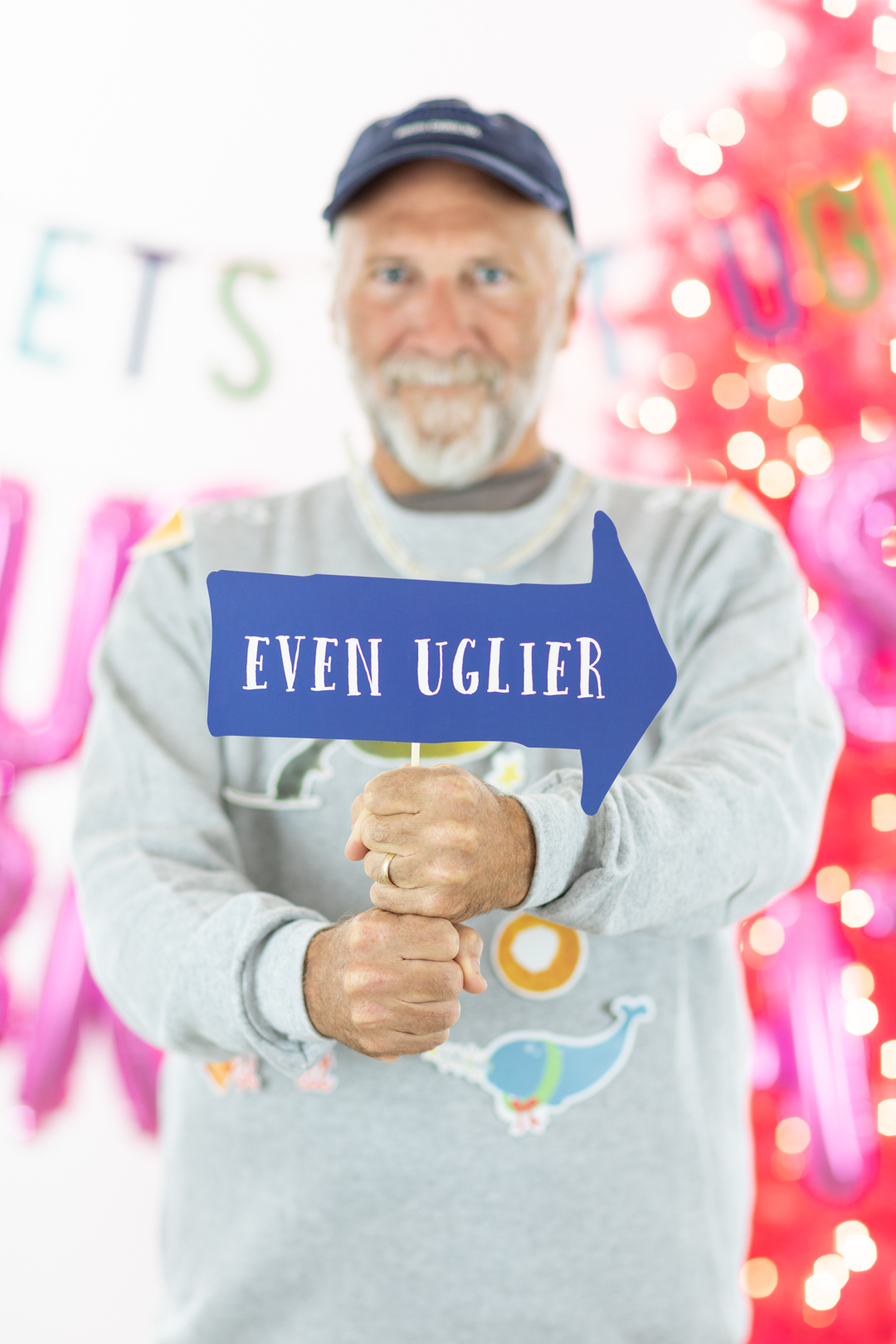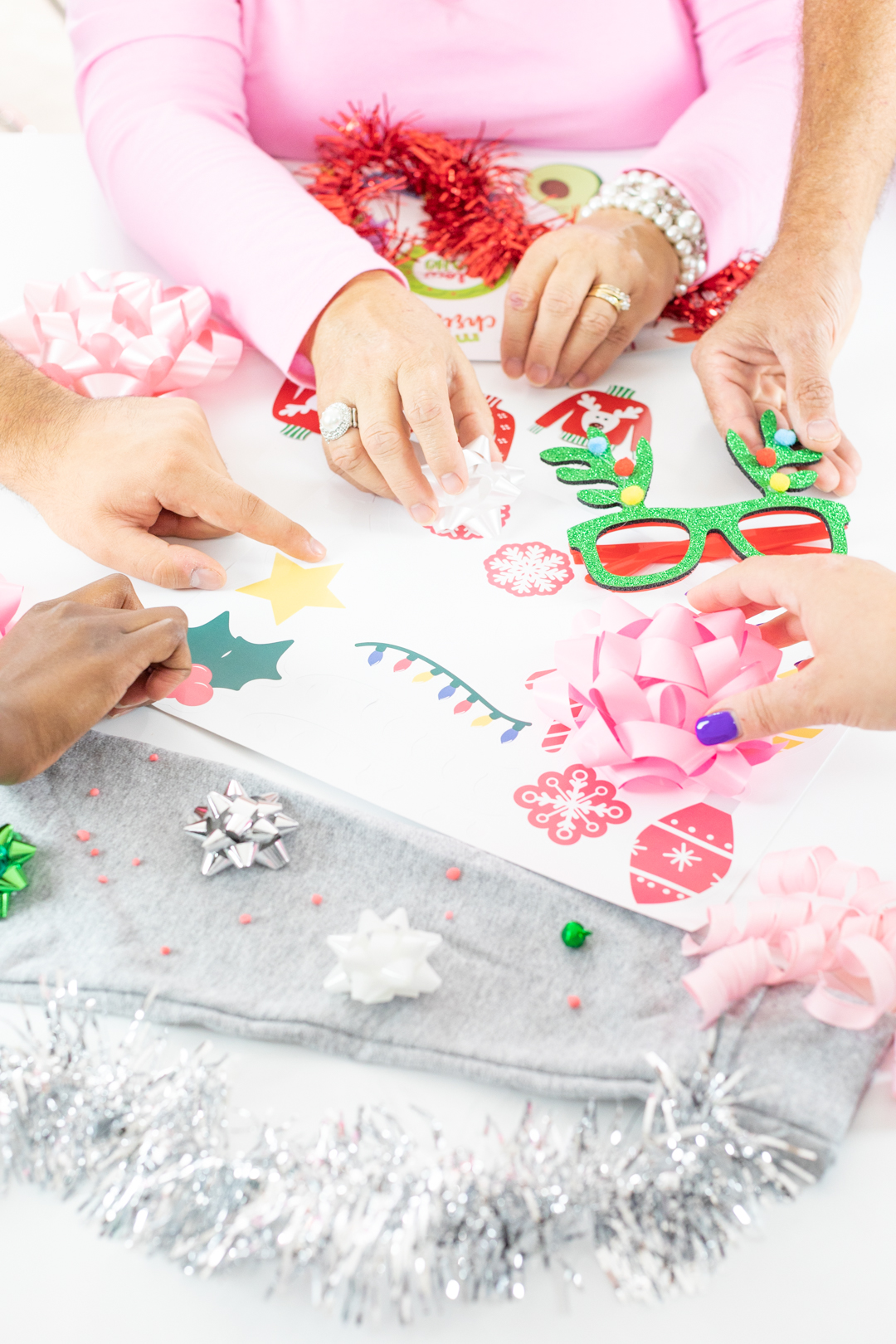 Here are all of the items that I used to put together this a quick last minute ugly sweater party for the holiday season. Hope this list helps you plan your party just as fast.
MORE CHRISTMAS PARTY IDEAS
Host a candy buffet party that will turn your home into Candyland basically.
Set up a mocktail bar that is very merry indeed.
This adorable party set up could totally work for Christmas parties for kids.
Ugly Sweater Foot Parade
Best items to use when planning an ugly sweater foot parade for a non contact Christmas. Fun non contact holiday idea.
Photo Credit: www.amazon.com
Photo Credit: www.amazon.com
Photo Credit: www.amazon.com
Photo Credit: www.amazon.com
Photo Credit: www.etsy.com
Photo Credit: www.etsy.com
Photo Credit: www.amazon.com
Photo Credit: www.amazon.com
EASY CHRISTMAS PARTY FOOD
Here are some yummy but fast recipes you can whip up for your festive celebrations this year:
Easy 3-Tiered Buffet that could not get any easier to put together.
Simple Holiday Appetizer Board made with all easy frozen food hacks.
Pink gingerbread shaped sugar cookies that will add a bit of whimsy to any Christmas party.
Peppermint Cookie Bars are both easy and festive to whip up. Make extras for guests to take home.
Create a yummy Holiday Coffee Bar that even Santa would love.
Easy Peppermint Patties looks so festive and tasty for a party table.
These Mini Reindeer Cakes are as easy as they are adorbs.
And, that's a wrap. I hope these ideas are a great springboard for you to plan your own not to be forgotten holiday soiree!
Do you have friends and family that would enjoy a fun party like this one?