Who needs a little boost to deliver all the gifts in one night? Must be Santa… Santa Claus! Today I'm sharing holiday coffee bar ideas that even Santa will love. Treat guests to a delicious cup of warm goodness by choosing the best coffee and add-ins. Community® coffee American Classic Blend™, available in a 37-ounce canister exclusively at Walmart, is both rich and smooth and could not be any more perfect to serve up for a special occasion.
This is a sponsored post by Community Coffee Company, but all opinions are my own.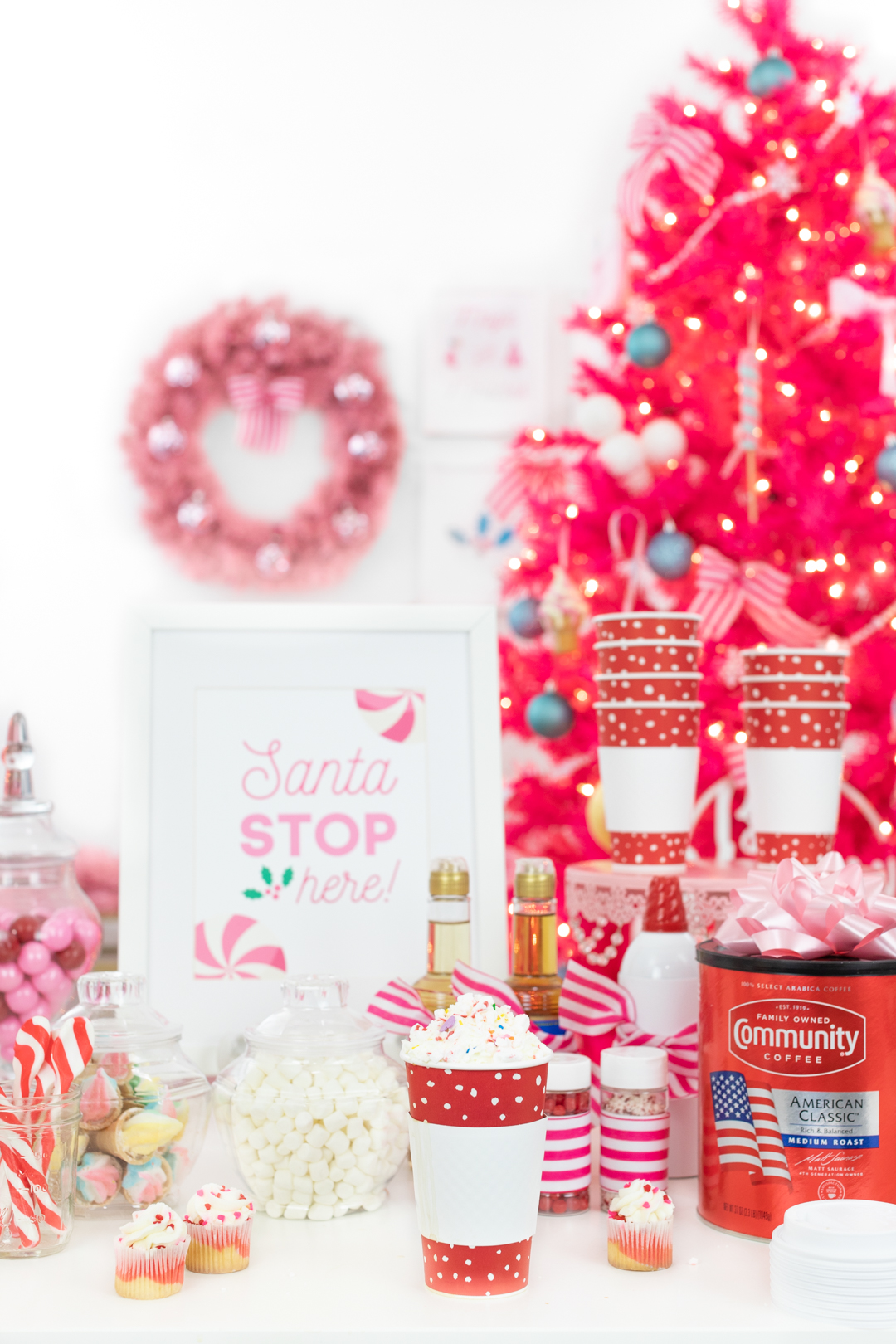 Coffee makes for a fun pick-me-up and everyone will love being able to customize their coffee with favorite fun options galore.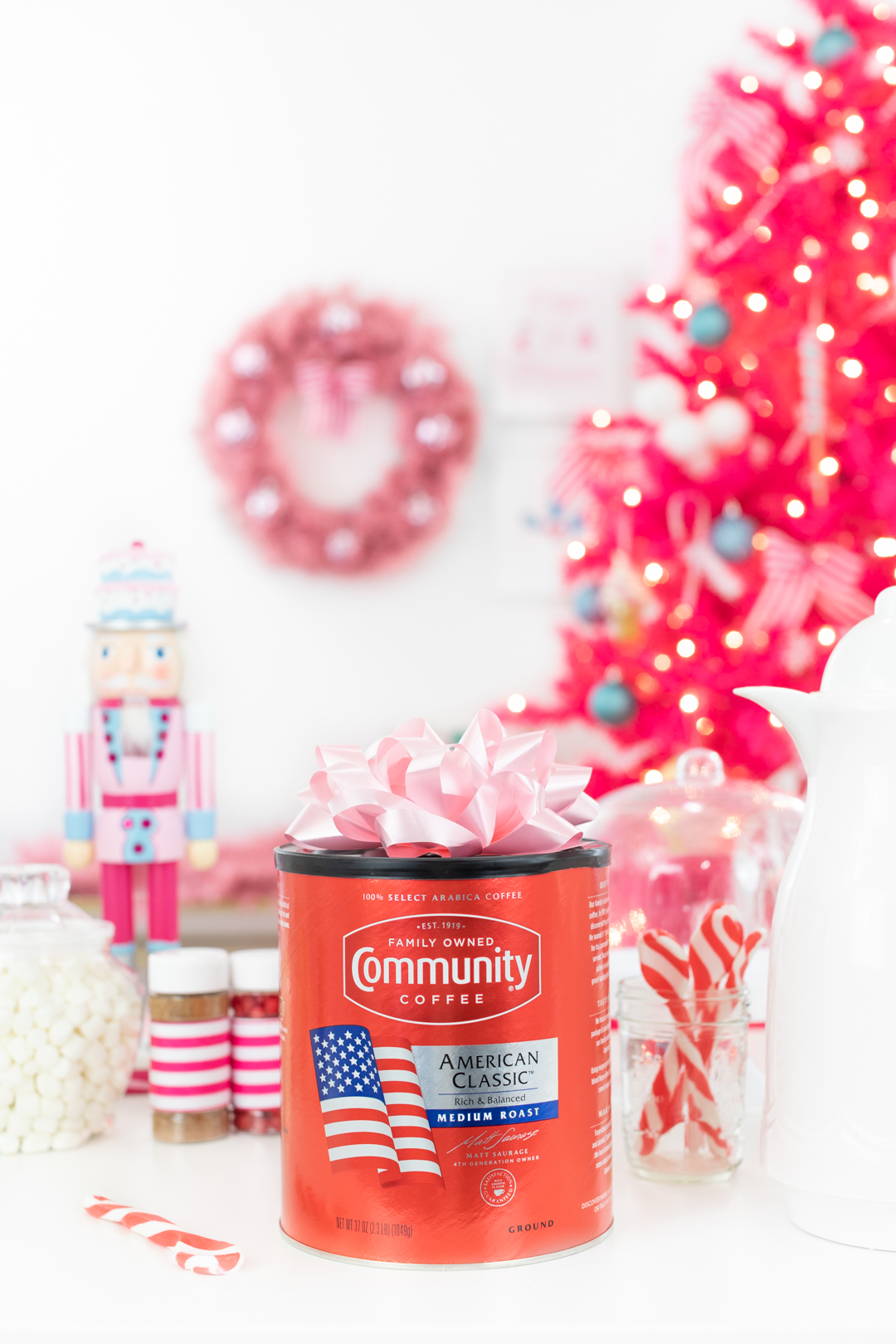 DIY HOLIDAY COFFEE BAR IDEAS
Starting the delicious fun with an option like Community® coffee American Classic™ Blend is a great place to start. The brand has been around for over 100 years and four generations. They happen to know a thing or two about a delicious well-rounded cup of the good stuff.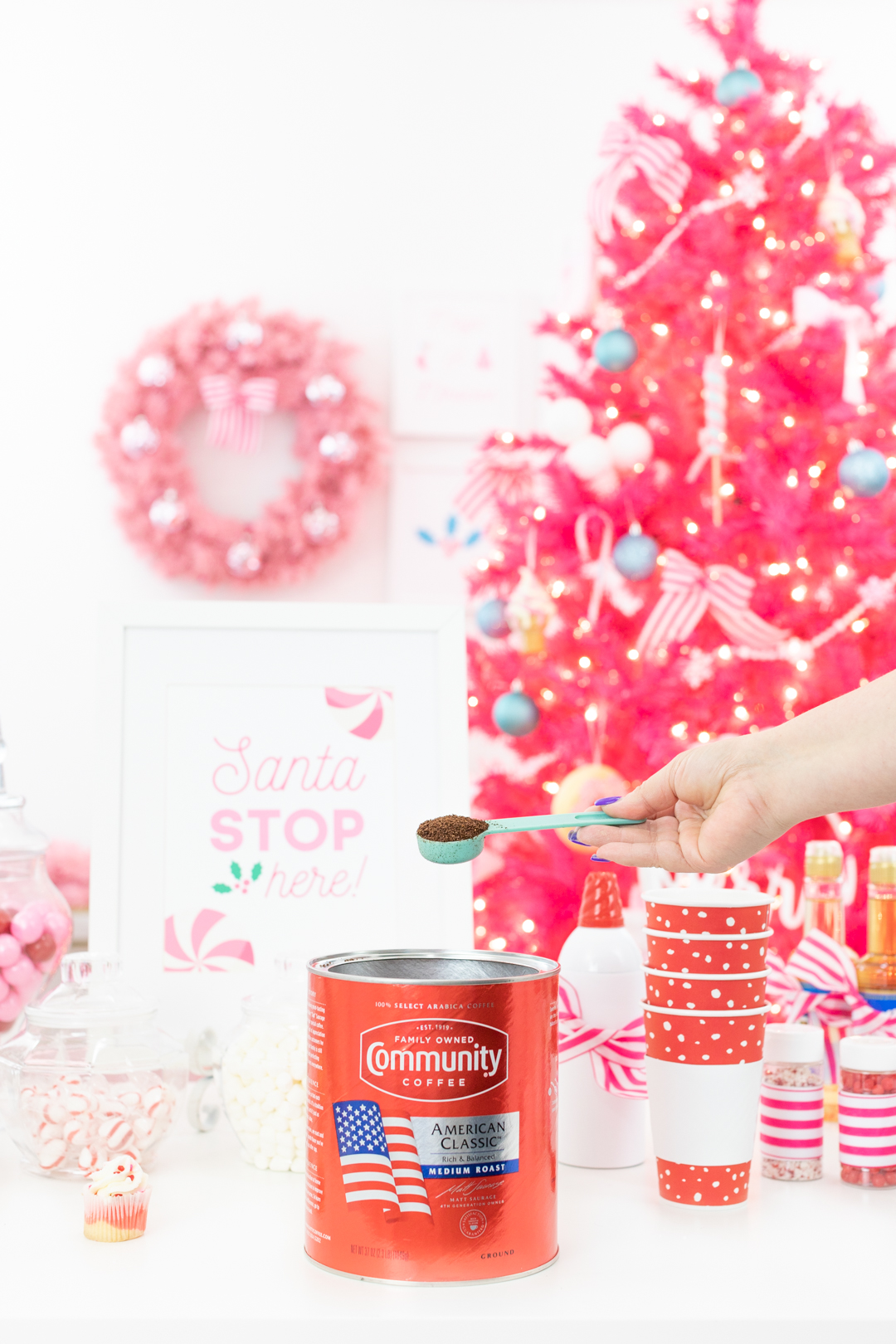 The American Classic™ blend is going to be the perfect starting point for holiday celebrations! On that note, let me share some ideas and inspo so that you can set up a yummy coffee corner that even Santa will love.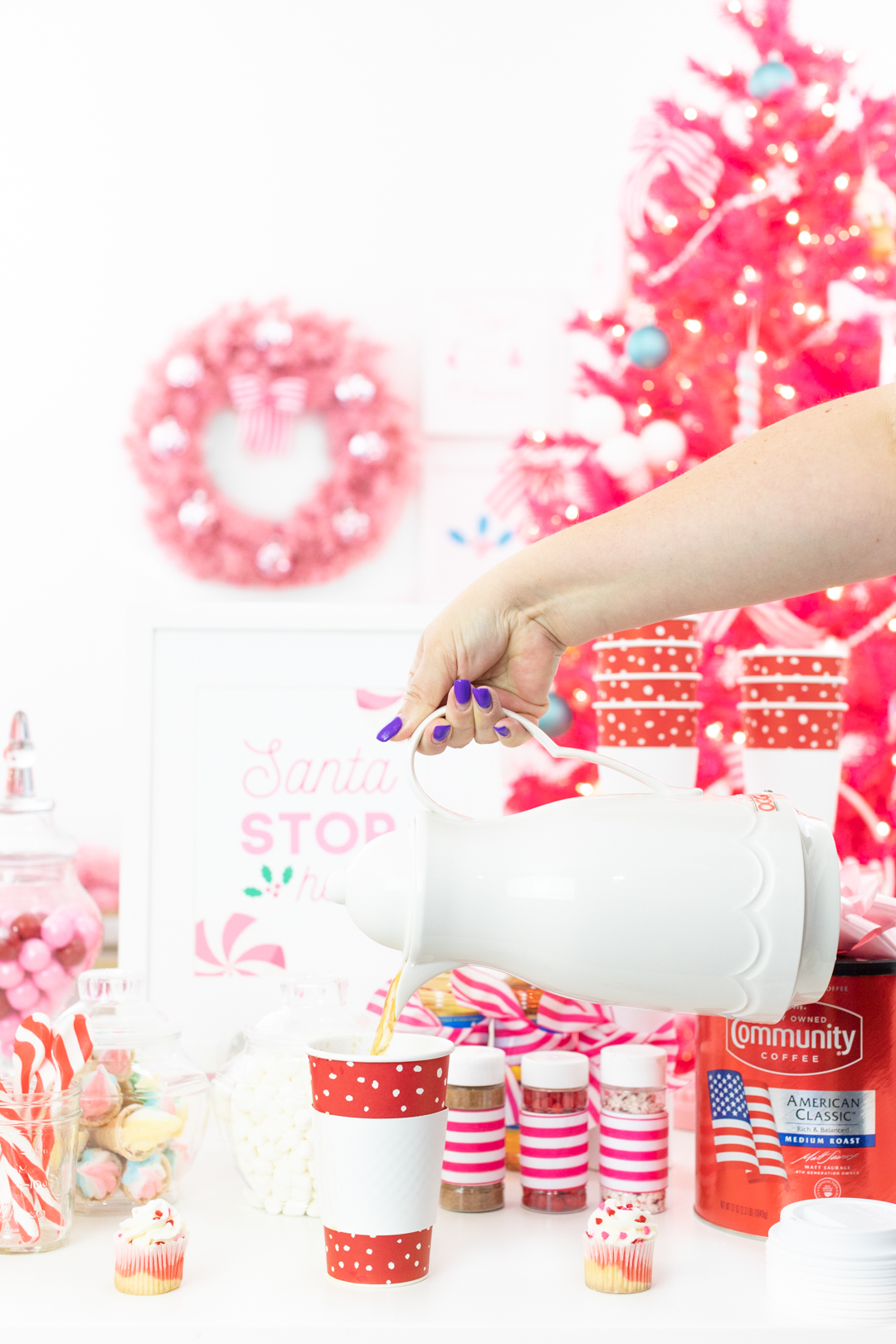 COFFEE BAR SHOPPING LIST
These holiday coffee bar items are great thought-starters to add to your Walmart shopping list. Pick and choose your favorites to make your own special cozy corner that your guests will adore.
Delish Coffee such as Community® coffee American Classic™ blend
Flavor Syrups
Sweeteners
Milk, Half & Half and Cream
Flavored Creamers
Crushed Peppermint
Peppermint Candies
Candy Canes or Peppermint Spoons
Chocolate Dipped Spoons
Mini Marshmallows
Holiday Sprinkles
Cinnamon and Spices
Whipped Cream
Baked Goods (mini muffins, mini donuts, cookies)
Paper Cups, Coffee Stirrers or Plastic Spoons
COFFEE BAR PRINTABLE
Want to make your holiday coffee bar more fun? Download my Santa Stop Here sign, save it and print it for your party. I recommend printing on a thicker stock so that it's nice and bold.
Download Coffee Bar Printable (pdf)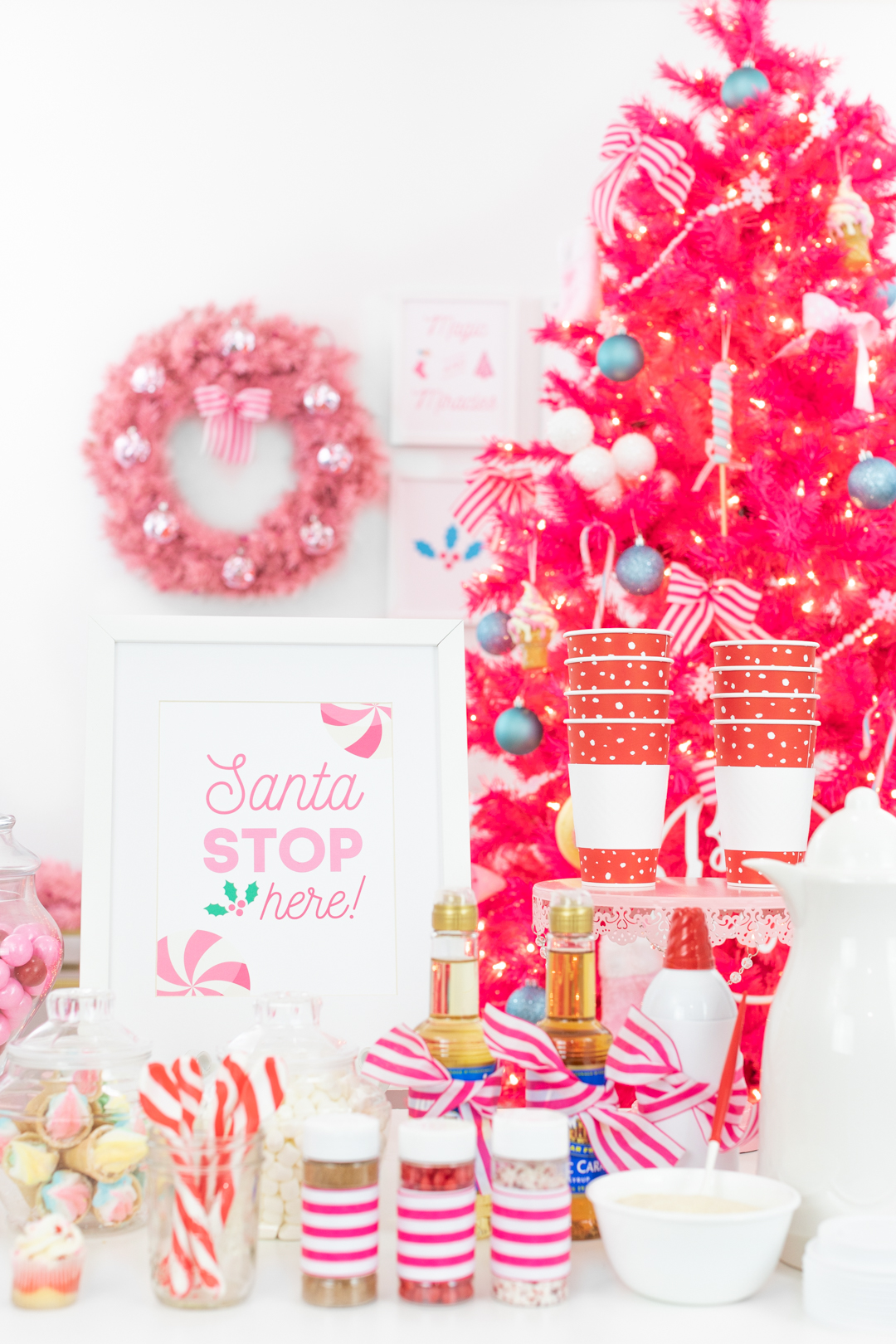 Make sure to pick up Community® coffee American Classic™ blend for all of your holiday entertaining. This satisfying blend is available in a 37-ounce canister exclusively at Walmart!