Let me start this by saying that it takes a lot to get me star-struck. But the intense warm fuzzies and side of nostalgia that I felt upon laying eyes on the gorgeous Fancy Feast cat surprised me. So you can only imagine how much I loved that I actually was able to hold this sweet cat for a solid minute or two. This glorious moment was one of the very best highlights from my recent trip to the Purina headquarters in St. Louis to learn all about the Fancy Feast brand and their new newest innovation, Savory Centers, a delicate paté with a delicious gravy center! This post was sponsored by Fancy Feast.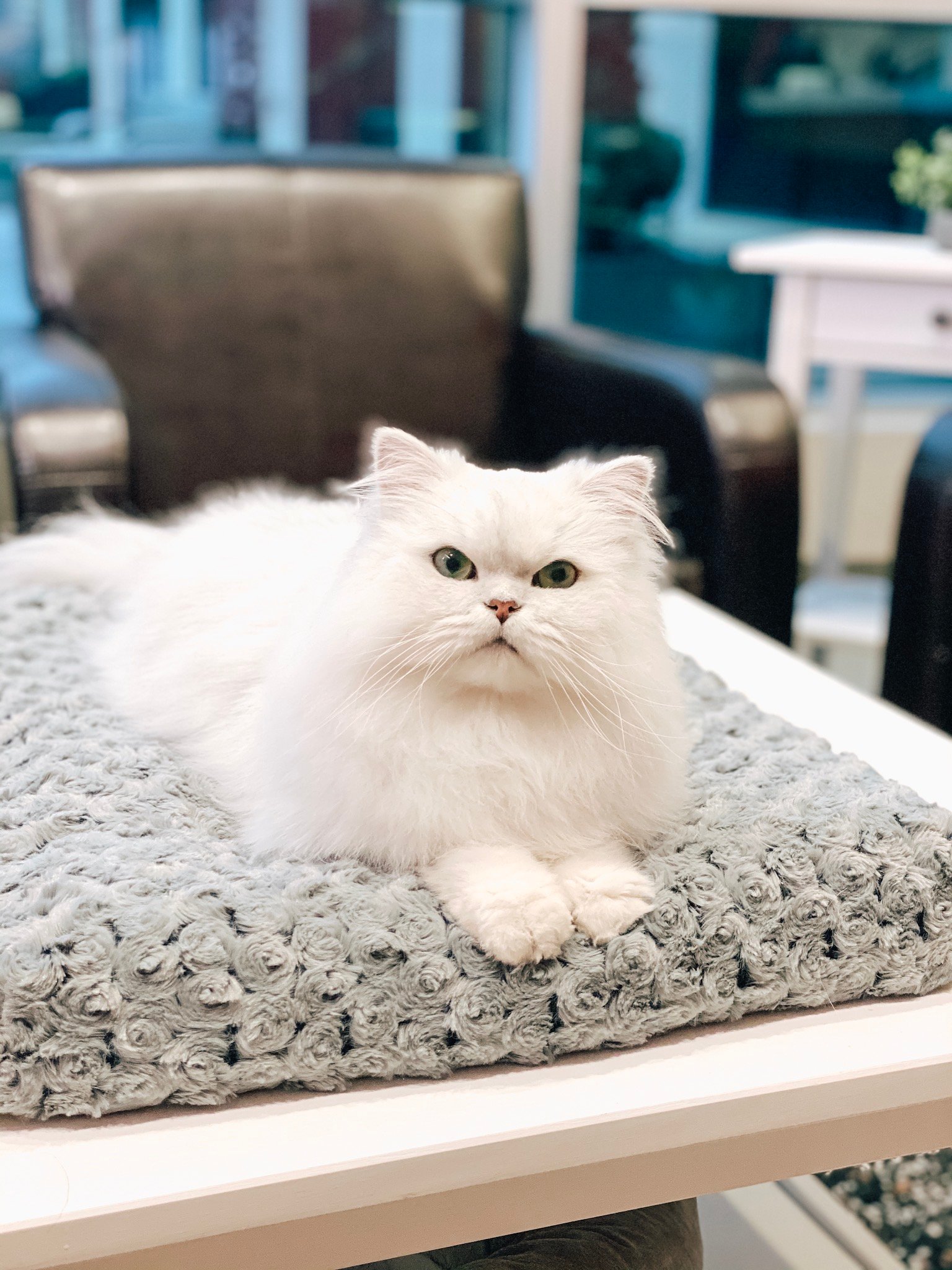 It's amazing to realize that something as simple as a cat food brand could have such an impact on my life. I've almost always had family cats and loved them like crazy, but this visit made me realize the full impact cats and the brand have really had on my life. It's more than just the fact that my cats love Fancy Feast or that I love my new kitty family. It's deeper. It's moments like these that really bring it all together… when you scratch past the surface, it can reveal strong memories and emotion. Let me explain how the visit went and it will all make sense.
Let's start from the top. Upon arrival at the hotel, I found a gorgeous gift box in my room. I love surprises as much as my cats so this was a treat.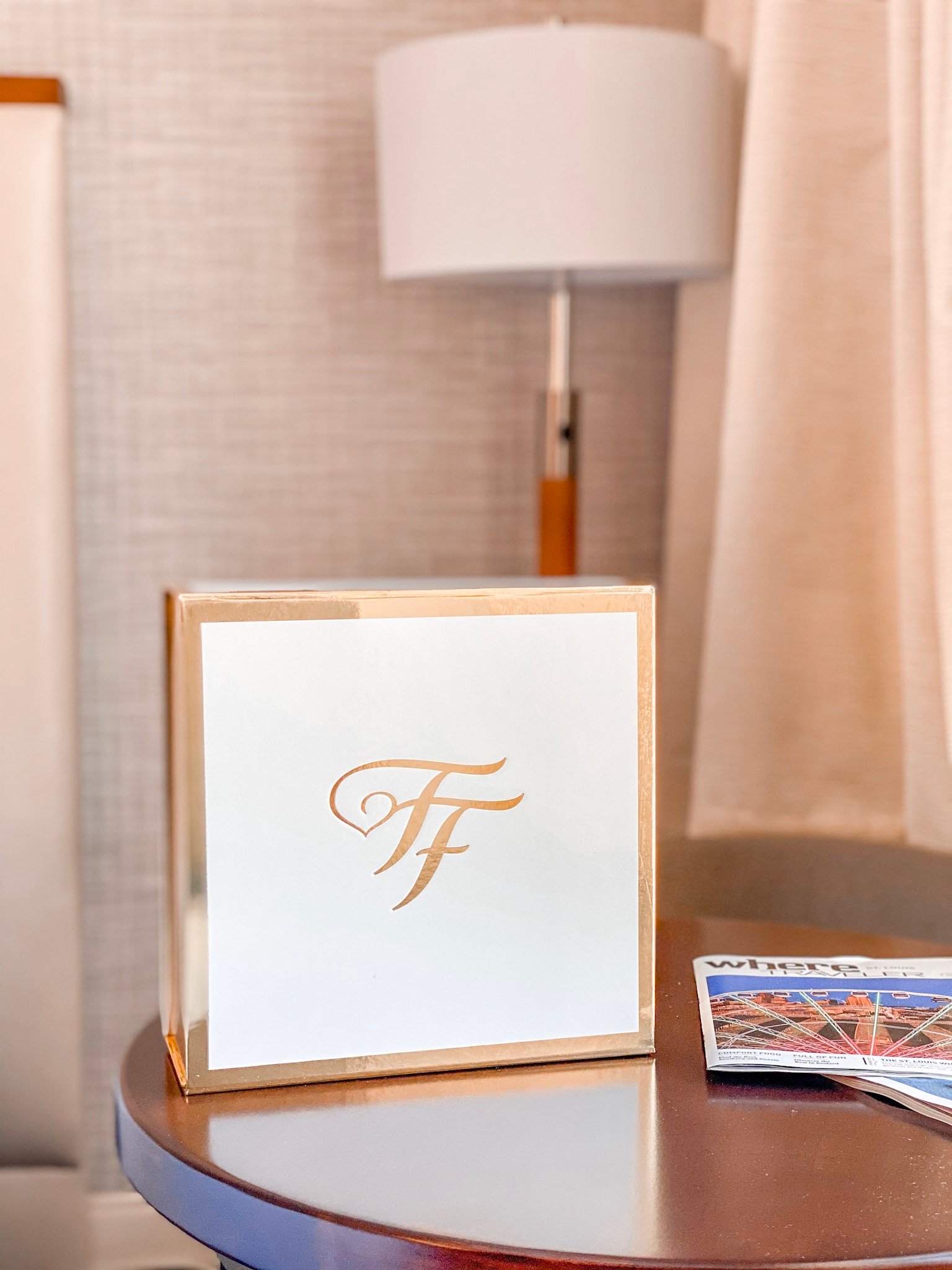 It was what was inside that made me know instantly that I made a good choice to come visit. They get me.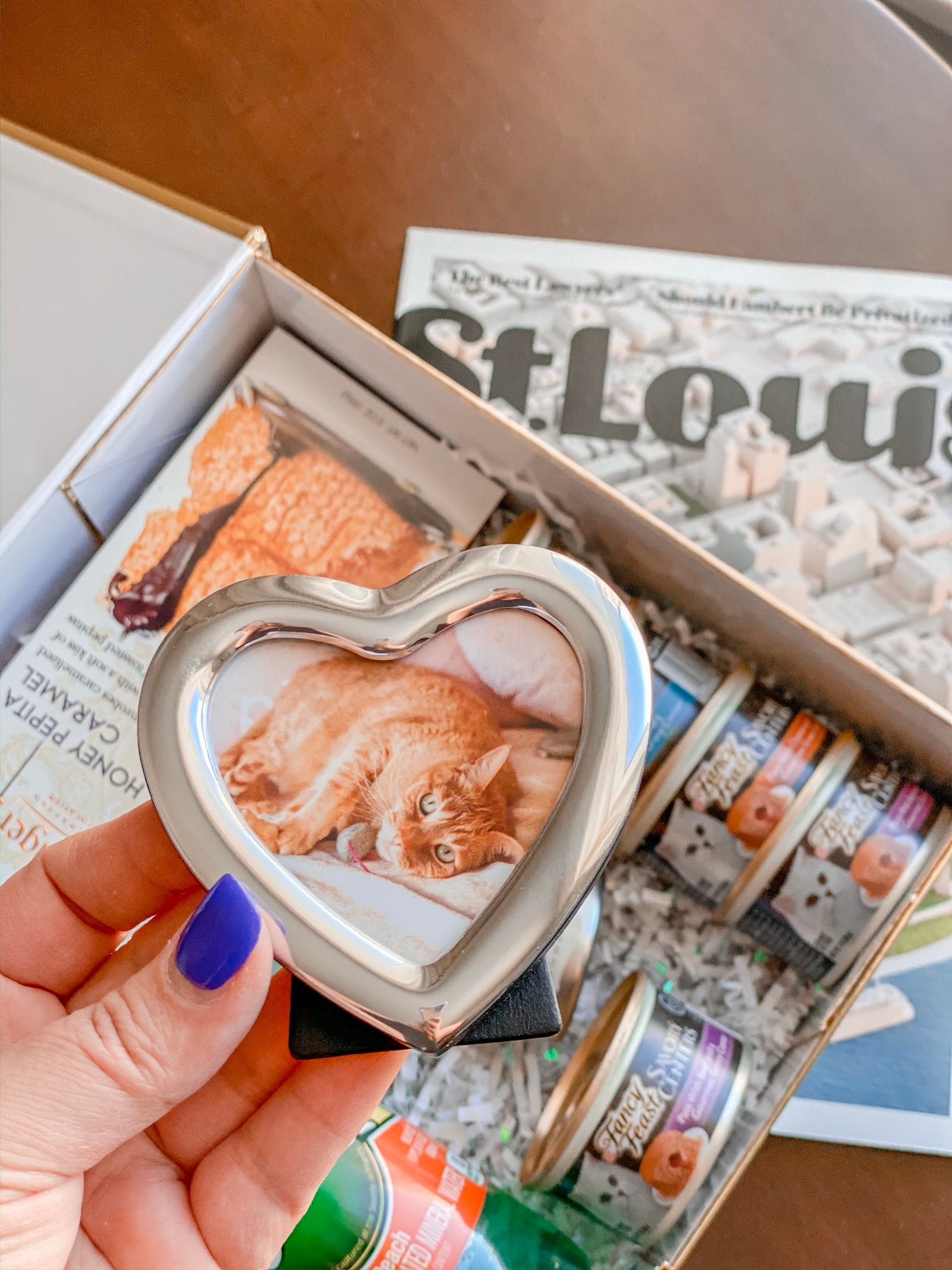 To see my beautiful Ben looking right back at me gave me all the feels. If you are a pet lover, you know what it's like to miss a pet. You can't really tell them you'll be back soon like you can with your kids and other humans.
The next day, it was all about getting whisked away to Purina HQ to see what the day had in store. One of the first things that we did was watch some of the Fancy Feast commercials from throughout the years as well as see a Christmas tree with almost all of the Fancy Feast ornaments of years past on it. (More on that below) I was taken aback when my eyes started to gloss over. These things have been a part of my life and have shaped me… I just didn't realize it until now. I remember sitting on my grandmother's couch watching some of these commercials years and years ago. These are memories that I would have easily forgotten. It pays to take a stroll down memory lane sometimes. You never know what kind of goodness you'll find.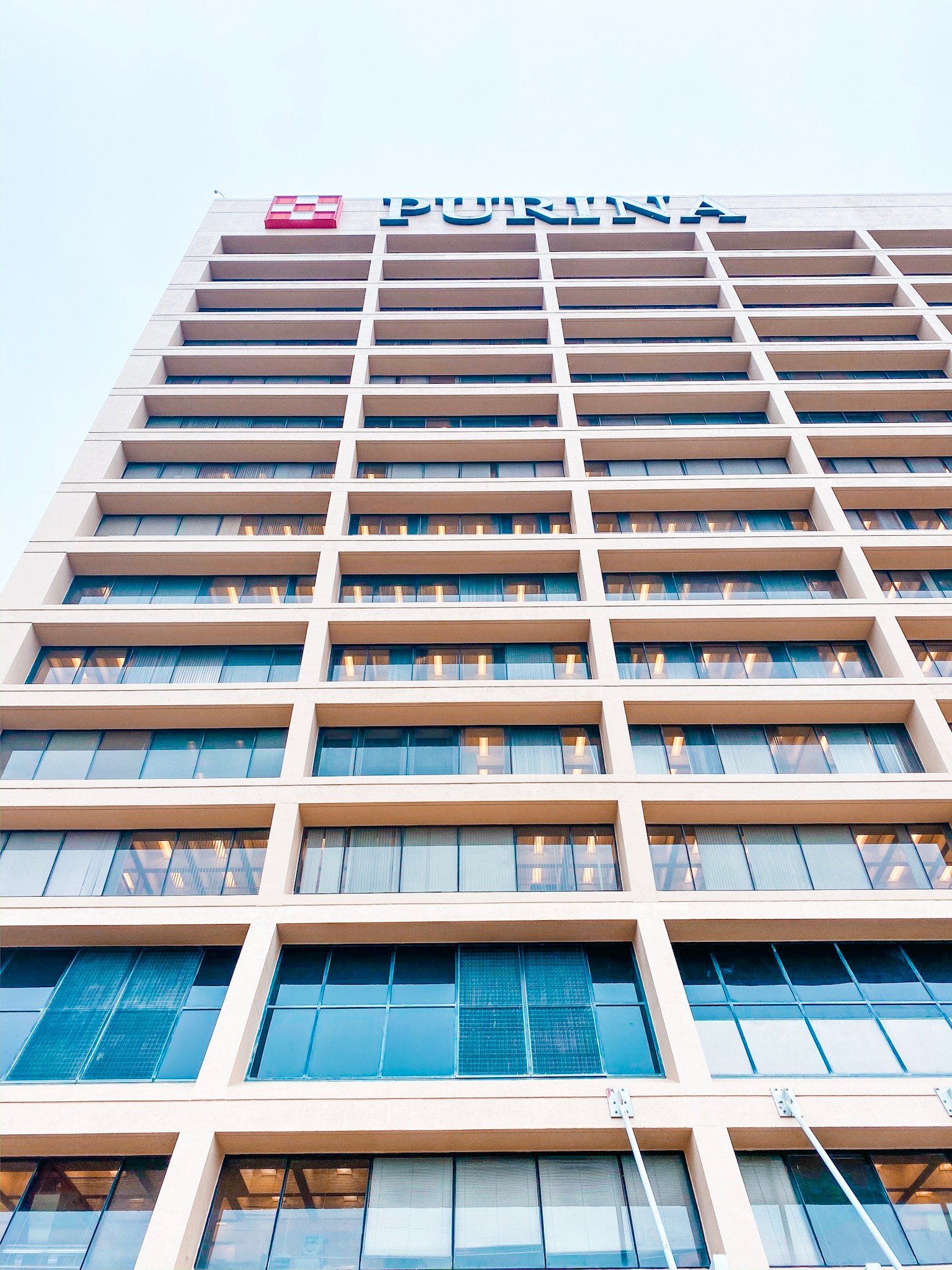 If there is one thing that is now clear to me, it's that the Fancy Feast brand really resonates with me. From their marketing goals to their branding colors. I realized a connection that had always been there, I just hadn't thought about it too much. Sure, I spoil my cats with their foods and treats regularly.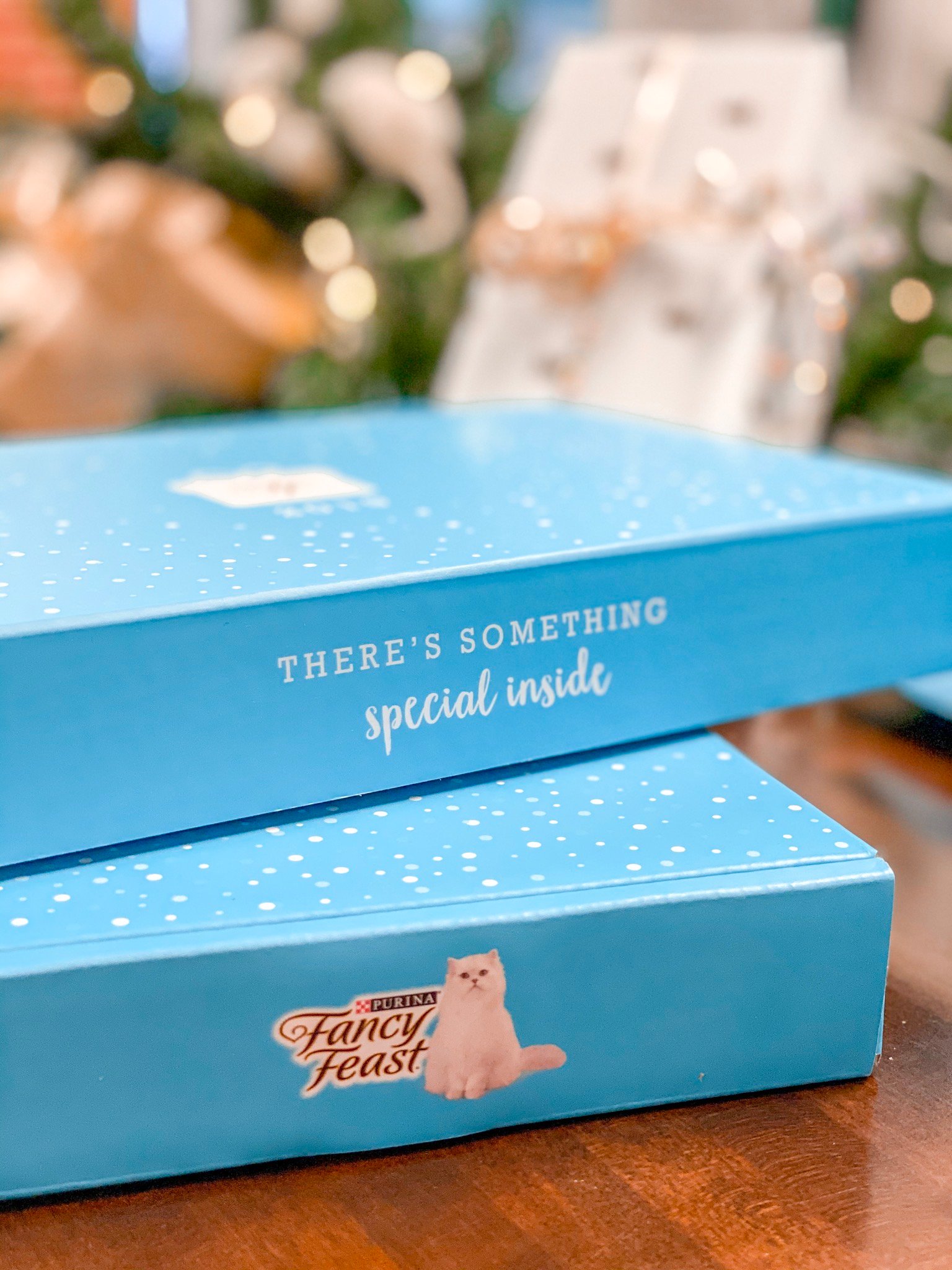 I knew I was in the right place at the right time and I'm excited to be in the position to be sharing all of these special moments with you. And speaking of sharing. I am very excited to talk about the 2019 Feastivities Ornament which is perfect for both long-time collectors and new! It's never too late to start a fun tradition and this is the year to do it!
This year's ornament is extra special because each box comes with TWO ornaments. One to keep and one to gift to someone special. I love that idea so much. The cost? A simple $3 donation. Proceeds go towards Adopt-A-Pet.com to help pets find their forever homes. I just think this is the sweetest idea and a low cost but heartfelt gift to all the cat lover on your shopping list this year. Don't delay. Visit www.feastivities.com to order yours before they're gone!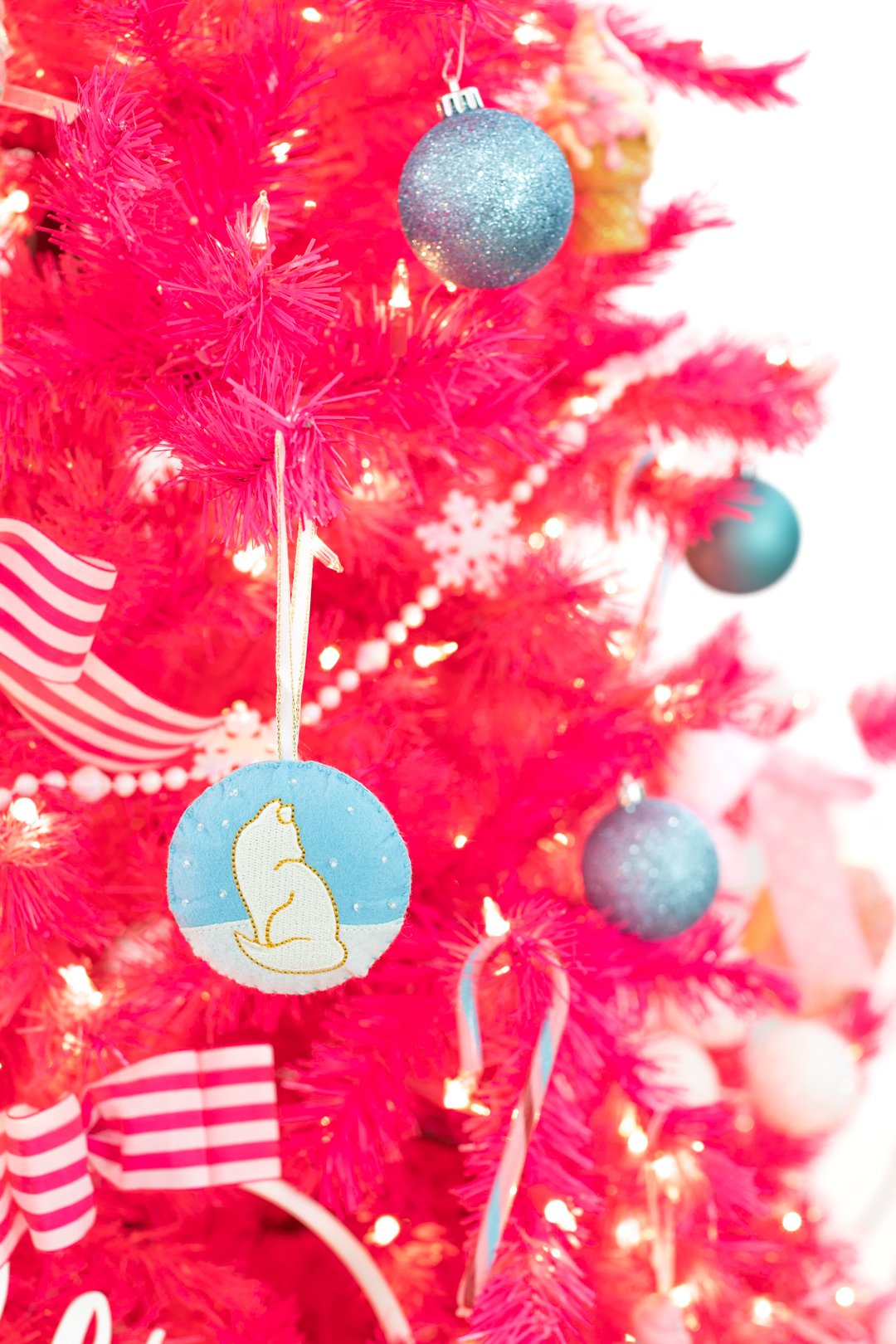 Next stop. Lunch. We had the absolute pleasure of tasting the innovative food creations from Fancy Feast's own Chef Amanda. Yes, a real chef is one of the many amazing people behind the development of the new Fancy Feast Savory Centers. She creates meals that inspire the people that help design these real cat food recipes. Each of the dishes we were served were multifaceted and embraced the idea of foods having a savory center from a vegetable spring roll with an oozy over-easy fried egg inside to the most amazing dessert with the best caramel center. What an epic treat. During the lunch, we also had the pleasure of learning tidbits from Dr. Annie Valuska and Catherine Cartier. The reason behind this new food creation is that it's loved by both kinds of eaters. I had no idea it was a thing but apparently either cats are biters or lickers when it comes to eating food and both of these eaters are attracted to the new Savory Centers. I was very intrigued and after getting home and serving it up to my own cats, I'd say they have it nailed!
Now on to one of the most fun moments of the visit. I felt like a kid at a candy store! They had photography light boxes set up and props galore so that we could have some fun photographing and creating fun imagery featuring the new food.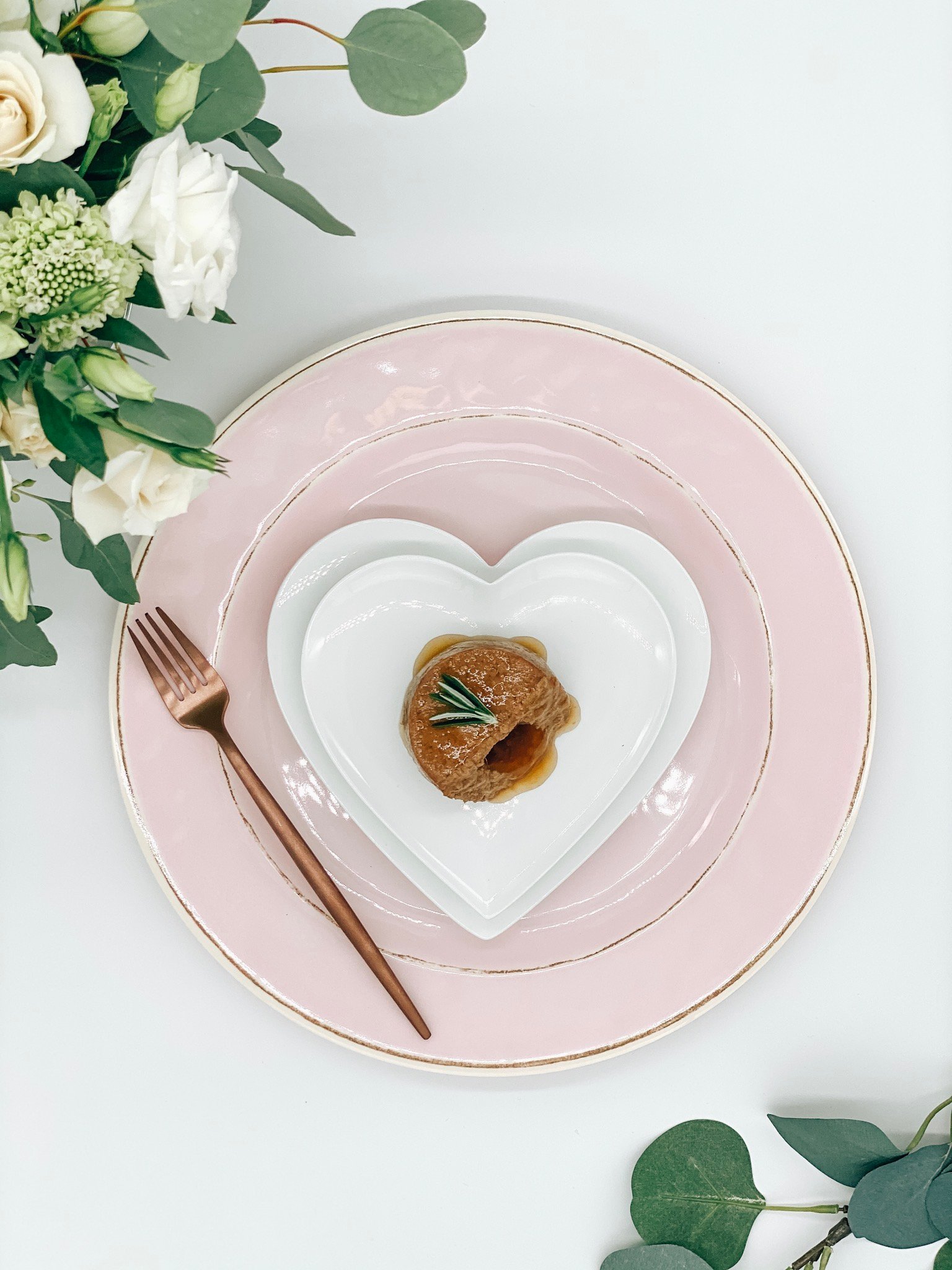 I could totally get used to having help making food photos looks stunning like this. I do have to confess that I forgot to bring my normal camera(lugged it all the way to St. Louis but left it in the hotel room), but did have my new iPhone Pro with me which was kinda cool. It was my first time really playing with the camera and so far I'm really impressed.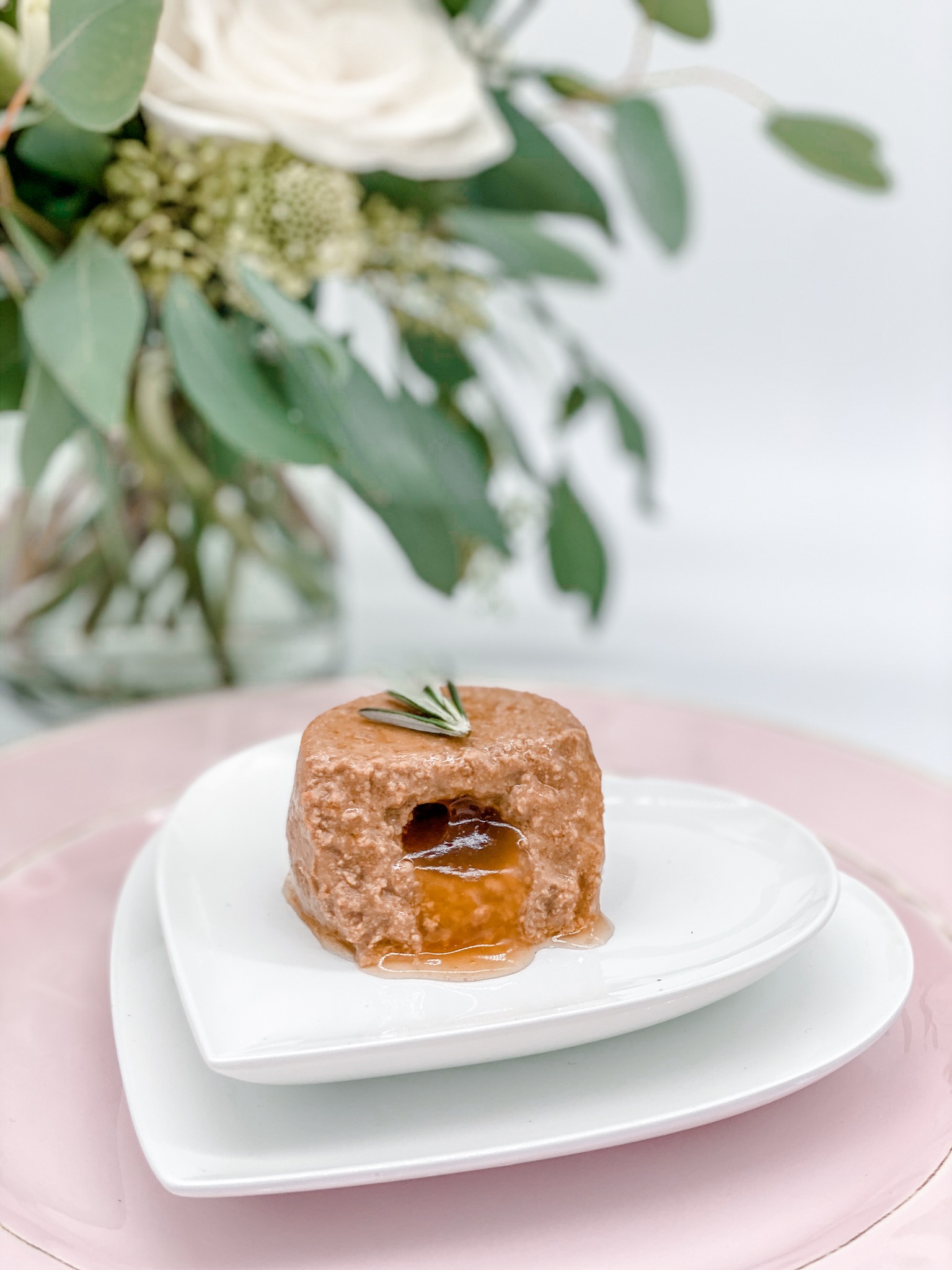 Now onto you! I am curious if your cats will love Savory Centers, too. Here is a special offer so that you can give it a try, too.
Get a Buy One 3 oz Can, Get One Free Coupon here.
Varieties
Savory Centers with Tuna Patéand a Gourmet Gravy Center
Savory Centers with Chicken Patéand a Gourmet Gravy Center
Savory Centers with Beef Patéand a Gourmet Gravy Center
Savory Centers with Salmon Patéand a Gourmet Gravy Center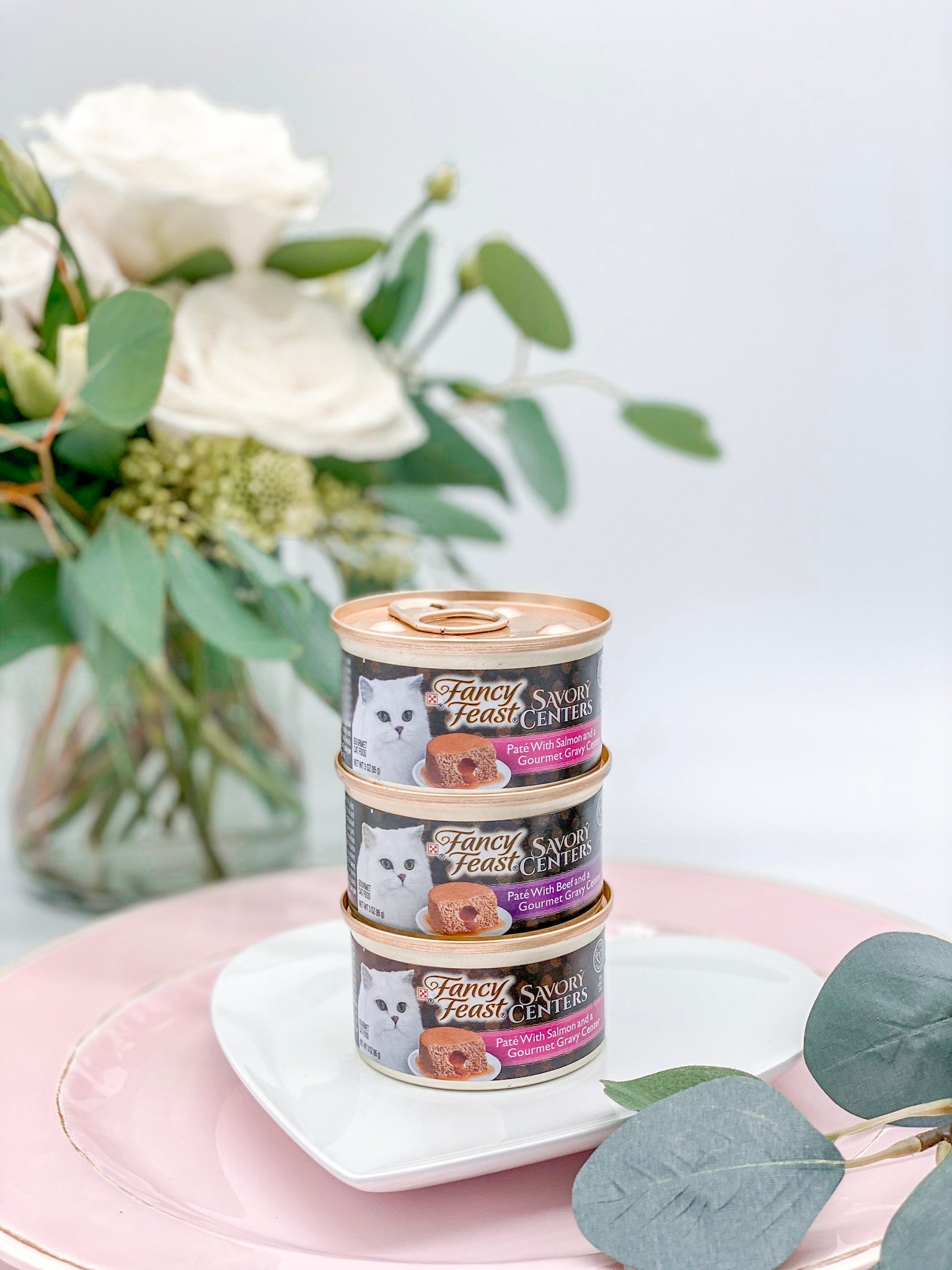 Ahhh. What a trip. I won't soon forget a single moment.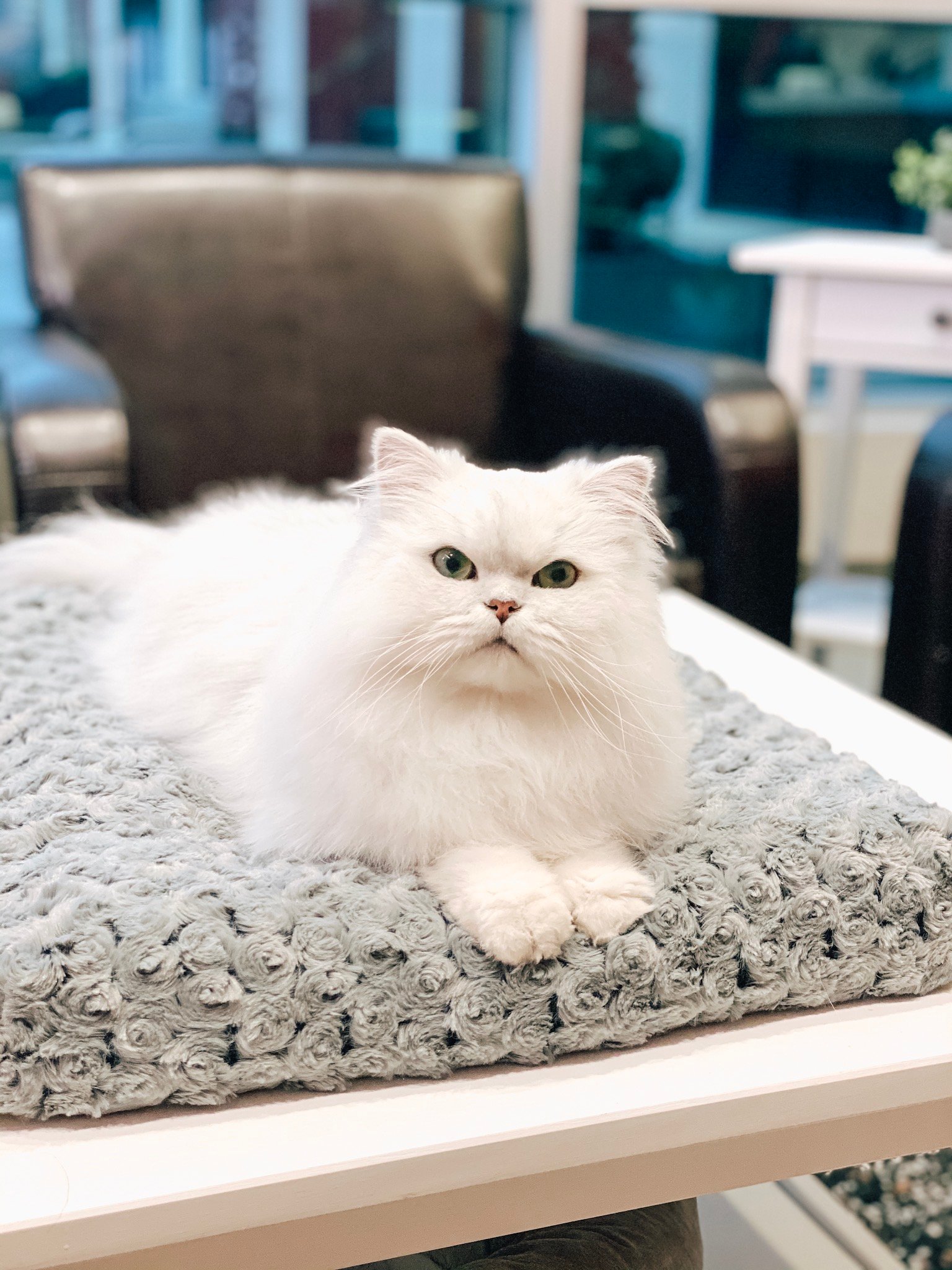 Isn't that face adorable? <3