You may have heard me raving about Mickey's Not-So-Scary Halloween Party over the last several years, but I haven't actually shared all of the details that make this a must-attend event. Mickey's party is an extra ticket event that lets you celebrate Halloween in a fun and safe way at Magic Kingdom at Walt Disney World after regular park hours. I was provided complimentary media tickets as a part of #PTHDisney to experience the event at no cost, all opinions are my own.
The special event takes place on select nights through 11/1/2019 and there are some fresh new things to do even if you have already been in the past.
If you have been stuck on whether or not you should splurge on this event, here are some excellent reasons to go to Mickey's Not-So-Scary Halloween Party.
It's totally budget-worthy, especially if you take all of these things into consideration including one of a kind experiences and unlimited CANDY.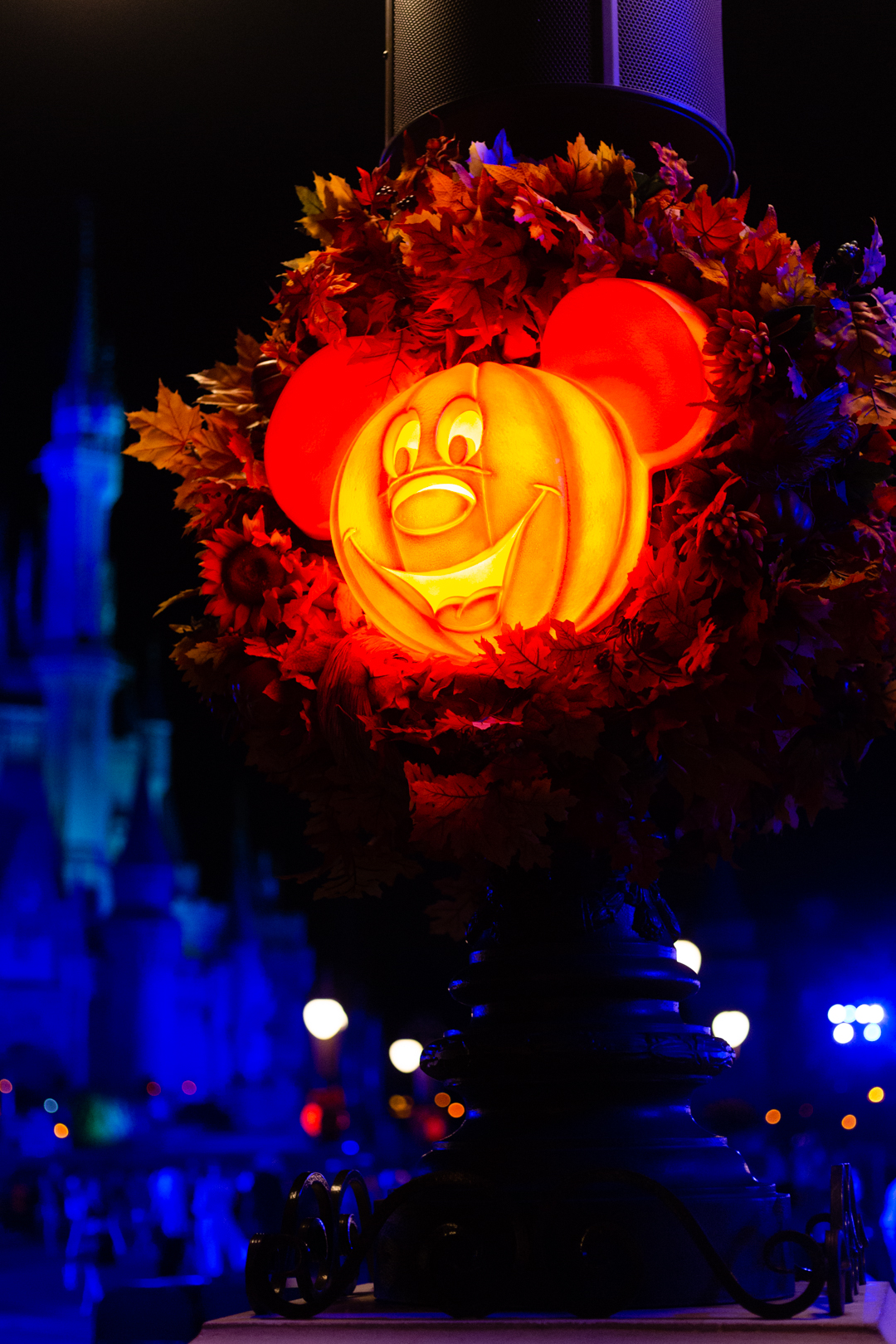 It's easy to wonder if the extra event costs are worth it, especially if you've been to Magic Kingdom already in the past. Today, I have the answers to the questions you have been wanting to know! Here we go!
IS MICKEY'S NOT SO SCARY PARTY WORTH IT?
As someone who had been to at least 9 or 10 of Mickey's Not So Scary Halloween Party nights over the last 4 years, I have had plenty of time to gather up my very favorite things about this event!
First let's talk about all the NEW goodness you can expect for 2019!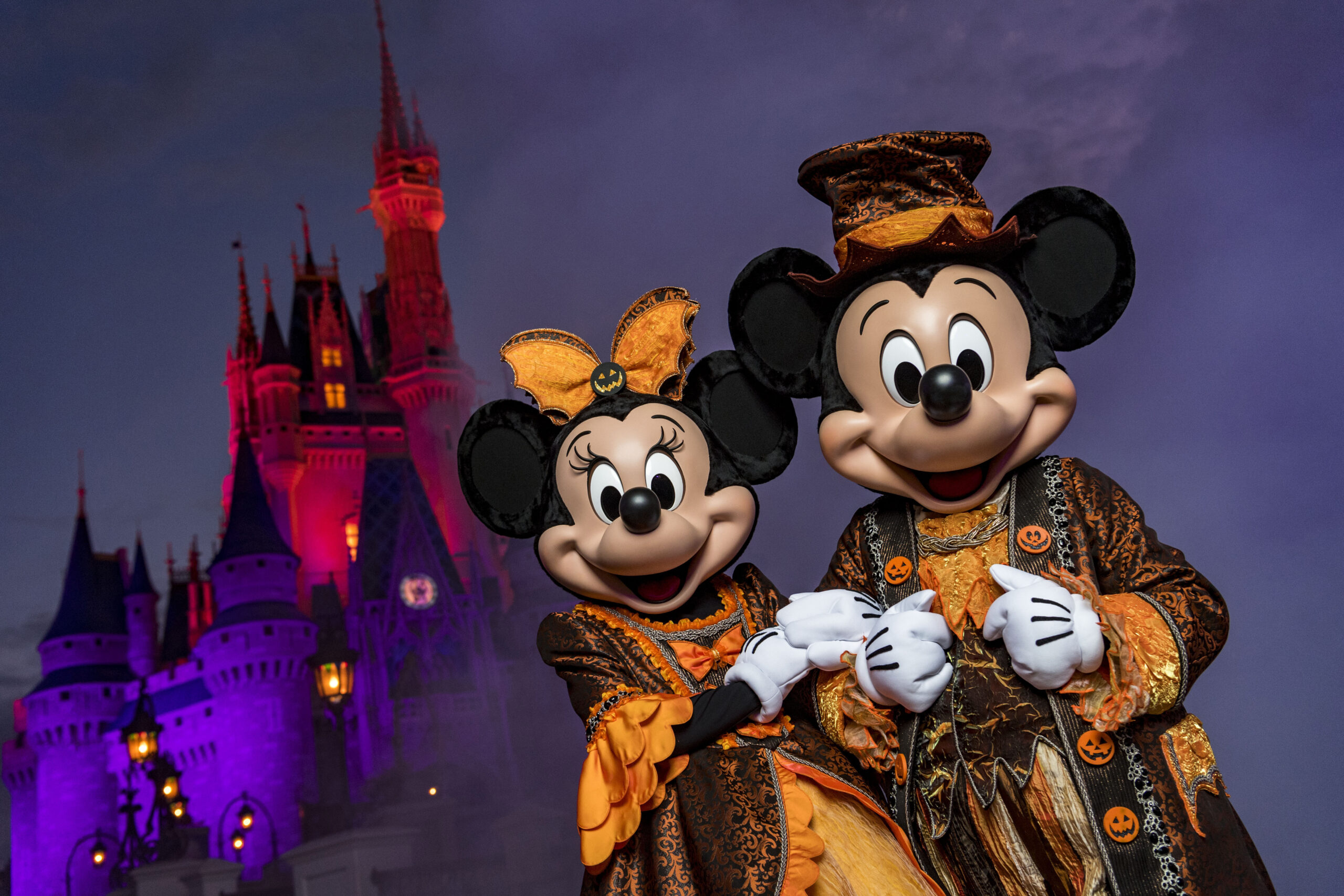 WHAT'S NEW FOR HALLOWEEN 2019
One of the very best new must-see things for 2019 is the Disney's Not So Spooky Spectacular fireworks show hosted by Jack Skellington himself. And, of course there are always tweaks to the parade and wonderful collectible party swag and FOOD add ons.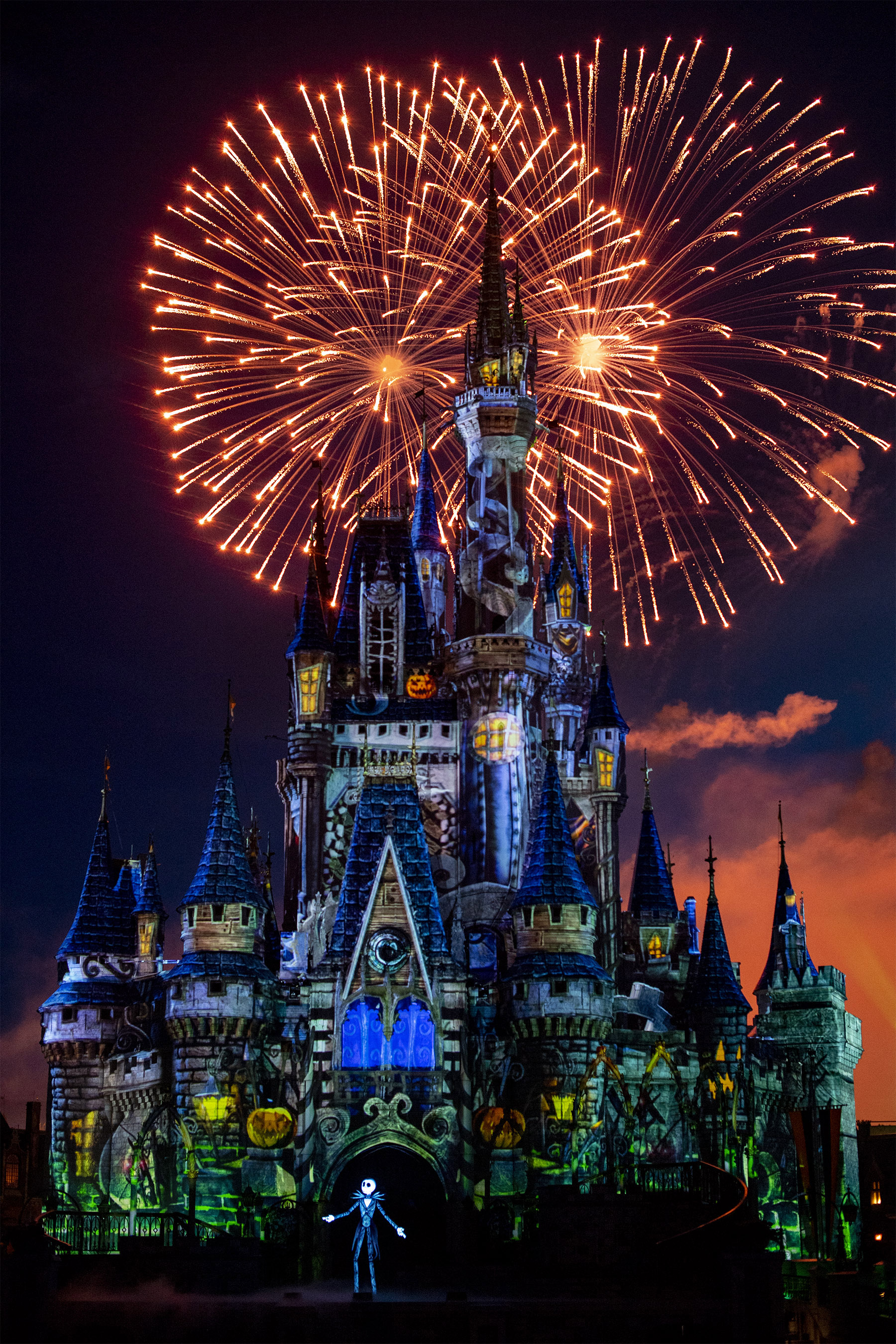 One my my fav additions this year is Constance's for Better or for Worse Cake! It's EVERYTHING.
Now, let's explore ALL THE THINGS!
EVENT COSTS
The cost for an event that is limited to just an evening at Magic Kingdom may seem steep, but once you see all the bang you can get for your buck, you'll see why it's actually a huge value (especially compared to the cost of regular admission). The event technically starts at 7pm each party night, but what you might not know is that you can actually enter the park at 4pm.
Make sure to plan this in to get more out of your ticket.
How to save on tickets:
Hot tip #1: The earlier you go in the season, the less expensive the tickets are. Make sure to compare the days of the week, too for savings.
Hot tip #2: If you are an Annual Pass Holder you can get a small discount on your tickets, so make sure you are logged into your Disney account when ordering tickets online to see any discounts that might be available to you.
(NEW) Hot tip #3: Take advantage of the new Mickey's Not-So-Scary Halloween Party Pass! This is overly amazing if you plan to go to the party multiple times for the season. This pass allows you to experience the party all season (aside from Halloween day) for or $299 per adult (plus tax) or $284 (plus tax) for children. Amazing!
UNIQUE HALLOWEEN EATS
If you're a big foodie like me and have an affinity for Disney's unique foods, you are going to want in on this! There are many party specific foods that become available right at 7pm when the party starts from the Jack and Sally Push Cake Pops, Chocolate Mickey Waffle Sundae and so much in between. (Get a peek of all of the offerings from 2018 here.)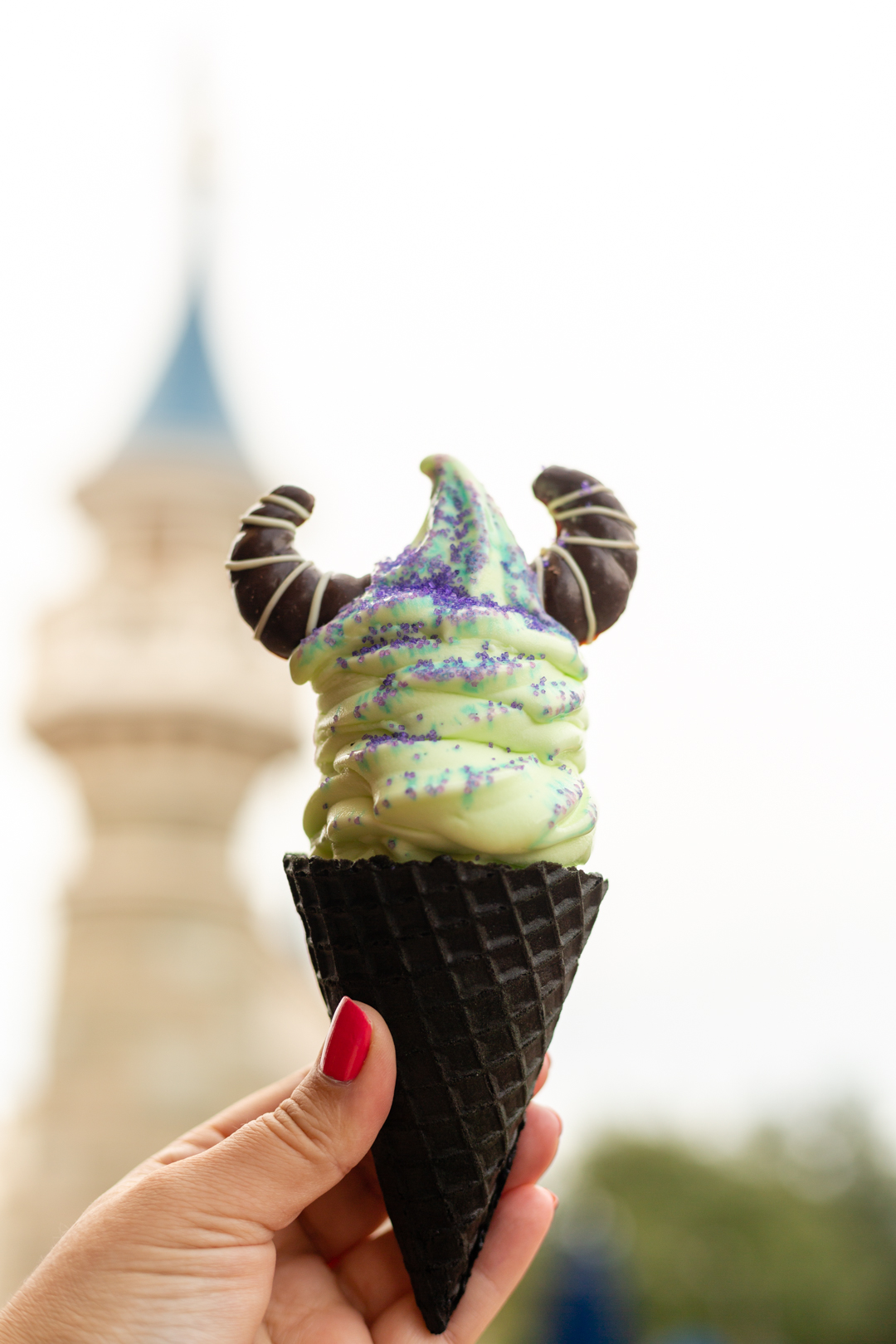 Select Table Service dining is also available during the event. You can take a break from the party and enjoy a luxurious feast at a participating restaurant. Available dining experiences include Cinderella's Royal Table, Be Our Guest Restaurant, Crystal Palace and The Plaza Restaurant.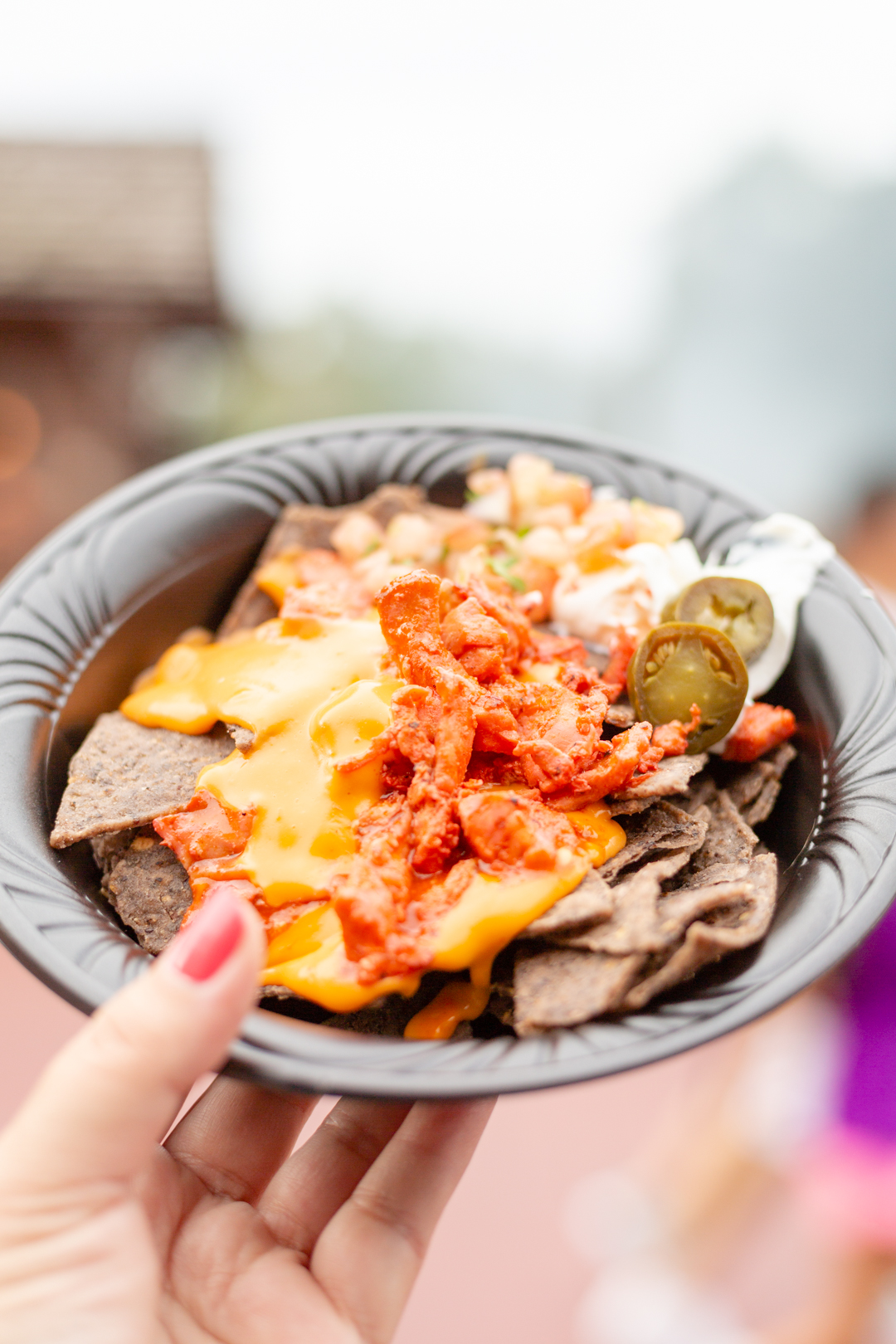 NOT-TO-MISS ENTERTAINMENT
There is so much entertainment at this event it is totally worth the price of admission IMO. During the night, there is a special Fireworks display, a stage show, and a parade, all exclusive to this event.
Disney's Not So Spooky Spectacular
This new wonderful show replaces Hallowishes. Host Jack Skellington guides you on a not so spooky adventure with a fireworks, projection and laser show. You will LOVE this brilliant to addition to the party.
Hocus Pocus Villain Spelltacular
This villain centric live stage show in front of Cinderella Castle is based on the Disney Movie Hocus Pocus, starring Bette Midler, Sarah Jessica Parker, and Kathy Najimy as the Sanderson sisters.
The show is a musical review featuring some of the best Disney villains in a one of a kind performance. The Sanderson sisters try to create a special potion and get assistance through appearances by Oogie Boogie, Hades, Dr. Facilier, Maleficent, Cruella Deville, Jafar, Captain Hook and more!
There are three separate showings of Hocus Pocus. The first one is the most heavily attended, so that is a good time to go on any rides you want if you plan on seeing another showing later.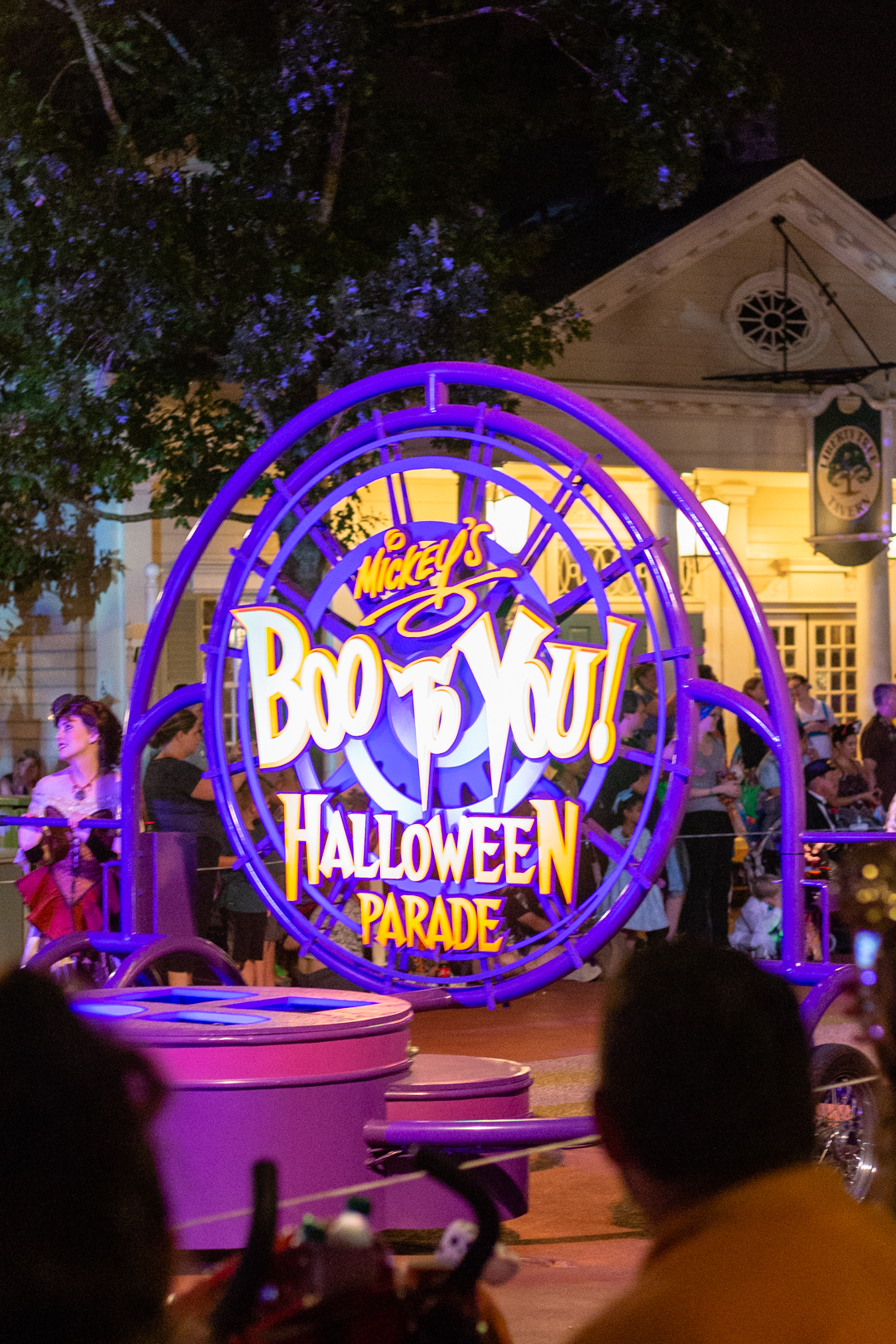 Boo-to-You Parade
Boo-to-You is a one of a kind parade full of ghoulish delight and it's my FAVORITE thing to do on these party nights. The Headless Horseman kicks things off by riding along the parade route through Frontierland, around the hub, and down Main Street USA. The rest of the parade features Grim Grinning Ghosts from the Haunted Mansion, and other fabulous floats and villainous characters. The candy aspect of Halloween is also represented by a Wreck-It-Ralph segment.
Boo-to-You runs twice on each party nights. As with Hocus Pocus, the first parade is the most heavily attended, so you can maximize your time and get even more value by timing your showtimes so you can do the Not So Scary Spectacular, Hocus Pocus, and Boo-to-You back to back at the end of the night.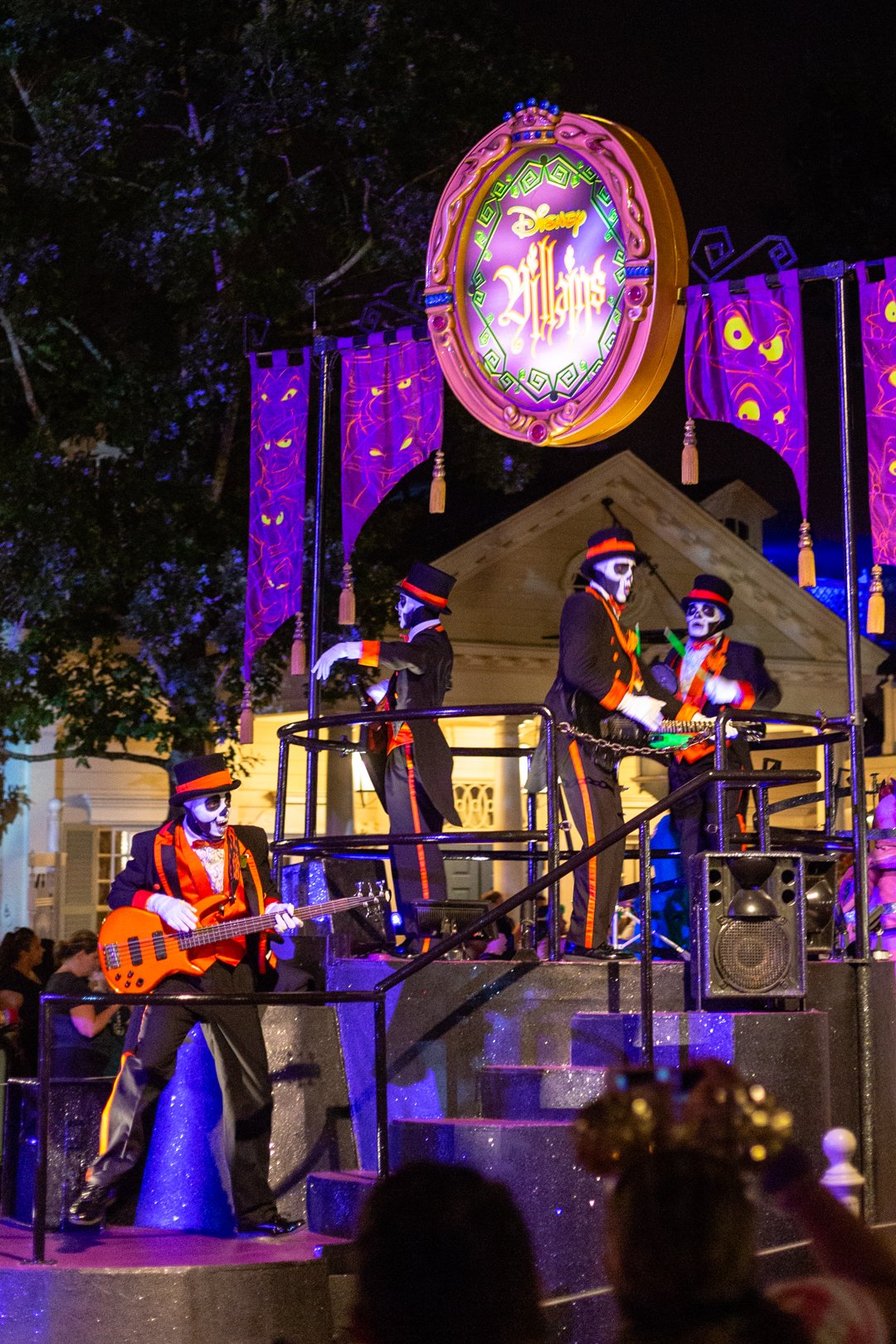 UNIQUE HALLOWEEN RIDE UPGRADES
During the party you can experience fun Halloween twists on these select rides:
(NEW) Monsters Inc. Laugh Floor
Catch the show as the monsters try to understand just what Halloween is!
Mad Tea Party
The classic spinning tea cups attraction is getting a Halloween update with new lighting and effects just for this event. The dizzying ride offers few chances to fix your gaze on any particular focal point, but playing with the lights could be just the way to squeeze even more excitement out of the ride and create a totally different mood.
Pirates of the Caribbean
Pirates of the Caribbean will include some interactive fun for event guests. Rookie pirates will be enlisting help in their search for a pirate named "Gunpowder Pete." Disney is very vague about how this adventure will play out, but it's one more exclusive that adds another layer atop this thematically entrenched Disney anchor.
Space Mountain
Perhaps the most intriguing of all attraction makeovers is the redressed Space Mountain. Disneyland has offered Ghost Galaxy Seasonally for years. Disney Promises a new soundtrack for certain and potentially more by way of special effects.
AMAZING HALLOWEEN DECORATIONS
If you love halloween + cute stuff, you don't want to miss this experience. Magic Kingdom is totally transformed this time of the year into a fall wonderland. My absolute favorite thing is the light up Mickey Wreaths (pictured above). This is a family friendly event, so it's spookily themed but not frightening or ghoury, so not to worry with small kiddos. Side note: see my Mickey DIY wreath and ghost tutorials.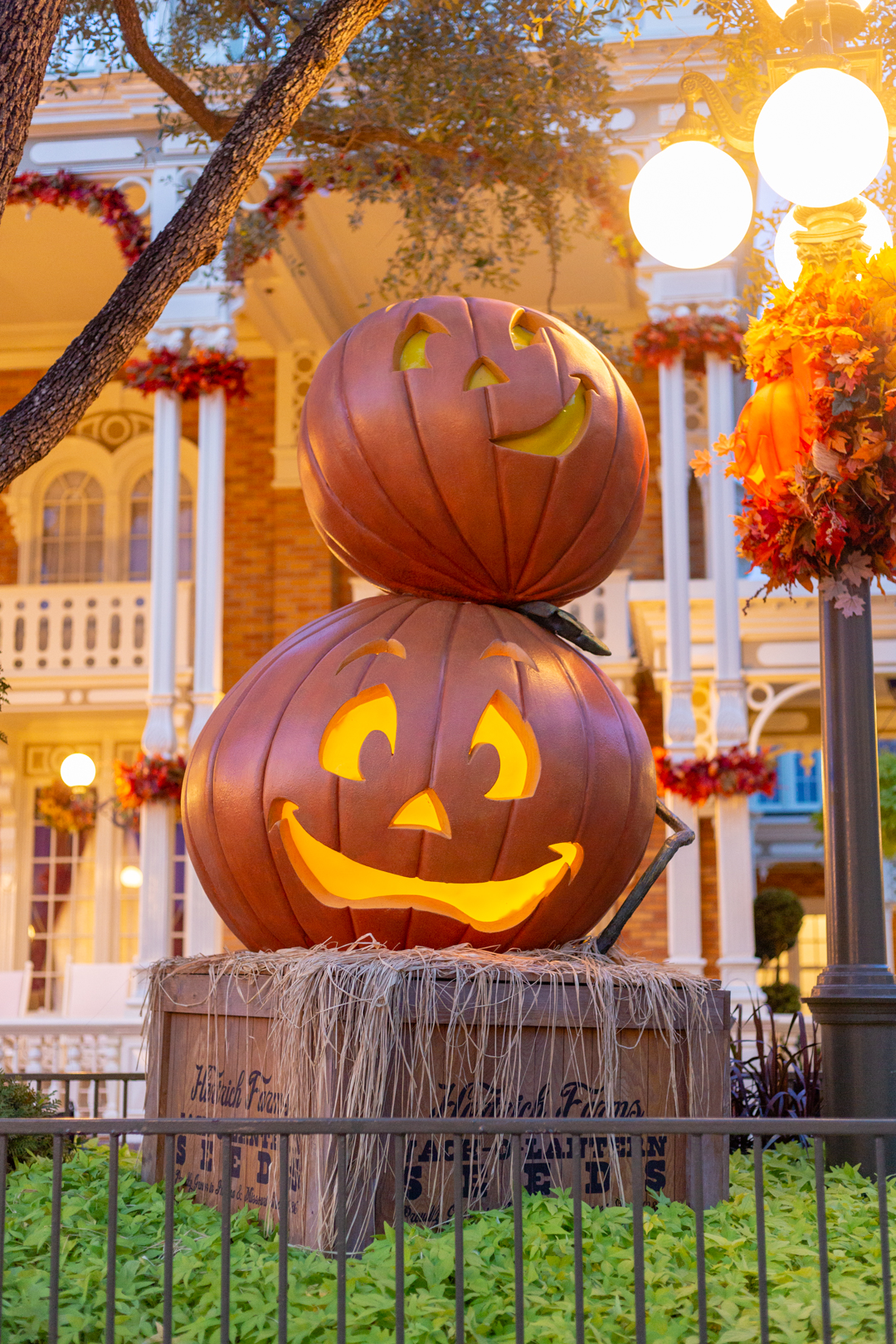 REDUCED CROWDS AND WAIT TIME
This is an after hours event which means that general attendance will be a bit reduced. Keep in mind that the closer you get to Halloween, the busier it will get. Also note that weekends are going to be more busy as well. I would wholeheartedly recommend visiting on a weeknight earlier in the season for maximum awesomeness. With reduced crowds, that means that you can get more done in a few hours than you can in a day, even with Fastpass+. Not only that, since you are allowed into the park hours before the event officially even starts, so you can enjoy regular park time before the park transforms.
As the daytime guests funnel out when the party starts, you'll notice the difference really FAST. It's an amazing feeling! A lot of attractions will be "walk on" meaning there are little to sometimes no wait times. Other wait times will be significantly reduced.
This is an event with a schedule, but you are free to plot out the night as you choose. Make the most of times when other party guests are settled in for a parade or show. There are multiple opportunities to see the parade and stage show, so you can do it all if you plan it right.
Less crowds means more attractions, more comfort, and more picture opportunities. Magic Kingdom is gorgeous at night with the lights on, so bring a camera or take advantage of the many unique Disney PhotoPass opportunities around the park.
Hot tip #1: Visiting on a weeknight earlier in the season for maximum awesomeness.
EVERYONE CAN BE A KID ALL NIGHT LONG
I have saved some of the most fun news for last! Everybody can dress up for party nights! Yes, adults can dress up too. There are rules, so make sure to read them first. One of the most fun extras about these events is seeing the creativity of other event attendees! So much fun!
AND that is not all! EVERYONE of all ages can trick or treat around the park on event nights!
You literally can go home with loads of candy, candy, candy and don't forget to look out for a refreshing treat from GoGo SqueeZ that the kiddos will love. They are made with real, fresh fruit and veggieZ, and a splash of juice!
FUN DISNEY HALLOWEEN SWAG AND COLLECTIBLES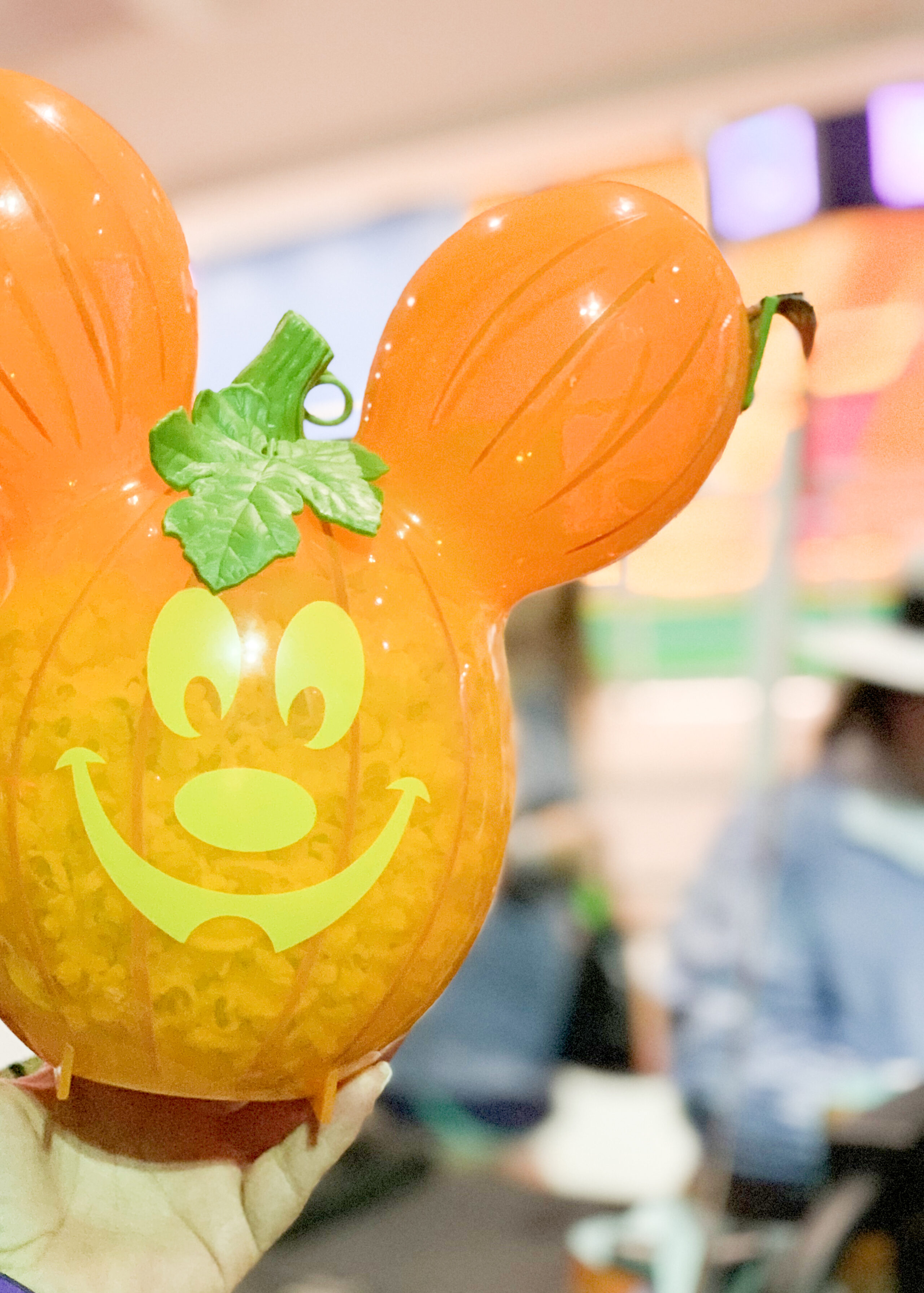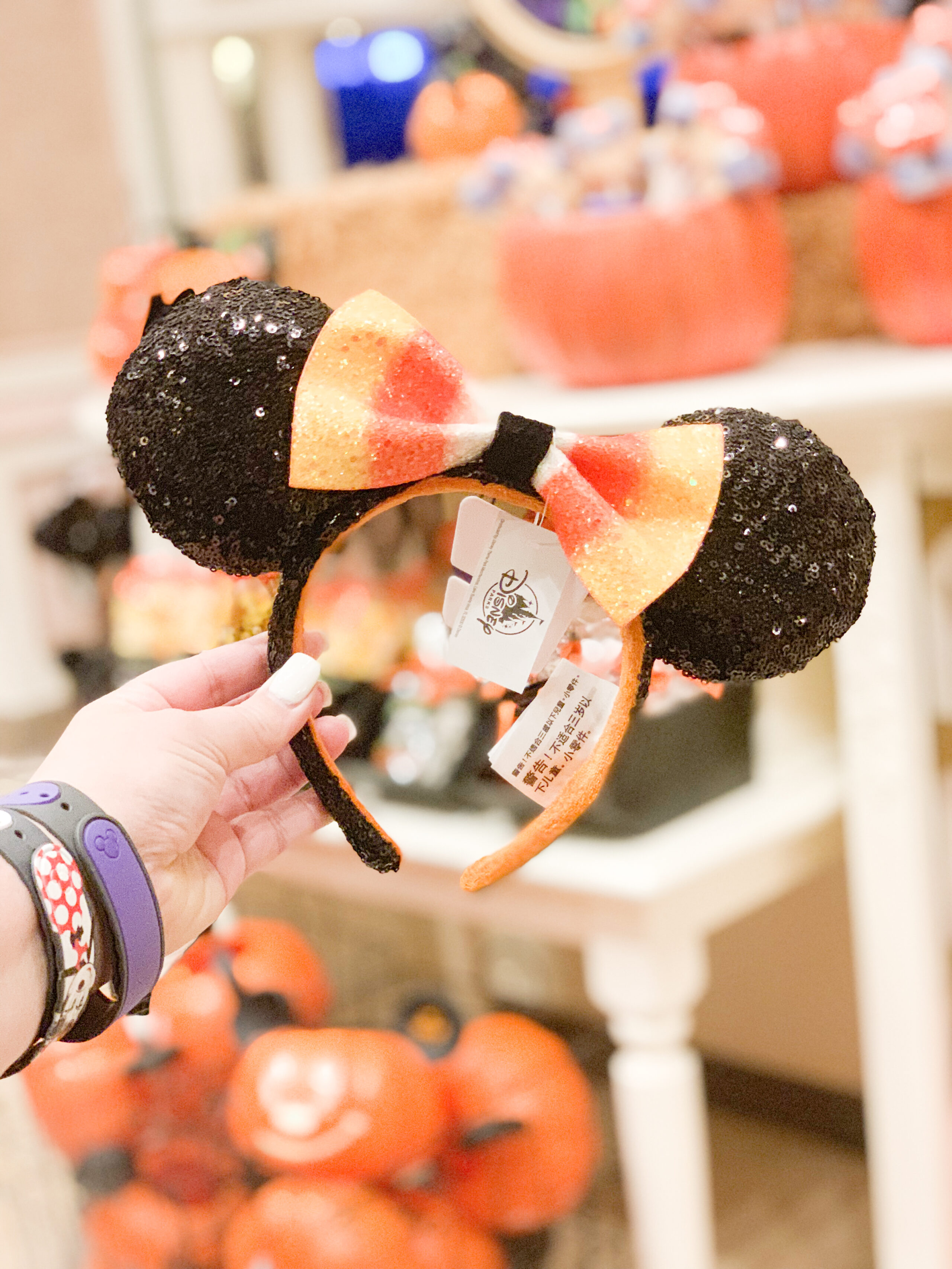 Trick or Treat
Trick or treat bags are supplied to ALL when you enter the park for the event. Set locations are all around the park for everyone to fill up on sugary treats in a safe environment! Yum!
Do I need a separate ticket for Mickey's Not So Scary Halloween?
Yes. This is a hard ticket event that is completely separate from regular daily admission. However, it does grant you access into the park at 4pm on your party day.
Do I need a park ticket for Mickey's Not So Scary Halloween Party?
No, you don't. You only need a special ticket for Mickey's Not So Scary Halloween Party. This will grant you access to the park as early as 4pm.
Can you ride rides during Mickey's Not So Scary Halloween Party?
Yes, absolutely. However Fast Passes are a no go. But with reduced wait time, it's no worries.
Does Mickey's Not So Scary Halloween sell out?
Yes, the party can absolutely sell out. Make sure to buy your tickets early in the season. Halloween day will be the most likely party to sell out quickly.
Do they kick you out for Mickey's Halloween party?
Yes, they do. You will need to have a special party ticket to attend. You will be issued a special party bracelet once you process your tickets at gates starting at 4pm.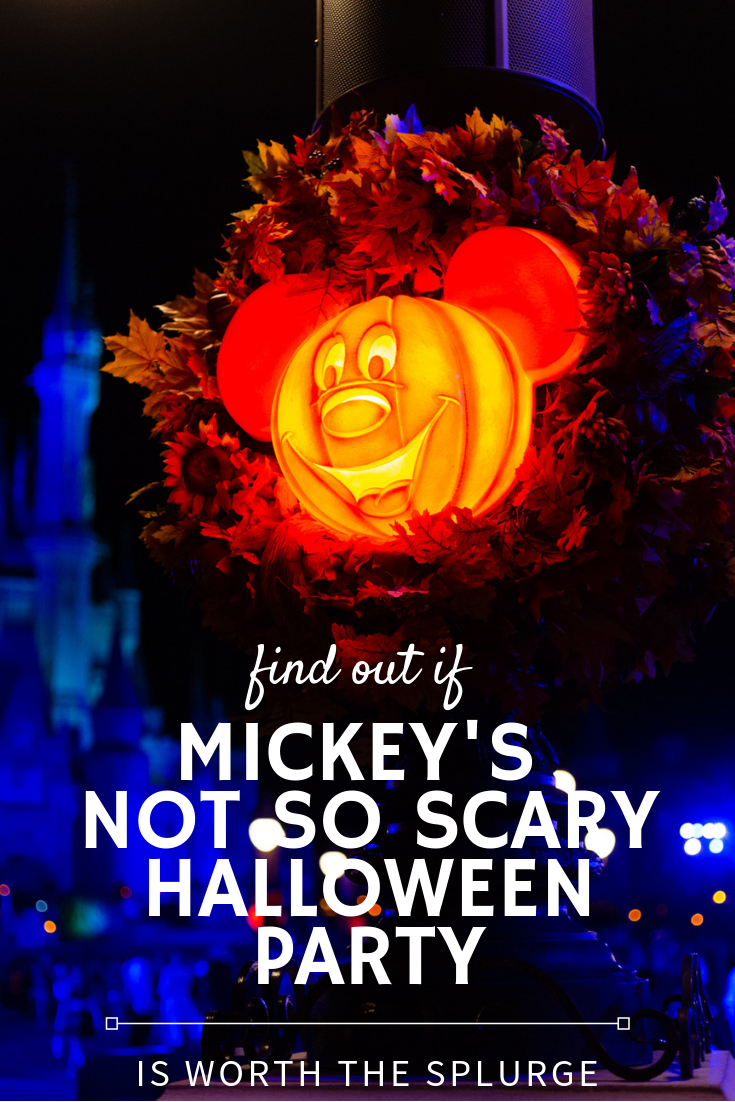 In summary:
Is Mickey's Halloween Party worth it?
Yes. This Halloween themed ticketed event is a fantastic value. With park entry as early as 4pm on party days, free unlimited candy and reduced ride wait time, it's a win. Not to mention the added value of special parades and unique shows that are only available on party nights.
Want in? Make sure to get your tickets now before they sell out! Remember, the earlier you go in the season, the more money you can save.
CELEBRATE DISNEY HALLOWEEN AT HOME
Mickey Halloween Cookies that are pleasantly potion purple and black.
Jack Skellington Mickey Ears Cookies are so super cute and pretty much the easiest treat you can imagine.
Mickey Pumpkin Cupcakes are another adorable way to serve up a Disney inspired sweet treat right at home.
Are you ready to trick or treat in "The most magical place on Earth."?