Quick trivia for you. What's better than one batch of Christmas cookies? A ho ho Houseful of Cookies, of course. I'm excited to be partnering up with a handful of bloggers to bring you a whole load of delish cookie recipes! You can learn more and get all the good links after you read my recipe. I am so thrilled to bring you Minnie Mouse Ear Headband Cookies inspired by my fav pair of holiday ears this year. I've been wanting to make something like this for a while and it's finally time. These gigantic cookie creations will be an instant hit for Disney lovers!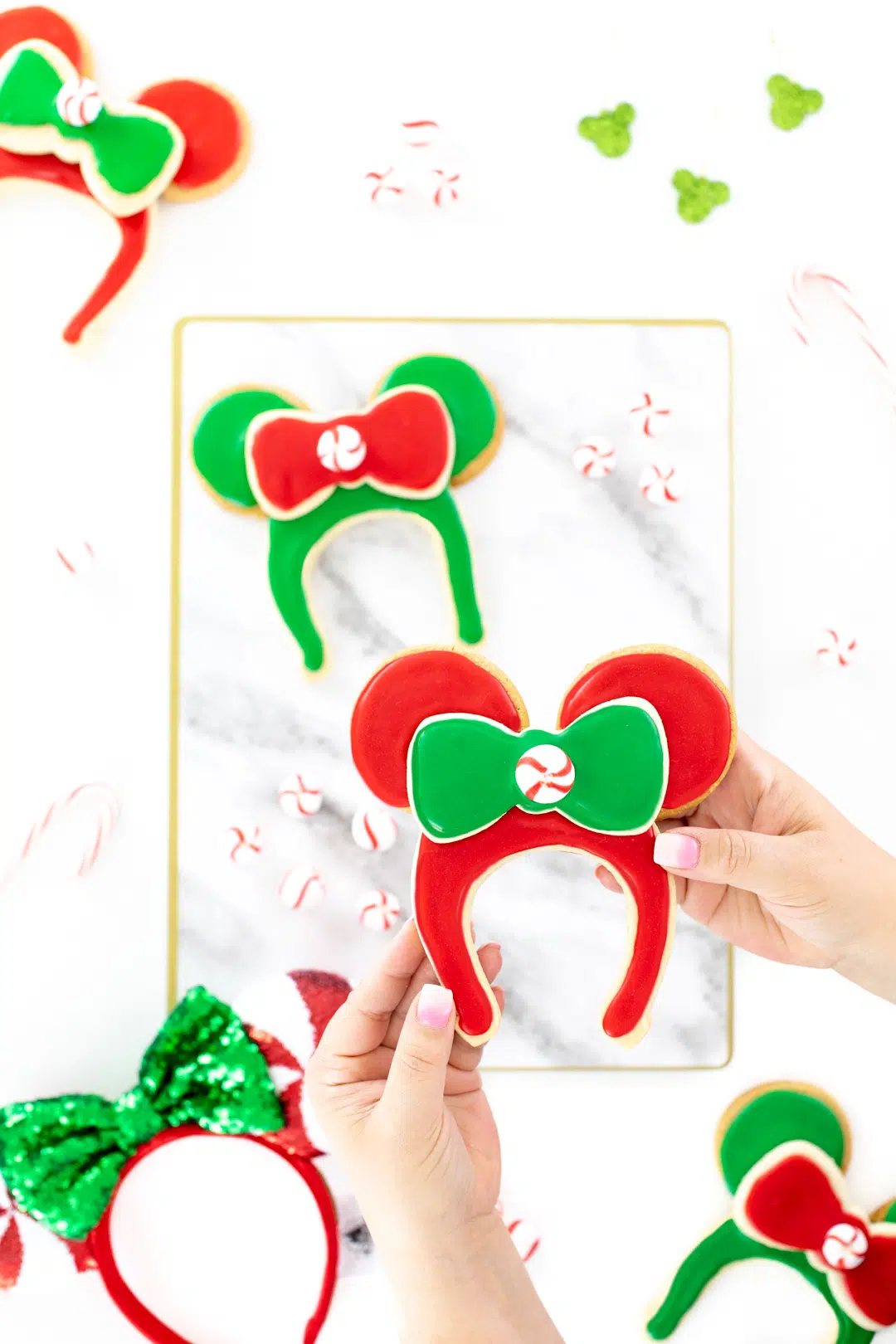 Truth is, I am not a huge baker in general but there is something about the holiday season that makes even the average person crave baked goods. Since I wanted to make something extra special for this fun holiday cookie event and I don't exactly have any traditional recipes to share, I thought it was about time to share Disney inspired ear headband cookies. There are not too many out there, so I put my thinking cap on so that I could find a way to make them that ANYONE can do. With my easy store-bought cookie dough tricks and hacks, it will be a breeze. You can even get the kids involved and start your own holiday baking traditions.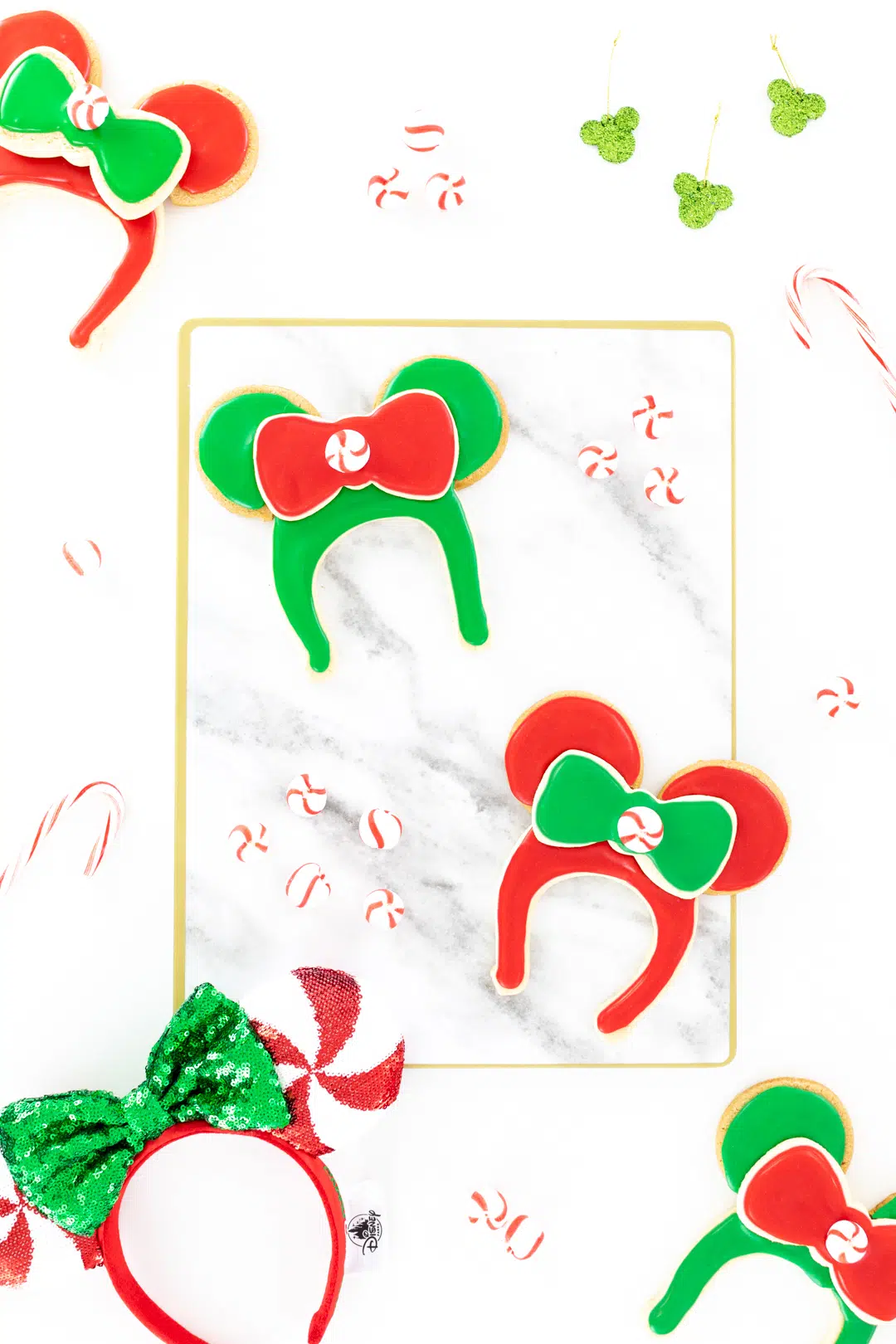 DISNEY CHRISTMAS EAR COOKIES
Want in on the holiday fun? Get ready to make these easy Minnie headband cookies for the holidays.
Here's what you need:
Store-bought Refrigerated Sugar Cookie Roll
All Purpose Flour
Store-bought Sugar Cookies
Cookie Icings
Peppermint Candies
Tools: Horseshoe and bow cookie cutters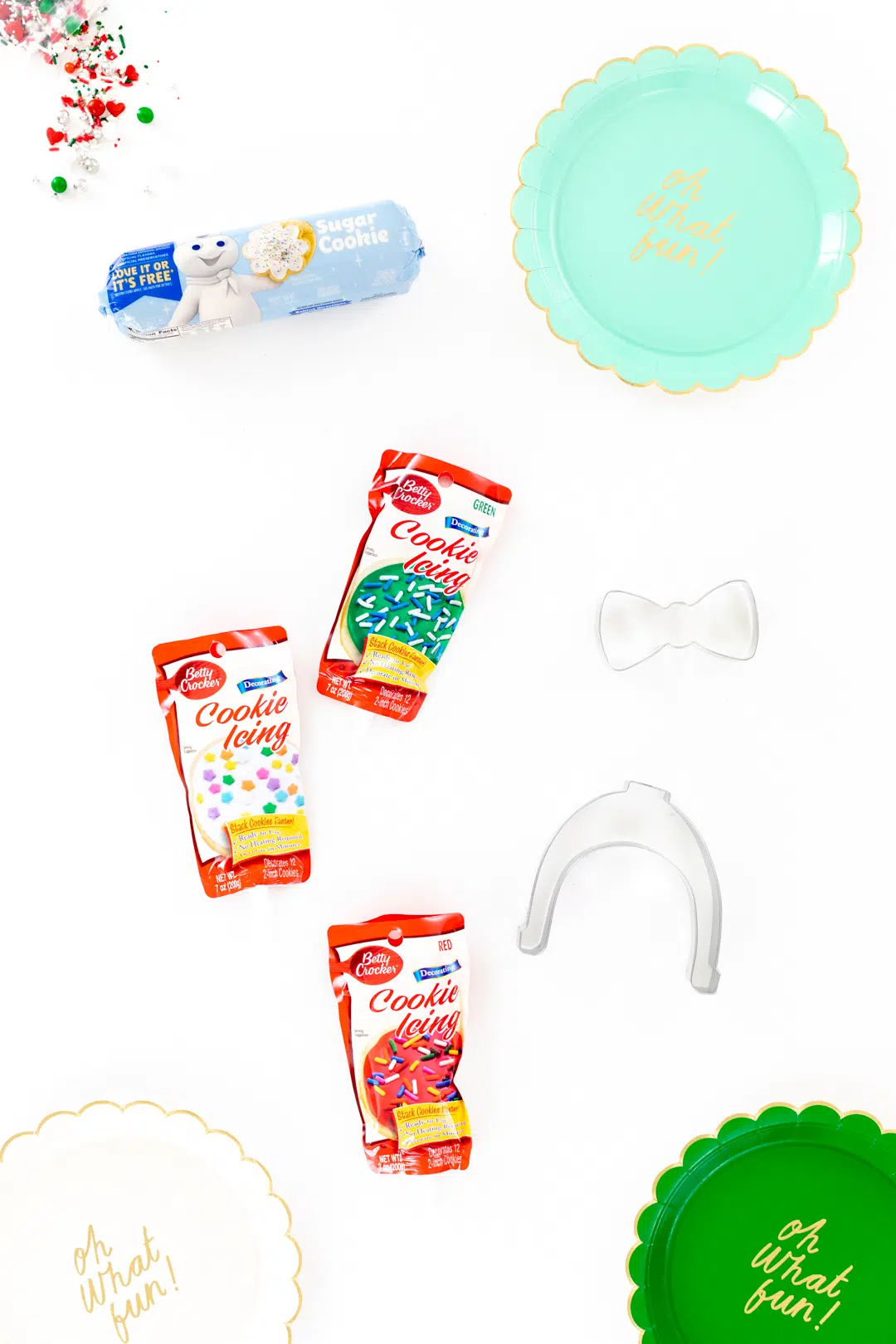 Using store-bought sugar cookie dough along with actual ready-to-eat store-bought sugar cookies bring these cookies together in the most magical way. I tried to make the Minnie ear part with dough, but they just didn't come out perfectly shaped. Due to that, I feel that using the perfectly shaped cookies for the ears is absolutely the way to go. If you are not much into aesthetics, feel free to make your own from dough, but you will need to buy another roll.
These special holiday cookies are for all of those Disney lovers that just cannot get enough of the fun this time of the year like snow at Magic Kingdom for example. 😉 Baking these cookies is a great way to celebrate that Disney magic at home.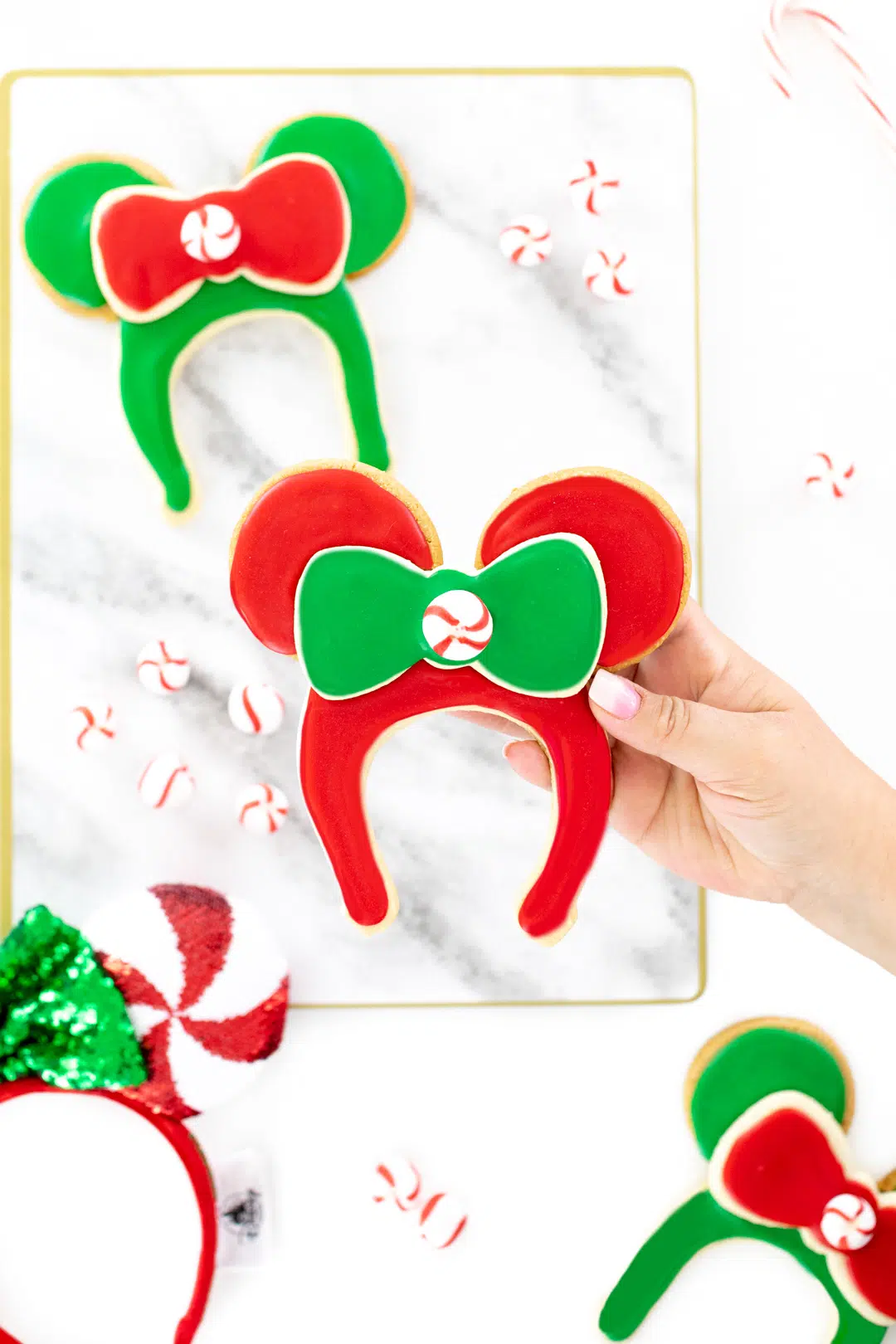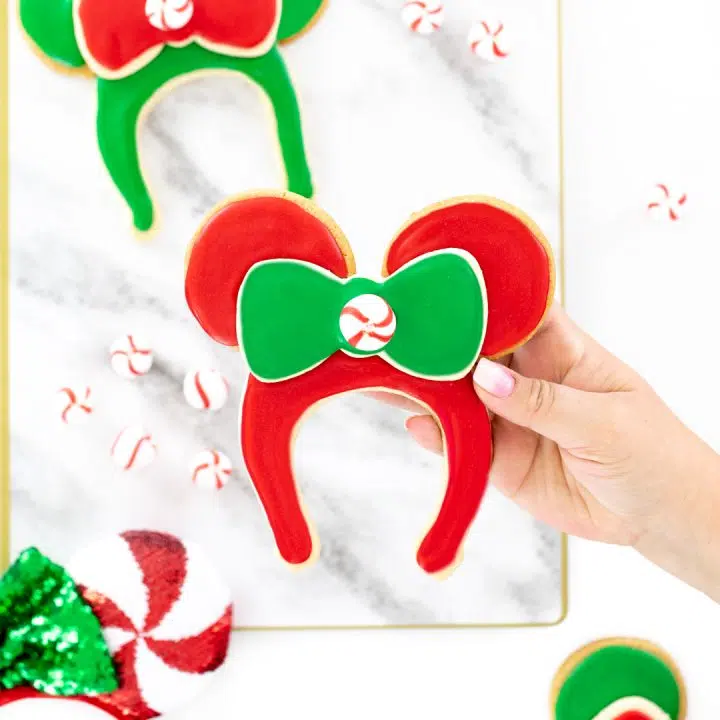 Minnie Mouse Ear Headband Cookies
Additional Time:
15 minutes
Disney inspired Minnie Mouse Ear Headband Christmas Cookies made from store-bought dough and peppermints.
Ingredients
1 Pkg Pillsbury Sugar Cookie Roll
½ Cup All Purpose Flour
12 Pepperidge Farms Mystic Sugar Cookies
1 Red Betty Crocker Cookie Icing, 7 oz
1 Green Betty Crocker Cookie Icing, 7 oz
6 Peppermint Candies
Tools: Horseshoe and bow cookie cutters
Instructions
Preheat oven to 325°F

Knead cookie dough with all purpose flour on a floured surface.

Roll the dough out until the dough is about ¼" thick

Use Horseshoe Cookie Cutter to make 6 cookies

Use Bow Cookie Cutter to make 6 cookies

Place cookies on a non-stick baking sheet

Add baking sheet to the freezer for 10 minutes or refrigerator for 20 minutes to preserve shape.

Bake for 8-11 minutes.

Cool completely before decorating.

Use Horseshoe cookie cutter to shape the store bought sugar cookie "ears" so that they will fit perfectly on the backed horseshoe cookie shape.

Pair up two "ears" and horseshoe shaped cookies. Use a little cookie icing to adhere them together.

Use red and green cookie icings to equally cover half and half of these cookies horseshoe/ear bases. Set aside.

Use red and green cookie icings to equally color half and half of the bow cookies.

Match up with an alternate color bow and gently secure each bow onto the horseshoe/ear cookie bases.

Add a peppermint candy in the center of each bow.

Let icing set completely before serving.
Recommended Products
As an Amazon Associate and member of other affiliate programs, I earn from qualifying purchases.
WHAT IS HOUSEFUL OF COOKIES
Houseful of Cookies is an annual, virtual cookie hop, hosted by Natasha Nicholes of Houseful of Nicholes. She really likes playing on the "Houseful" theme when there is more than one of something, and since there's more than one cookie...here we are. Each year, she gathers a bunch of us from the internet to bake up our epic cookie creations and share them with all of you! It's a fun time, and we all have dealt with butter, flour, and various flavorings to bring you our goodies each year. This year, we present to you, our cookie hop.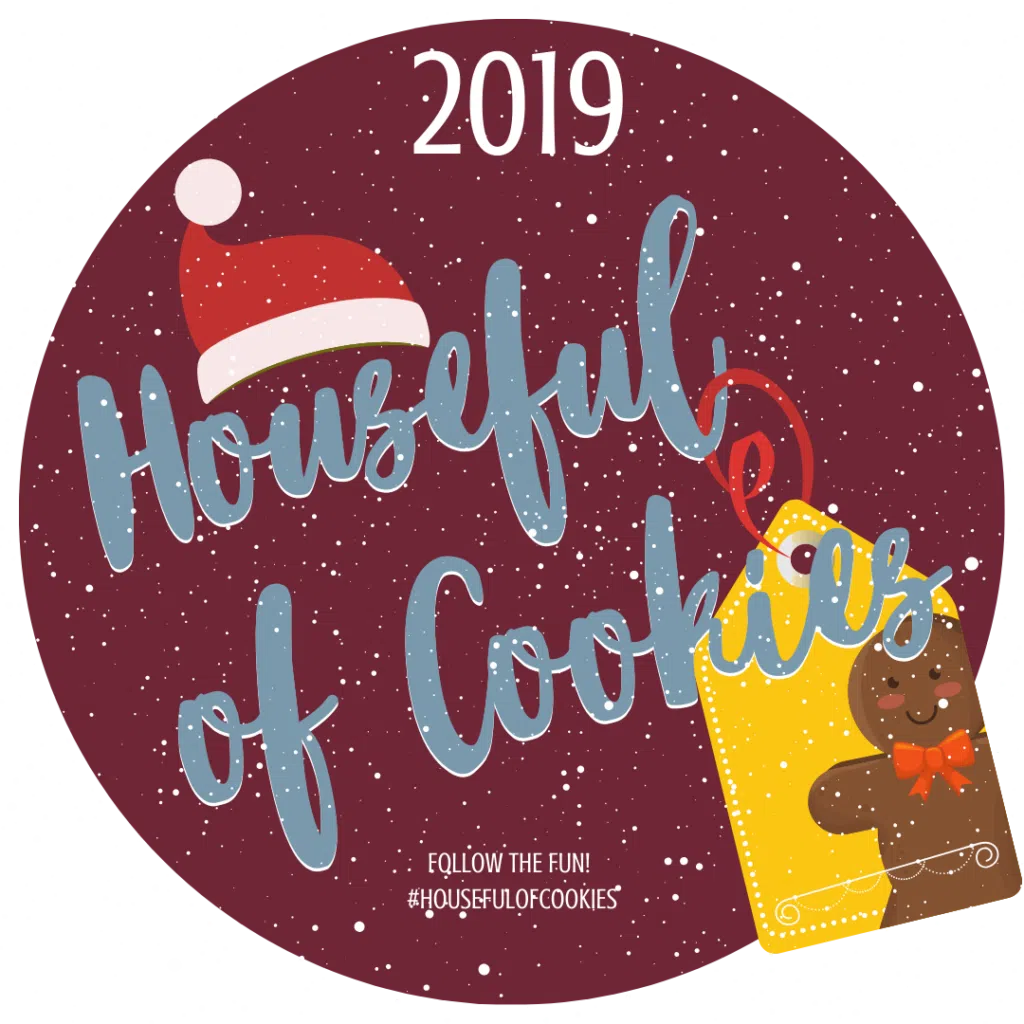 HOUSEFUL OF COOKIES PARTICIPANTS
If you are looking for Chrismtas cookies galore, I am cordially inviting you to visit all of the participants. Read, bake, stay a while.
Brownie Cookies - Houseful of Nicholes
Chocolate Rolo Surprise Cookies - Good Girl Gone Redneck
The Perfect Christmas Sugar Cookies - Love, Jaime
Cake Mix Santa Cookies - Dairy Carrie
Candy Cane Cookies - Brooklyn Active Mama
Chocolate Dipped Peppermint Shortbread Cookies - Honest & Truly
Gingersnap Cookies - Divas With A Purpose
Decorated Ugly Sweater Cookies - 100 Directions
Birds Nest Cookies - My Crafty Life
Cranberry White Chocolate Chip Cookies - Kenya Rae
Gluten-Free Russian Tea Cakes - Day by Day in Our World
Molded Peanut Butter Cookies - This Mamas Life
Not Your Mama's Milk & Cookies - Life of a Ginger
Peanut Butter Marshmallow Chocolate Chunk Cookies - Mama Harris' Kitchen
Coffee Sandwich Cookies with Browned Buttercream Filling - How Was Your Day?
Butterscotch Cornflake Cookies - Omadarling
Coffee Cookies - Someday I'll Learn
Toffee Bits Cookies - This Worthey Life
Fruitcake Cookies - Sugar, Spice, & Glitter
Keto Almond Joy Cookies - The Crunchy Mommy
STORE BOUGHT COOKIE DOUGH TIPS
You might be wondering how you can improve store-bought sugar cookie dough. You have come to the right place. Here are some tips to help you prepare premade sugar cookie dough cookies with cookie cut outs.
Can you roll out store bought cookie dough or sugar cookie dough? Yes, you absolutely can roll them both out. The trick is to add ½ cup of all purpose flour to one package of store-bought refrigerated dough. Knead it until the flour is completely incorporated. Store in the freezer for 15 minutes before using.
Does refrigerating cookie dough make a difference? Yes, it really does reduce cookie spreading. Try the freezer for a faster outcome. I add my batch of sugar cookie dough to the freezer for 15 minutes before using and baking.
DISNEY CHRISTMAS DIY IDEAS
Want more Disney inspired Christmas cookies and DIY ideas? I totally have your back!
Mickey and Minnie Christmas Sugar Cookies
Ideas to Gift a Disney Gift Card
Decorate your tree with Mickey and Minnie Ornaments